Why I Always Use the Chairlift Safety Bar
After decades of skiing and a recent tragedy, the author says it's time to up our safety game when we're riding a chair high in the sky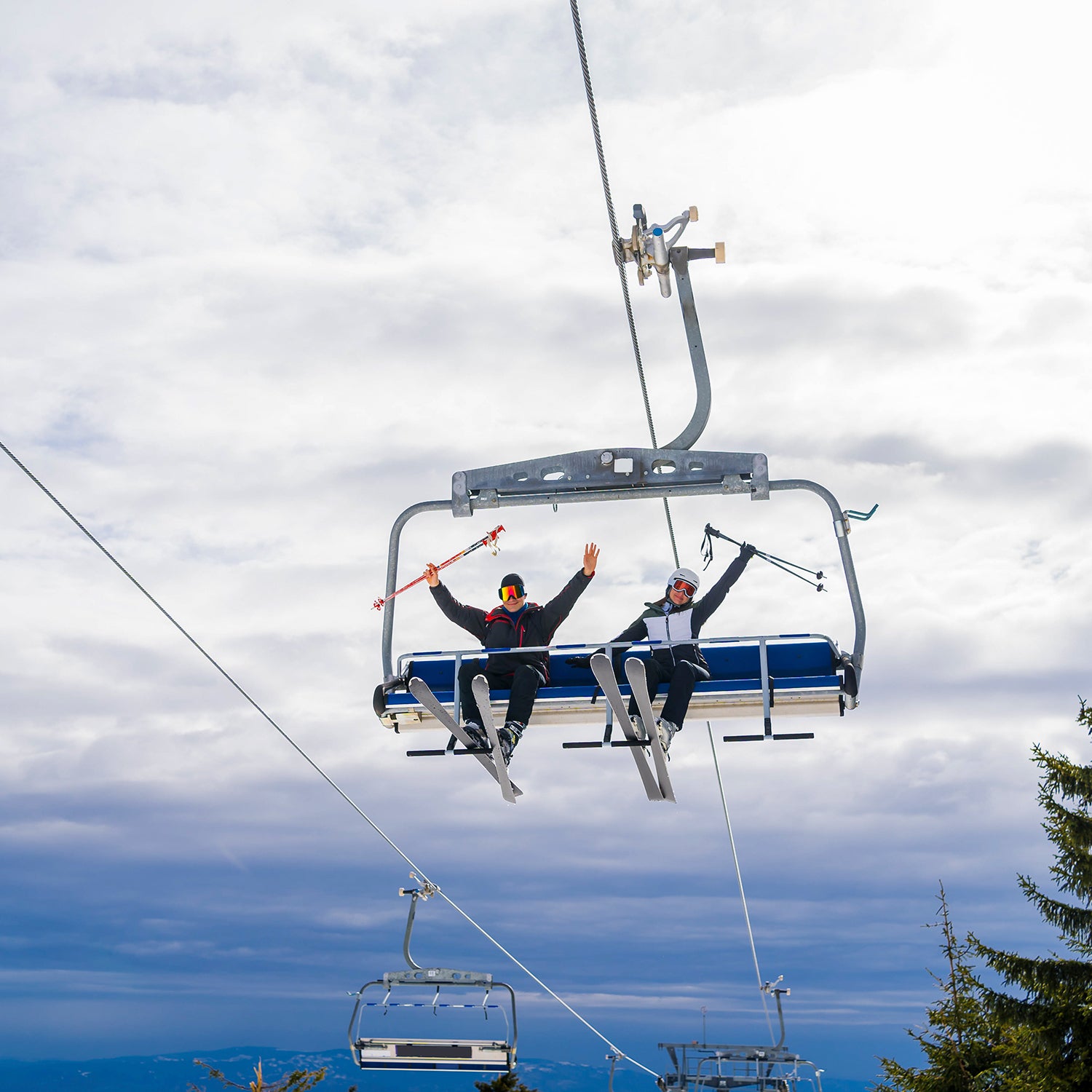 Heading out the door? Read this article on the new Outside+ app available now on iOS devices for members! Download the app.
St. Patrick's Day lasts about a week in Breckenridge, Colorado. Wear green on the mountain, hear live music, look around town for specials, like the all-you-can-eat Irish buffet. Green beer, blue skies. Spring breakers and other people plan trips around such fun events and festivals.
Recently, a deadly spring-vacation accident, this one on St. Patrick's Day, broke our hearts, and it involved someone just trying to be outdoors, healthy, and active. As reported in the Summit Daily and confirmed to Outside by Wanda Wilkerson of the Summit County Sheriff's Office, on March 17 a visitor died after falling from a chairlift at the Breckenridge ski resort. John Perucco, 60, of Elgin, Illinois, was on the Zendo Chair when he fell 25 feet onto a hard-packed slope. He was trying to brush snow from the chair when he slipped, and according to the sheriff's office had not yet put the safety bar down.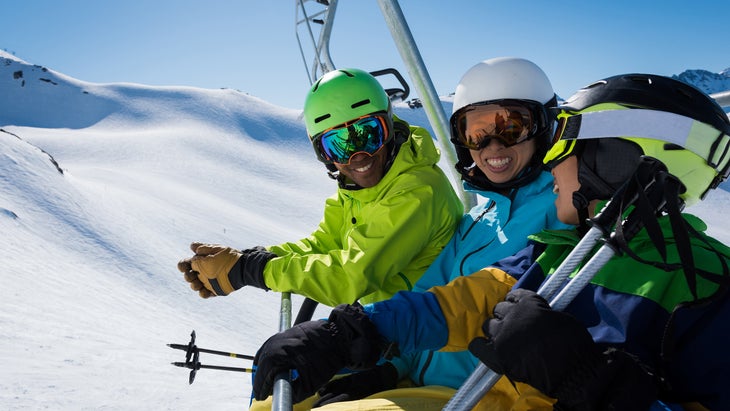 In a statement to Outside, Vail Resorts confirmed the accident (but didn't share details on if the safety bar was up or down) and wrote that the skier was "transported to Saint Anthony Summit Medical in Frisco, Colo., and after further emergency care and evaluation, was pronounced deceased."
Jody Churich, vice president and chief operating officer at the resort, was quoted as saying: "Breckenridge Ski Resort, Ski Patrol and the entire Vail Resorts family extend our deepest sympathy and support to our guest's family and friends."
Why don't we all put the bar down? Meaning, as a hard rule and with a conviction I haven't seen or felt over a lifetime of skiing.
"Bar down?"
Some skiers ask this question as the ride up begins to anyone they're sharing a chairlift with. I have generally liked having the safety bar down; it provides a footrest and sometimes, on the armrest, a trail map—which I need at Snowmass, a vast mountain I still barely know despite having lived in the Aspen, Colorado, area for decades.
The recent death at Breckenridge, in addition to others I've read about over the years, got me thinking: why don't we all put the bar down? Meaning, as a hard rule and with a conviction I haven't seen or felt over a lifetime of skiing.
I haven't put it down every time I ride a lift and often don't even think about it. Did all lifts have safety bars when I first started skiing in Pennsylvania and Maryland back east at age 13? No—and some still don't.
One friend who is 6-foot-3 says he usually doesn't bring the bar down because it bonks him on the head. Others online cite similar ergonomic cons. One guy said he was nailed in the crotch by a bar's vertical divider when a petite woman reached back and thunked the thing down unannounced.
Bars can be awkward or heavy. But really, using the bar every time comes down to creating a habit.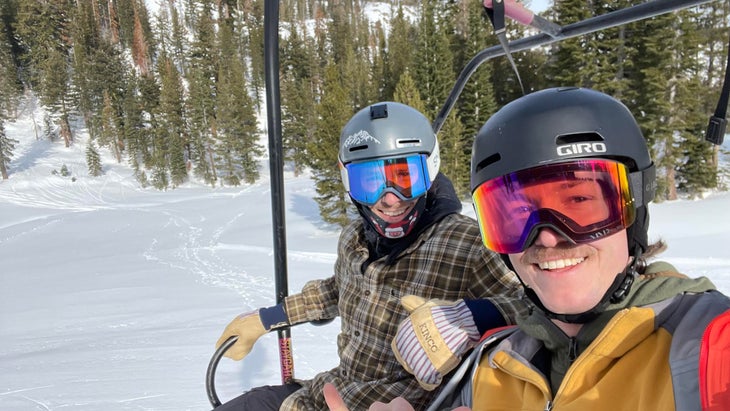 Bar use is encouraged but not mandatory in most ski areas in North America. It is law in Vermont.
Yet on chairlifts, we skiers and snowboarders glide 25, 50, and 100 feet above ski trails, rocks, trees, and other humans. Falls are rare and are often due to user error, but freak things can happen; lifts bounce, gusting winds roar in.
What if anyone I was with—or I—became ill or faint, and started sliding off? I've seen someone suddenly pass out while standing on flat ground, because she was unused to altitude (and also hungover and dehydrated). A person can be hurt or worse by falling a short distance, and lifts get high fast.
A 2001-02 through 2011-12 analysis by the National Ski Areas Association attributed 86 percent of all chairlifts falls to skier error and 4 percent to medical issues, with just 2 percent as the result of mechanical or operator error.
So maybe that takes us back to the Skier Responsibility Code, which stipulates that you must be able to use lifts safely. Consider that a bar won't prevent disaster, but surely it could only help.
Say you drop your pole or a glove and instinctively reach to grab it? Maybe the bar would stop you or restore your senses. As NSAA Lift Safety Tips say, "Let it fall!" What about the beginner or drunk person who might accidentally knock you off? Things happen. We ride with strangers.
Seven years ago, a 31-year-old with mental-health issues pushed a stranger 20 to 25 feet off the Loge chair at Aspen Highlands Ski Resort over a perceived (unintended) insult. The incident occurred just past the last lift tower, before the exit and bull wheel. The victim, age 28, landed uninjured in soft snow. It was a powder day, thank heavens.
This year has already marked a change for me. Skiing over the holidays at the impressive Palisades resort in Tahoe, California, where one of our sons lives, I could see with fresh eyes how high above the steeps and granite cliffs our chair was. You bet I pulled the bar down.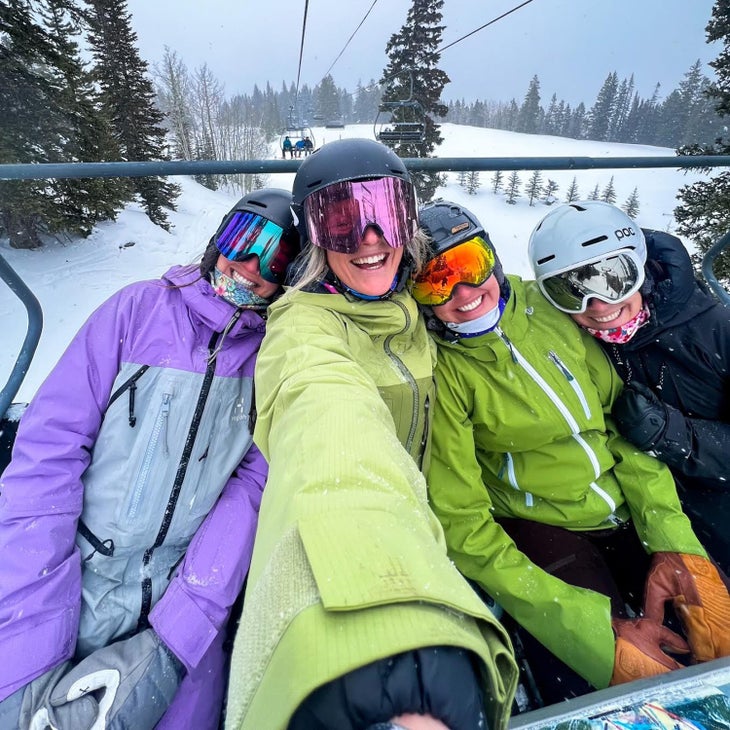 It is our option as users whether or not to use it, so let's choose it.
Look how easily many of us have changed other habits over the years. None of us used to wear a ski or bike helmet. At first I found it hard to get used to a ski helmet; that took about one day. Now I wear them without thinking about it. Everybody I know does. They're warm, too.
I never wore seatbelts growing up, either. Did our station wagon even have them in the back seat? On long drives to ski, my siblings and I would lie in the way back on sleeping bags spread over suitcases.
Later I spent a year at the University of St. Andrews, Scotland, where a billboard campaign featured pictures of people's stitched-up or scarred faces, with the words, "If only I had worn my seatbelt." Sometimes an image or a certain reminder is all it takes, to form a habit way into the future.
"Bar down" could be a campaign. This past weekend, skiing at my home area of Aspen Highlands, I found it easier said than done: even after announcing my new plan to my husband and our friend (both were amenable, and neither helped at all), I forgot until halfway up on three of the nine or so runs we took. Still, if I keep trying, and pass it on, and you do, it could go into the future.
Just ask your fellow lift riders before lowering, and do it slowly, please.
Alison Osius is a senior editor at Outside. She learned to ski at Elk Mountain, Pennsylvania, with family trips to several areas in Vermont; worked as a ski instructor at the Middlebury Snow Bowl; put in a ski-job (cashier) stint at Snowbird, Utah; and now lives, skis, and vows to put the bar down in Western Colorado.
Here's Where We'll Be Skiing in Late Spring—and Maybe Even Into Summer
Lead Photo: Lord Henri Voton/Getty