Indefinitely Wild
Utah Will Mandate Off-Highway Vehicle Education in 2023
Anyone driving an OHV on public lands in the state will need to complete a free online program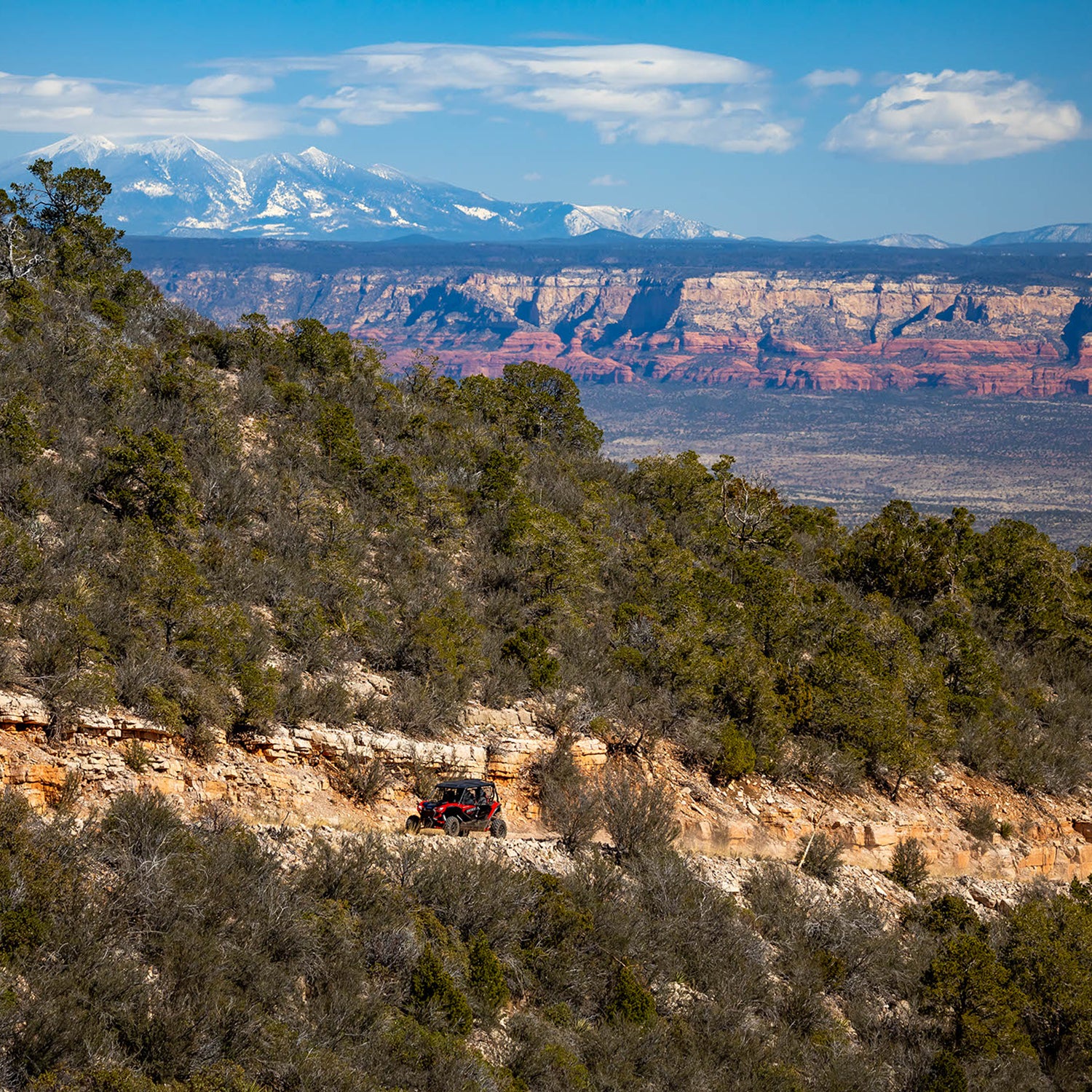 Honda
Heading out the door? Read this article on the new Outside+ app available now on iOS devices for members! Download the app.
Beginning in February 2023, anyone operating an off-highway vehicle (OHV) on public lands in Utah will be required to complete a mandatory online eduction program. Intended to reduce conflicts between OHV riders and residents, and reduce environmental impacts, the course should take 30 minutes or less to complete, and will be offered for free. If successful, this program could serve as a model for other states. 
"This should knock down 90 percent of bad behavior," says Nena Barlow, who operates a popular 4×4 training school and Jeep rental service in Moab, Utah, and across several other states. 
OHV use is booming, and Utah is a popular destination for riders. This brings economic benefits—towns like Moab are dependent on tourist dollars—but also creates conflict. Barlow says that visitors "who just want to let their hair down," may not be aware that some of the area's popular trails run through or close to residential communities. Complaints about noise and irresponsible riding are common. And visitors may not understand that they're operating OHVs on a network of trails rather than a free-for-all OHV park. That can lead to environmental degradation when riders venture cross-country, across fragile top soils and desert vegetation.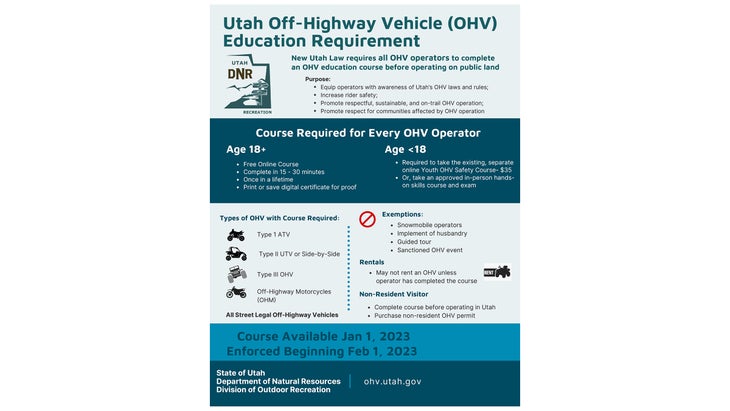 The requirement was created earlier this year though Utah House Bill 180 and will go into effect on February 1, 2023; the course will be available on January 1. The curriculum is in development, but state officials say it will be based on currently available, voluntary information. A YouTube video uploaded by the state's Sand Flats Recreation Area (embedded below), is offered by the state as an example of the type of material that will be included. It covers basic safety advice, guidance on legal requirements for operating an OHV on public roads, packing out waste, and the reasons why riding off-trail damage the environment. A pre-existing course for people under 18 will still primarily focus on teaching young riders the technical skills they need to operate vehicle safely. 
Barlow says the program is also a chance to help address confusion about the different types of OHVs, and which trails each can use. The requirement will apply to class I, II, and III OHVs—quads, side-by-sides, and buggies—and to dirt bikes. It will not be required for 4x4s registered as normal road vehicles. In Utah, all of these examples may be registered for road use if they're insured for such and meet technical requirements. Trails that may be accessible for a side-by-side may be too narrow for a normal 4×4. 
HB 180—the law creating this requirement—includes a provision for penalties should a rider fail to present proof of completion. The state has not yet defined what that proof might entail. Riders who fail to complete the mandatory course before operating their vehicles on public lands, or people who venture off-trail, could be required to complete public service hours, repairing that damage and otherwise working in benefit of legal OHV uses.
Due to the popularity of OHV use in the state, Utah officials are optimistic about the amount of people this mandatory requirement will reach, telling the Moab Times-Independent the number should be "several hundred thousand users." Once completed, the certification will remain valid for a user's lifetime. 
Barlow says she hopes that the mandatory eduction program will help the vast majority of OHV riders understand the best ways to recreate responsibly and why it's important to do so. Utah is unique in the sheer number of trail miles it offers and in how accessible those trails are. But like any state, the most common resolution to irresponsible use is to  simply close those trails. Access to 437 miles of OHV trails near Moab is currently threatened. 
And if people don't like the idea of completing the course, or facing penalties for failing to do so? "I hope they'll just go somewhere else," says Barlow.
Lead Photo: Honda