What's Being Done to Save Wild Spaces from Instagram
As outdoor-recreation tourism booms, these places have been forced to find innovative (and sometimes desperate) ways of adapting to and curbing the steady stream of tourists each season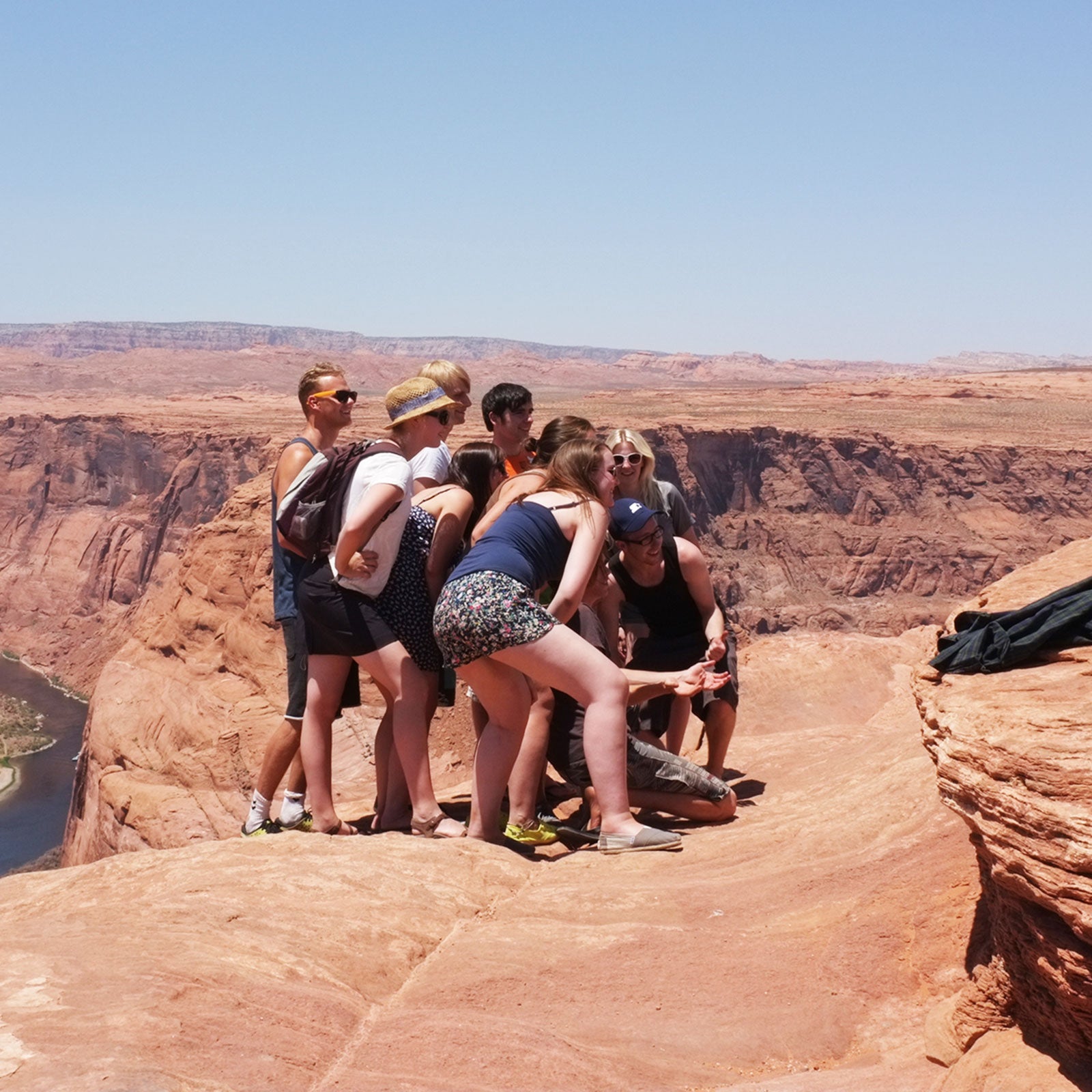 PacoRomero/iStock(Photo)
Heading out the door? Read this article on the new Outside+ app available now on iOS devices for members! Download the app.
Nestled along the Utah-Arizona border, Glen Canyon National Recreation Area boasts a summer vacation's worth of scenic wonders: the curvy waterways and cinnamon-hued spires of Reflection Canyon, the 186-mile-long Lake Powell, and the Hanging Garden, where plant life grows on vertical rock walls.
But one of the park's most popular attractions is a U-shaped bend in the Colorado River, just outside the town of Page, Arizona. Even if you've never heard of Horseshoe Bend, you've likely seen the scenic stretch of river on Instagram. The #horseshoebend hashtag has been used more than 425,000 times, and officials say it's a big reason why Glen Canyon attracted 4.2 million visitors in 2018—nearly double the 2.1 million visitors it saw in 2010, the year Instagram was founded.
For years, our conversations around Instagram's impact on the outdoors have generally hit the same few beats: we've mocked the wannabe influencers who got too close to moose, complained that our favorite spaces were being loved to death, and wrung our hands over crowded, trash-strewn trailheads. But now land managers throughout the U.S. are taking bold steps to reshape the conversation. And they're doing it through geotag campaigns, new and improved signage, and updated infrastructure. Here's how and what it means for a few of your favorite parks and trails.
Rethinking Geotags in Jackson Hole
Kate Sollitt, executive director of the Jackson Hole Travel and Tourism Board in Wyoming, started noticing a disturbing trend in Grand Teton National Park roughly four summers ago. The unofficial, unmarked, and unmaintained trail to the emerald Delta Lake was being overrun, buoyed by its popularity on (you guessed it) Instagram. Officials lacked the infrastructure to keep up with skyrocketing use.
Once a local curiosity that attracted 20 hikers a day at the height of summer just five or six years ago, the trail soon became a playground for tourists—up to 150 hit the trail every day in the summer of 2018, Sollitt says. And many of those hikers, informed only by what they saw on social media, tackled the trail unaware of the 2,000-foot elevation gain and unprepared for the demands of an eight-mile round-trip trek. In addition to killer photos, Sollitt says those hikers occasionally left with twisted ankles, broken limbs, or a rescue crew after getting lost.
So the tourism board teamed up with Minneapolis-based creative agency Colle McVoy to develop an awareness campaign centered on six words: Tag Responsibly, Keep Jackson Hole Wild. The Tag Responsibly campaign debuted in November with a simple directive: swap location-specific geotags for the Tag Responsibly geotag, which instead points visitors to the Jackson Hole and Greater Yellowstone Visitor Center rather than a specific trail, lake, or summit.
Sollitt says the idea was to encourage a little research before visitors settle on specific destinations—and hopefully to keep wild spaces a little more wild with fewer geotags. "We never want to tell someone not to come," Sollitt says. "We're just hoping the visitor has a better experience."
It seems to be working. Through March 2019, more than 1,800 photos used the campaign's geotag.
And its impact is spreading. The campaign inspired a similar effort in another outdoor community wrestling with overuse: Bend, Oregon. Visit Bend, its destination and marketing organization, introduced the Tag Responsibly, Keep Bend Beautiful geotag in December 2018. "When we talk to [other marketing organizations], we realize the names of the places may be different, but the nature of the issues we're experiencing is very similar," says Nate Wyeth, vice president of marketing and communications for Visit Bend.
Encouraging Safe Selfies with New Signage
Even if we're not geotagging our favorite spots, we're likely photographing some of the wildlife for which our national parks are known, like wild horses at Assateague Island National Seashore. And ever more powerful phones give us the courage to inch closer and closer to those animals—sometimes too close. 
As more visitors head outdoors, they're not always careful to follow best practices. Take the iconic bison of Yellowstone National Park. A recent study in the medical journal One Health found that visitors were approaching the animals with alarming frequency, and that roughly half of all bison-related injuries between 2000 and 2015 involved photography, up from 29 percent between 1980 and 1999. "The popularity of sharing selfies on social media might explain why wildlife are approached more closely than when traditional camera technology was used," the study says, while also referencing incidents in which visitors tried to take selfies with elk, raccoons, bears, and—incredibly—rattlesnakes.
So in 2017, the National Park Service teamed up with researchers at Colorado State University to launch the Safe Wildlife Distance Campaign to study whether improved signage at four national parks would deter visitors from approaching wild animals. Katie Abrams, principal investigator on the project and an associate professor at Colorado State University, says she'd heard anecdotally from park officials about visitors approaching wildlife, and she wanted to see if clearer signs and easy-to-read tips might alter those behaviors.
Take black bears at Shenandoah National Park. Park officials generally recommend that visitors remain at least 150 feet away from the bears, but researchers wondered whether new signs putting that information in an easier-to-understand context—four bus lengths, say—might change behaviors. The thinking was that visitors couldn't accurately judge 150 feet, but most of us have a pretty good idea of how long a bus is. Other signs encouraged visitors to remain in their vehicle while photographing the famous elk rut at Rocky Mountain National Park.
Researchers saw positive impacts at three of the four parks and, overall, found that roughly 16 percent more visitors kept their distance once the signs were in place. Abrams says that rangers at Assateague Island have since incorporated the campaign's messages into the junior ranger program, hoping to instill best practices in the next generation of park visitors.
Ashley D'Antonio, a recreation ecologist and assistant professor at Oregon State University's College of Forestry, says that effective signs can go a long way toward separating outdoorists from park wildlife. "There's a whole science around how to educate visitors and interpretation," she says. "And when you give someone an action they can do, they're much more likely to comply."
Improving Infrastructure to Account for the Instagram Generation
Between 2013 and 2017, the Glen Canyon National Recreation Area experienced a remarkable 130 percent surge in visitors, an increase spurred largely by Horseshoe Bend, which experienced an almost 100 percent growth in visitation over the past eight years. You can guess what happened next: crowds arrived without water or proper footwear, unprepared for the region's extreme conditions, they created a spiderweb of unofficial trails near the iconic viewpoint, and a few fell hundreds of feet to their death.
But William Shott, superintendent of Glen Canyon National Recreation Area, doesn't see Instagram solely as a problem. "We want to promote public lands and stay relevant, but we also want to protect them," he says. "And the best way to protect public lands is to have advocates. Often the best advocates are the folks taking photos and sharing them on Facebook and Instagram."
So Shott and the staff at Glen Canyon teamed up with nearby Page to reimagine park infrastructure for a generation of visitors driven less by solitude than the relentless pursuit of likes. That meant offering restrooms and trash cans, creating a new Americans with Disabilities Act–compliant trail, erecting a safe viewing platform, setting up shade structures, building a proper parking lot, and installing signs that remind visitors to bring water. Plans are also in the works to build additional trails and improve highway access, all while trying to preserve the region's natural beauty. "We want to make sure it's just as pretty in 100 years as it is today," Shott says. "Just because we have to start managing different areas, that doesn't mean we're not keeping an eye on what your kids or your kids' kids will see when they come to visit."
Lead Photo: PacoRomero/iStock
Trending on Outside Online