Readers' Choice Results
We asked. You answered. Here, the results of our first-ever Readers' Choice travel survey.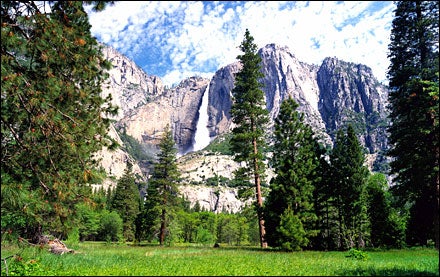 Heading out the door? Read this article on the new Outside+ app available now on iOS devices for members! Download the app.
Your Favorite National Park
Yosemite (16%) narrowly edged out Yellowstone (14%); Denali (10%) and Grand Canyon (9%) were next in line.
Your Travel Guide
Lonely Planet (37%) wins, followed by "a compass and my sense of smell" (15%).
Island Fever
The tropical island you most want to visit is Fiji (16%), ahead of Tahiti (9%) and Hawaii (6%).
Where You Most Want to Ski in North America
Top pick: Whistler Blackcomb, B.C. (16%) Runners-up: Aspen/Snowmass and Jackson Hole (9% each)
Top Flight
Your favorite airline is Southwest (17%) for its customer service. But ogle this: More of you chose the best airline based on hot flight attendants (7%) than on safety records (5%).
Time Off in the U.S.
States you most want to visit: California and Colorado (17% each). States you least want to visit: Iowa and Kansas.
Your Ultimate Adventure
Trekking the 2,650-mile Pacific Crest National Scenic Trail from the Mexican border to the Canadian border (36%).
Best Road-Trip Hotel Chain
It's a three-way tie between Residence Inn by Marriott, Holiday Inn, and local mom-and-pop motels (17% each). Clean rooms (68%), not vibrating beds (2%), were the deciding factor.
Your Dream Trip, Uncensored
"Go everywhere?"…"Maybe it's the pineapple air freshener in the next cubicle, but my dream vacation would be explicitly Caribbean."…"I'd like to go to the North Pole and hang out with polar bears."…"Paddling around Iceland, then cycling around the other way."…"Slow, relaxed, around-the-world trip visiting all seven continents utilizing cruise ships, private jets, camel, tuk-tuk . . . unlimited expense account and taking at least two years."…"Given that I live on the Kansas-Nebraska state line, apparently it is anyplace other than where I live."
Honeymoon
Number-one love destination: South Pacific (26%). Also-ran: Italy (23%). Vegas came in last (1%).
Best Domestic Airport
We chose Portland's PDX (see number two on this page).
You chose Denver's DIA (14%), for its selection of bars.