Resort to Virtue
The world's ten best eco-lodges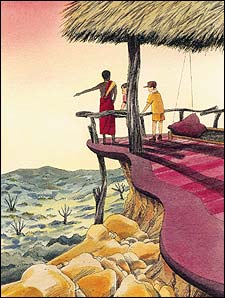 Heading out the door? Read this article on the new Outside+ app available now on iOS devices for members! Download the app.
IT USED TO BE ENOUGH FOR TOURISTS staying at hotels in wilderness areas to "do no harm"—that is, to leave the outdoors the way they found it. But since the very existence of a resort operation, no matter how green, can blotto fragile soil and scare off wildlife for days, most eco-lodge operators have tempered their vision to "doing more good than harm." And as Michael Seltzer, the director of Business Enterprises for Sustainable Travel, reminds us, eco isn't just about the environment. "Facilities worthy of the term 'eco-lodge' should also benefit the local community and economy," he says. We found quite a few places that fit this bill and offer access to stunning wilds. The choice is yours: Spend your next vacation at a corporate mega-resort or check into one of these ten Edens, and save the guilt for your fuel-guzzling flight home.
ECOTOURISM ROUNDTABLE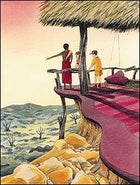 Kenya's Tassia Lodge

1. Turtle Island, Fiji
The High Life Just Gets Better and Better
2. Asa Wright Nature Centre and Lodge: Trinidad
Everybody Wings it in This Lush Shangri-La
3. Birch Pond Lodge, Alaska

Join the Griz and Roam a Kinder, Gentler Last Frontier
4. Wenhai Ecolodge, China

Visions of Ancixent China in the Snow Peaks of Yunnan
5. Posada Amazonas, Peru

The Amazon Trough the Eyes of the True People
6. Wilderness Lodge Lake Moeraki, New Zealand

Frodo Never Had It So Good
7. Tassia Lodge, Kenya

Step into a Hemingway Story (But Hold Your Fire!)
8. Chumbe Island Coral Park, Tanzania

A Comeback Reef and a Kingdom by the Sea
9. Selva Bananito Lodge, Costa Rica

Dreamtime and Fireflies in Central America
10. Black Sheep Inn, Ecuador

A Getaway to Andean Adventure

Turtle Island
The high life just gets better and better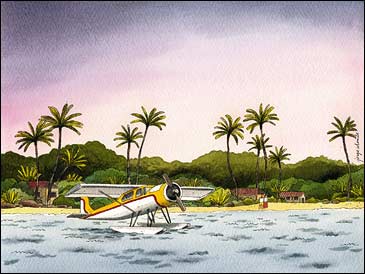 IN 1972, WHEN AMERICAN cable-TV mogul Richard Evanson bought Turtle Island, a 500-acre knob in the South Pacific's Yasawa Archipelago, it was a barren wasteland that had been overgrazed by wild goats. Using gear he'd brought in by boat and helicopter, the new owner survived on the beach alone for three years while working on the lodge, with help only from Joe Naisali, a Fijian from a nearby island who checked in from time to time on the modern-day Crusoe.
Since then, Evanson, now 68, has restored the island's ecosystem by overseeing the replanting of 300,000 trees, protecting the mangroves and coral reefs, and constructing new wetlands. The island's natural springs provide water; a four-acre organic garden keeps the kitchen stocked; and no more than seven couples are allowed to stay in the resort's bures (traditional thatch-roofed bungalows) at any given time. Which means a well-heeled few can have the saltwater fly-fishing, black volcanic cliff trails, and coral reefs of the Blue Lagoon (yes, the very same one where a teenage Brooke Shields frolicked in the buff) all to themselves.

But it's not all about eco-hedonism. Turtle Island, with an initial contribution from Evanson of $50,000, also established the Yasawa Community Foundation, which uses donations to support employment, education, and health care on neighboring islands. Every year, the resort shuts its doors for more than a week and invites doctors who conduct free medical clinics.
True to its name, the resort also protects endangered green and hawksbill turtles by "auctioning off" those caught by local fishermen, painting the names of the winning bidders on the turtles' backs, and releasing the reptiles back into the ocean. The indelible paint doesn't harm the turtles, but it does make their shells worthless to would-be poachers and evokes puzzled looks from snorkelers wondering just who the hell George is. Contact: Turtle Island, 877-288-7853, www.turtlefiji.com. Cost: $1,124 to $1,810 per couple per day; includes unlimited food and alcohol and all equipment use (except boats for fishing excursions).

Asa Wright Nature Centre and Lodge
Everybody wings it in this lush Shangra-La
THE 24-MILE FROM Trinidad's capital, Port of Spain, up to Asa Wright Nature Centre is not a trip you want to make after dark. The road twists vertiginously around sharp drop-offs, and nighttime is when poisonous fer-de-lance snakes slither across the road. But arrive at Asa Wright's refurbished plantation house in daylight and you'll be in time for a nocturnal delight: the nightly flyby of up to 47 bat species.
In 1967, Americans Don Eckelberry, a wildlife artist, and Emma Fisk, a conservationist, led the effort to buy the 200-acre estate and convert it into a community-outreach center. Run on the philosophy that all profits should be used to preserve more unspoiled wilderness, Asa Wright now encompasses a stunning 1,000-acre valley in the island's northern mountains.
A typical day: Roasted-on-site coffees in hand, guests gather at 6 a.m. on the veranda to watch the sun rise over the Arima Valley and ogle the yellow bananaquits and ruby-topaz hummingbirds. After breakfast, eager bird-watchers, their necks slung with Bushnell binoculars, join guided walks to glimpse the rare ferruginous pygmy owl and 142 other bird species. At sunset, everyone returns to the porch to swill rum punch and wait for the bats to swoop down.

If the atmosphere sounds genteel enough for your grandmother, it is. But then again, Granny probably wouldn't hammer 22 miles on a mountain bike, climbing 2,000 feet into the Northern Range and back to sea level at Maracas Bay, Trinidad's most beautiful beach. It's also doubtful she'd drive 30 miles southeast to the Nariva Swamp to kayak through mangroves and mingle with toothy caimans.
The 24-room lodge is small, and its board of directors intends to keep it that way, recently voting down additional housing in order to minimize guests' impact on the rainforest. But that doesn't mean their ethic isn't spreading: The center recently purchased another 1,000-acre property in the island's Aripo Valley, which is being developed as the Aripo Forest Lodge. Contact: Asa Wright Nature Centre and Lodge, 868-667-4655, www.asawright.org; U.S. booking agent, Caligo Ventures, 800-426-7781. For mountain-biking or kayaking day trips from Asa Wright, contact local guide Gerald Nichols at 868-623-3511. COST: starting at $90 per person, double occupancy; $120 single; includes three meals a day.

Birch Pond Lodge
Join the griz and roam a kinder, gentler last frontier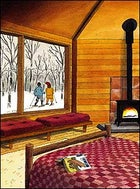 ALASKAN BILL ROYCE BOUGHT this secluded 100-acre slice of spruce and birch forest 75 miles north of his home in Anchorage to use as a weekend getaway. But then Royce got eco-religion and decided to build a sustainable lodge. So he enlisted his son, Daryl, to help him dig foundations and post holes (by hand, so as not to disturb the wildlife with bulldozers) for two one-bedroom cabins.
Some of the guests at Birch Pond Lodge, which formally opened in 2000, opt to stay in the original cabin, a comfortable old two-story lodge with overstuffed sofas and an Alaskiana library, where family-style stews are served. The old lodge isn't completely eco-friendly yet, but Royce is planning to convert it to passive energy next summer by installing solar panels. The more private, one-bedroom Beaver Lodge and Loon Cabin, however, were constructed from Alaskan spruce trees that had fallen prey to bark beetles. Beaver Lodge also has a composting toilet, and both cabins will eventually be fully solar-powered.
In spring and summer, visitors to Birch Pond can canoe or kayak its spring-fed lake, hike along alpine ridges in the Talkeetna Mountains, or commune under the stars (making sure to avoid insomniac grizzlies). In winter, there are miles of virgin snow (22,000-acre Nancy Lakes State Park is right next door) for cross-country skiing and frozen lakes for ice skating. Many Alaskans might be tempted to rip up the abundant white stuff on a snowmobile, but Royce forbids recreational "sledding" on his property. "You can't appreciate nature if you're blowing by it at 60 miles per hour on a snow machine," he says. Plus, there's nothing like the rev of an exhaust-spewing engine to tarnish the Zen glow of the cabin's roaring fire and its exquisite view of Denali and the whirling Northern Lights. Contact: Birch Pond Lodge, 907-495-3000, www.birchpondlodge.com. Cost: $220 per person per day (single or double); includes lodging, three meals daily, guided nature hikes, and canoe and kayak tours.

Wenhai Ecolodge
Visions of ancient China in the snow peaks of Yunnan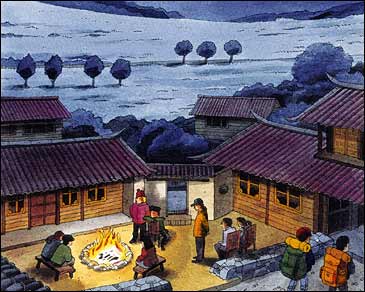 EVEN ON A GOOD DAY, making your way from the United States to Wenhai, a rustic community-owned and -operated eco-lodge located at 9,900 feet in the mountains of southern China, is a 24-hour commitment: First you have to fly ten hours from San Francisco to Beijing or Shanghai. Then you continue three hours on to Kunming, the capital of Yunnan province, and catch a 45-minute hopper flight to Lijiang, an aging hamlet with old stone houses and cobblestone streets. And you still haven't arrived.
"From there, you take a half-hour bus ride up to the village of Baisha, where you start hiking for five hours, first through rural communities, then up through pine trees, then into oak and rhododendron forests," explains Graham Bullock, coordinator of the Ecotourism Program in China for the Nature Conservancy, which has been sponsoring the Wenhai project. Only then do you arrive at Wenhai Ecolodge, a refurbished log house with sloping roofs and hand-carved window frames. Although the inn has only 20 beds, it is becoming a maverick example of ecotourism in China.
The lodge is owned by a village cooperative of 56 families who bought, renovated, and now staff the property, dishing out rural cuisine in a rustic courtyard. Equipped with solar panels, bio-gas equipment, water purifiers, and a greenhouse, the place proves that small-scale ecotourism can thrive. Plus it donates 10 percent of the profits to conserving nearby Wenhai Lake and its surrounding forests, which are threatened by unsustainable agriculture and illegal logging.
The extreme geography of Yunnan—where Asia's three great rivers, the Yangtze, Mekong, and Salween, rush among five immense mountain ranges—makes for varied trekking. It also accounts for the region's wildlife diversity, which ranges from protected black-necked cranes to Asiatic black bears. From Wenhai Ecolodge, visitors can take a three-day hike down to Tiger Leaping Gorge along a difficult, narrow path. But if the long journey to Wenhai has already wiped you out, there's always the option of chilling on the patio as the sight of the Jade Dragon Snow Mountains, a cluster of 13 peaks that top out at 18,467 feet, unfolds like a private Imax screening. Contact: The Nature Conservancy's Ecotourism Program in China, 011-86-888-515-9917, www.northwestyunnan.com. Cost: $20 per person per night, including food; hiking guides extra.

Posada Amazonas
The Amazon through the eyes of the true people
AT THE EDGE OF AN OLD-GROWTH forest the size of Connecticut, Posada Amazonas is run and staffed mainly by members of the native Ese'eja community. Ese'eja means "true people," and these indigenos are expert river navigators who support themselves by hunting, preparing forest medicines, and gathering wild Brazil nuts to sell to tourists.
Because of the lodge's community ownership, guests have ample opportunity to "go local." This might mean taking ethnobotanical walks—during which Ese'eja guides explain which seeds and barks are traditionally used for hammocks, fans, arrows, and medicines—or visiting the neighboring 1.8-million-acre Tambopata National Wildlife Reserve to search for giant river otters and parrots. Those who prefer altitude can climb the lodge's seven-story, 115-foot canopy tower and stop at each level to observe tanagers, jacamars, guans, and oropendulas in action.

"The low-impact eco-lodge has prompted the Ese'ejas to undertake their own conservation efforts, such as protecting the large eagle nests in the vicinity," says Kurt Holle, general manager of Rainforest Expeditions, the company that operates the Tambopata Research Center in southern Peru (a 13-bedroom facility dedicated to macaw research). Rainforest Expeditions, also the catalyst for the construction of Posada Amazonas, splits the profits from Amazonas 40/60 with the 400-member Ese'eja community.
There's no electricity or hot water at Posada Amazonas, but hurricane lamps serve as night-lights and mosquito netting covers the beds. The lodge is constructed from local clay and wild cane and roofed with palm fronds. Each of its 30 bedrooms opens directly onto the rainforest, but the howler monkeys usually refrain from entering the rooms. Contact: Rainforest Expeditions, 877-905-3782, www.perunature.com. cost: $95 per person per night; includes three meals a day.

Wilderness Lodge Lake Moeraki
Frodo never had it so good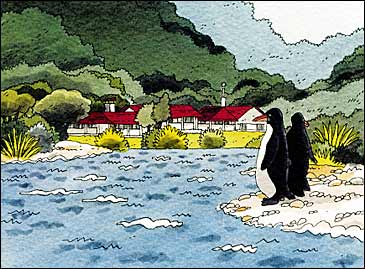 OWNER GERRY MCSWEENEY, a biologist who presides over the Royal Forest and Bird Protection Society (New Zealand's biggest environmental organization), and his wife, Anne, created this lodge as a base while lobbying to conserve the adjacent 6.7 million acres of rainforest in the South West New Zealand World Heritage Area on the South Island. The resulting "Place of Green Jade," or Te Wahi Pounamu Reserve, which includes visitor centers and walking trails, comprises more than 10 percent of the country's total landmass.
"When we established the lodge in 1989, the immediate concern was to create jobs with ecotourism as an alternative to the timber industry, which was logging 1,000-year-old podocarp trees," the 49-year-old McSweeney says. "Now we've moved on to other conservation efforts. But we're not too popular with recreational fishermen: We've stopped them bringing their dogs to the coast because they kill the penguins."
Located in a lakeside clearing surrounded by an ancient podocarp forest, the main lodge was once the Red Dog Saloon, a well-loved watering hole for construction workers building the remote Haast Highway back in the sixties. The McSweeneys reused most of the original wood and run the entire complex on hydroelectric power from the nearby Moeraki Rapids. They also built 22 guest rooms in two separate buildings connected by covered walkways.
Staying at a lodge run by naturalists makes for 24/7 activity. Guests can take a guided 1.5-mile trek to the Tasman Sea coast, where fur seals and Fiordland crested penguins roam. Then they can paddle around two-mile-long Lake Moeraki. Or they can do what Kiwis do best: tramp along the ten-mile Moeraki Valley trail system, where wild orchids grow. When midnight rolls around, it's back outside to gaze at the Southern Cross. Contact: Wilderness Lodge Lake Moeraki, 011-643-750-0881, www.wildernesslodge.co.nz. cost: From $90 to $160 per person; includes breakfast, dinner, and two guided activities per day.

Tassia Lodge
Step into a Hemingway story (but hold your fire)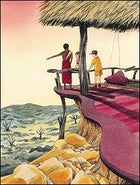 IN THE LAST FEW YEARS, indigenous small-scale tourism has been providing an alternative to the traditional luxury safaris run by old colonialists and staffed by underpaid tribespeople. Set on a rocky bluff a bumpy six-hour drive from Nairobi, Tassia is the newest of a growing group of community-founded eco-lodges.
Owned by members of the semi-nomadic Laikipiak Masai tribe, this six-banda (bungalow) open-plan lodge, which sleeps up to 12 people, sits inside the tribe's 60,000-acre ranch, giving you access to lands that run from the Mokogodo Escarpment across massive plains to the Ngare Ndare River, along which gazelle and buffalo roam. The Laikipiak are renowned for their hospitality—the losers of Survivor Africa were sent here to lick their wounds—and their guest lodge has a laid-back, all-natural vibe: thatch roofs, wood floors, hand-carved furniture, paraffin hot-water heaters, and half walls in the bedrooms, which are designed to let cool breezes in without impeding the views of Lolokwe Mountain.

Visitors can accompany their Masai hosts on game drives to see hyenas, leopards, lions, and waterbuck. Or they can hike up to the 7,300-foot summit of neighboring Mount Lossos and paraglide back down. At the end of the day, Tassia guests usually end up wallowing like happy hippos in the lodge's stone-floored swimming pool. Contact: Let's Go Travel, Nairobi, 011-2542-4447-151 or -4441-030, www.tassiakenya.com. Cost: $360 per person per day; includes lodging, all meals (excluding alcohol), and all activities.

Chumbe Island Coral Park
A comeback reef and a kingdom by the sea

THE HANDFUL OF SNORKELERS who swim Chumbe Island's coral reefs will eventually meet Oscar, a three-foot potato cod, and Louise, a hawksbill turtle. Chumbe, the world's first privately managed marine sanctuary, is an uninhabited 54-acre island eight miles off the coast of Zanzibar that uses the profits from ecotourism to conserve its endangered coral reef and forest reserve. Since 1994, when the Zanzibari government closed the half-mile reef to fishing and officially declared it a protected haven, locals who used to fish the island have worked as park rangers, guarding the reef against poachers.
"The former fishermen, who are now our park rangers and guides, were the key to raising awareness about marine ecology and sustainable management of natural resources," says London native Eleanor Carter, Chumbe's project manager. "Local community members, including women from rural Muslim societies, have been given preference for employment. We had some not-so-happy husbands at the beginning, but they got used to it."

Aside from basking in solitude on the two-mile sandbar that appears at low tide, guests skin-dive among the Indian Ocean's parrot fish, lobsters, stingrays, dolphins, and unicorn fish; hike past baobab trees and into a virgin coral forest with 15,000-year-old petrified clams and spiky euphorbia; and take nighttime nature walks to look for endangered giant coconut crabs.
The seven triangular thatch-roofed bungalows have solar-powered lighting, composting toilets, and gray-water recycling systems. Roofs are designed to channel rainwater to underground cisterns where it's filtered, solar-heated, and then hand-pumped by staffers to the bungalows' showers. The cabins are decorated with African art and textiles and stocked with organic soaps and shampoos made by a local women's cooperative. The island's chef cooks up Zanzibari, African, Indian, and Middle Eastern cuisine, all made from local produce and seafood.
Since the island became an official marine sanctuary, fish population and diversity have increased. Contact: Chumbe Island Coral Park, 011-255-24223-1040, www.chumbeisland.com. Cost: From $150 per person per day; includes lodging, meals, snorkeling, and guided dives.

Selva Bananito Lodge
Dreamtime and fireflies in Central America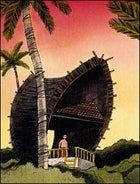 GERMAN EXPATRIATE RUDI STEIN began homesteading this remote 2,000-acre property near Porto Limón and Cahuita National Park, on the eastern coast of Costa Rica, in the 1970s. But when he wanted to start logging some of the rainforest that abuts the Bananito River, his kids intervened.
"We wanted to help my dad find an alternative to logging, so we built the lodge instead of letting him cut trees," says Rudi's daughter, Sofia, who owns and runs Selva Bananito with her brother, Jürgen. "The cabins are made out of abandoned mahogany logs that we dragged out of the woods using water buffaloes."
The hotel, which consists of 11 cabins and a main building—all built on stilts—has serious eco bona fides: It uses oil lamps and candles instead of electric lights, relies on solar-heated water, recycles gray water via water lilies and hyacinths, according to native methods, and stocks organic soaps and shampoos made by a local cooperative. Additionally, the Stein family donates 10 percent of the lodge's income to a nonprofit conservation foundation.

But don't get bogged down in the green litany: The lodge borders the 2.5-million-acre La Amistad Biosphere Reserve, the largest protected ecosystem in Central America, providing ample exploratory elbow room. Adrenaline junkies can rappel down 100-foot waterfalls and learn how to climb giant ceiba trees using ascenders and harnesses, while the less adventurous can hang out—binocs in hand—on the lodge's 100-foot viewing platform and scan the mahogany canopy for toucans, crested hawk eagles, and red-lored parrots.
As the day winds down, guests soak up the evening light from the hammocks crisscrossing their casita decks. "At night, there are so many fireflies blinking on and off," Sofia says, "that visitors say our place seems like eternal Christmas." Contact: Selva Bananito, 011-506-253-8118, www.selvabananito.com. cost: $100 per person per night, double occupancy, which includes three meals a day, plus taxes. For visitors who stay for three days or more, the fee also includes a free guided rainforest hike and a tree-climbing intro session.

Black Sheep Inn
A gateway to Andean Adventure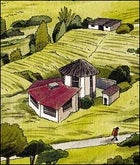 WHEN GUESTS ARRIVE at this lodge, tucked in the Cordillera mountain range five hours down the road from Quito, they marvel at the rustic chalet-style lodge and the view over the Rio Toachi Canyon. But they break out the cameras for the facility's dry-composting toilets. These thrones are stand-alone shacks that include little indoor vegetable and flower gardens and picture windows for enjoying the canyon views.
"Guests always compliment us on the toilets," says Andres Hammerman, a 36-year-old Chicago native who co-owns Black Sheep with his wife, Michelle Kirby. "But they're also a really good example of sustainable agriculture, because the compost is used later for planting trees."
The rest of the lodge may not be quite as eccentric, but it's equally sustainable. The four outbuildings (which have a total of nine bedrooms, each with its own fireplace) and the dining lodge are built from homemade adobe bricks and roofed with straw and Spanish tile. Hammerman and Kirby travel to Quito to recycle glass, paper, and plastics. Besides donating phone lines to the village school and police station, the couple encourages visitors to get involved in local projects; one recent guest bought books for local schoolchildren.

The seven-mile hike from 12,500-foot Quilotoa Crater Lagoon down to Black Sheep is considered one of the best day hikes in Ecuador (a lodge employee will drive you to the trailhead). Visitors can also climb, mountain-bike, and ride horses along the volcanic walls of Rio Toachi Canyon, trek to pre-Incan ruins, or wander up into the high-altitude cloudforest. In the evenings, guests assemble for family-style feasts of organic veggies from the garden. Afterward, they gather around the fireplace to drink beer, tell stories, and woozily stroll back to their cabins to sink into cozy loft beds. Contact: Black Sheep Inn, 011-593-381-4587, www.blacksheepinn.com. cost: $18 per person, double; $30, single; includes breakfast and dinner.