See It to Belize It
From beach to back-a-bush, the other Caribbean's best adventure base camps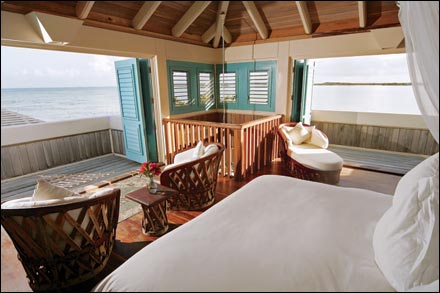 Cayo Espanto
Heading out the door? Read this article on the new Outside+ app available now on iOS devices for members! Download the app.
[Rainforest Respite]
LAMANAI OUTPOST LODGE
Orange Walk Town
THERE'S A REASON HEART OF DARKNESS comes to mind when your motorboat emerges from the snaking New River into a 28-mile-long lagoon towered over by the jungle-cloaked Maya temples of Lamanai: Part of the 1994 film adaptation of the Joseph Conrad novel was shot here. Docking at the well-concealed Lamanai Outpost Lodge—where workers clad in camouflage whisk away your bags as black howler monkeys woof from the trees—adds to the private-dominion effect, but no worries: There are no madmen in this luxe encounter with a lost world. The resort's 20 palm-thatched cabanas are handsomely built from local hardwoods and come with ceiling fans, minibars, and verandas slung with hammocks. Gravel paths wind through orchid gardens to the lofty restaurant and bar, a fine perch for enjoying sweeping views of New River Lagoon, where you can swim, canoe, and fish for freakily large tarpon. Spot toucans and red-lored parrots as you wander around the highly atmospheric, 950-acre Lamanai Archaeological Reserve, one of the largest ruins of the pre-Classic Maya world, dating to 1500 b.c. Doubles, $312–$513 (based on double occupancy), all-inclusive; 888-733-7864, www.lamanai.com
Hidden Valley Inn
Cayo District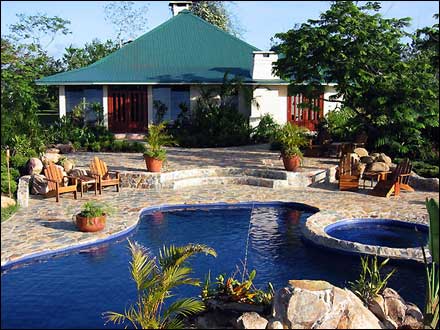 THE BRACING STEAM WATER may be a shock, but how often do you get to dive deep, surface behind an idyllic cascade, then drip-dry your bare bod on a moss-scented, sun-soaked rock surrounded by exotic orchids? It's no wonder honeymooners feel the gravitational pull of Hidden Valley Inn, a 7,200-acre spread in the Maya Mountains of western Belize. And serious birders can commune with the likes of rare orange-breasted falcons, king vultures, stygian owls, and golden-hooded tanagers. Ninety miles of trails and old logging roads spoke outward from Hidden Valley's 12 cottages and main lodge, where you'll be welcomed back from each day's expedition with a swirling Jacuzzi, a blaze in your room's fireplace, and a candlelit dinner under the stars. The menu fuses Belizean Creole with international cuisine, including coconut curry beef and carrot-coconut-ginger soup. No biggie—you'll burn it off on the way to tomorrow's waterfall. Doubles, $150–$170; 011-501-822-3320, www.hiddenvalleyinn.com
Blancaneaux Lodge
San Ignacio
Blancaneaux Lodge

ROOM WITH A VIEW: Porch at Blancaneaux Lodge
OCCUPYING ONE OF THE FEW CORNERS of the Mountain Pine Ridge Forest Reserve not ravaged by the beetle blight of 2000, Blancaneaux Lodge—owned by director Francis Ford Coppola—is an opulent, detail-rich delight set on a green bluff above the flowing waters of Privassion River. Designed by renowned Mexican architect Manolo Mestre, the ten cabanas and seven grand villas feature dark hardwoods, Balinese carvings, and soaring thatch ceilings and are accented with tropical splashes of colorful fabrics. While Thai-massage therapists work their magic inside an Indonesian-rice-house spa, the resort's Ristorante Montagna offers organic herbs and vegetables from an on-site garden, served in a range of Italian-themed salads, pastas, sandwiches, and gourmet pizzas. Horseback-riding trips to Big Rock Falls are most popular, and Blancaneaux's proximity to the Caracol archaeological site—a vast Maya city only partially excavated—makes a visit to the ruin practically mandatory. Doubles, $180–$500; 800-746-3743, www.blancaneaux.com
The Lodge at Chaa Creek
San Ignacio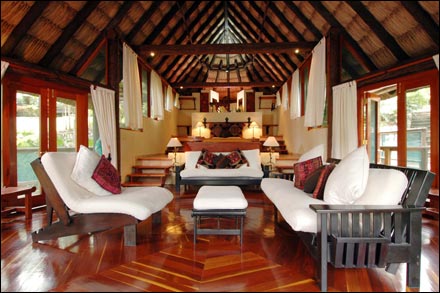 THE TRANSFORMATION OF THE LODGE at Chaa Creek from humble riverside backpacker haven to award-winning "adventure center, rainforest reserve, and spa" has been a 24-year odyssey for owners Mick and Lucy Fleming. The American-British couple discovered their plot of paradise while traveling in the late 1970s and opened the country's first jungle lodge in 1981. The grounds are now crisply manicured, and a handsome, uniformed staff serves a year-round stream of guests. Chaa Creek's 23 thatch-roofed cottage rooms, including a handful of luxury suites, have Mexican-tile or hardwood floors, rich Guatemalan fabrics, and Maya masks on the walls; two "treetop Jacuzzi suites" put you at eye level with massive orange iguanas lazing in the surrounding branches. For a taste of the old days, the Macal River Jungle Camp consists of ten canvas-roofed, screened casitas on stilts, about a ten-minute walk from the main lodge along the Ix Chel Medicine Trail. Sign on for a custom mountain-bike tour to the nearby Xunantunich ruins; you'll have access to a modern fleet of high-end Specialized bikes and a skilled posse of local guides. Doubles, $85–$125; treetop Jacuzzi suites, $255–$320 (for four); camp casitas, $55 per person, including breakfast and dinner; 011-501-824-2037, www.chaacreek.com
Victoria House
Ambergris Caye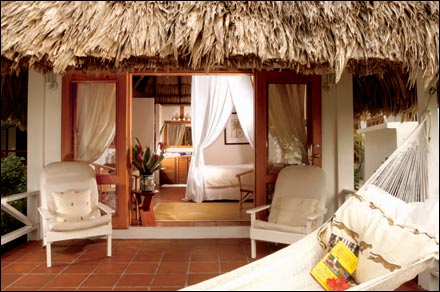 YOU HEAR "Y'ALL" a lot around the two swimming pools, groomed beach, and elegant dining room of Victoria House, on Ambergris Caye. Not surprising, since Ambergris—a mere three-hour trip from Houston—is like a Hamptons for in-the-know Texans. With such a friendly vibe, Victoria House—an assortment of thatch-roofed casitas, plantation rooms, and tin-roofed villas, all freshly painted white with mahogany trim—is anything but pretentious. First stop after getting settled should be the Fantasea Dive Shop, in a palapa on the pier, to rent kayaks; or sign up for all manner of snorkeling, diving, or fishing trips. Top on the list: snorkeling at nearby Hol Chan Marine Reserve and Shark Ray Alley, where you'll float around with southern stingrays, nurse sharks, and stoplight parrotfish. After dark, dine on snapper cakes and cashew-crusted grouper in the poolside garden. Or snag a golf cart for the two-mile ride to the funky, pastel town of San Pedro for pork and plantains at low-key Elvi's Kitchen. If you're feeling adventurous, take a water taxi 25 minutes north to hip Italophile Mata Chica Beach Resort for calamari fritti. Doubles at Victoria House, $155–$485; 800-247-5159, www.victoria-house.com
Cayo Espanto
San Pedro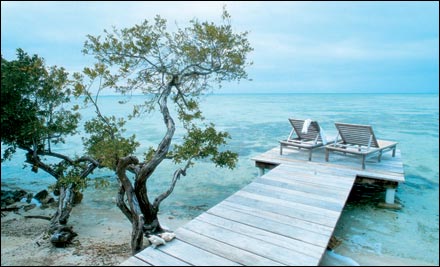 WHEN YOU ARRIVE AT THE DOCK of Cayo Espanto, a six-minute launch ride from Ambergris Caye's hub of San Pedro, you might find yourself envying Salty, the island's resident yellow Lab, who calls this four-acre speck of raked sand and palm trees home. But you'll realize this is no dog's life as you sink into your king-size bed facing a seemingly endless expanse of aquamarine sea, slip into your own private plunge pool, lounge on your private dock, and dine whenever and wherever you feel like it. Four villas plus a smaller bungalow are strategically placed around the island so that you'll never be aware of other guests. And with a two-to-one staff-to-guest ratio and your own personal "houseman" running around in what looks like a pith helmet, you can literally choreograph every minute of your vacation. Feel like something sweet? Within ten minutes, freshly baked chocolate-chip cookies arrive on a silver tray. Feel like bonefishing, snorkeling, playing golf, having a massage? Not a problem. One past guest, Leonardo DiCaprio, liked the formula so much that he bought his own island off Belize, 104-acre Blackadore Caye, and is working with the team from Cayo Espanto to develop it. Doubles, $1,095–$2,450; entire island (up to 14 guests), $9,000–$13,000 per night; 888-666-4282, www.aprivateisland.com
Kanantik Reef and Jungle Resort
Placencia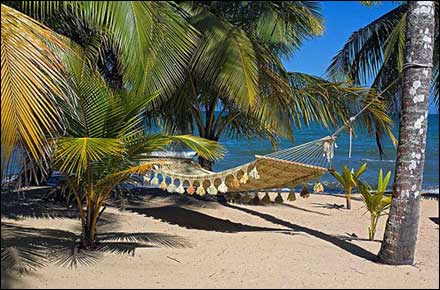 FLYING INTO KANANTIK'S PRIVATE AIRSTRIP between Dangriga and Placencia, with the resort's 300 acres of untamed jungle sprawling behind its palm-studded beach and the big blue stretching beyond, you know you're in for a sweet experience. The vigorous white-haired Italian owner, Roberto Fabbri, designed the 25 Maya-inspired palm-thatched bungalows, gorgeous restaurant, and poolside bar mostly himself, and every detail, from the homemade pasta served in the high-ceilinged open-air restaurant to the elegant dock with its sparkling fishing and dive boats, has been keenly thought out. The circular cabanas feature rock-wall showers, four-poster beds draped with mosquito netting, and big wooden lattice windows that welcome the balmy ocean breeze. When you're not lounging, take a Hobie Cat out for a sail, canoe to the nearby Sapodilla Lagoon, fish for permit, bonefish, and tarpon, or fin with Fabbri in his bright-red Speedo among the massive loggerhead turtles and spotted eagle rays that prowl the outlying reefs. Nearby, the 128,000-acre Cockscomb Basin Wildlife Sanctuary, established in 1990 as the world's first jaguar preserve, is one of the best places in Belize to spot the elusive cats. Doubles, $365, all-inclusive; 877-759-8834, www.kanantik.com
The Inn at Robert's Grove
Placencia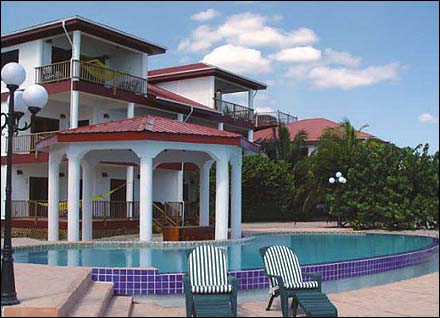 "WHO'S ROBERT?" everyone wants to know at the Inn at Robert's Grove, near Placencia. That's not too hard to figure out, since the owners, Robert and Risa Frackman, are easy to spot—having cocktails at the small bar, dining on Caribbean lobster at the next table on the terrace, saying hello as you splash in one of the three Mexican-tiled pools. In fact, you're staying in what was originally planned as a beachfront vacation home for these Manhattan refugees, and it still feels that way. All 52 rooms in the nine red-roofed two- and three-story buildings have Risa's stamp: a jungly feel created by saffron-yellow walls mixed with leopard prints, emerald tiles, and Caribbean artwork. Amble across the road to the lagoon side (the resort is on a narrow peninsula), where boats leave for dive trips to the reef and daylong excursions up the Monkey River to see huge green iguanas, bare-throated tiger herons, and howler monkeys. If all this isn't enough of a getaway, head to one of the resort's two private islands (Robert's Caye and Ranguana Caye), each more than a half-hour away by boat, where you'll stay in a rustic bungalow and bask in the sun like a true castaway. Doubles, $145–$720; 800-565-9757, www.robertsgrove.com
Big Fish: Whale Sharks
Chasing Belize's friendly behemoths of the sea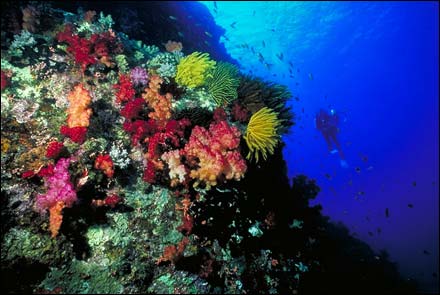 I'M FINNING 80 FEET DEEP off the coast of Belize with a small cluster of scuba divers and our dive master, Brian Young. We have paid him to lead us to elusive, enormous Rhincodon typus—whale sharks. At the moment, with shafts of sun stabbing through the myriad shades of aqua surrounding us, the ocean feels empty.
Then, about 20 feet beneath us, a swirling school of thousands of cubera snapper appears. Young stops, and we gather in a circle above the fish, our air bubbles rising. Hopefully the white cloud will mimic snapper spawn, and the gentle giants will come up from the deep to investigate. But then one of the divers does the unthinkable: She breaks away from the group, drops into the school, and starts setting off her camera flash. The fish quickly disperse, and we return to the surface, the first of our two dives a bust.
Back in the sweltering cabin of Viper, the yellow-green-and-red-striped dive boat, tempers are running as high as the 97-degree heat. Several of the well-heeled divers onboard have spent a fruitless week searching for a whale shark. Young shakes his head: "I jes been havin' me a terrible streak of bad luck."
Divers come from all over the world to swim with these behemoths, and, locally, Young is one of the whale shark kings, having long demonstrated an uncanny ability to locate the animals on instinct. He's been diving for 15 years among the whale sharks, which come annually to Gladden Spit, an elbow-shaped reef formation about 26 miles off the coastal town of Placencia, in the southern third of Belize's coast. Young recognizes many of the same sharks year after year.
The giant creatures, which can grow up to 50 feet long and weigh more than 12 tons, show up around the full moons, especially from March to June, when the snapper come to spawn. Very little is known about the nonaggressive animals. In Belize, whale shark watching has become big business, and a ranger-patrolled marine park has been established to keep things under control.
It's time to get back in the water, and Young is anxious—this will be the last chance for most divers onboard to see whale sharks, and he wants to deliver. We descend to 80 feet, and for 15 minutes we see nothing. Then another school of snapper appears, and Young gathers us together. As our bubbles rise, lo and behold, a 25-foot specimen emerges, its wide straight line of a mouth opening for business, its white belly silhouetted against the surface. Slowly, the whale shark corkscrews down around our column of bubbles, its gray spotted flank passing a yard from my mask before vanishing into the deep. Young's streak of bad luck, it appears, is over.
Details: Brian Young owns the Seahorse Dive Shop; $150 per two-tank dive; 800-991-1969, www.belizescuba.com
Access and Resources
Getting There: Continental (800-231-0856, www.continental.com) flies nonstop to Belize City from Houston for $475 round-trip; American (800-433-7300, www.aa.com) flies direct from Dallas for around $650 and from Miami for $750.
Getting Around: Single-engine airplanes are an easy way to hop around a country with an underdeveloped road system. Tropic Air (800-422-3435, www.tropicair.com) and Maya Island Air (800-225-6732, www.mayaairways.com) run scheduled flights throughout Belize from Belize City. A one-way flight to Ambergris Caye on Tropic Air costs about $55 per person. For those up for a different sort of adventure, numerous car-rental companies are located in Belize City; a four-wheel-drive vehicle is recommended. Thrifty (800-847-4389, www.thrifty.com) and Budget (800-283-4387, www.budget-belize.com), with locations at the airport, rent Suzuki 4x4s starting at $500 per week. Gas in Belize costs about $4.50 a gallon.
Best Time to Visit: High season is December through April, when the average temperature hovers around a balmy 75 degrees; the wet season is June through November.
Resources: Belize Tourism Board, 800-624-0686, www.travelbelize.org