Stoke Goes Prime-Time
Gen Y wants more X, and ESPN's putting out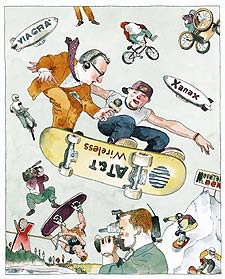 Illustration by Barry Blitt
Heading out the door? Read this article on the new Outside+ app available now on iOS devices for members! Download the app.
IN LATE JANUARY, sandwiched in with two weeks of postseason football, a sicker kind of sports fare will get a shot at unprecedented prime-time glory. For the first time in its eight-year history, the Winter X Games—that hyperadrenalized showcase of world-class snowboarding, snowmobiling, and freestyle skiing—will be broadcast live from the slopes. ABC will kick off the four-day games in Aspen/Snowmass with a two-hour curtain-raiser on January 24. Cable sports giant ESPN—the X Games' creator—will air nightly coverage in the coveted time slot of 9 to 11 p.m.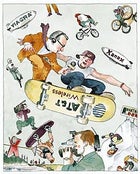 ESPN's signature show, SportsCenter, will break away for live feeds. Star commentators will be on hand for the stomp and circumstance; so will 400 production people, 71 cameras, 40 miles of cable, and six mobile TV trucks. Aspen Skiing Company—which just a few years ago wouldn't let snowboarders near some of its tony slopes—is playing the gracious host, going so far as to move its superpipe from high on Buttermilk Mountain to a spot downhill for easier viewing.


Most of this ruckus is for the sake of Generation Y, the loosely defined six- to 24-year-old, 70-million-strong group that represents the biggest, most powerful youth swarm to come along since the baby boomers first started whining. In the early days of extreme sports, some marketers wrinkled their noses at Gen Y's baggy clothes and vaguely delinquent ways, but today these consumers, who in 2003 had an estimated $211 billion to spend, are more prized by advertisers than nearly any demographic on earth. "They literally represent the future market for most brands," says John Geraci, vice-president of youth research for the New York-based research firm Harris Interactive.


Prime-timing the X Games is just the latest move by TV networks and advertisers to snag Gen Y's cash. In 2003 alone, NBC aired Gravity Games V and MTV gave us Surf Girls. The WB network broadcast Boarding House: North Shore, a Mark "Survivor" Burnett series about pro surfers competing and canoodling in Hawaii. The Fox Cable Networks launched Fuel, a 24/7 action-sports channel with fare like GKA (Girls Kick Ass); Fox also introduced the shows 54321 and Fusion TV. And ESPN inaugurated the X Games Global Championship, a winter- and summer-games combo.


Dozens of corporations have been sponsors, from Sony to Motorola to Mountain Dew. To win Gen Y's heart, they believe, you've got to make it pound. "These are the kids who go to school and put their feet up on the desk and say, 'Entertain me,' " says Harvey Lauer, president of the New York-based research company American Sports Data Inc.


There's a risk, of course, in this naked bid for loyalty. Gen Y disdains authority and has "an inbred mistrust of major brands," Lauer says.


But as the mainstreaming continues, such woes will probably recede. What's more likely ahead is an era when X sports are so common they'll seem square. Just like postseason football.