Suffering a Sea Change
Who knows best the cost of rowing solo across the Atlantic? She who finishes last.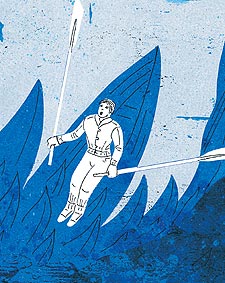 Heading out the door? Read this article on the new Outside+ app available now on iOS devices for members! Download the app.
THE ACHING VASTNESS of the ocean. A million mindless waves crawling up one another's backs like blue crabs. Through a monocular I glass the line where the paper-smooth blue of the sky attaches to the streaming blue of the sea.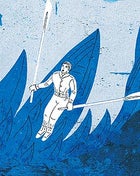 Illustration by Brian Cronin

She isn't even a speck out there. She's still beyond the curve of the earth, beyond imagination.


Farther down the beach a tall fishing vessel is dry-docked on blocks of wood. Up the rope ladder I go, onto the slanted roof of the forecabin, up the leaning mast to the crow's nest.


There she is.


Still so far out to sea her absurdly small boat is almost unidentifiable. But she is undeniably extant, the palms of her oars flashing in the sunlight, like hands waving. She appears to be rowing strongly, steadily; landfall is still hours away. And yet what are mere hours after all this? She is rowing herself out from unspeakable desolation, like a figure walking out of a desert mirage.


Back at the pier in the Barbados resort of Port St. Charles, watercraft have been mustered for the mostly English press corps: the condescending BBC crew, stiff-necked British tabloid reporters, sunburnt-but-sallow Fleet Street photographers, plus a few excitable Barbadian broadcasters. Our flotilla casts off and cruises out past the breakwater toward the tiny rowboat. After 111 days at sea, ocean rower Debra Veal, 26, should be scorched, stringy, blistered, trembling with exhaustion. Nothing could be further from the truth. An incredulous photographer shouts, "My God, Ms. Veal, you look as if you've just come off an ocean cruise!"


She smiles, teeth white as shells. "I have," she says.


Veal has her sun-blond hair pulled back in a bouncy ponytail. She is exquisitely tanned, with the shapely, corded legs of an Olympic sprinter and the swooping curves of a cover model. She's a Devonshire girl who's been an athlete all her life—tennis, kayaking, mountaineering. Veal is also a businesswoman who owns a London gallery called The Well-Hung Art Company.


A cheer rises from the crowd at the dock as she glides in. She raises an oar in the air and shakes it. Her husband, Andrew Veal, a tall, handsome gent, steps into the rowboat, giving her a kiss and a long hug. They'd set out together in the little vessel but, afflicted by a previously unknown phobia of the sea, he jumped ship after two weeks, and she'd carried on alone for 97 days.


And now Debra Veal is the last-place finisher in what is indubitably the most grueling athletic event in the world: the quadrennial Atlantic Rowing Challenge, a 2,900-mile race across the sea from Spain's Canary Islands to Barbados in the southern Caribbean.




DAY 15: At the launch Sir Chay Blyth addressed all the competitors. "As you are rowing across the Atlantic looking down at your little brown toes, ask yourself, 'Am I the happiest I could possibly be?'" Well, I've had a good look at my exceptionally brown toes and my answer at this point is a resounding yes.
—from Debra Veal's e-mail diary



IN 1896, TWO NORWEGIANS, George Harboe and Gabriel Samuelson, rowed from Manhattan to Le Havre, France, in 60 days—the first recorded crossing of an ocean by rowboat.
Seventy years later, in 1966, an Englishman and a Scot, John Ridgway and Chay Blyth, rowed an open 20-foot dory from Cape Cod to Ireland's Aran Islands in 91 days. Like the Norwegians—indeed, like almost all sailors for the previous 500 years—Ridgway and Blyth carried all their own provisions and navigated by sextant.


In 1971, John Fairfax and Sylvia Cook of Great Britain rowed 8,041 miles across the Pacific Ocean from San Francisco to Australia in 361 days. The same year, Chay Blyth became the first person to sail single-handed and nonstop around the world against prevailing winds and currents—a pitiless, 292-day voyage. Thereafter, taking on one challenge after another, he racked up victories in the toughest sailing races on the planet, including the Whitbread Round the World Yacht Race.


An intrepid sailor at sea, Blyth was and remains a bombastic self-promoter on land. In 1989, capitalizing on his fame, he created an event-marketing company called the Challenge Business. With British Steel as the sponsor, Blyth's company put on the first against-prevailing-winds-and-currents-round-the-world sailing race, the British Steel Challenge. In 1997, this impresario of endurance founded the Atlantic Rowing Challenge.


"When you talk about extreme sports, people come up with skateboarding," says Sir Chay, who was knighted for his services to sailing. "Ha! Zooming up in the air and doing flips and flops. That's not an extreme sport. That's a technical sport."


We're poolside in Port St. Charles. Blyth flew in to Barbados for Debra Veal's brilliantly hyped finish and right now is finishing off his fifth rum punch.


"An extreme sport is one in which you put your life on the line," he continues. "If you survive, it was great sport. If you don't, then of course you made a mistake.


"The interesting thing about rowing the Atlantic is that people have only two opinions of it. Either they think it's fantastic and would love to do it, or they think it's bloody brainless and stupid and what's the point."




DAY 24: It is horrible out here when you get this low and there is no one to pick you up and tell you it will be OK. You know you cannot afford to feel this sorry for yourself and that the highs outweigh the lows. But the lows cut deep and are difficult to bounce back from.



IN THE INAUGURAL Atlantic Rowing Challenge, 30 teams competed and 24 finished. The first-place team, New Zealanders Rob Hamill and Phil Stubbs, crossed the Atlantic in an unbelievably swift 41 days, two hours, and 55 minutes. They traded two-hour rowing shifts 24 hours a day. The last to wallow in, after 101 days at sea, was an indomitable mother-and-son team from London; Jan Meek was 53 at the time, and her son, Daniel Byles, was 23. Four years later, in the second Atlantic Challenge race, 36 teams crossed the starting line on October 7, 2001, and 33 finished; a Kiwi team again took first.
The entry fee is $19,500. The rules say that two people per boat must row nonstop from Los Gigantes Harbour on Tenerife, in the Canary Islands, to Port St. Charles. (Debra Veal was technically disqualified the day her husband was plucked from their boat.) Two official safety yachts monitor the rowers. If you decide to pull the plug, you are rescued, and your boat, in proper Viking fashion, is burned at sea. Assistance of any kind results in disqualification.


Each team must use the same basic boat, purchased from the race organizers as a 500-piece, laser-cut plywood kit for $3,535. Assembled, the vessel measures 23 feet, four inches, bow to stern, with a six-foot, five-inch beam. It's an open rowboat with a miniature, coffinlike cabin in the stern.


"The so-called cabin is too low to sit up inside," says Tom Mailhot, 42, a thick-chested American rower who has come to Barbados to film Debra's arrival for a documentary he's making about the race. Mailhot and his partner, John Zeigler, finished the race in early December, in 11th place. "Fifty-eight days, three hours, 54 minutes," Mailhot recites, smoothing out his blond pirate's mustache.


Mailhot and Zeigler spent a year in man-hours and $35,000 in additional materials to put their boat together. Then they had to rig it: carbon-fiber oars, water-desalinating pump, solar panels to charge the batteries to run the satellite phone and the VHS radio and the stereo and the GPS. Sliding seats, steering system, sea anchor, oarlocks and outriggers, survival equipment, Emergency Position Indicating Radio Beacon (EPIRB), gas stove, food for many weeks.


"You need $150,000, minimum, just to get to the starting line," Mailhot says. "Then the fun begins."


All ocean rowers suffer. Asses and armpits chafed so raw they're bleeding, blistered palms, dehydration, seasickness, sleep deprivation, depression, mind-cracking boredom.


Would Mailhot do it again?


"Once across the Atlantic is enough."




DAY 26: It is unbelievably beautiful today. I am driving along a glassy surface that hardly has a ripple. Blue sky and white cotton wool clouds are reflected on the surface and everything is silent. I have never known peace and tranquility like it.



TORI MURDEN, 39, was the first woman to row solo and unsupported across the Atlantic. She did it in 1999. "When I began my quest, more people had walked on the moon than rowed the Atlantic solo," she said when I called her at home in Louisville, Kentucky.
In 1989, Murden and partner Shirley Metz became the first women to ski to the geographic South Pole. Murden, who has a bachelor's degree from Smith College, a master's from Harvard Divinity School, and a law degree from the University of Louisville, had rowed in college and continued rowing afterward to stay in shape for mountaineering. She'd climbed all over the world by 1997, when she and Louise Graff became the only all-women team to enter the first Atlantic Rowing Challenge.


Food poisoning landed her in the Tenerife hospital for three days. After she and Graff once again pushed out into the Atlantic, they discovered that the electrical system for their water pump was shot. No water, no chance. That ended her first attempt.


"I still wanted to finish what I'd started," Murden told me. "I wanted to extend the range of what we consider physically and mentally possible."


In June 1998, with an Italian watch company as a sponsor, Murden set out alone from Nags Head, North Carolina, to row to France. "I wouldn't have gone solo or unsupported if it weren't for the sponsor," she said. "Let's face it: If you can't afford to pay for the trip yourself, you need a sponsor, and a sponsor is only interested in something that's never been done."


On her eighth day at sea her boat capsized in a storm. Slammed onto the ceiling of her cabin, she recalled, "I was too busy pleading for my life to worry about the fact that my communications equipment was soaking in saltwater." The next morning, when the storm passed, Murden did not turn back. She would have no communication with the outside world for the next 78 days.


"By early September," Murden continued, "I'd rowed more than 3,400 miles but covered fewer than 2,700. I was less than 1,000 miles from France when Hurricane Danielle swept across the North Atlantic."


With no radio, Murden had no idea what was coming. The sky blackened, and then hell came. Her rowboat was tumbled end over end in 70-foot waves: "Head over heels, heels over head. Wood, flesh, bone, it was all crashing." She stuck it out for four days before deciding she might not live through her ordeal. "I finally pushed the [emergency rescue beacon] button."


Murden set out again a year later, once more solo and unsupported. She left Tenerife on September 13, 1999, and rowed into Port de Plaisance, Guadeloupe, 81 days later.


"The pivotal distinction between ocean rowing and mountaineering is the sameness of rowing," Murden said. "You wake up on the ocean and you can't tell where you are or where you've been. It's all the same. There is no way to gauge the passing of distance. You never get any perspective on your progress."




DAY 65: The loneliness I have felt in the past ten days has been almost unbearable. Try as I might, I don't seem to be able to fill this empty hole which has developed within me. I haven't had any physical contact with another human being since Andrew left the boat. A number of people have asked what I would like for Christmas. A hug would certainly be high on the list.



ROB HAMILL, the cowinner of the 1997 Atlantic Rowing Challenge, wrote a book. It's called The Naked Rower, and there is no better explanation of the Sisyphean task of ocean rowing, from the almost insurmountable task of raising sponsorship money to finding the right partner.
Hamill had rowed scull for New Zealand's Olympic team and recognized that the Atlantic race would require a "masochistic tolerance to pain." (This is the kind of thing rowers revel in.) Unlike many competitors who simply hoped to survive the crossing, Hamill entered the race to win.


"I wanted to test myself," Hamill, 38, told me from his home in New Zealand. "I had a vision that there would come a moment when I had to save my own life or save someone else's life. A shark attack or a boat capsizing. I wondered how I would cope in those circumstances. We all like to think that we'd react in the right way, but probably only 5, maybe 10 percent of us actually would."


Since the Blyth-Ridgway crossing in 1966, 35 years of high-tech innovation have transformed rowing the Atlantic from a life-or-death adventure into a relatively safe endeavor. And yet the ocean still kills. Although no one has died in the two Challenge races, at least seven people have perished trying to row across the Atlantic. The most recent fatality was Nenad Belic, a 62-year-old Chicago cardiologist who rowed out from Cape Cod last May; 151 days later, in a storm 230 miles off the coast of Ireland, Belic's emergency beacon was activated. After a search by the English and Irish coast guards, Belic's beacon and boat were recovered, but his body was never found.


Hamill and Stubbs trained like rowers—that is, fanatically. They hired a shipwright to engineer their stock boat for maximum speed, and zealously trimmed each piece of gear and food-pack down to the ounce. It paid off with a win and a world record that still stands.


Hamill returned in 2001 to defend his title but, in classic Kiwi style, managed to break a bone in his fist stopping a man who was beating a woman on a street in Los Gigantes. "He hit her with a Mike Tyson hook to the jaw," he said. "I did what any decent bloke would do."


Hamill was replaced by Matt Goodman, who with partner Steve Westlake missed setting a new record by only 23 hours and 39 minutes. The pair brought the title home again to New Zealand.




DAY 83: As I approach the three-month milestone I am recognizing that this journey is slowly wearing me down. Week after week of twelve hours a day of hard labour in solitary confinement is taking its toll. My body is screaming for some normality—a rest from rowing, a still bed, a toilet with a seat, regular showers, and some fresh food….



DEBRA VEAL IS relaxing beside the pool in Port St. Charles in a black one-piece swimsuit. The Fleet Street boys are drooling. It is only 24 hours since she came ashore in Barbados, and she has already finished her 15th photo shoot with the tabloids. Sir Chay has been boasting that her picture is on the front page of nearly every British newspaper. The press is fascinated and mystified by this petite woman who is both a gorgeous girl-next-door and a gritty, tenacious, courageous rower.
That night, Veal, her husband, and her friends and family manage to elude the reporters and sneak off to a Barbadian dance bar. After midnight, sweating from all the dancing, she pulls me aside.


We talk about her new celebrity—she welcomes it, but some of the attitudes behind the public fascination chafe. "Underneath, England is still stuck in a Victorian age where the wifey should be at home with her feet pressed against the sink," she whispers.


In part because she didn't quit when her husband left her alone in the Atlantic, and certainly because she is beautiful and mediagenic, this young woman who came in dead last in the Atlantic Rowing race is suddenly (briefly) more famous than the pioneers of the sport who came before her—extraordinary rowers, some of whom set world records. And yet, despite her glamour and bubbly nonchalance, Debra Veal belongs in that distinguished company. She belongs because her hands were permanently crimped into claws for weeks; because she was bashed against the gunwale by a rogue wave, and was almost thrown from her boat—a virtual death sentence—when an errant oar nearly cracked the hull, and still she kept rowing.


She belongs because she fought the real struggle ocean rowers must face—the struggle in the mind. To be out in the unfathomably vast, borderless desert of the ocean, minute after minute, day after day, week after week, facing down the blue horizon vanishing in every direction, and the glancing visitations of insanity coming and going at the edge of your consciousness like a circling shark.