Top 10 Hut-to-Hut MTB Trips
Sweating your way to a rustic lodge isn't just a wintertime activity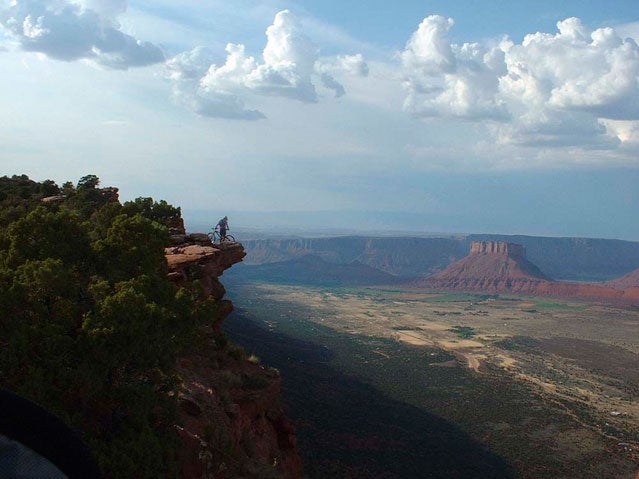 Heading out the door? Read this article on the new Outside+ app available now on iOS devices for members! Download the app.
The Top 10 Hut-to-Hut Mountain Biking Trips
Sometimes, the best relationships come from unlikely pairings. Backcountry huts (long the winter purview of gaitered old guys on skinny skis) and cross-country mountain biking (sufferfests for gearheads) hooked up in southern Colorado in the late eighties, but they've been keeping their romance quiet until recently.
In the past two years in particular, hut-to-hut biking trips have been gaining traction in the United States. Existing winter hut systems like San Juans have been opening their doors year-round, and new huts like the Maine Huts are grading their trails for bikers. The international community is embracing the phenomenon as well; New Zealand is in the midst of a three-year trial to see how bikers take to some of their world-renowned treks.
So why are they becoming more popular? "I think that people just want real journeys, from point A to point B, "says Joe Ryan, who started the San Juan Hut System. "There's an appeal to crossing terrain."
10) Montana's Thompson Guard Station
Best For: Groups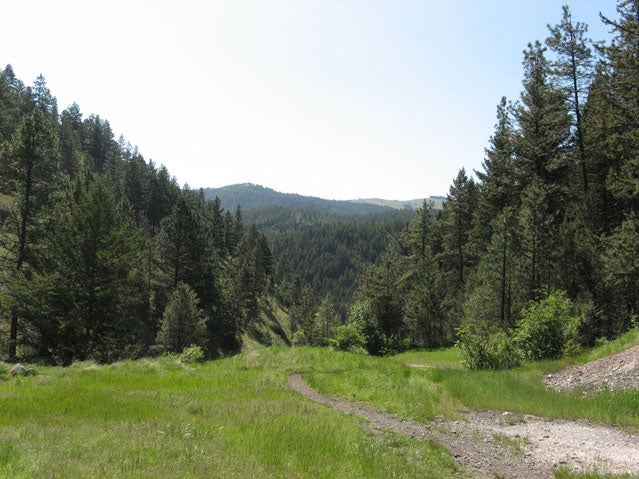 The Thompson Guard Station, which was reportedly built in the '50s by the Civilian Conservation Corp is one of a handful of cabins that the forest service rents out in the Helena National Forest. The cabin bunks eight and has a wood stove for cooking. You can get within a half a mile of the cabin by car—making a warm-up mandatory. The riding extends out from the hut to a series of small lakes at the four-mile mark. The riding is mellow, mainly double track and horse trails, but there are plenty of options to appease a group with a wide range of abilities. We recommend the 17-mile ride down a relaxed gravel road to White Sulphur Springs, where there are indeed hot springs.
When to go: Early July before things get too hot and dusty.
Cost: $30/person: fs.fed.us
9) Colorado's Never Summer Yurts
Best For: The agoraphobic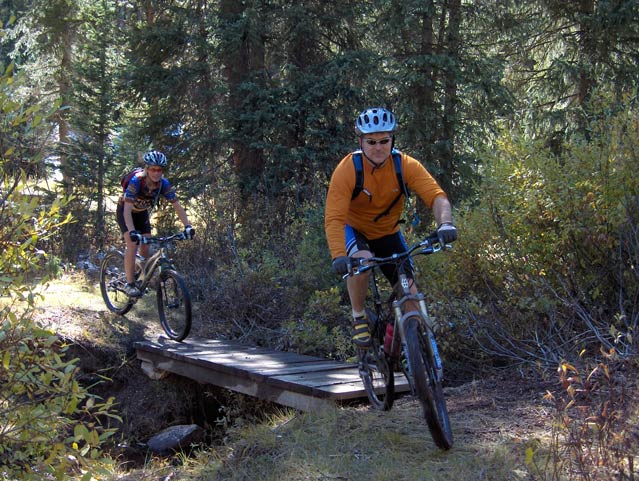 Colorado's Never Summer Mountains, to the northeast of Rocky Mountain National Park, don't get nearly as much attention as their southerly counterparts. That's an oversight that can play in your favor when you ride between the Never Summer Yurts. The Yurts feature beds, woodstoves, and cooking setups—and the trails feature no crowds, and miles of riding on a mix of single track and forest service roads in the Colorado State Forest State Park. Yes, that's really what it's called.
For a multi-day yurt trip, loop together the Ruby Jewel, Dancing Moose, and Montgomery Pass yurts, or venture a little further to the North Fork Canadian Yurt. The 26-mile trip can be done in four days, and will go by fast, in more ways than one. It's downhill all the way from Ruby Jewel to North Fork Canadian.
When to go: The snow melts late in the Never Summer—hence the name—so hold off until August.
Cost: $60-75/night; neversummernordic.com
8) Sun Valley's Coyote Yurt
Best For: The high-end, hard-core set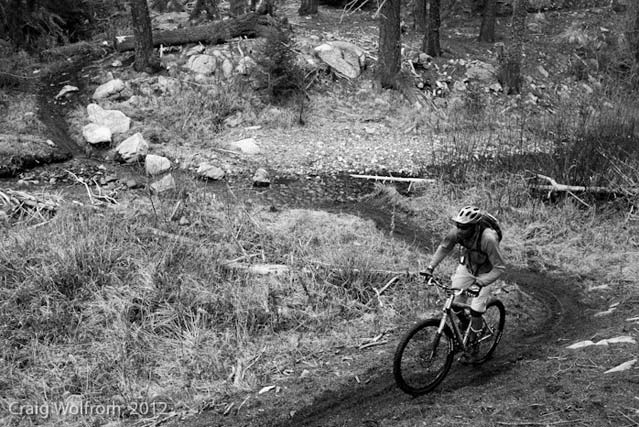 Sun Valley screams upscale with its ballet company, the Sun Valley Ballet School, and it's penchant for wine festivals, but Ketchum is serious about all things two-wheeled, with bike-focused companies Scott and Smith using the surrounding world-class riding to draw in passionate employees.
Reserve the Coyote Yurt, which is actually two yurts built at 8,700 feet. The trip isn't hut-to-hut, per se, but staying in the yurt gets you out-the-door access to Sawtooth single track, with rides like Fox Peak and Curley's, knowing for their fast, flowing descents.
Sun Valley Trekking, which operates the yurt, will bring you multiple course meals that range from local trout to Thanksgiving dinner and guide you. Or, you can brave it alone and bring in your own stock of Guinness and grillables.
When to go: Wildflower season, between early July and mid August.
Cost: $25/person/night for the Yurt. If you want full service, including a guide, yurt rental, food, and transport, it's $230/person; www.svtrek.com
7) Methow Valley's Rendezvous Huts
Best For: Dog-lovers with intermediate skills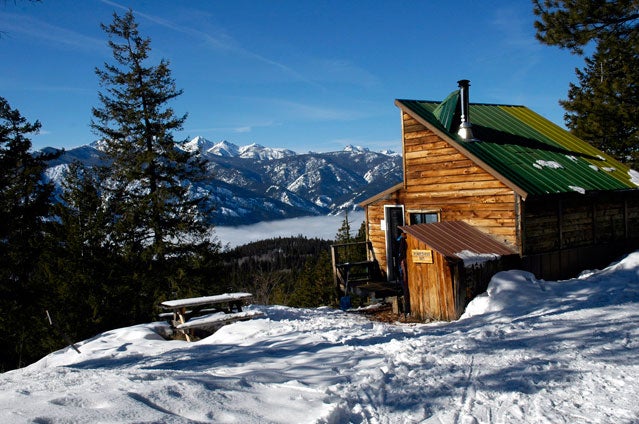 Eastern Washington's Methow Valley, whose bottom is filled with trails and nordorks, has been a Mecca for cross-country ski hut-to-hut trips since the mid eighties. The valley is prime for riding, too.
Last year, the owner of the Rendezvous Huts decided to open two of the shelters to bikers in the shoulder season. You can book the wood frame Rendezvous and Gardner huts, which both sleep eight and have full kitchens, from April to July and September to October.  There are trails out the door of both huts, and you can easily link them for a multi-day trip.
The classic ride in the area is the 13-mile Buck Mountain loop, which starts off at route 20 near Winthrop and climbs 1,300 feet through forest and sagebrush. If you can't stand to be separated from your four-legged companion, don't worry, the Rendezvous hut allows dogs.
When to go: The huts are only open to bikers in the spring and fall. May is prime for wildflowers.
Cost: $100/person; rendezvoushuts.com
6) Colorado's Backcountry Biker's Huts
Best For: Desert rats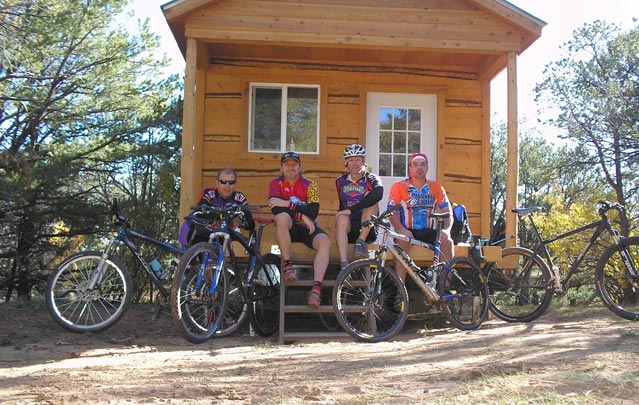 The slickrock canyons of eastern Colorado and western Utah holds some of the best biking in the country. Backcountry Biker, based out of Fruita, Colorado, runs two different supported hut trips through the Colorado National Monument—the four-day Tabaguache trip and the three-day Dominguez route. Both rides drop from Fruita through the Uncomphagre plateau to Gateway, on the Dolores River.
You'll have full backup on either ride. Backcountry Biker—which is run by a highly eager fellow named Kevin who calls himself The Hut Guy—will schlep your gear and drop food and beer at the huts. The huts sleep six comfortably and eight cozily, each one has a full bike maintenance setup inside.
The trips end at the riverside Gateway Canyons Resort, which features a spa and access to the Dolores river. If you're feeling really swanky, or just worn out, add an extra night there onto your trip and put some meat back on your bones by grubbing on the buffalo meatloaf with red onions at the Paradox Grill.
When to go: Fall, when the canyons start to cool off.
Cost: $575/person for the Tabaguache; $425 for the Dominguez; backcountrybiker.com
5) New Zealand's Heaphy Track
Best For: People who have the money for international airfare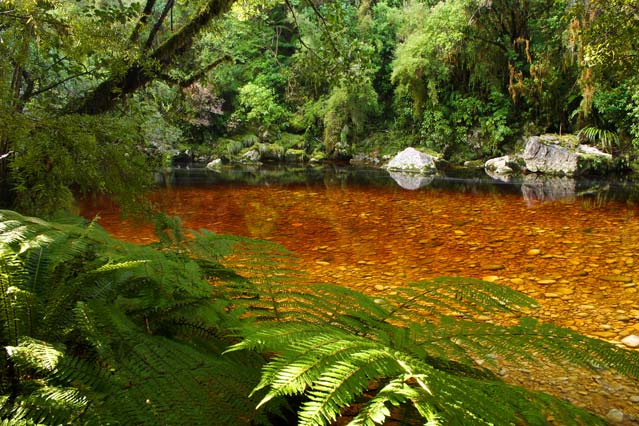 The New Zealand Department of Conservation is currently in the middle of a three-year feasibility study to see if turning some of the countries classic "great walks" into "great rides" is a good idea. The 80-kilometer Heaphy Track is their testing ground, so for the next two years you can ride through the Kahurangi National Park, located in the northwest corner of the South Island.
There are five huts on the track, so riders can stretch it out to six lazy days, but it's easy to do it in less. You'll ride in a variety of ecosystems, from forests and tussock fields to beaches. Keep in mind that weather on the Kiwi coast, especially in the winter, can change quickly and that the area is prone to storms and flooding.
When to go: The track is open to bikers from May to September.
Cost: $20/night, heaphytrack.com
4) The Maine Huts
Best For: Families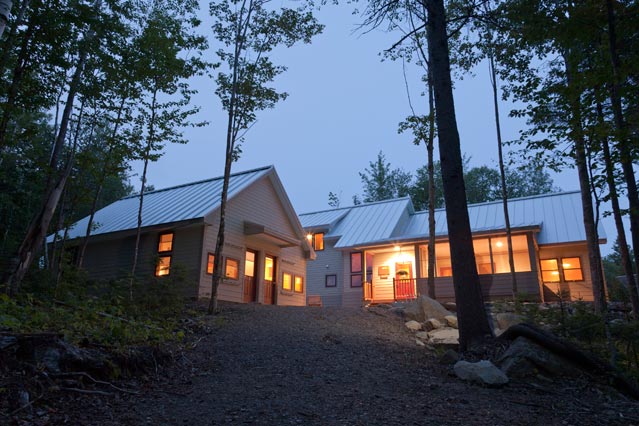 The three Maine huts have been open to hikers and cross-country skiers for the past four years. Maine Huts and Trails, the non-profit that oversees the huts, has been working with the local NORBA chapter to makes the trails that connect them bikeable. Once you get to the huts, there's hiking, swimming, and fishing to keep youngsters, and you, entertained.
Currently, the best riding for families is on the southern side of the trail network. Start at Tufulios, near the base of Sugarloaf Mountain, and link up the Poplar Stream Hut and the Flagstaff Lake Hut for a three-day, two-hut ride. The entire trip is less than ten miles, and the riding is relatively mellow—some of it is on dirt service roads—so it's ideal for less-skilled and younger bikers. There are also alternative routes, so kids who are less comfortable on technical trails can still come.
A fourth hut, the Stratton Brook, is in the works. It's slated to be constructed on an existing section of bike trail in the Carabassett Valley, so if things go according to plan you'll have more riding, and staying, options by the end of the summer.
When to go: September and October, when the leaves are prime and the black flies are not.
Cost: $79/adult, $42/child on weekdays; $99/adult, $54/child on Friday-Sunday; mainehuts.org
3) Colorado's 10th Mountain Huts
Best For: Bargain hunters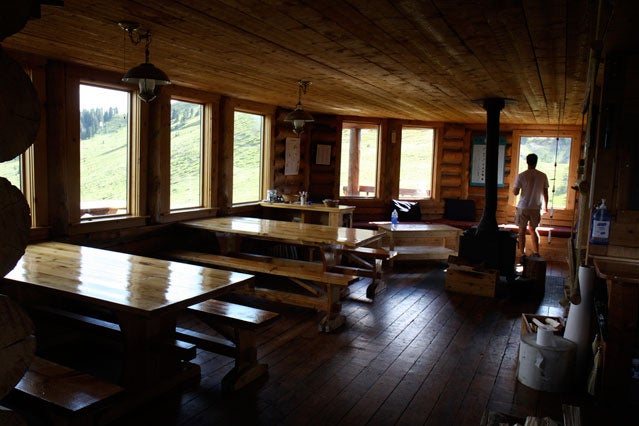 A winter trip to one the 10th Mountain Huts is a Colorado right of passage. It's not uncommon to see grandparents or babies holed up in the huts on January nights. Summer in the high country is just as good, and staying at the huts gives you access to mountains of alpine singletrack, including some sections of the Colorado Trail.
You're only paying for your bed, which keeps the cost down, but that doesn't mean that the huts are sparse. At a bare minimum, each is outfitted with a kitchen, and many have extras like saunas.
Our advice: Head to the Leadville area, home to the notorious Leadville Trail 100, and link up Betty Bear, Skinner, and Uncle Bud's huts. When you get back to town, take yourself out for a $9 steak at Quincy's, the best, and cheapest, post-ride dinner imaginable.
When to go: Because of the elevation, the riding season can be short. By mid-July most of the snow is usually gone and your chances of thunderstorms are lower than they are later in the season.
Cost: $30/night; huts.org
2) Oregon's Cascade Huts
Best For: Instagrammers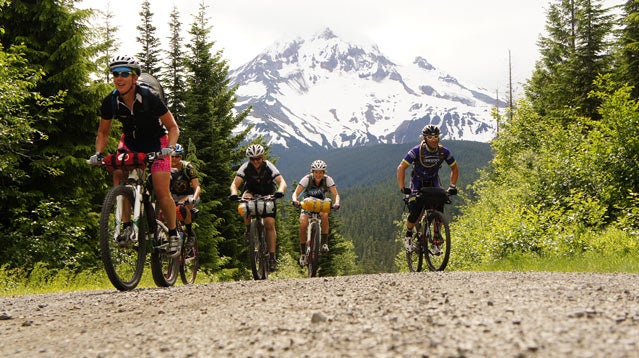 The four-day Mt. Hood loop, which circumnavigates the volcano and includes a stay in the eight-person, 256-square-foot Cascade Huts, offers picture-perfect views of the Columbia River Gorge and Oregon's highest, and most likely to erupt, peak.
Every day of the 137-mile ride has options. You can stick to service roads, or you can dip into more technical terrain, including some extra climbs for the masochistic. This summer, the Forest Service has given the Cascade Huts Organization permission to add two new huts, which will allow for a beginner trip that lasts three days and covers less technical terrain.
When to Go: August has the most consistent good weather (read: no rain), but September brings fewer crowds.
Cost: $300/person; cascadehuts.com
1) Colorado's San Juan Huts
Best For: Traditionalists
The original hut-to-hut bike trip, riding from Telluride to Moab via the San Juan Huts, has been around since 1988. "We cobbled it together with a number of different structures, including a sheepherder's camp." says Joe Ryan, the founder.
Now, things are a lot less piecemeal. The organization runs 12 huts, and sends bikers out on two 215-mile-long routes: a seven-day, technical, singletrack-packed ride from Durango to Moab, and the original weeklong trip from Telluride to Moab, which is more remote.
Ryan, who built the hut system after spending time at huts in Canada, says he wanted to give riders a way to explore new terrain every day. "People want to see new mile after new mile," he says.
This year, the huts are also hosting a 200-mile cross-country race. If you're there the last week of June expect a crowd. And, most likely, to get passed.
When to Go: June 10 to July 15 to avoid early season snow and late season thunderstorms.
Cost: $850; sanjuanhuts.com