Waking the Bear
With eleven time zones' worth of Tiaga, tundra, virgin peaks, and off-the-dial whitewater, Mother Russia is beginning to open her doors to adventure travelers. If you're brave enough to take her on, the next frontier beckons in the wild, wild East.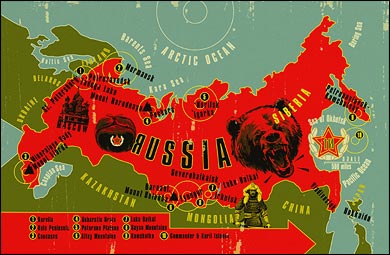 Heading out the door? Read this article on the new Outside+ app available now on iOS devices for members! Download the app.
The Russian Revolution

Crossing the world's biggest country by train, plane, reindeer, and foot, Outside's adventure scout uncovers a wilderness of opportunity


Untapped Frontiers: Karelia, the Kola Peninsula, and the Caucasus



Untapped Frontiers: The Subarctic Urals, Putorana Plateau, and the Atlay Mountains



Untapped Frontiers: Lake Baikal, the Sayan Mountains, Kamchatka, and the Commander and Kuril Islands


Going It Alone: A User's Guide



Going with the Pros: Outfitted Trips
The Russian Revolution
Crossing the world's biggest country iby train, plane, reindeer, and foot, Outside's adventure scout uncovers a wilderness of opportunity
VLADIMIR MIKHAILOVICH SHIPOV was pumped. For the past seven hours, the Chelyabinsk lawyer and climber had led me up slopes of shifting rock to the 5,577-foot summit of Medved Gora ("Bear Mountain"), in Siberia's Barguzin Mountains. About 4,000 feet below, Frolikha Lake sported water so clear, I could read the contours of its bathymetry. Beyond was the unnamed pass we'd crossed, pack reindeer carrying the rafts we'd paddle down the Frolikha River to Lake Baikal, the world's deepest inland sea.


Now, on this hot August evening, Vlad bounded across the ridge to give me a hearty Soviet backslap. He put a match to an ancient smoke flare, which he'd brought to signal our success to friends below, and held it aloft. With his bare chest, camo cutoffs, and Lawrence of Arabia headgear, he looked like a parody of Lady Liberty. I was staring mesmerized at the erratic pfft coming from the brown-paper cylinder when—bang!—a deafening flash of smoke-filled light erupted. Vlad stood staring down at his charred palm.


That's Russia for you: One minute you're on top of the world; the next, you're on fire. Was this country really ready for Western adventurers, I wondered as I bandaged Vlad's hand. And were we ready for it?


Nearly twice the size of the United States, with just over half the population and eleven time zones of wilderness, Russia has emerged as one of the world's few remaining adventure frontiers. Before the dissolution of the Soviet Union, in 1991, only a few very lucky outsiders had sampled mad Siberian whitewater or climbed in the Altay Mountains, and all of them had returned with stories of no-limits adventure and bighearted hosts. When the Iron Curtain fell, Westerners rushed in, starting an adventure renaissance that, like everything else in this fledgling capitalist state, has emerged in fits and starts.


To assess the current state of play, my wife, Rosy, and I spent three months crossing Russia, from the mountains of the Caucasus to the volcanoes of Kamchatka. We traveled by plane, train, car, raft, reindeer, and foot, often for days on end. We slept in lodges, tents, and apartments, and our new friends even sent the kids to Grandma's to make room.


On the following pages are our picks for Russia's top ten adventure hot spots. What we discovered is a vast playground waiting for those who don't mind a fair dose of chaos with their wide-open tundra. Russia, gloriously, is not for the faint of heart. In Kamchatka, our guides were first-class. In the Altays, they got lost—and then hypothermic. Food was fresh-caught salmon one night, three tins of sardines for 17 trekkers the next. But our pre-trip worries—ethnic violence, the mafia, political unrest—evaporated as Russia unfolded a heady mix of warm hospitality, a nonstop adrenaline drip, and the odd vodka binge. Best of all, I discovered something I'd enjoyed as a boy in the Rockies but had thought was lost forever: miles and miles of untrammeled country.


That's not to say miles of untrammeled, pristine country. The Cold War may have kept Russia a blank spot on the Western map, but Soviet demands for resources left little time for something so frivolous as the environment, and no traveler can fail to miss the signs: On the Kola Peninsula, a nickel-processing plant emits clouds of sulfur dioxide. In Siberia, industrial waste flows into Lake Baikal. Ironically, Westerners, and our adventure-tourism dollars, are now among the best hopes for preserving wilderness in a country we'd threatened to annihilate for decades. How the world turns.
Untapped Frontiers
Karelia, the Kola Peninsula, and the Caucasus
*1| KARELIA*
THIS WILDERNESS, reaching 500 miles north from St. Petersburg to the Arctic Circle, is a Tolkienesque land of ancient birch forests dotted with 60,000 lakes—including Ladoga and Onega, Europe's largest. Thanks to post-Soviet urban migration, it's also filled with ghost villages—porches leading to nonexistent houses, bushes heavy with fruit, and a silence punctuated only by whining mosquitoes. Into this netherworld has come an adventure revolution led by paddlers, mountain bikers, and Russian climbers, who work the granite outcrops 180 feet above Yastrebinoe Lake. Kayakers boat the Class II-III Shuya or the Class V Vuoksi, site of last August's inaugural inflatable-doll race. Contestants praised the dolls to the newspaper Pravda for being "nice to touch," "floating wonderfully," and "not wanting to get married."
Frontier Factor (1-5): 1—You'll face bloodthirsty insects—or rejection from a doll.
Getting There—Train service runs from St. Petersburg to Petrozavodsk, a welcoming city on Onega Lake ($75 for a second-class sleeper; six hours). Outfitters can arrange four-wheel-drive transportation to the village of Priozersk, three hours north of St. Petersburg.
Outfitters—Contact St. Petersburg-based outfitter Top Sport Travel (alexey@tst.spb.ru, www.slope.ru); or try Geographic Bureau (gb@geographicbureau.com, www.geographicbureau.com) for 14-day bike trips for $1,265.

*2| KOLA PENINSULA*
ALTHOUGH EACH SUMMER a trickle of Russian alpinists, hikers, and fishermen roam the 320-mile-long Kola Peninsula, east of Finland between the White and Barents seas, this traditional home of Sami reindeer herders has been open to foreigners only since the early nineties. Yet to be discovered is a labyrinth of mountain-bike-ready four-wheel-drive tracks (left by post-World War II geological expeditions) and virgin 2,000-foot bowls in copter- or skins-accessed backcountry. Prefer the lifts? The freestyle-skiing mecca of Kirovsk offers long, inexpensive runs. Wherever you are, beware rugged conditions: Inspecting two memorial plaques bolted to rocks in the Kola's compact Khibiny Mountains, our guide announced, "This one is for four skiers, killed when the slope below us avalanched. And this one, he froze in a storm—right here!"
Frontier Factor: 2—It's not hard to get to the Kola, but the sheer number of memorials is testimony to its Arctic storms.
Getting There—Murmansk, the Kola's largest city, is a six-hour flight from Moscow, or three from St. Petersburg ($100; Pulkovo Aviation, eng.pulkovo.ru). From there, catch a train to the former mining town and gulag site of Apatity ($7; three to five hours), then bus 12 more miles to Kirovsk.
Outfitters—Top Sport Travel (www.slope.ru) offers ten-day cross-country ski trips for $790. Geographic Bureau (www.geographicbureau.com) runs a 15-day Khibiny trek for $985.

*3| CAUCASUS*
STRETCHING FROM the Black Sea to the Caspian Sea, on Russia's southern border, the Caucasus Mountains are the Alps on steroids: 730 miles of glaciated peaks, among them 18,510-foot Mount Elbrus, Europe's highest point. In recent years, terrorism in Chechnya has cast a pall over Russia's favorite adventure destination, but it hasn't stanched the flow of visitors, who chill in the cozy ski village of Terskol, the base for Elbrus climbs, or head to the Bezengi Wall, a 7.5-mile-long massif spiked with three 16,000-foot summits. In the western Caucasus, Dombay is your base for skiing and climbing. Postadventure, unwind like the czars did, soaking in hot springs in the resort towns of Kislovodsk and Pyatigorsk.
Frontier Factor: 4—The range straddles the boundaries of Chechnya, Ossetia, and Dagestan—all areas plagued by ethnic unrest. Although Russian travelers point out the isolated nature of the violence, the U.S. State Department warns against travel to the Caucasus, Chechnya, and its border areas. Stick to the resorts, and travel with caution.
Getting There—From Moscow, there are regular flights ($100; Aeroflot, www.aeroflot.com), trains ($55 for a second-class sleeper; 30 hours), and buses ($50) to Mineralnye Vody, the region's northern gateway. Then it's a six-hour bus trip to Dombay, or three to Terskol.
Outfitters—Many Russian outfitters offer trips to the Caucasus. For mountaineering and trekking, try Top Sport Travel (www.slope.ru). Pilgrim Tours (elbrus@pilgrim-tours.com, www.pilgrim-tours.com) is also a good bet.
Untapped Frontiers
The Subarctic Urals, Putorana Plateau, and the Altay Mountains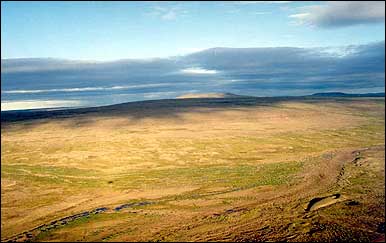 *4| SUBARTIC URALS*
THE ANCIENT URAL MOUNTAINS barely poke their summits above the taiga, Siberia's vast conifer forest. Not so the subarctic Urals, where taiga turns to tundra and glaciers have carved towering walls on magnificent peaks. Russian cross-country skiers have explored the region for 30 years, but it's been largely missed by alpinists. Until now: At 6,214 feet, Mount Narodnaya is the region's highest mountain, but the slightly lower Sablinsky Range and nearby peaks offer mouthwatering technical routes like Mount Sablya's nearly 3,000-foot northeast wall. Most climbs involve a two-day approach from the village of Aranets through trackless taiga pocked with boot-sucking bogs; more flush travelers can fly in by helicopter and raft rivers like the Kos'yu and Manaraga back to civilization. In winter, mountaineers can ski in, but storms and sub-zero temps make this one for the experienced adventurer.
Frontier Factor: 4—Frostbite or mosquito bites? Pick your season.
Getting There—From Moscow, take a two-day train ride to the industrial city of Pechora ($34), then hydrofoil 62 miles up the Pechora River to Aranets, or charter a helicopter from Pechora to Narodnaya. Heads up, however: Throughout remote Russia, charters range from $1,000 to $3,000 an hour. Unless you're a hardened adventurer, join a group—or be prepared to carry your supplies and find a family to put you up.
Outfitters—Moscow-based Tour Centre Strannik runs a 17-day mountaineering-and-paddling trip (from $450; str@vmail.ru).

*5| PUTORANA PLATEAU*
LACED WITH 5,000-FOOT-DEEP canyons and 300-foot waterfalls, northern Siberia's Putorana Plateau is one of the least explored regions on earth: five million acres of taiga populated by brown bear, reindeer, Yenisey bighorn sheep—and one person per 13 square miles. Although indigenous settlements border the plateau, few hunters or fishermen venture into the interior, where taimen and grayling await your hook. You'll need a helicopter lift to the plateau in summer, when boggy tundra makes hiking impossible. In winter, frozen rivers allow snowmobile access—if you're ready for temps of 60 below. Your best bet: Go in the summer, with an outfitter who can fly in rafts and provisions, and descend the world-class Kureyka River.
Frontier Factor: 5—The Putorana is tough on both wallet and body. Helicopters are expensive, and you'll be hoofing it on broken scree and rafting rivers few have descended.
Getting There—Although Norilsk, the logical gateway (and home to a pollution-belching nickel plant), has been closed to foreigners for two years for "strategic" reasons, Russian operators can arrange through-permits. Fly from Moscow to Norilsk ($200; Siberia Airlines, english.s7.ru) or Krasnoyarsk ($153; Kras Air, www.krasair.ru), a secret nuclear-weapons hub in Soviet days. Most expeditions helicopter in from Igarka, on the Yenisey River.
Outfitters—Team Gorky (adv@teamgorky.ru, www.teamgorky.ru), based in the city of Nizhny Novgorod, runs fishing and rafting trips in July and August, starting at $2,850 a person. Moscow-based Ecological Travels Centre (www.ecotravel.ru) offers ten-day fishing tours starting at $1,980. Both include helicopter transfers.

*6| ALTAY MOUNTAINS*
THE ALTAYS—the jagged 1,200-mile-long range that straddles Siberia, Mongolia, China, and Kazakhstan—are a mecca to whitewater paddlers and New Age seekers, the latter being drawn to 15,157-foot Mount Belukha, or White Mountain, in search of the legendary kingdom of Shambala. Since Communist times, however, Altay adventurers have had their own ways of getting closer to God, climbing Belukha's sheer north face or riding a bublik—basically two giant rubber doughnuts joined by a tree limb—down killer rapids. Fortunately, our rafting-and-hiking journey, led by St. Petersburg-based Lenalp Tours, began on a gentle 12-mile stretch of the Katun River. Never mind that on day five, a misty rainstorm left us stranded on a pass with our stymied leaders: scruffy, non-English-speaking Vlad, and Anya, a university student. Or that on day eight, Anya led us down the wrong valley. The payoff for patience was waking up near Ak-Kem Lake to find Mount Belukha reflected in its waters.
Frontier Factor: 3—The established treks around Belukha are moderate. The north face, however, is Siberia's Mont Blanc.
Getting There—From Moscow, take a four-hour flight ($165; Siberia Airlines, english.s7.ru) or a 48-hour train trip ($70) to Barnaul, a lively university town. From there, it's a 13-hour drive to the trekking-and-rafting hub of Tyungur; outfitters provide minivan transportation.
Outfitters—Foreigners, mostly European, make up only a fraction of the tourists here, so few outfitters are set up to handle Westerners. One is Barnaul-based Sputnik Altai (arw.dcn-asu.ru/~sputnik), which offers eight-day horse-packing tours for $1,700, as well as trekking, rafting, and climbing tours.
Untapped Frontiers
Lake Baikal, the Sayan Mountains, Kamchatka, and the Commander and Kuril Islands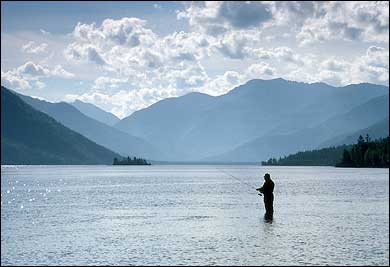 *7| LAKE BAIKAL*
NEARLY 400 MILES LONG, 5,700 feet deep, and holding one-fifth of the freshwater on earth, Lake Baikal has long been a favorite stop on the Trans-Siberian Railway. The southern end is by far the most accessible: Irkutsk, a cosmopolitan city of more than half a million, is 45 miles from the lake, where outfitters run hiking, sea-kayaking, or cycling trips up the southwest coast to Olkhon Island's mountain-bike-perfect grasslands and sheltered (but frigid) diving waters. In winter, the resort town of Baikalsk, at the lake's southern end, offers 1,800 vertical feet of lift-served runs—popular with big shots like President Vladimir Putin—as well as backcountry chutes overlooking the lake. Northern Lake Baikal is a different story: One of the most remote areas in Siberia, it is a free-for-all of trekking, biking, climbing, and skiing. It's an adventure scene in its infancy, as we found on our reindeer-packing and rafting trip into the Barguzin Mountains, a place that sees few Western visitors.
Frontier Factor: 2 (southern end), 4 (northern end)—Fickle weather, unreliable transportation, and a dearth of guides make northern adventures much sketchier.
Getting There—It's a 75-hour train trip to Irkutsk from Moscow, and 72 from Vladivostok, so fly in from Moscow ($300; Siberia Airlines, english.s7.ru). Fly to Severobaikalsk from Irkutsk, or take the train ($44; 35 hours from Irkutsk or six days from Moscow). In summer, a hydrofoil makes the 11-hour trip across the lake from Irkutsk ($35-$60; www.eastland.ru).
Outfitters—In southern Lake Baikal, contact BaikalComplex (baikal@online.ru, www.baikalcomplex.irk.ru) or Sputnik Baikal (www.sputnikbaikal.ru). Rashit Yahin, of BAMTours ($30 per day per guide; rashit.yahin@usa.net), operates in northern Lake Baikal.

*8| SAYAN MOUNTAINS*
RISING NEARLY 12,000 FEET, the snowy Sayans fold like a crumpled blanket from the southern end of Lake Baikal northwest along the Mongolian border. Once nicknamed "Little Tibet" as much for their topography as for their Buddhist temples, the Sayans are home to the cattle-herding Buryat, who still summer in yurts and—as you'll see if you join a horse trek through Buryatia—are demons in the saddle. For climbing, head to the Tunka Valley, 95 miles southwest of Irkutsk, where multipitch granite walls can be reached via a one-day hike from Arshan, a 150-year-old resort town with mineral springs. Russians have also put up 5.12 routes on 7,429-foot Svezdny Pik, 300 air miles to the west. Paddlers will find Class IV whitewater on the Oka and Kyzyl-Khem rivers, while trekkers can explore the Shumak, or Valley of One Hundred Springs, a five-day loop from the village of Nylova Pustyn.
Frontier Factor: 3—As rough as these mountains get, there are lots of warm springs to soothe aching muscles. Roads from Irkutsk makes the Sayan region fairly accessible.
Getting There—Irkutsk is served by flights from a host of Russian cities ($300 from Moscow, an eight-hour flight) or by train from Moscow (75 hours, and only slightly cheaper). From Irkutsk, catch a bus to Ashran ($12; four hours) or Orlik ($15; eight hours).
Outfitters—Irkutsk adventurer Youry Nemirovsky, of BaikalComplex (baikal@online.ru, www.baikalcomplex.irk.ru), runs 12-day horse treks through Buryatia ($840) and rafting trips on the Oka River. Omsk, Siberia-based K2 Adventures (mnt@k2.omsknet.ru, extreme.k2.omsknet.ru/eng) offers an 11-day rafting trip on the Oka for $830.

*9| KAMCHATKA*
WITHIN MISSLE RANGE of North America, the Kamchatka Peninsula and its 200 volcanoes were closed until 1991. International mountaineers formed the first wave of tourists, followed quickly by the Western hook-and-bullet crowd in search of salmon and Kamchatkan brown bear. Even so, foreign visitors are still rare, rising from 7,465 in 2001 to about 8,000 last year. Hard to believe if you've ever sampled its fresh salmon caviar and snappy cedar-nut-flavored vodka. Fishing for salmon and arctic char on the Bystraya River is a must, but for a real treat, fly to the isolated Zhuponova, on the east coast. Guides are recommended in Kamchatka, due to hazards like closed military zones, bears, falling rocks, and—as we found on the crater rim of 8,990-foot Avachinsky volcano—paper-thin crust covering scalding mud.
Frontier Factor: 3—Adventure can be as tame as a climb up Mount Hood or as rough as a survival hike through the Yukon. We saw little sign of the Kamchatka of the nineties, reportedly a hotbed of mafia corruption; indeed, the region's hub, Petropavlovsk-Kamchatsky, or PK, seemed one of Russia's safest cities.
Getting There—Anchorage-based Magadan Airlines makes the four-hour flight to PK weekly ($1,300 round-trip; 907-248-2994, magadanair@alaskalife.net). Thrice-daily flights from Moscow take nine hours ($450; Transaero, www.transaero.ru); from Vladivostok, it's a three-hour flight ($270 round-trip; Vladivostok Airlines, www.vladavia.ru).
Outfitters—Kamchatka's outfitters offer English-speaking guides and better meals and accommodations than elsewhere in Russia. For trekking and rafting, try Kamchatintour (irene@kamchatintour.ru, www.kamchatintour.ru); for fishing, Vulkan Tours (kulykov@mail.iku.ru, www.kamchattour.com/eng.html); and for mountaineering, The Climb (climbkam@hotmail.ru, www.kamchatkaclimb.ru/english).

*10| COMMANDER & KURIL ISLANDS*
SOME OF RUSSIA'S WILDEST regions are those most accessible from America's West Coast. The Commander Islands, 120 miles east of Kamchatka, are the farthest extension of the Aleutian archipelago, some 1,800 miles southwest of Anchorage. Scuba divers make exploratory dives alongside sea otters and sea lions. In the volcanic Kuril Islands, between Kamchatka and Japan, travelers hike up 9,000-foot volcanoes, sea-kayak with gray whales, and dive in crystal-clear lagoons. All of this is served up amid eerie reminders of a history as volatile as the landscape: encampments long abandoned by the indigenous Ainu, villages wiped out by tsunamis, and a secret Soviet submarine base on Simushir Island—built in 1972 and abandoned in 1991—entered via a tiny channel into a volcanic caldera.
Frontier Factor: 3—You'll likely be on an outfitter's ship, so no matter how wild your day, you'll return to a cold beer and a warm bunk.
Getting There—A nine-hour flight from Moscow ($450; Transaero, www.transaero.ru) takes you to PK. From Alaska, Magadan Airlines ($1,300 round-trip; 907-248-2994, magadanair@alaskalife.net) flies to PK weekly. Independent travelers can try catching an unreliable ferry to the Kurils, either from PK to the northern island of Paramushir or from Hokkaido to the southern island of Kunashir. Outfitters are your ticket to the Commanders.
Outfitters—Local operator Sergey Frolov (206-784-8701, www.siberianadventures.com) offers sea-kayaking and diving trips on the 120-foot Tyfun, a former rescue ship, and Kamchatintour (www.kamchatintour.ru) offers similar expeditions.
Going It Alone: A User's Guide
The best advice? Read up, arm yourself with patience, and never, ever try to match your hosts' vodka intake.
PRE-TRIP PLANNING First, get your head around Russia's size. International Travel Maps & Books ($11; 604-879-3621, www.itmb.com) sells the best overall map, while Omni Resources Map Catalog ($50; 800-742-2677, www.omnimap.com) has excellent topo maps. Next, gauge your tolerance for bureaucracy. Type A's should sign on with a Western outfitter. Otherwise, get Lonely Planet: Russia and Belarus (Lonely Planet, $30), which outlines the elaborate visa procedures, and Frith Maier's Trekking in Russia and Central Asia (The Mountaineers Books, $17). The Russian National Tourist Office (www.russia-travel.com) can also help with trip planning. When contacting Russia, e-mail is the best method.
LANGUAGE Unless you go with a Western outfitter, the barrier is high. Learn the Cyrillic alphabet and consider a two-week language course. The Center of Russian Language and Culture (www.crlc.pu.ru) offers classes at St. Petersburg State University for $90 a week.
SAFETY Areas like the Caucasus are volatile: Check the U.S. State Department's Web site, www.travel.state.gov/russia.

GETTING THERE Russia's Aeroflot (www.aeroflot.com) offers round-trip fares starting at $520 from New York to Moscow.
GETTING AROUND RUSSIA The St. Petersburg-based Dialog (dialog@ligovsky.sp.ru) and Moscow-based Primorsky AirAgency (www.airagency.ru) book internal flights on Siberia Airlines (english.s7.ru), Pulkovo Aviation (eng.pulkovo.ru), and Aeroflot, as well as train tickets on the reliable national rail system. Bouncy rides are typical on the cheaper buses. (For info, go to www.waytorussia.net.)
CHOOSING AN OUTFITTER You can save big on trips catering to Russians, but standards vary. Ask plenty of questions. For example: Will the guides speak English?
GEARING UP Most equipment, including the Russian brand Red Fox, is available in major cities, but for sports like diving and mountaineering, BYOG is the safest policy.
BOOKING IT Anna Reid's journey through Siberia, The Shaman's Coat (Walker & Co., $13); Ben Kozel's Yenisey River adventure, Five Months in a Leaky Boat (Pan Macmillan, $30); and Mark Jenkins's Off the Map: Bicycling Across Siberia (Morrow, $13).
Going With the Pros: Outfitted Trips
Screaming nyet! at the hassles of independent travel? Let a Western operator take the reins. Here are some of the best ways to go (comfortably) wild
1. SKIING AND SNOWBOARDING MOUNT ELBRUS Climb to the top of Europe's highest peak, 18,510-foot Mount Elbrus, then ski back down, James Bond style, on this 15-day expedition. ($3,975 per person, June 12-26; Mountain Madness, 800-328-5925, www.mountainmadness.com)

2. BACKPACKING KAMCHATKA Spend nine days trekking amid the snowcapped, steam-belching Klyuchevskaya volcanoes. You'll cross pine-and-birch woodland, tundra, and lava fields before ascending 9,453-foot Bezymianny. (From $3,095 per person, July 19-31; KE Adventure Travel, 800-497-9675, www.keadventure.com)

3. RAFTING THE KATUN RIVER Since 1989, Steve Currey has guided clients on southern Siberia's Class II-IV Katun. This rafting expedition (120 miles in 11 days) starts deep in the Altay Mountains and ends at the resort village of Chemal; you'll fly-fish for taimen and soak in riverside saunas along the way. ($3,995 per person, August 20-September 1; Steve Currey's Expedition Company, 800-968-1711, www.expeditioncompany.net)

4. REINDEER HERDING IN THE FAR EAST In this 21-day excursionary trek throughout the Republic of Yakutia, you'll swap campfire tales with Evenki nomads, helicopter into remote villages, and get your fill of reindeer stew. (From $6,995 per person, June 10-30; Geographic Expeditions, 800-777-8183, www.geoex.com)

5. TRANS-SIBERIAN EXPLORER Cross the country from St. Petersburg to Vladivostok in 27 days—sailing on Lake Baikal, hiking in northern Siberia, and buzzing Kamchatka by helicopter. (From $9,795 per person, July 11-August 6; Wilderness Travel, 800-368-2794, www.wildernesstravel.com)