Where to Ski and Party All Season Long
Where to fix your ski jones this winter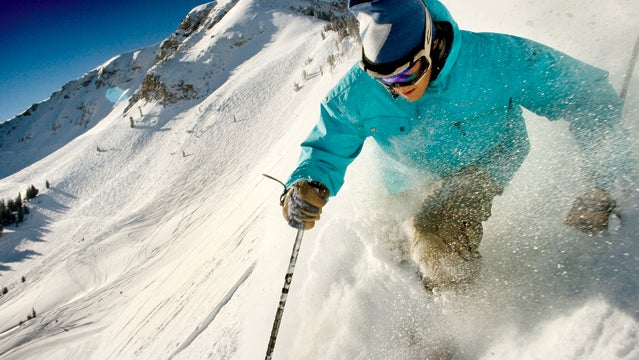 Intersection Photos
Heading out the door? Read this article on the new Outside+ app available now on iOS devices for members! Download the app.
Last year's pitiful snow season left skiers and boarders starving for the white stuff. Which is why we've dug up a smorgasbord of new terrain, fresh trips, and killer deals that will have you ripping all winter long.
Winter Resorts for Powder Hounds
Last year's pitiful snow season left skiers and boarders starving for the white stuff. Which is why we've dug up a smorgasbord of new terrain, fresh trips, and killer deals that will have you ripping all winter long.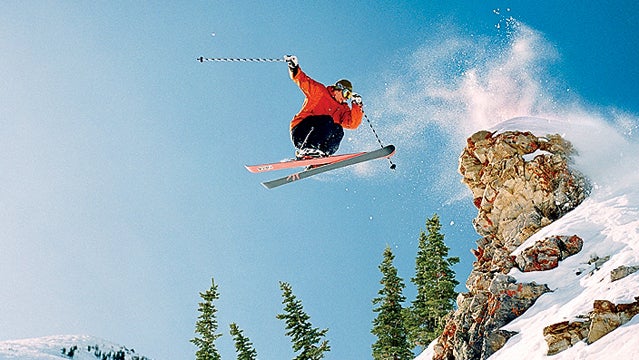 ALTA AND SNOWBIRD, UTAH
It's not just that Alta and Snowbird average more than 500 inches of the world's fluffiest snow each season. It's that the snow falls on some of the most challenging lines in North America—and this season, many of those trails will be even easier to access. Over the summer, Snowbird replaced the old, slow Little Cloud double chairlift with a high-speed quad that zips skiers to the top in three and a half minutes (twice as fast as before), allowing speedier turnaround on coveted powder pitches like 1,300-vertical-foot Shireen. Just a few miles farther up Little Cottonwood Canyon at Alta—which connects to Snowbird via a high-speed quad and can be skied on the same day with the $99 AltaBird ticket—a new smartphone-friendly website alerts skiers to openings on trails with typically late post-storm rope drops. That includes the north-facing open bowls off Backside, all of which dump you in front of the Rustler Lodge's outdoor heated pool (doubles from $352). 
ALYESKA, ALASKA
Alaskan storms tend to stick around for a while, sometimes dropping up to 40 inches of snow in just 24 hours. Last season that happened a lot. When the final tally was recorded, Alyeska, located just 40 minutes south of Anchorage, was covered with 962 inches of snow at the peak. That accumulation made for never-ending powder throughout the resort's 1,400 acres, and it allowed ski patrol to open two new chutes on a trial basis: Max's Chute and #1 East, both of which are narrow 2,500-foot rides of pure fall line. They skied so well that the mountain's staff expects to open them again this season. And if the weather isn't as generous, there's always the backcountry. Chugach Powder Guides operates heli- and cat skiing right out of the resort. We suggest you jump on this deal: four nights of lodging at the swanky, slopeside Hotel Alyeska, two days of lift tickets at the resort, and two days of intermediate-to-expert cat skiing (avalanche gear and lunch included) in open bowls and glades, all for $1,488.
REVELSTOKE, BRITISH COLUMBIA
What was nothing more than a backcountry spot for local skiers just six years ago has grown into a major resort. Last season, Revelstoke began using another new tool to help skiers and riders better navigate the mountain: sensors placed in key areas send minute-by-minute updates to the resort's website, reporting wind direction, humidity, and temperature. Using that information, you can determine where the trails will be most wind-loaded with powder and how dense that snow will be (the denser the snow, the fatter the ski you'll need). And when the lift-serviced terrain is totally skied out, guests can ride a cat (from $300 per day) to 5,000 acres of mostly gladed sidecountry terrain. Another great perk? Everything is within walking distance of the chairlifts, including your digs at Sutton Place and its new outdoor heated pool (doubles from $560).
WHISTLER BLACKCOMB, BRITISH COLUMBIA
There's a reason the locals prefer mega-fat skis. The resort's damp ocean air can yield some heavy snow, which is why the resort has built a rental fleet full of fat, rockered skis like the Rossignol S7 and Salomon Rocker 115. And to make sure you don't miss out on fresh tracks after a big dump, Whistler upgraded its smartphone app with alerts that let you know when ropes are dropping on some of the steepest, longest lines in North America, including the 1,300-foot couloir and the 43-degree Big Bang, located on Blackcomb Mountain. Added bonus: beginning this season, Extremely Canadian guides will run daily backcountry clinics inside Garibaldi Park, an area that holds snow weeks after a storm. For $199 (avalanche gear not included), clients hike and ski as much as 20,000 vertical feet on intermediate-to-expert faces, all while receiving instruction on powder-skiing technique. Later on, grab a massage at Fairmont Chateau Whistler and splurge on one of the rooms overlooking Blackcomb Mountain (doubles from $389).
Winter Resorts for Families
Last year's pitiful snow season left skiers and boarders starving for the white stuff. Which is why we've dug up a smorgasbord of new terrain, fresh trips, and killer deals that will have you ripping all winter long.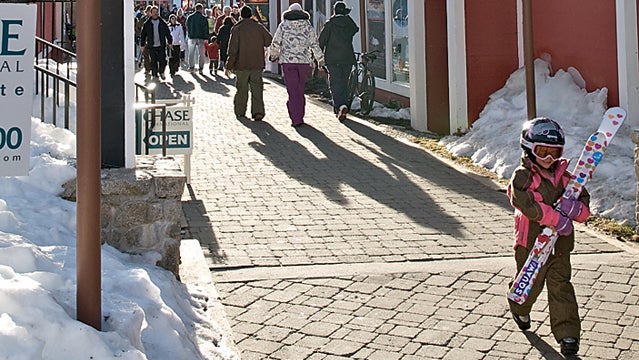 STRATTON, VERMONT
For years, Okemo, Vermont, has had a firm grip on the title Best Family Resort in the East. But this year, consider Stratton. It's a little pricier, but there are reasons for that. For one, Stratton's village, full of upscale lodging and a wide variety of restaurant choices, offers the convenience that Okemo's sprawl does not. Stratton also serves up miles of intermediate and beginner terrain and a state-of-the-art ski school, complete with a lightly trafficked learning area and a mini terrain park. For the older kids, there are new rails and jumps in the Sun Bowl portion of the mountain, as well as a new boardercross course that will host a snowboarding camp run by Olympians Ross Powers and Lindsey Jacobellis. At night, opt for dog-sledding, full-moon snowshoe hikes, snowmobile tours, or tubing. The best part: kids 17 and younger ski and stay free when two adults purchase a lift and lodging package for $111 per adult per night.
KEYSTONE, COLORADO
There are lots of resorts on the I-70 corridor, but no place merges fun for the kids and relaxation like Keystone. There's the access—it's the closest major resort to Denver. And the deals are tough to beat: grab a room for two nights or more in a place like River Run Village (condos from $255) and kids 12 or younger ski free. That means pro bono rides down the brand-new Burton Riglet Park (built for younger groms, featuring miniature rollers, bank turns, and flat boxes), as well as concerts, parties, and parades, all of which are part of Keystone's Kidtopia program. For you there's cat skiing with Keystone Adventure Tours ($240 per day), which delivers a surprisingly rugged backcountry journey down moderately pitched, powdery bowls. Afterward, opt for one of the finest meals in any ski town at the Ski Tip Lodge, five minutes from town.
SQUAW VALLEY, CALIFORNIA
No, seriously. Though Squallywood's reputation as a haven for hardcore ski bros hunting powder off the KT-22 chairlift may endure, CEO Andy Wirth, formerly of family-friendly Steamboat Springs, has been pushing for a serious transformation at Tahoe's most famous resort. This summer Squaw added three new lifts, all of which access intermediate and beginner terrain. They also increased snowmaking on those trails, ensuring that parents always have a mellow area to ski alongside the kids. In addition, Squaw added the SnoVentures Activity Zone, where everyone can tube and kids can race mini snowmobiles along a quarter-mile course. And last fall, Squaw merged with nearby Alpine Meadows (hop between the two on a free 15-minute shuttle), a marriage that gives jibbers access to a new mile-long terrain park. At night, families can regroup at the Village at Squaw Valley, one of the resort's newest hotels, complete with fire pits for roasting marsh-mallows (doubles from $189).
DEER VALLEY, UTAH
Though it's flush with luxury lodging, exquisitely groomed trails, and five-star restaurants (try the seared bison fillet at the Mariposa), let's be honest: Deer Valley caters to kids. Youngsters even have their own trail map, which charts the candy-cane-gated race course and the rolls, dips, and mini half-pipes of Bucky's Backyard and Frontyard. Children 12 and under ski free with purchase of a lodging package. The ski school offers obstacle courses for little ones and group lessons for teens. At night, indulge in the pinot noir at the Lodges at Deer Valley while the kids sled, roast s'mores, and guzzle hot chocolate (doubles from $395).
Winter Resorts for Quick Escapes
Last year's pitiful snow season left skiers and boarders starving for the white stuff. Which is why we've dug up a smorgasbord of new terrain, fresh trips, and killer deals that will have you ripping all winter long.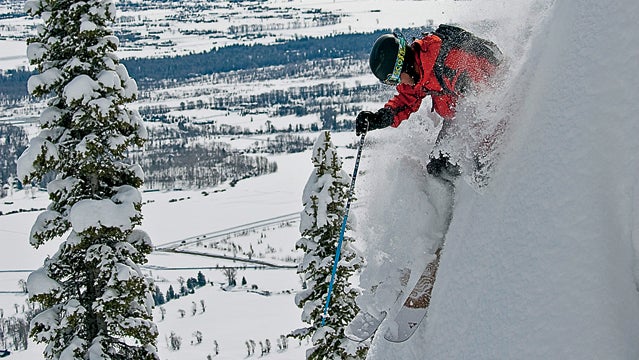 STOWE, VERMONT
Stowe just keeps getting better. There's the new Stowe Mountain Lodge, a 450,000-square-foot, are-you-kidding-me hotel with the kind of spa that offers herb-infused showers (doubles from $399). There's the town's endearing European-style Alpenweiss charm. There's the new FourRunner high-speed quad, which zips skiers to the summit in just six minutes, offering fast access to classic descents like the winding Nosedive and the five-mile Toll Road. But perhaps the biggest: if you live on the East Coast, you're never more than five hours away. Stowe is a three-hour drive from Boston. Direct flights to Burlington, just an hour's drive from Stowe, are available from New York City, Washington, Philadelphia, Chicago, Toronto, and Fort Lauderdale, Florida. Skiers with a bit more time to spare can even find tickets on Amtrak for under $100 from New York and be dropped off right at the Waterbury-Stowe train station, just 30 minutes from the lift.
STEAMBOAT, COLORADO
Two hundred and thirty: that's how many airports offer flights into this old ranching town, making it arguably the most accessible destination resort in the country. New this winter are direct weekend flights on United from Los Angeles. Your best bet for last-minute lodging is the Rabbit Ears Motel (doubles from $109)—nothing special, but you can usually find a room. Drop your bags there, then plan your day: keep the clan together with a family lesson, during which your instructor will provide you with tips and drills to help your kids keep improving down the road. Or seek out Steamboat's ample light powder on 1,790 acres of gladed trails (61 percent of the mountain's terrain), including our favorite: Twilight, a long run with a decent pitch and perfectly spaced trees that hold snow for days after a storm.
BIG SKY, MONTANA
Love tree skiing? Live in the New York City area? This winter, United adds a new direct flight from Newark to Bozeman, just a 45-minute drive from Big Sky, a resort where employees spent the summer creating several new gladed trails on Lone Peak and Andesite Mountain. Moderately pitched, with trees spaced a good 15 feet apart, the runs in the Dakota Territory and Bavarian Forest are perfect trails to warm up on. When you're feeling more comfortable, move on to Shady Chute, a 40-degree pitch that covers 2,000 feet. At the end of the day, head eight miles down the canyon to Whitewater Inn. Doubles start at $114, but the hotel is always posting last-minute deals online. And it has an indoor waterslide.
JACKSON HOLE, WYOMING
Jackson Hole is generally known for great steeps, big snowstorms, and a vibe that's Wild West meets ski party. The catch is that it's always been a pain to get to, but new flights will soon make access much easier. Beginning this winter, United will operate nonstop flights on holidays and weekends from San Francisco and Newark, and Delta will fly direct from Minneapolis. What's more, the slopeside, posh Hotel Terra offers Powder Guarantee packages, allowing guests to book early and adjust their trips in response to snowfall (from $200, including lodging and lift tickets). All of which should add up to you planning at least one weekend getting face shots in the resort's six inbound bowls—not to mention the other 4,139 feet of cliff bands, powder pillows, and bumps.
Winter Resorts for Thrill Seekers
Last year's pitiful snow season left skiers and boarders starving for the white stuff. Which is why we've dug up a smorgasbord of new terrain, fresh trips, and killer deals that will have you ripping all winter long.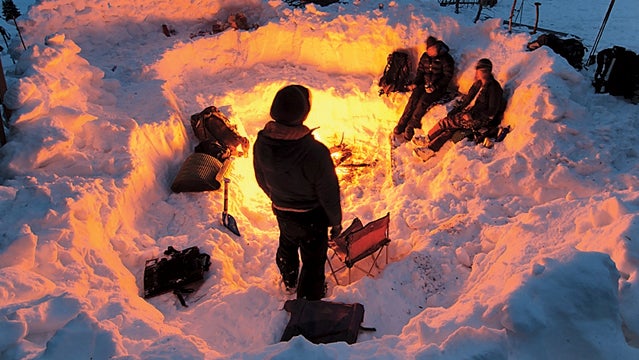 ASPEN, COLORADO
Aspen's Highland Bowl, with its 2,552 vertical feet of 45-degree pitches, has long offered some of the most challenging descents in North America. This winter, nearby Ajax and Snowmass mountains answer with 243 acres of additional terrain. Ajax includes Bonnie Bell Dumps, a steep shot with a 10-foot cliff jump, and Spar Dump, a gladed trail that passes an old mining train and cabin. The Snowmass expansion gives the predominantly intermediate mountain a few more steep lines, thanks mostly to the runs a short hike from the Elk Camp chair. There you'll find six-foot cornice plunges into a wide-open 35-degree bowl. Regardless of which mountain you tackle, consider splurging at the slopeside Viceroy Hotel in Snowmass Village, which has a full spa and outdoor heated pool (doubles from $550). To go easier on the bank account, try the Wildwood Snowmass, a new hotel with '70s decor and a farm-to-table restaurant (from $159).
CRESTED BUTTE, COLORADO
The mountain's Third Bowl has enough powder pillows and cliff bands to elevate anyone's heart rate. But we're salivating over a new experts-only trip being offered by Crested Butte Mountain Guides. Groups meet at the resort's Silver Queen Express lift, ride to the top, then don crampons and rope up for a two-hour trek to the mountain's 12,200-foot namesake peak. All that scrambling and vertical stepping is rewarded with 45-to-50-degree lines dropping 900 vertical feet ($350, gear included). Not ready for crampons? Try the terrific cat skiing with nearby outfit Irwin Lodge. Either way, grab a celebratory steak on the deck of 9380, then work out the kinks at Grand Lodge's Wildflower Spa (doubles from $199).
SILVERTON, COLORADO
With 23,819 acres of cliffy hike-to terrain—not to mention a helicopter—Silverton is arguably the country's top destination for adventuresome skiers. But apparently that wasn't enough. Starting this winter, the mountain will offer guided access to the types of faces most people see only in ski movies. To reach them, clients rope up, then rappel as much as 100 feet in and out of couloirs and snowy aprons. The payoff: drops like the Gnar Couloir, a 45-degree, 2,487-foot pitch that's regularly wind-loaded with three feet of powder ($495, climbing gear included). In the evening, refuel with a Kobe-beef burger at the Pickle Barrel on Main Street, then crash in one of the mountain-view rooms at the Victorian-style Bent Elbow Hotel (doubles from $60).
TELLURIDE, COLORADO
Don't be fooled by the charm of this quaint mining town and its miles of perfectly manicured intermediate terrain. The mountain has teeth—particularly in the form of the Gold Hill chutes, the gnarliest of which, Chute Four, should open this season. To ski it, take the Revelation Bowl lift to the top, hike 20 minutes along the Gold Hill Ridge, then drop into the craggy funnel that doglegs left into an open moraine, finishing at the base of Prospect Bowl. For a less hairy option, try Bushwacker, a groomed leg-burner from the top of the Plunge chairlift all the way to the bottom of the mountain. Grab a late lunch of elk sausage with duck confit at Bon Vivant, a new French restaurant at the top of the Polar Queen Express, and crash at the spa-and-outdoor-pool-equipped Peaks Resort (doubles from $149).