Outside Business Journal
How Nonprofits Are Handling the Pandemic
Three industry nonprofits—Camber Outdoors, Protect Our Winters, and Access Fund—discuss adjusting to the new normal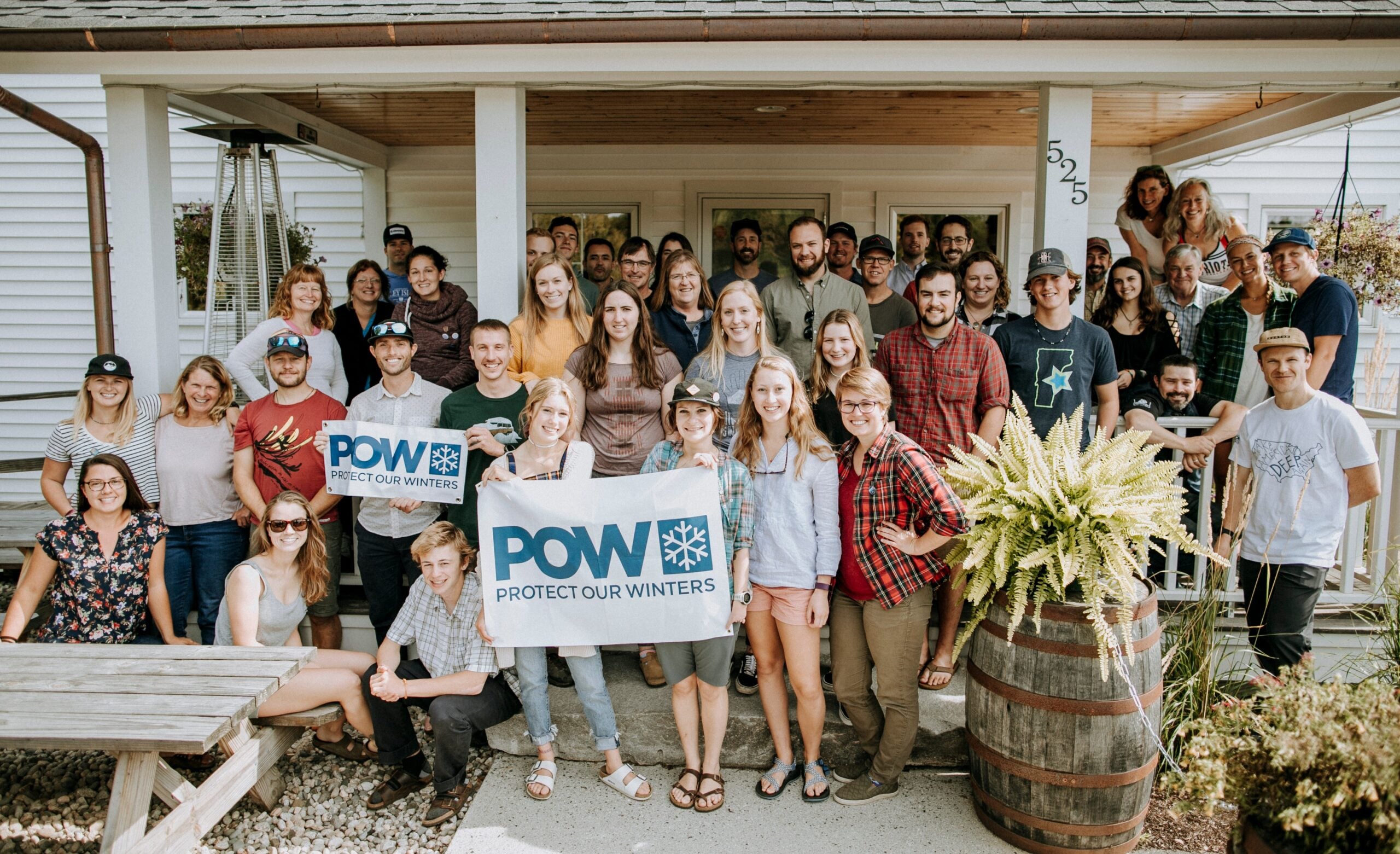 Heading out the door? Read this article on the new Outside+ app available now on iOS devices for members! Download the app.
Life and business have changed dramatically for everyone in the last few months. Like reps, retailers, and others on the for-profit side of the outdoor industry, those working in the nonprofit sector have faced new challenges almost daily since the pandemic began. This week, Outside Business Journal spoke with three outdoor nonprofit leaders—Emily Newman, executive director of Camber Outdoors; Chris Winter, executive director of Access Fund; and Sam Kilgore, communications manager for Protect Our Winters—to discuss the state of the industry from their perspective.
First of all, how is morale at your organization right now? Is everyone holding up?
"Our team is in really good spirits right now. This whole experience has really sharpened our focus on just how important it is to spend time outside and how much we miss climbing. The whole team feels so passionate about our mission. When we can't do the thing we love, it makes our work feel really important." —Chris Winter
"My team is feeling really responsive to the emphasis everyone is placing on helping each other right now. The whole world is focused on trying to help where possible, and that has created a lot of hope, at least for us. That feeling of wanting to be supportive, to do your part, has helped us get through this." —Emily Newman
"In mid-March, when the reality of the pandemic really started to set in, we had about a week where everyone was down and nervous. That was overwhelming, but one of the things POW excels at is pivoting when we need to make changes. We were able to turn uncertainty into focus, and that has definitely been inspiring. We're in a really good place because our community has told us they want to continue to be active, and our staff has responded to that with focus and determination." —Sam Kilgore
Money is tight for everyone right now. Have you had to make any difficult staff decisions—layoffs or furloughs—to get through this?
"We lucked out in that we haven't had to lay anyone off or furlough our staff. We had an increased budget for this year anyway because of the election, so luckily we were operating at a higher level before this all started. We did have to scale back some of our plans to fit the budget, but we've also saved money on things like hotels for our staff at some of our in-person events that were cancelled. I wouldn't say we're in great shape, budget-wise—we obviously took a hit—but we made sure to hold onto staff. Our big goal is to show everyone that even during the pandemic, we can still crush our goals. We just have to be more creative about we do it." —Sam Kilgore
"Thankfully, our industry partners and the climbing community have stuck with us through this. We haven't had to lay anybody off. Even our trail teams have been able to keep working in isolation in the field. We have three conservation teams that live on the road 10 months out of the year, doing trail work all over the country. When the pandemic hit, all three teams were able to continue working in very remote locations where they have no contact with volunteers or the public." —Chris Winter
"We are definitely making choices around budget priorities and being extremely thoughtful about how we prioritize given our immediate and long-term needs. What I can say is that we're being very cautious about how we use funds to best deliver on our mission." —Emily Newman
What are the biggest challenges you've faced as an organization since the pandemic began?
"On the programming side, one of the biggest challenges has been to help the outdoor community understand what it means to recreate outside safely during the pandemic. Climbing, specifically, is unique because there's a lot of shared contact. Everyone is touching the same pieces of rock. There's been a lot of speculation about how long the virus lives on rock, but very few medical experts have spoken directly to climbers. We're working to change that. Last week we ran an infographic about how to climb responsibly that got a lot of traction. We just announced a free webinar next Thursday that will feature the director of the Infectious and Tropical Disease Clinic at the University of Washington, Paul Pottinger, who also happens to be a climber who's summited Everest." —Chris Winter
"It's a big year for us because we're working on the election. We had planned to do 150 in-person events across six battleground states leading up to November. That obviously fell apart. That was a central part of our strategy and so we needed to rethink it quickly, but the change allowed us to innovate. We started a webinar series called Outdoor State of Mind featuring athletes like Jeremy Jones and Tommy Caldwell that has gotten people really excited. To gain access to these events, you have to make a pledge to vote. Since the series launched on Earth Day, we've already pledged more than 4,200 people." —Sam Kilgore
"For us, the biggest thing has been to make sure our mission work is still front and center. We have had to sharpen our focus on the immediate resources we can offer that still further our mission. After this all began, we quickly put out learning tools focused on HR leadership and systems equity. These are important because there's so much uncertainty in workplaces. We're trying to ask: What are the ways to reimagine workplaces so that they uphold DEI principles and also function in this new world?" —Emily Newman
How will the coronavirus affect the financial picture for nonprofits in the near future?
"One thing nonprofits need to remember is that the next 12 to 24 months will bring a lot of uncertainty and delayed effects. Brick-and-mortar stores have seen revenue drop off right away. Because we as nonprofits rely on charitable giving, there will be delays in the monetary interruptions. To deal with this, we're running a lot of projections on what the future could look like financially. We're touching base with our corporate partners and trying to keep pace with the changes, but it's a complex picture. One thing we know at Access Fund is that we're established enough to make it through this. 2021 will be our 30th anniversary. We've been around long enough that people know the value we add. They're focused on supporting us." —Chris Winter
"It varies from one nonprofit to another. Some have very large foundation funders and multi-year grants, others receive dollars from individuals and smaller sources. But no matter where a nonprofit's money comes from, I think it's important for people to understand that there are going to be so many needs that arise in the next 12 months that we just can't anticipate. We're seeing a lot of large funders being flexible and generous with their giving, but because of the uncertainty, the more support anyone can give, the better. This is the time to support nonprofits if you have the ability to do so." —Emily Newman
Have you seen any unique opportunities come out of all this?
"It's important to remember that, even though the pandemic is obviously a huge deal, climate change is still looming and we still have a very short timeline to address it. We can't put that on hold just because of this health crisis. One thing that's been really interesting to see is how quickly the world can change. In a matter of weeks, we totally altered the way the world works to suit our health and wellbeing. People often say we can't change the way we use fossil fuels because our systems are so ingrained, but the pandemic has proven that wrong. It's possible to make massive shifts quickly. A crash of the economy, while unfortunate, presents an opportunity to rebuild in a way that's beneficial to what we're doing." —Sam Kilgore
"In the context of a global pandemic and massive economic shifts, the issue of human relationships is suddenly front and center, which is encouraging to see. Everyone is thinking about how we connect with and relate to others. I'm hopeful that, because of that, we'll see even more collaborations that come out of this focused on DEI. At Camber, we just hosted a webinar focused on return-to-work strategies that support DEI. As we go forward, I think a lot of industry leaders will be forced to reimagine what their workplaces look like. There's great potential to come out of this with a deeper focus on relationships and value-driven leadership." —Emily Newman
Trending on Outside Online