Outside Business Journal
25 Ways to Win on Amazon
In 2019, Amazon became the largest retailer the world has ever seen. Here's what that means for all of us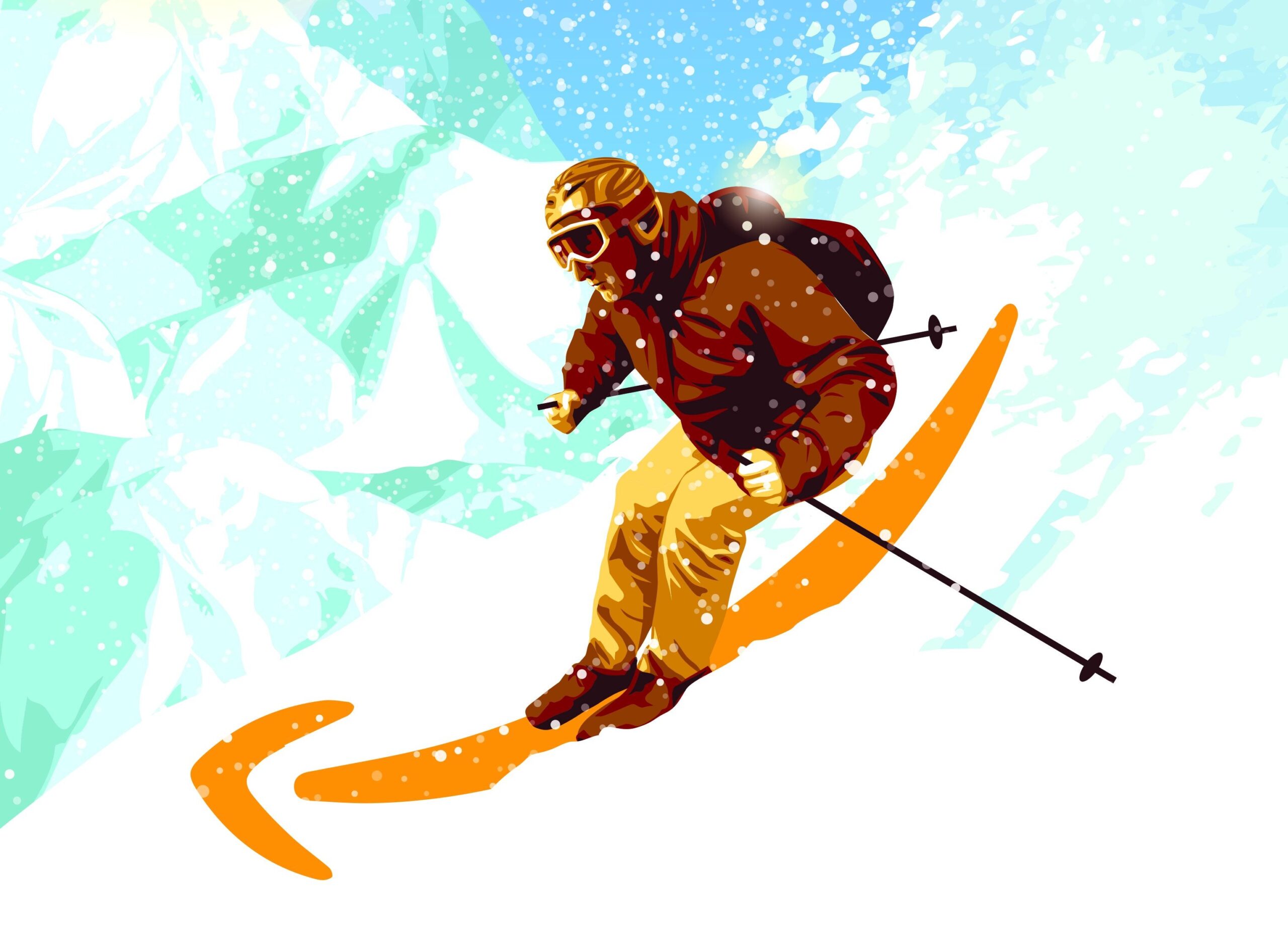 Heading out the door? Read this article on the new Outside+ app available now on iOS devices for members! Download the app.
When Jeff Bezos first launched Amazon way back in 1994, his original vision was to create an online store that offered a wide selection of books at affordable prices. What he actually created: a retail revolution that would fundamentally change the way consumers shop in the 21st century. This became increasingly evident as the company expanded its inventory to include just about anything that customers could possibly want, including outdoor gear.
"The outdoor category, like most Amazon product categories, was prioritized and developed as a function of consumer demand," said Larry Pluimer, CEO of Indigitous, a consulting firm that helps brands and retailers navigate the Amazon waters. "Because Amazon is a search engine, it can tell how many people are searching for 'camping tents' versus 'toasters'. As it turns out, a lot of people are searching for 'The North Face'."
Before Indigitous, Pluimer spearheaded Amazon's efforts to bring outdoor products to the Marketplace starting in 2009. Part of his job was developing Amazon categories that allowed sellers to merchandise gear like tents and crampons, but creating a proper online retail outlet for outdoor gear was only half the battle. Pluimer and his team also had to convince brands and retailers to join the Marketplace. That wasn't very easy at first, but eventually it started to pay off. "Amazon was controversial and brands were reluctant to engage," Pluimer said, referencing a general distrust that many retailers and brands had for Amazon at the time. "But, in a couple of years, we had signed over 200 brands to sell to Amazon. Some of our early partners included Keen, Osprey, Eagle Creek, Sierra Designs, MSR, and Kelty."
Today, Amazon has grown into the largest retailer in the world, with annual revenues topping $200 billion. With more and more consumers turning to the website to find products, partnering with Amazon can be rewarding for both brands and retailers. But there's more to succeeding in the ever-expanding Marketplace than simply slapping a few products on the site: Like any other part of a successful business, you need a strategy. Our list of 25 outdoor industry-tested tactics, tips, and best practices is here to help you develop the right one for you, scoring a win on the world's biggest e-commerce website.
1-3. Choose Your Selling Approach
There are a few ways to join the Marketplace—which is the one for you?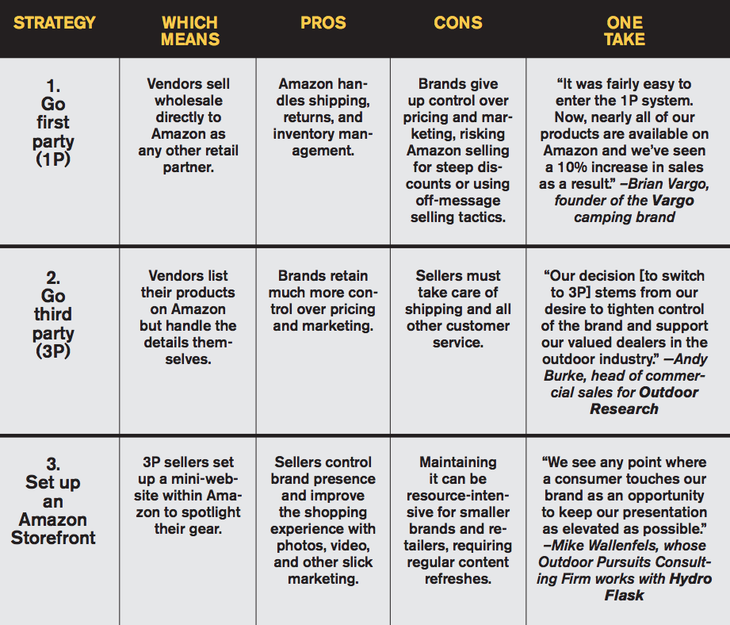 4. Nail SEO
Search engine optimization is just as vital on Amazon as it is on Google. Pay attention to proper keywords in titles, subtitles, bullet points, and product descriptions, but don't get overly mechanical with your approach. "Make sure your product listings read like they were written by a human and not a robot," said Yoon Kim, founder of Blogs For Brands, a company that assists outdoor brands with marketing and Amazon strategy. "And [remember that] Amazon does not account for misspellings. You'll need to include every possible misspelling of your product on the product description page in order to cover all your bases." As with Google, Amazon SEO can be confusing. Kim suggests bringing in some backup: "Hiring an SEO expert can speed up projects and lead to better results, especially for tedious projects like Amazon copy."
5. Choose Your SKUs
Just because you've made the decision to join the Marketplace doesn't mean that you have to list every product your company has to offer. Many brands and retailers find value in only selling a portion of their catalog online. Outdoor Research's Andy Burke said, "We've found that a segmented offering on Amazon provides both broad visibility for the brand and simultaneously provides a special experience for our brick-and-mortar retailers. Our specialty offerings are focused on key items and collections that are better served in the hands of educated sales staff and customer service people."
6. Mind Your MAP
Maintaining control of minimum advertised pricing (MAP) can be difficult in the free-for-all that is the Marketplace. Even authorized retail partners might drop prices too low in search of a quick sale, but "Don't let rogue sellers define your price," Larry Pluimer said. "Your distribution policy needs to be deliberate and focused"—whether that means working with only a select group of trusted 3P partners, or even nixing 3P sellers altogether. Yoon Kim agreed: "When MAP gets out of control, Amazon is the first to know, and if Amazon stays under MAP, everyone eventually matches. Control your distribution so that if MAP issues arise, you can cut off a rogue seller."
7. Understand Amazon's Reach
8. Create Opportunities for Impulse Buys
A recent survey of online shopping trends from CreditCards.com shows that 44 percent of Americans admit to making an impulse purchase in the last three months. Amazon sellers can take advantage of this trend by offering unique and useful products at very affordable price—like the LifeStraw Personal Water Filter, which retails for just $17.47. "Amazon introduced our products to a massive audience who saw the value of being prepared for emergencies and having something lightweight and easy to add to their pack," said Tara Lundy, the company's head of brand. "We have a great business on Amazon. We utilize the platform to reach hundreds of thousands of customers who may not be able to access our products in-store."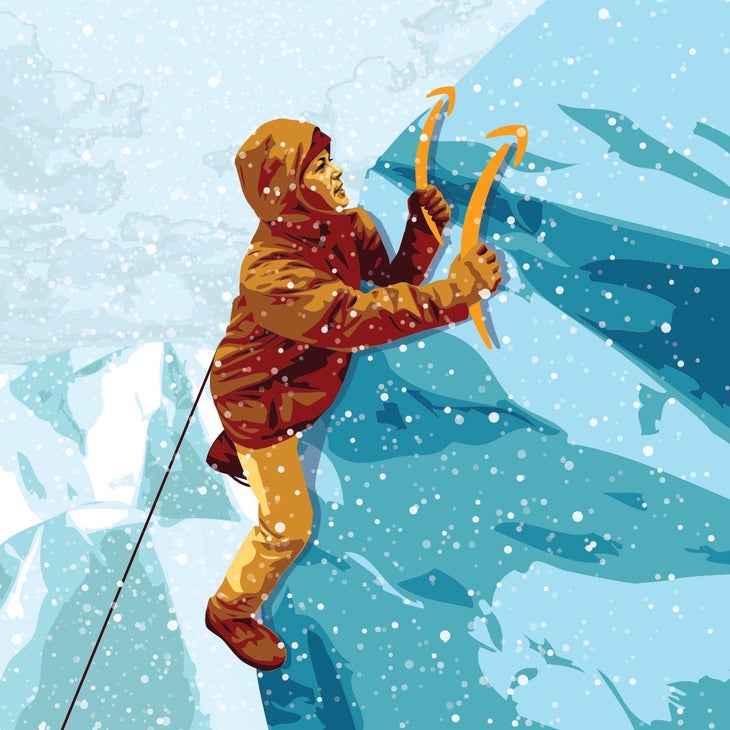 9. Don't Be Afraid to Break Up
Off-price Amazon competition eating into your brick-and-mortar business? You don't have to take it anymore, says Wes Allen, owner of Sunlight Sports in Cody, Wyoming. "The worst thing specialty retailers can do if they're having this problem is to continue to write [orders with] the brand," Allen said, noting that his store has stopped carrying gear from brands that couldn't or wouldn't rein in below-MAP sales on Amazon. "There are very few brands out there making things that somebody else doesn't make. Look around at who has the best brand hygiene and figure out who you want to work with."
The key, said Allen, is tracking prices and opening up conversations with vendors based on data. Sunlight Sports will match a lower Amazon price in the store, and Allen receives a daily sales report noting how often that happens. He then takes those numbers to brand partners: "You have to show them what the impact is. Tell them what you're seeing so they can take action." And if they don't? Find someone who will. Allen says he's increased orders with The North Face, KÜHL, and Nordica in recent years in part because they do a great job controlling MAP across the board.
Champaign Outdoors in Illinois automatically price matches products over $30. ""The reality is, customers will pull out their phone and look to see if they can get a better deal on something. And who can blame them?" Owner Dan Epstein said. "But we are pretty confident that we curate brands with strong protection online."
10. Spend Money to Make Money
Don't overlook the benefits of buying ad space from Amazon. You'll catch the attention of more shoppers and potentially even push items onto the first page of search results. Want to see this in action? Do a search for Patagonia—a brand that isn't even officially part of the Marketplace—and see what comes up. Besides Patagonia gear from unauthorized sellers, you're also likely to find advertisements for The North Face or Columbia displayed along the top of the page, giving the competition the chance to lure away potential customers.
11 & 12. Tap into Prime Customers
Amazon's 100 million-plus Prime members spend $1,400 per year on the website—more than double that of regular shoppers—making them a good group to get to know. But you'll have to pick one of these two sides to reach them.
| | | |
| --- | --- | --- |
| | 11. Go with FBA | 12. Go with SFP |
| AKA | Fulfilled by Amazon | Seller Fulfilled Prime |
| Which means | When sellers join the FBA service, they send products to Amazon to handle shipping and customer service. | Sellers still gain access to Prime members, but must handle one-day shipping and other customer service matters themselves. |
| Pros | Easy | More affordable |
| Cons | It'll cost you in fees. | It'll cost you in time and manpower. |
13. Fight Back Against Counterfeits
Copycat merchandise and outright counterfeits can make operating on the Marketplace a challenge at times, eating into legitimate sales for authorized retailers and gear manufacturers alike. But by taking an active part in the Amazon ecosystem, brands gain access to Project Zero, a program designed to hunt down and remove counterfeits. The system uses machine learning, product serialization, and old-fashioned human diligence to protect a brand's intellectual property on the Marketplace.
Sellers can also join the Amazon Brand Registry (ABR), which provides enhanced search options that let companies locate and stamp out trademark infringement on the Marketplace. How effective is it? According to Amazon, more than 130,000 brands have joined the program, and members report 99 percent fewer suspected trademark infringements since before the tool was launched in 2017.
Nite Ize and OtterBox have both had issues with counterfeits on Amazon; both sued companies for violating their trademarks, with Amazon joining in on the lawsuit (OtterBox won; Nite Ize is awaiting its day in court).
14. Capitalize on the Prime Day
Beyond Black Friday and the holiday shopping season, Amazon's own Prime Day, an exclusive sale that takes place in mid-July, has grown into a significant sales opportunity. A well-timed sale, advertising campaign, or product launch during these events can result in massive success for a seller.
Just how much of an impact can Prime Day have? LifeStraw, which allocated some of its budget to Amazon's paid search platform and ran a timely sale, sold more than 200,000 units of its Personal Water Filter on Prime Day 2019 alone, making it one of the top-selling products in the U.S. and Canada and increasing its visibility dramatically. That helped the company achieve another one of its goals: providing safe drinking water to students around the globe. "With the sales from Prime Day 2019 alone, we were able to reach over 200,000 more school children," said Head of Brand Tara Lundy.
15. Embrace a Product's Amazon History
Introducing a new version of a legacy product? Don't reinvent the wheel. Rich Hill, president of Grassroots Outdoor Alliance, has consulted with dozens of brands and retailers on how to best work with Amazon. He's learned the value of consistency on the Marketplace, telling clients, "Never change the name of a product. When you do, you lose all of that product's history on Amazon, including reviews and customer feedback. Those items play a role in page rankings and are difficult to replace or rebuild." Case in point: the Nalgene wide-mouth water bottle, with nearly 6,500 ratings and a 4.7/5 average. "It doesn't change, it's iconic, and it just keeps building its ratings," Hill noted.
16. Turn Alexa into Your Pitch Person
Amazon's popular voice assistant, Alexa, can be used for more than just answering trivia questions. In fact, just about anyone can create an Alexa Skill, which is essentially a voice-activated app that delivers custom functionality. Clever brands have already found creative ways to engage with their customers, like REI's Skill, which touts the brand's Deal of the Day and provides store locations and events. Other brands outside the outdoor industry deliver recipes (Campbell's) or daily allergy forecasts (Zyrtec). Right now, the market is wide open for a branded Skill that delivers hiking trail suggestions, ski area snowfall reports, or packing lists for camp outings. You're welcome.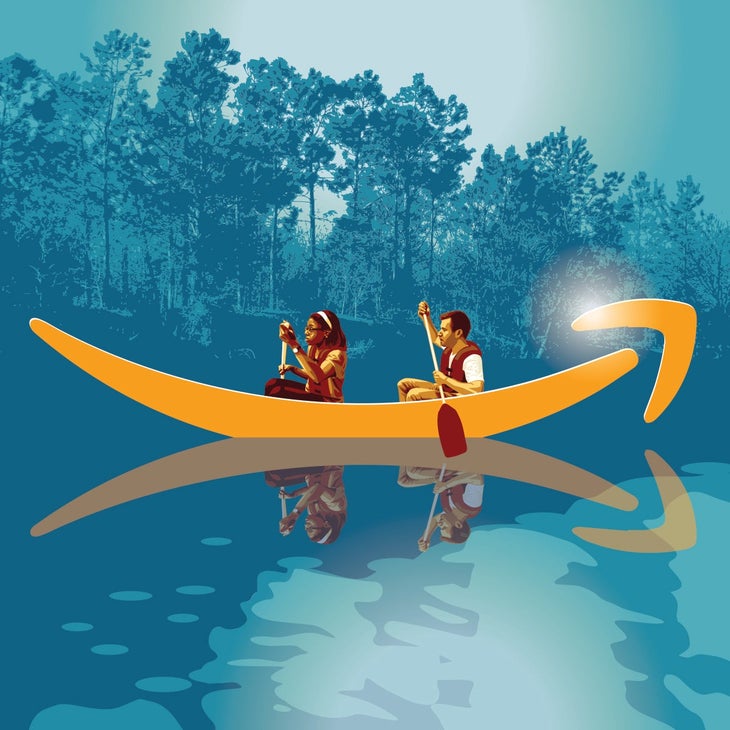 17. Win the Buy Box
As a retailer, how do you stand out from the hordes of other sellers hawking the same gear? Data show that 82 percent of all sales on Amazon come from the Buy Box—the section on the product details page where customers can add an item to their cart or purchase it instantly. The Buy Box is an important piece of real estate on the Marketplace because it often lists multiple retailers that are offering the same product. In short: You want to be in there.
Sellers who earn that coveted space must satisfy Amazon's algorithm by offering that product at a highly competitive price with the cost of shipping factored in. They must also have inventory on hand to fulfill the order, and a good seller rating based on customer feedback over the past 30, 90, and 365 days. Any retailer who meets those criteria greatly increases its chances of being listed in the Buy Box, even on a competitor's page selling the exact same product.
18. Don't Go It Alone
19. Fill Up Your Photo Album
Data show that good photos help keep customers on a product page longer and result in higher conversion rates. In fact, consultants advise that Amazon shoppers value high-quality images more than the descriptive text that appears on a product page. Amazon lets sellers include up to six images on any product page, but often brands and retailers don't use all of the available space. As Fred Dimyan of consulting firm Potoo pointed out, "That's equivalent to Target giving you seven feet of retail space, but you only use two of those feet."
20. Learn to Master Your Channel
If you're looking for insightful and creative tips for how you can succeed on the Amazon Marketplace (and on an array of other e-commerce platforms), then the Channel Mastery podcast (channelmastery.com) is a must-listen. Each week, host Kristin Carpenter welcomes smart, plugged-in guests from a wide range of industries to discuss strategies and techniques designed to meet the unique needs of outdoor brands and retail outlets. "The podcast came about because there were no other resources available for specialty retailers," Carpenter said. Tune in to a special Channel Mastery series produced in partnership with OBJ.
21. Sell the Right Stuff
The Marketplace may be huge, but it's not the best outlet for everything, says Rich Hill. Accessories, commodity items, and replenishment products (think: another pair of your favorite socks) kill it on Amazon, while high-touch, fit-dependent gear is a tougher sell.
22. Go on the Hunt for Unauthorized Sellers
There are outright counterfeiters, and then there are unauthorized resellers. The latter cuts into sales and margins by dumping product at steeply discounted prices. These sellers don't have permission to sell a brand's merchandise on the Marketplace, but do so anyway. They often obtain a brand's merchandise through backchannel means, finding a wholesaler who's willing to sell product with no questions asked or sometimes even going directly to the factory. The end result: Sales get siphoned away from legit sellers.
Amazon can help brands stomp out these unauthorized sellers, but sometimes it pays to get a little outside help. Potoo Solutions uses proprietary data analytics to rein in resellers for many of its more than 500 clients.
"We can reduce unauthorized sales by as much as 83 percent," said Potoo CEO Fred Dimyan. "In doing so, the average selling price of a product goes up, both on Amazon and in brick-and-mortar retail outlets, which often end up seeing better sales in the long run."
Or go it alone: In 2017, Osprey launched a systematic campaign to shut down anyone who didn't have permission to sell its products on Amazon. That process began by surveying the activities of all of its retail partners, including ones that had been working with the company for years. The result was new contracts that restricted Amazon sales to a few trusted partners, bringing the number of authorized sellers down from nearly 200 to just eight in about a year.
23-24. Don't Put All Your Eggs in One Basket
Amazon may be a sales juggernaut, but don't focus all your e-commerce energy there. Here are three smart ways to diversity your strategy.
Turn Online Browsers into Local Customers
"We set out to build bridges between online and offline shopping," said Mike Massey, co-founder of Locally.com. How, exactly? The website helps online shoppers find the products they're looking for at a nearby brick-and-mortar outlet.
Customers can go directly to the Locally website to search for an item: The site then scans its database to find that specific product and examines the inventory of stores located close to the customer to find where it is available. Or browsers on brand's own website will see a "buy it locally" option when perusing specific products. Both options drive shoppers to local retailers, where they can usually pick up their purchases the very same day.
Win the Delivery Game
One of Amazon's biggest appeals is a vast distribution network that allows it to conveniently ship products to a customer's door, fast. But Amazon doesn't own speedy delivery. Last August, Brooks and Locally launched Locally On-Demand, a program that allows shoppers to see merchandise that's available in local retailers, buy it, and have it delivered the same day for a small fee. This usually matches or even beats Amazon's ability to ship quickly and cheaply.
The program is now available in 2,200 U.S. cities and is growing at a rate of 365 percent per month.
25. Make an Escape Plan
And finally, a counterpoint: For some brands, divorcing Amazon actually is the best move. When Lowa Boots saw margins on its products shrinking due to unauthorized Amazon resellers automatically matching steeply discounted prices, the company made the tough decision to exit the Marketplace altogether. Cutthroat competition was impacting nearly all of Lowa's retail partners, and leaving Amazon helped to reverse that trend, although the transition wasn't easy.
"We knew the day we stopped our business would go down, and it did," Lowa General Manager in the U.S. Peter Sachs said. "We predicted a two-year claw-back, and that's what it took for topline sales to get us back to where we had been." Eventually, both online and traditional retail sales adjusted to the shift away from Amazon and things began to turn around. "Amazon has some heavy expenses attached to it, and without them our expenses did go down and our margins increased," Sachs added. "The end result is that we have a heathy, diversified, and profitable business"—proof that there can be life after Amazon.