Outside Business Journal
Sponsor Content: NuORDER by Lightspeed
What the Current State of B2B Commerce Means for Your Brand
Three timely takeaways from a 2022 survey of wholesalers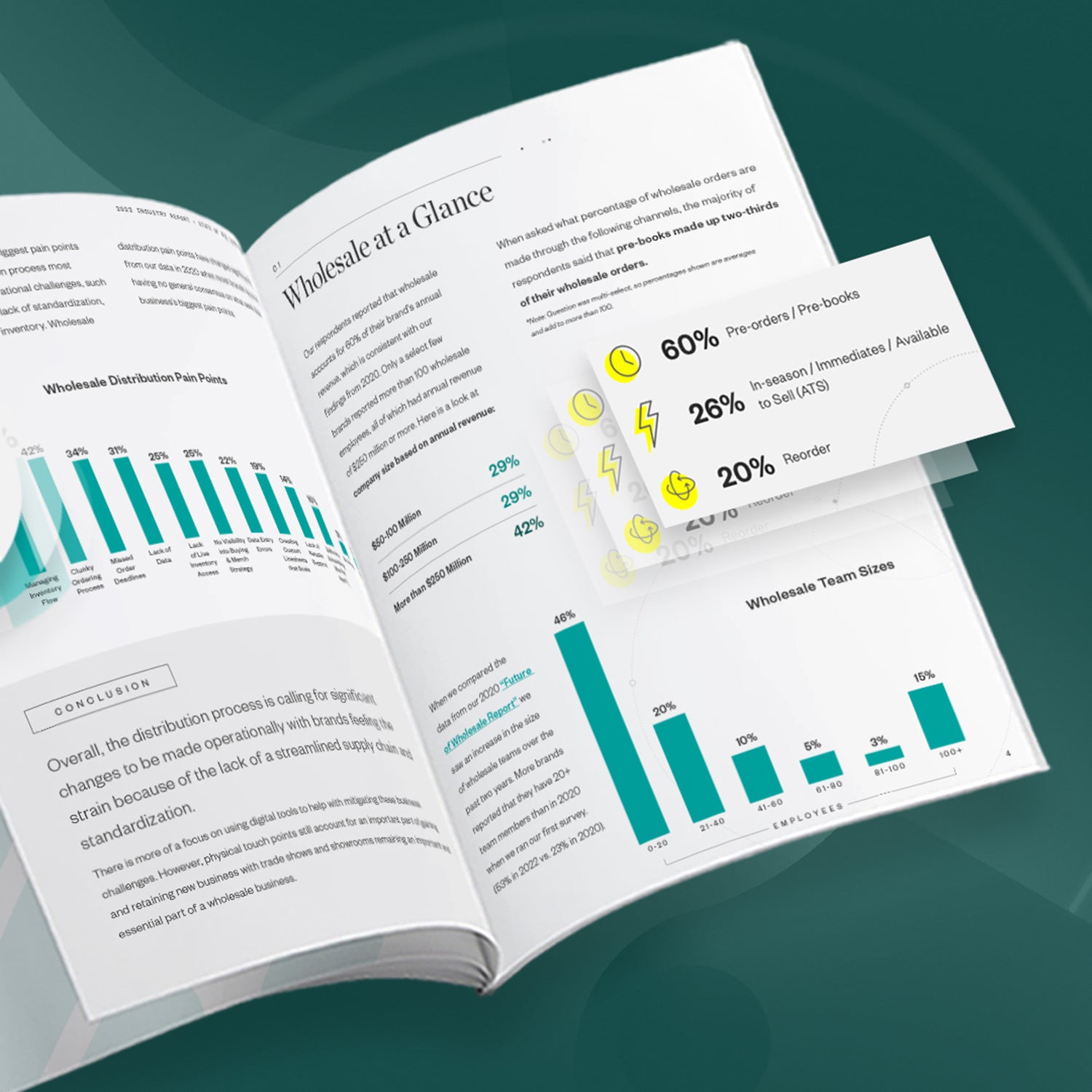 NuORDER
Staying competitive in a turbulent market is no easy task for today's brands. At the height of the pandemic, technology was put to the test as brands and retailers sought to remain connected and keep business going—however possible—despite the limitations on in-person meetings.
Now, brands and retailers may not need to solely rely on digital communication, but what's next for those who want to continue pushing the envelope? We wanted to find out, so we surveyed 59 industry-leading enterprise brands and compiled the results in our State of B2B Commerce report to better understand their revenue channels, operations, and pain points. 
Here are a few of the key insights we discovered.
Wholesale Remains a Vital Revenue Stream
With industry-leading brands reporting they generate 60 percent of their revenue from wholesale, it's worth spending some time to refine and optimize your wholesale strategy to take full advantage of this reality.
To start, the B2B sales experience doesn't need to be so segmented between in-person and online. Implementing features available on today's B2B platforms can allow brands to present their retail buyers with an elevated shopping experience that can help increase wholesale order volume. 
Here are a few strategies to consider:
Think of your

buyers

like direct-to-consumer shoppers. Work with your creative teams to regularly update your B2B site with lifestyle imagery and product videos that are visually rich and interactive.   

Get creative with how you launch collections.

Darn Tough Vermont sends a monthly newsletter

with its latest products, media assets, and deadline reminders. 

Use shoppable catalogs and virtual showrooms to add another layer to the B2B buying experience.

Nobis uses one such virtual showroom

to give buyers enhanced product walkthroughs—including videos that introducing collections, highlight product details, and explain key features. 
Additionally, think about providing a consistent brand experience by making your catalogs globally accessible with the right merchandise, currency, language, checkout, and shipping options so that buyers everywhere—from small boutiques in Japan to major department stores in Spain—can easily place orders.
By using advancements in technology in tandem with in-person meetings, your brand has more touch points to reach new customers, deepen existing partnerships, and increase wholesale revenue.
"The virtual showroom will change the way we sell," said Darren Fergeson, VP of merchandise planning, allocations, and distribution at Arc'teryx. "While a lot of folks might be afraid of the idea, once we get a buyer to look at it, and see how easy it is to use, the vast majority are open to this new way of buying."
Download the report to see the top ways brands are securing retail partnerships.
Wholesale Teams: A Small but Mighty Force, Powered by Automation
Most brands reported having wholesale teams of 20 people or fewer. Due to advancements in automation, huge teams are no longer a requirement for running a successful wholesale business. 
Here a few of the many operational tasks that wholesale teams are able to streamline with automation:
Letting buyers choose how they want to order, pay, and ship with self-serve buying options

Regularly tracking rep and product performance

Creating personalized selling, so that not every buyer gets the same pitch

Giving buyers

one easy B2B login

to receive updates regarding launches, recommended assortments, and pricing
Automating time-intensive wholesale tasks relieves pressure on teams, improves buyer satisfaction, and the increases the number of orders, all with less work.
"I see the future of buying continuing in a digital direction with more emphasis for on-demand B2B tools such as NuORDER by Lightspeed," said Rob Phillips, North American business unit director at Tecnica Footwear. "As retailers continue to streamline their purchasing processes, these digital tools will help to keep all the information in one place, available at any time."
Download the report to learn more about streamlined wholesale operations.
Digital Can Be a Competitive Advantage
The historically complicated web of processes that make up the wholesale industry is undergoing a metamorphosis. Hand-written order forms, physical showrooms, and paper line sheets are slowly being replaced by smarter and more efficient digital processes.
The call for standardization is continuing to grow, with over 50 percent of our survey respondents saying they switched to their current B2B solution because it streamlined their operations and technology.
Brands also indicated that offering a better customer experience was a top reason for using a B2B solution. A recent Avionos report found 85 percent of B2B buyers would turn to a competitor if their suppliers' digital channel couldn't keep up with their buying needs, further affirming the importance of a smooth, direct-to-consumer-like experience in successful wholesale channels.
For retailers, digital wholesale tools also provide a way to visualize and understand their buy. This helps reduce excess inventory with more strategically planned assortments. 
"Independent retailers need tools like NuORDER to help them work smarter—and harder," said Rich Hill, the former president of Grassroots Outdoor Alliance. "The potential of having a universal order-writing tool helps retailers make better decisions, be better partners to our vendors, and reduce excess and non-functional inventory that no one wants."
Download the report to see what brands and retailers are looking for in a B2B tool.
Tying it All Together
All of this data points to the fact that efficient B2B solutions can be key problem solvers for both sides of the wholesale equation. Wholesale teams get to sell more with less stress, and retailers get to buy more easily and intelligently with a modern and easy experience.
If the trends found in our report continue, brands who leverage the right tools for both parties will have a major competitive advantage that improves sell-through, reduces order time, and ultimately delivers the products consumers want. 
Download the State of B2B Commerce Report for more data-backed insights on increasing wholesale revenue, the key pain points for your industry peers, and the solutions brands have found to improve the B2B experience.
---
NuORDER by Lightspeed is a leading B2B e-commerce platform, helping brands deliver a seamless, more collaborative wholesale process that lets buyers browse products, plan assortments, and make smarter buys in real time.
Lead Photo: NuORDER
Trending on Outside Online