Outside Business Journal
How the Pandemic Has Changed the Guiding Industry
Data from the guide booking platform 57Hours paints a bleak picture of an industry in crisis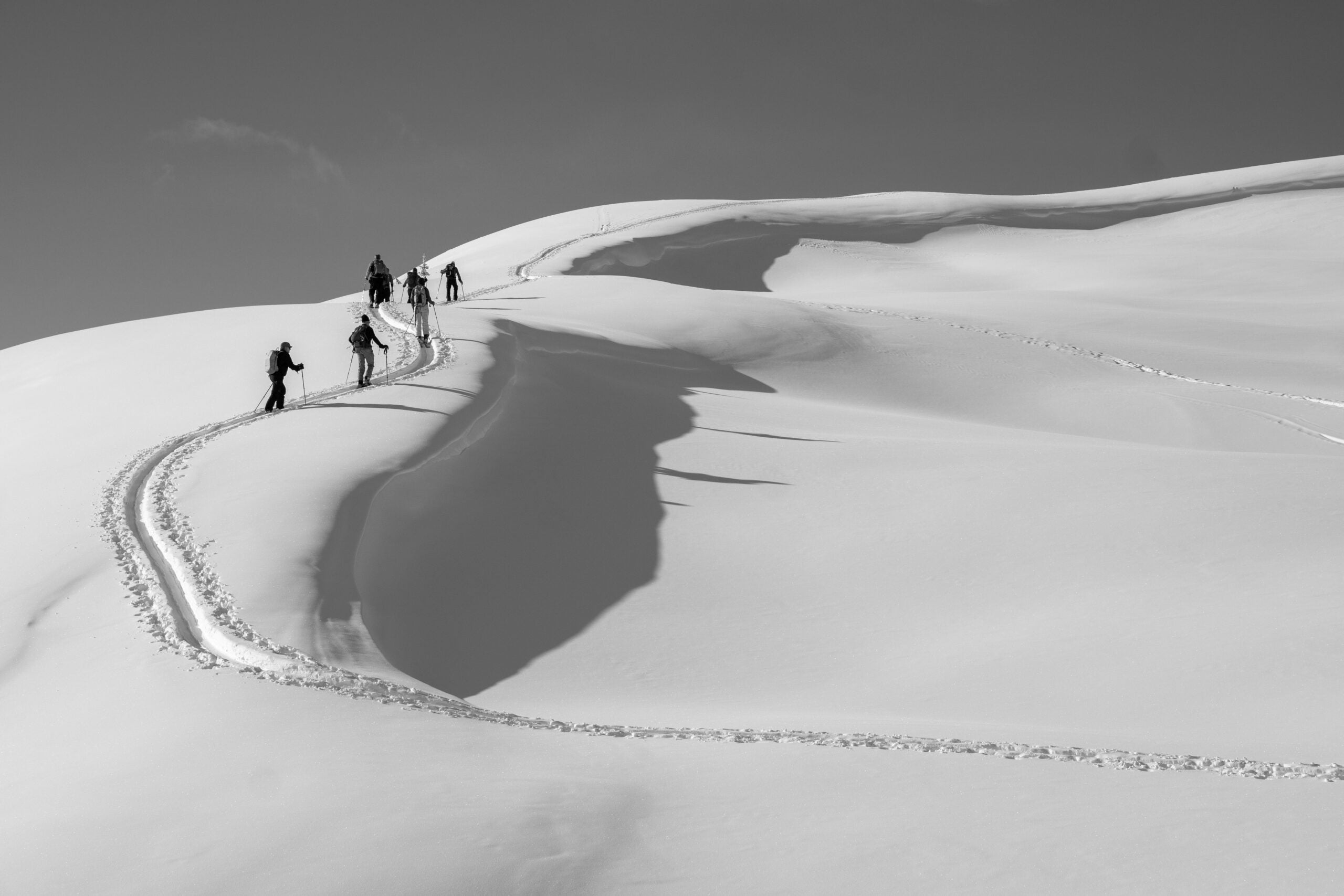 Heading out the door? Read this article on the new Outside+ app available now on iOS devices for members! Download the app.
It's nine o'clock on a Monday morning. Tom Wolfe sits down to start his week. He checks his email, then his Google AdWords account. He fires off a few text messages to clients, asking how they're doing. Still fine. Nothing new. He gets ready for a Zoom call.
This might sound normal for your typical office worker, stuck at home during the pandemic, but Wolfe is no pencil pusher. He's the owner and head guide at Sawback Alpine Adventures, a mountain- and ski-guiding service based in Alberta. He hasn't been out on a trip in months. In the guiding community, hardly anyone has. And the future—even as far out as spring of next year—doesn't look promising.
A recent survey from the digital guide booking platform 57 hours, released last month, has confirmed what many in the guiding community have suspected for months: As outdoor brands and retailers begin, slowly, to right themselves after the fallout of the early pandemic, adventure guides face a much tougher road ahead.
The survey, which queried 109 adventure guides from all over the word, reported that 92 percent of respondents hadn't facilitated a trip since February or March, even though half of them—like Wolfe—rely on guiding as their only source of income. Perhaps more telling, the data shows that 78 percent of future trips have been cancelled with no plans to reschedule, and more than half of the guiding industry believes revenue won't rise to normal levels again until spring 2021 or later.
"It's bad," Viktor Marohnic, co-founder of 57Hours, told Outside Business Journal this week. "I think it's even worse than what the survey says, especially for those who are running their own guiding services. These guys are not making ton of money in the first place. Even when everything is OK and people are booking trips, many of them are struggling to make a living."
The same, of course, might be said of some specialty retailers, small brands, or others in the outdoor industry. Thin margins alone haven't spelled disaster for everyone during the pandemic. For guides, the problem is a combination of unlucky factors that make adventure trips particularly objectionable for consumers during the current crisis.
First, there's the problem of trip size. According to the survey, 70 percent of guides believe that limiting trips to one-to-two participants is the best way to operate safely during the pandemic. Fewer participants means less revenue per trip, which often necessitates a hike in per-person fees at the booking stage.
"The problem is, people don't want to pay higher prices—they absolutely will not budge," said Wolfe. "In the last few weeks, I called some of my more well-to-do clients, doctors and lawyers, people with the spare change to pay more. I asked what they would do if I increased the price from, say, $2,900 to $3,900 for an outing. They told me to forget it. They said, 'We'll cancel before we pay that.' It just rubs people the wrong way."
On top of that, Wolfe says that most of his business comes from international travelers crossing borders to take trips, which presents its own set of problems. A new ban on U.S. travel to Europe has complicated business for many European guide companies. Canada has a similar story. Even in regions without outright bans, quarantine measures will likely remain in place for the foreseeable future—some of them requiring weeks of isolation upon entering a new country.
"You're looking at a month of quarantining, two weeks after getting [to the destination country], two weeks after getting back to your home country, for a one-week adventure trip. No one will do that," Wolfe said.
Wolfe operates his business on a shoestring budget even in normal times. He's the only full-time employee. He works from a home office. All of his guides are contractors, and since March, he hasn't signed deals with any of them. He's essentially become a freelancer.
"As of March 15, my mountain and ski guiding trips fell to zero instantly. There's a chance it will pick up in the late summer months, but we might be looking at 20 percent of our usual business. It's really limping along. All of our trips will be exclusively local clientele. That means smaller trips, which means less money."
In the near term, these numbers might mean the shuttering of guiding services that had struggled for years anyway. But there's another impact that Marohnic worries about, one that might have more fundamental consequences for the guiding industry as a whole.
"Many of our established guides can survive a bad year or even two," he said. "But there are a lot of young guides who had just started breaking into the profession and might be motivated to quit. It can take upwards of ten years to build a business, credentials, a client base—it's really a long process. Even in good times, lots of guides give up at some point. I look at all those young guys and worry many of them might say, 'Okay. I've had enough.' That's my fear. That lots of them will go find something else to do in life."
The impact of that kind of shift, he says—the bottom falling out of an entire generation of new guides—will have implications that far outlast the pandemic.
Trending on Outside Online