Outside Business Journal
Cotopaxi Closes San Francisco Store After Repeated Break-Ins
Crime has forced the company to shutter one retail location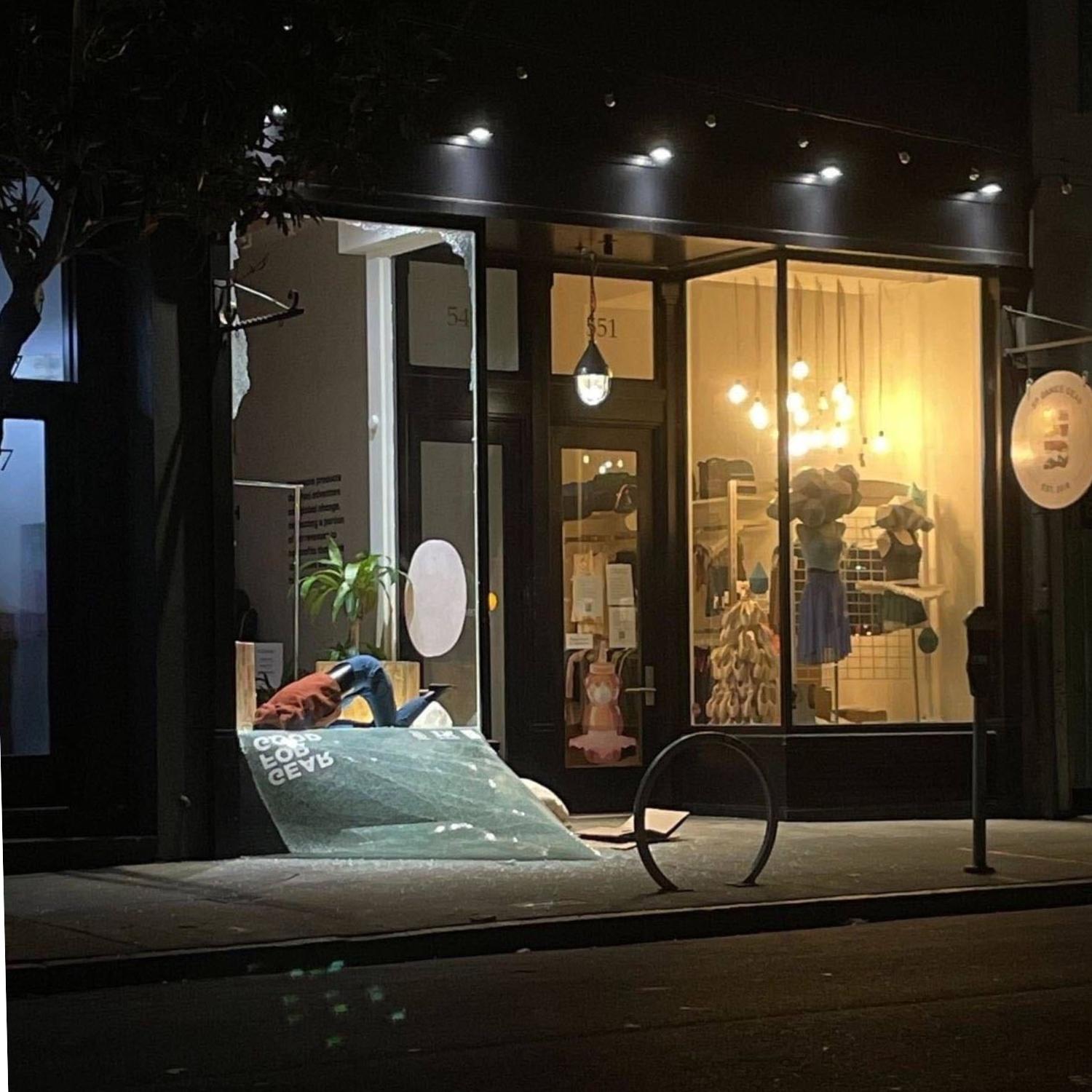 Heading out the door? Read this article on the new Outside+ app available now on iOS devices for members! Download the app.
Citing lawlessness and "chaos," Cotopaxi CEO Davis Smith announced on his personal LinkedIn page yesterday that he has closed the company's sole San Francisco retail location.
"As of today, we are closing the store due to rampant organized theft and lack of safety for our team," Smith wrote on October 18. "Our store is hit by organized theft rings several times per week."
In a call with Outside, Smith explained that the closure is due to concerns about employee safety, and that employees are being paid while the store is shuttered. Smith said he hopes the closure is temporary, although he can't be sure.
"Thanks to that [LinkedIn] post, San Francisco city leaders reached out to me and we're going to meet tomorrow," he said. "I wasn't getting a lot of response before. It's not that people don't care, it's just overwhelming. This is something that got attention, though, and I'm hopeful for some conversations and some solutions."
Smith said that, starting the first week after the store opened a year ago in the city's Hayes Valley neighborhood, its windows were repeatedly broken out and merchandise stolen. Plywood and, eventually, wrought iron grates were installed. Then, a few weeks ago, groups of people began rushing into the store and stealing merchandise, so the store began locking the door and opening only for customers. The thieves adapted their tactics by sending one person to the door posing as a customer and then rushing in when the door was unlocked.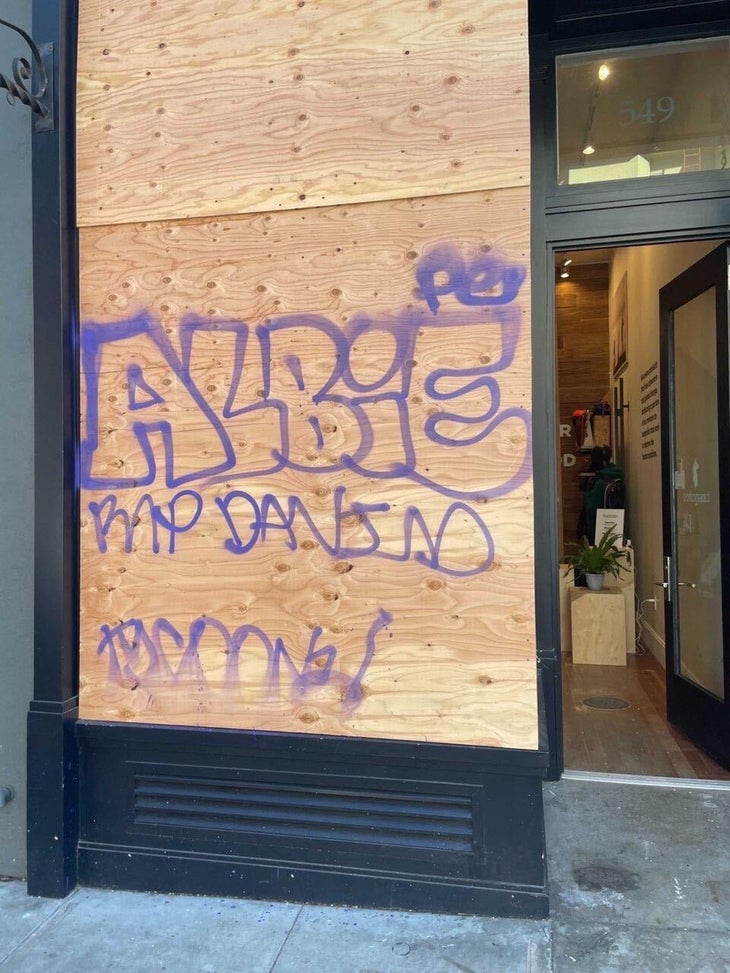 "Multiple times in the last week this happened," Smith told Outside. "I got a message from the manager two days ago that this happened again, and that our employees were afraid for their safety. We made the decision right then that we couldn't put our employees in that situation, and decided to close and continue to pay them until we could figure out what to do."
A San Francisco Department of Homelessness and Supportive Housing (SFDHSH) report released in August stated that 20,000 people are currently experiencing homelessness in the city. That figure represents 2.5 percent of the city's total population. Despite city-housing programs, for every person housed, four will become unhoused because SFHSH has "not been able to keep pace with inflow of people who become newly homeless or return to homelessness throughout the year," the report said. Substance abuse, unemployment, mental illness, and dislocation from California wildfires are some of the reasons the report listed as contributing to the problem.
As for theft in the city, larceny is up by 15 percent compared to this time last year, according to the San Francisco Police Department, though burglaries have dropped by 21 percent in the same period.
"It's sad, but San Francisco appears to have descended into a city of chaos," Smith wrote in his post. "Many streets and parks are overrun with drugs, criminals, and homelessness, and local leadership and law enforcement enable it through inaction. One of the most beautiful and amazing cities in the world is now a place where many no longer feel safe visiting or living."
Smith said it's important to not equate homelessness with criminality, but that both issues have made it difficult for Cotopaxi to continue operating its retail operations in San Francisco.
As Smith wrote in his post, "It's impossible for a retail store to operate in these circumstances, especially when cities refuse to take any action (despite us paying taxes well above any other state we operate in). The city recently announced a reduction of police presence in this neighborhood, despite mass-scale crime."
In his call with Outside, Smith said he understands the city's problems require much more than increased police presence.
"We're not after Band-Aid solutions. We know it's not just more police on the street; we're looking for long-term problem solving and asking how we can be part of that," Smith said. "As a brand that's committed to helping lift communities, this is something we're thinking a lot about—how can we help? These issues are complex and it's going to require governments, business, nonprofits, and citizens to work together to create real solutions."
Smith grew up throughout Latin America and founded Cotopaxi in 2014 with the intention of helping impoverished communities there. Since then, the B Corp company has helped 1.3 million people living in poverty by distributing grants to humanitarian organizations, funding emergency housing assistance, awarding small-business loans, and other efforts. Smith said while the problems in the U.S. are different than what he's seen in other countries, he's hoping to apply some of what he's learned to finding solutions here.
"When I posted, I didn't expect the kind of attention that this would receive," he said. "A lot of times we love celebrating wins as business leaders, and I think it's important to share things that aren't going well, too. That was the hope of my post: a rally cry to ask what we can do to help positive change. How can we work with other businesses and city leadership to do something?"
Cotopaxi currently has 10 retail locations across the U.S., with plans to open 10 more in 2023. Smith said he hopes San Francisco remains a home base for one.
"We hope we can open the store again," Smith said. "We love San Francisco. But we can't reopen until we know that our employees will be safe. We still have four years left on our lease, but nothing is worth even thinking about risking the safety and welfare of our team members. I spoke out about our difficulties to start a dialogue that hopefully leads to positive change. It's our mission to do good, and we're willing to work hard with others to see good come out of this."
Lead Photo: Davis Smith