Outside Business Journal
Fearing for Employee Safety, Cotopaxi Closed Its San Francisco Location Three Weeks Ago. It Reopened Today.
The repeatedly vandalized storefront is up and running again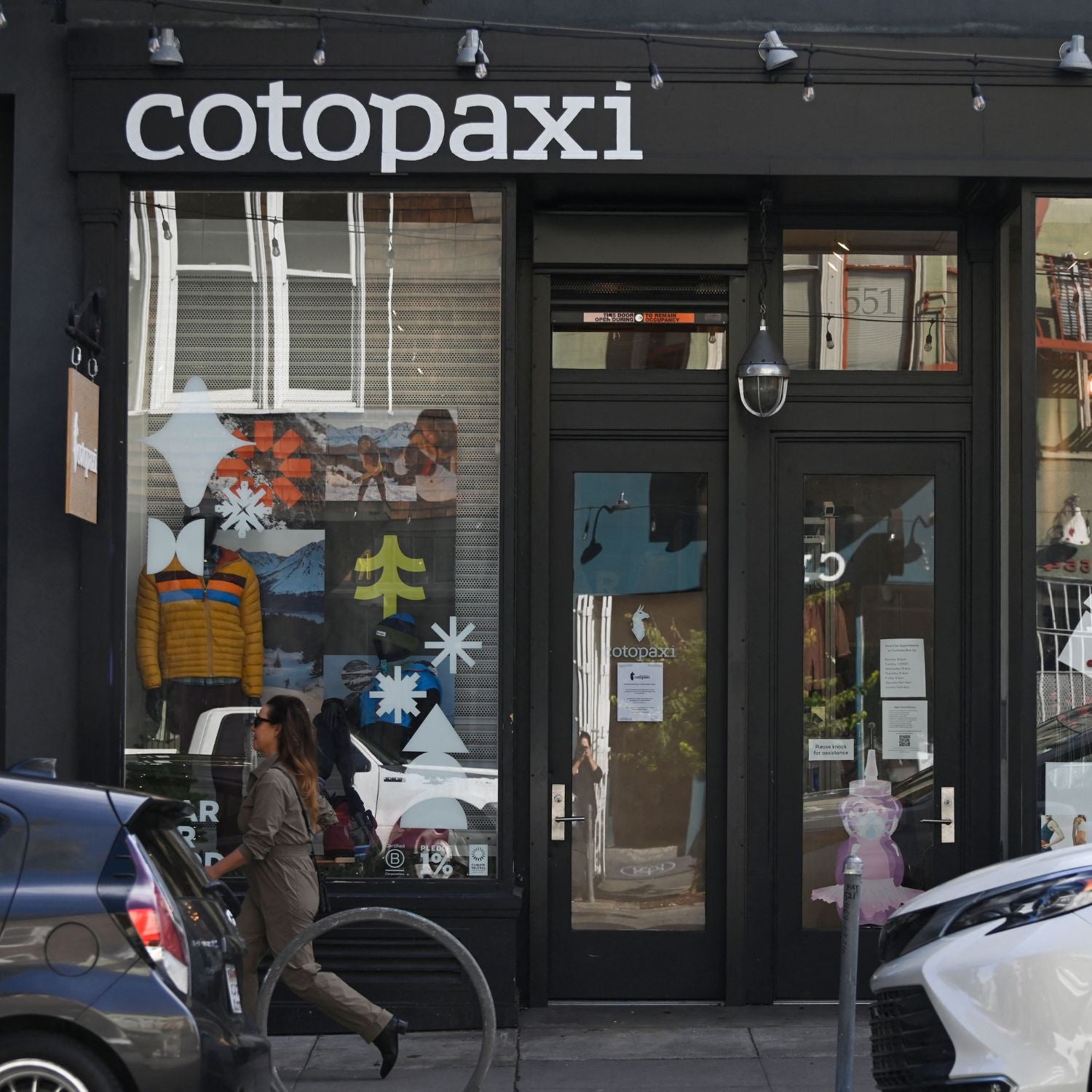 Heading out the door? Read this article on the new Outside+ app available now on iOS devices for members! Download the app.
Cotopaxi CEO Davis Smith announced today that the company's San Francisco Hayes Valley store has reopened after closing down three weeks ago due to theft, vandalism, and fear for employee safety.
On October 18, Smith posted a blunt and alarming message on LinkedIn: the brand's San Francisco location would shutter indefinitely due to repeated break-ins and looting. Employees received pay during the shutdown, which lasted for 24 days.
This morning, Smith posted again on the platform, writing, "Cotopaxi is pleased to announce that after productive and positive meetings with Hayes Valley Merchants Association, the Board of Supervisors, and SFPD [the San Francisco Police Department], measures have been put in place to allow us to reopen our storefront once again. We have also hired full-time private security."
Smith told Outside that his original post—which used some stark language about San Francisco, including that it had "descended into a city of chaos"—wasn't meant to "tear down" the area. Instead, he hoped for a response from city leaders regarding crime in the Hayes Valley retail district. Less than a month later, he got it.
He also got widespread response from the community. Smith said his first post drew a lot more attention than he expected—not all of it positive. Some accused Cotopaxi, and Smith, of unfairly villainizing an entire metropolitan area and focusing too heavily on the need for more policing in certain neighborhoods.
"Sure we have our fair share of crime, but every city does. It's unfortunate what happened to your store, it could happen anywhere, and again, the blanket generalization seems unfair and not accurate, from a local's perspective," one LinkedIn user wrote.
Smith himself replied to this and many other commenters, engaging in an open dialogue about their concerns. He also had conversations with city officials, which he said have led to more focus on neighborhood safety. In the three weeks since Smith's original post, the San Francisco Police Department has increased foot patrols in the neighborhood around the Cotopaxi store.
"Fortunately, the City of San Francisco, the police department, and the Merchant Association of Haynes Valley all reached out," Smith told Outside. "I told [our San Francisco Board of Supervisors representative] we didn't have any response to our previous reports about these issues and he was super responsive. It feels like the city is listening now and really interested in fixing these issues for Haynes Valley."
What a complete fix looks like, however, is unclear at this point. Smith acknowledged that it necessarily has to involve a lot more than increased policing.
To help support the community through its own initiatives, Cotopaxi has partnered with Tipping Point Community, a nonprofit that supports housing, early childhood development, and employment opportunities for those in need in the Bay Area.
"Tipping Point has a great history of working in the city for 17 years," Smith said. "They've helped deploy $350 million into the Bay Area focusing on things we care about."
Smith said he never intended to give up on San Francisco; he just wanted his employees there to feel safe: "Some of our earliest customers and earliest believers in our brand were in the Bay Area…I've always loved the city. It's a place I care about. We're hopeful that together as a community, as a city, we'll resolve this. We didn't want to complain, we wanted to be part of the solution."
Lead Photo: Samantha Laurey/Getty