Outside Business Journal
Reps Discover a Creative Way to Showcase Products and Brands
The Denver Merchandise Mart is a quirky venue that's the perfect place for reps to attract buyers to spend time with their entire lines in a cool, creative atmosphere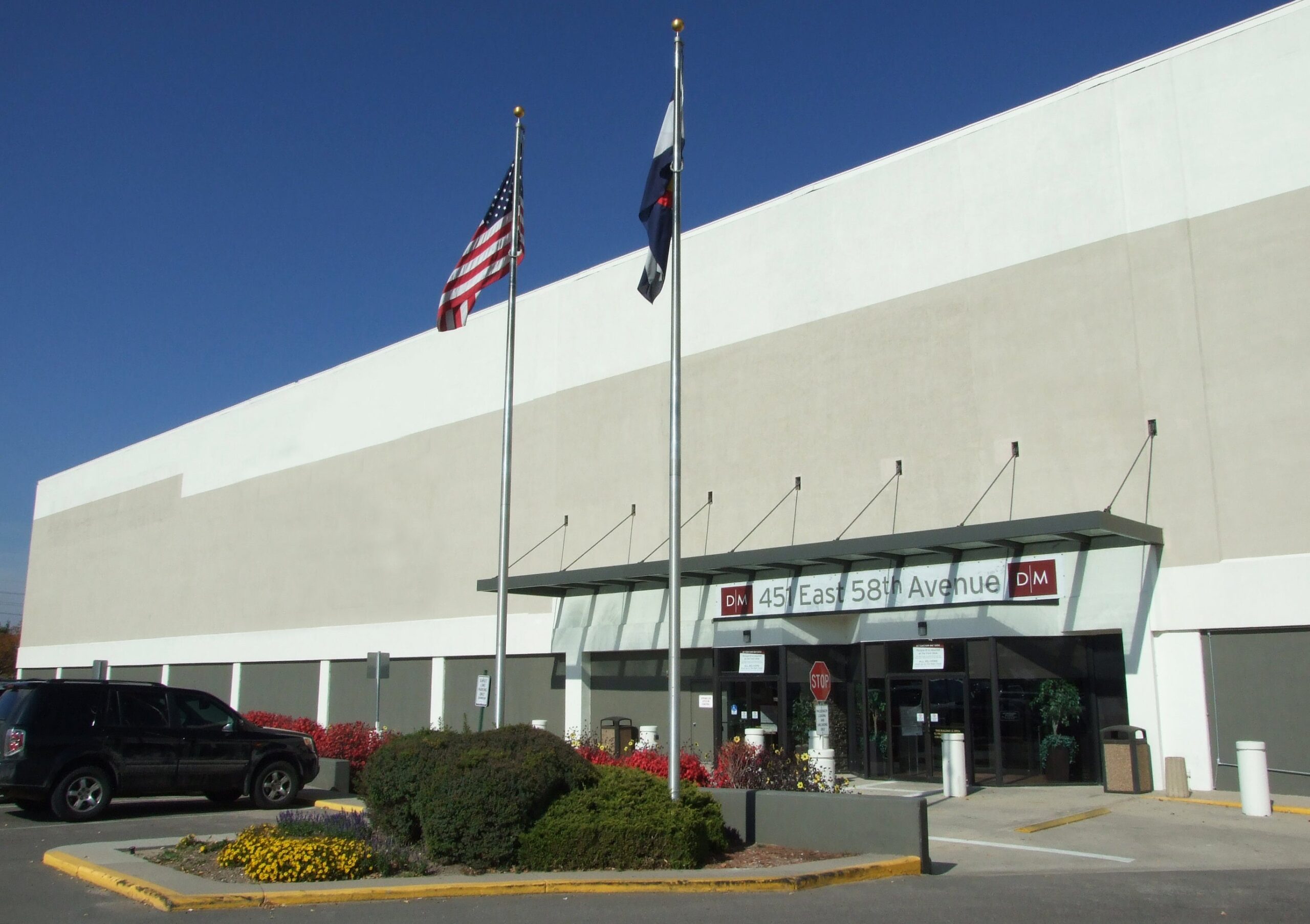 Heading out the door? Read this article on the new Outside+ app available now on iOS devices for members! Download the app.
An icy wind whipped fresh snow into mini tornados in the narrow alleyways of a Golden, Colorado, storage facility, and Bruce Gordon dropped a box of product samples into the slush under his rented box truck.
He looked over at his business partner Zach Branson and said, "There's got to be a better way."
The two were hustling to make their outdoor sales agency, Mountain Source, a success, and knew that the storage-locker-and-rented-truck strategy would only get them so far. Eventually they found a home base in the Denver Merchandise Mart.
This hulking event space and collection of showrooms, tucked into an industrial pocket of north Denver, opened in 1965 as a wholesale marketplace. Unlike the Colorado Convention Center, the new home of Outdoor Retailer, which accommodates sweeping events attended by entire industries, the Denver Merchandise Mart specializes in connecting sales representatives to buyers. It's strictly B2B and not open to the public.
Since opening, The Denver Merchandise Mart has become a major business hub for the western wear industry, and outdoor industry sales reps in the Rocky Mountain region—like Mountain Source—are wisely beginning to take note.
The Scene
The Denver Merchandise Mart, or just "Denver Mart," has the look and feel of a massive '70s-era hotel, with crisscrossing escalators and stair cases in a bright multi-story atrium and long, window-lined hallways and event halls. But instead of housing vacationers, this facility has apparel and accessory companies as guests.
I pass showrooms with jewelers hunched over magnifying glasses, bedazzled cowboy boots, sterling knives with elk-antler handles, and cabinetry and backsplash supplies among a blur of other things on my way to meet with Todd Herrick, a managing partner of Denver Mart. Herrick is a pilot and backcountry skier who came to Colorado in 1987 and also owns Telluride Helitrax, Black Canyon Anglers, and Gunnison River Farms.
"We have nearly one million square feet of space in total," Herrick told me. "We have loading docks for every event hall, freight elevators, a concert stage (Garth Brooks, Lori Morgan, and Merle Haggard have played there), a drive-in outdoor movie theater (showing first-run movies on weekends Memorial Day to Labor Day, but available to tenants for midweek private events), security, 24/7 access for tenants, and free parking." Denver Mart hosts a trade show every weekend and can run up to four separate shows simultaneously.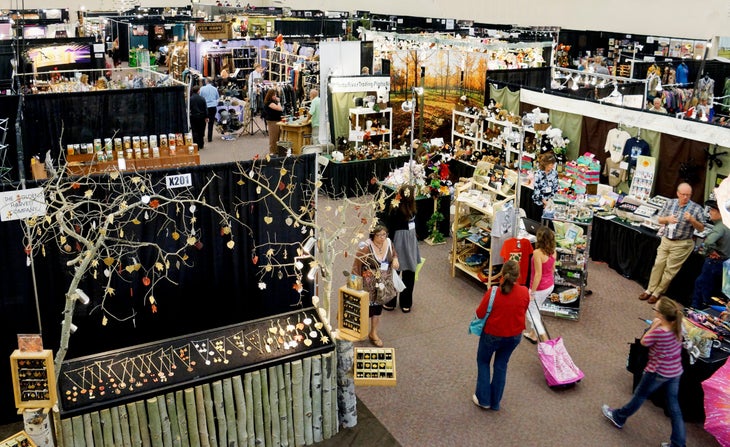 "We have everything from western shows to car shows, toy train shows, roofing shows, the state bar exam, marijuana shows. The marijuana crowd—showing grow lamps and products like that, not bud—they'd have a show every week if they could. They're going gangbusters. But my point is, we can fit any particular industry's needs," said Herrick. "If you want to build an ice climbing wall outside, we'll setup an ice climbing wall."
The venue also has space for up to 400 tenants in showrooms ranging in size from 180 square feet to more than 8,000 square feet. This is a real attraction for a sales rep who may be used to the relative chaos of showing gear out of the back of a truck or van. Currently, 142 outdoor lines, from Jack Wolfskin and adidas Outdoor to Alpine Start and Selk'bag to Gregory have leased showrooms, which each agency can customize to their liking. Showroom tenants have 24/7 access and meet with retailer and potential buyers on their own terms. With Outdoor Retailer's high-profile move from Salt Lake City to Denver, Denver Mart expects its outdoor industry tenant list to grow.
Browse the Outdoor Brand Showrooms
The Chaco Showroom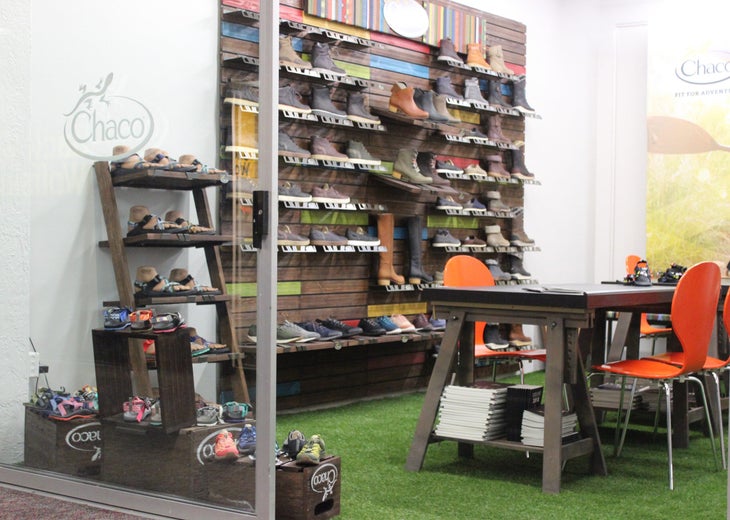 The Gregory Showroom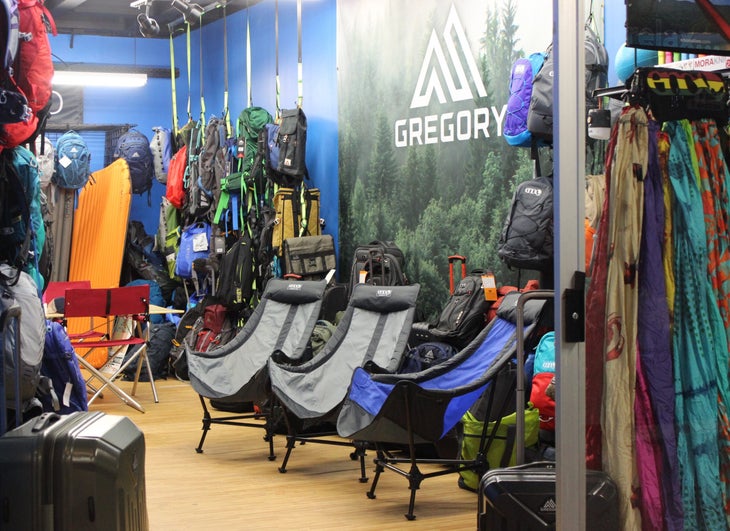 The Jack Wolfskin Showroom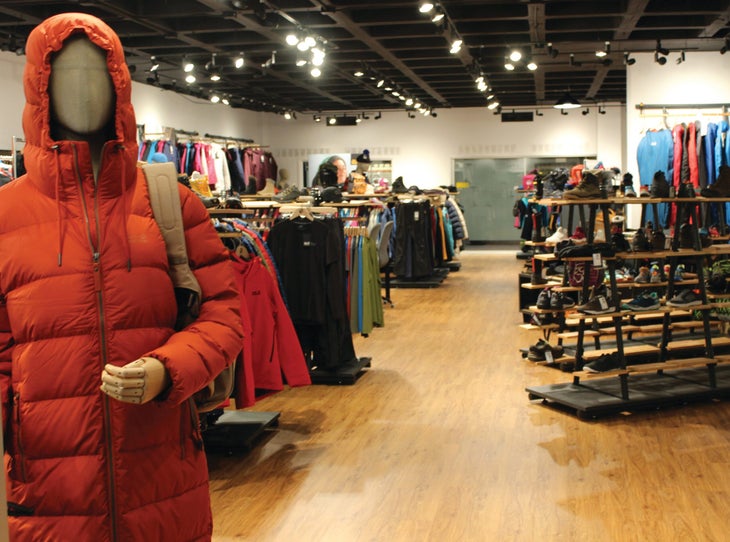 The Smith Showroom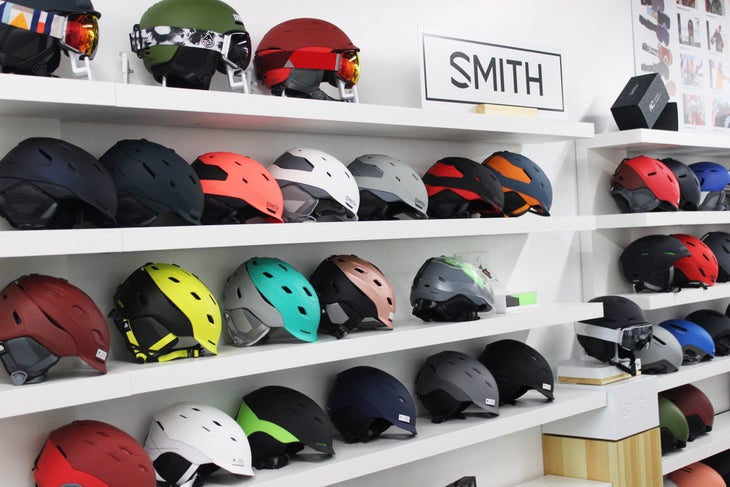 The Smartwool Showroom
"We are in Adams County which is non-union, so you have great creative freedom to set up a trade show booth how you like it," said Herrick, "and for tenants who lease showroom space, we feature a 'loss of line clause,' which lets a sales rep out of their lease if they lose one of their three biggest clients." For reps who are often on 30-day revolving contracts, this eliminates the personal liability of a long-term lease.
The western wear industry (think Justin, Cinch, and Ariat) was an early adopter of Denver Mart and serves as an example of the type of community the ownership hopes to cultivate within the outdoor industry.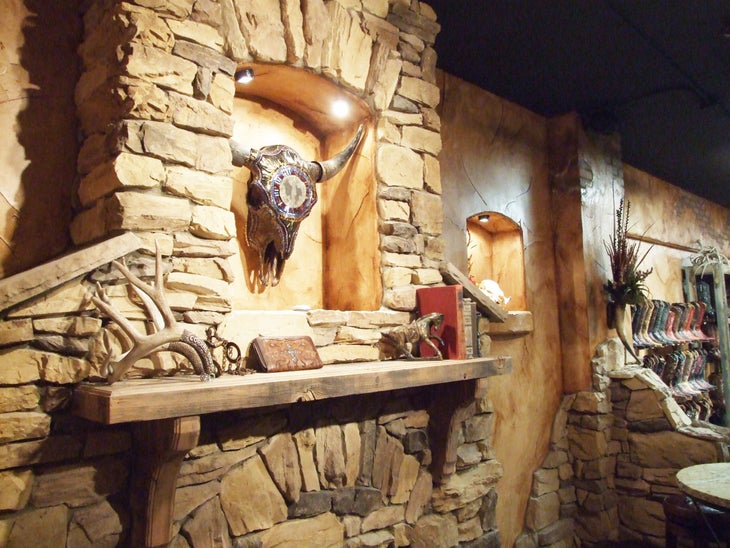 The Value
To get an idea of how the big western brands have used the show rooms, we tour a few of their largest and most lavish. First, Corral Boots, which has a stone fireplace and full bar, along with cocktail tables, and more than a dozen sales rep stations. Next is Miller International (parent company of Cinch jeans, among others). Their space is the size of a commercial outlet store, has a runway, overstuffed leather chairs, a huge bar, and a seating area that'd be right at home at any sports bar in America.
"It's so easy to imagine a big outdoor or snow sports brand creating a ski-lodge or Swiss chalet après scene," I said to Herrick.
"And they could show ski films at the drive-in out back," he replied.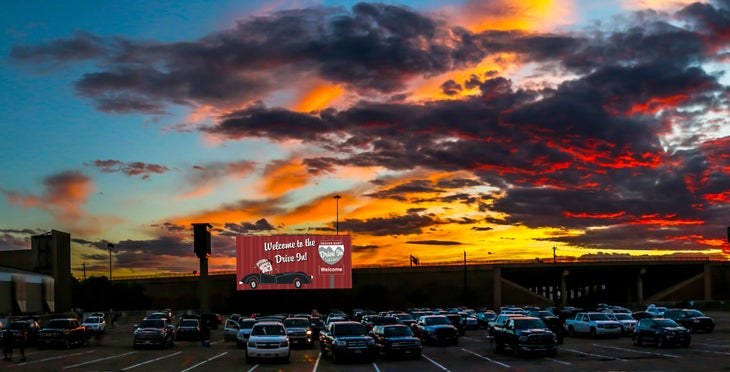 We also tour the Ariat and Carhartt showrooms. The former was one of the first tenants in Denver Mart and boasts an 8,100-square-foot showroom. Carhartt's has a sleek mountain-modern vibe, several private rep stations, and a huge conference room with a 16-seat table and the largest video-conference-ready flat screen I've ever seen. It looks like a corporate headquarters.
What's crazy is that many of these large showrooms are only utilized during the Western English Sales Associations biannual shows. That's just eight days per year.
"This is where brands and buyers conduct a substantial amount of business. It's worth it—and it's stood the test of time over the years. It works. Even with the internet and e-commerce, these industries are ultimately very tactile. You need to physically see the product and share stories and strategies with each other, personally, to make sound decisions," said Herrick. "And these industries that take up shop here are very community-driven."
The Potential
So, are outdoor industry brands utilizing it and how? To begin answering that, I met up with Mountain Source, an outdoor and snow sports sales agency with eight team members servicing retailers in Colorado, Utah, Wyoming, New Mexico, and Nebraska.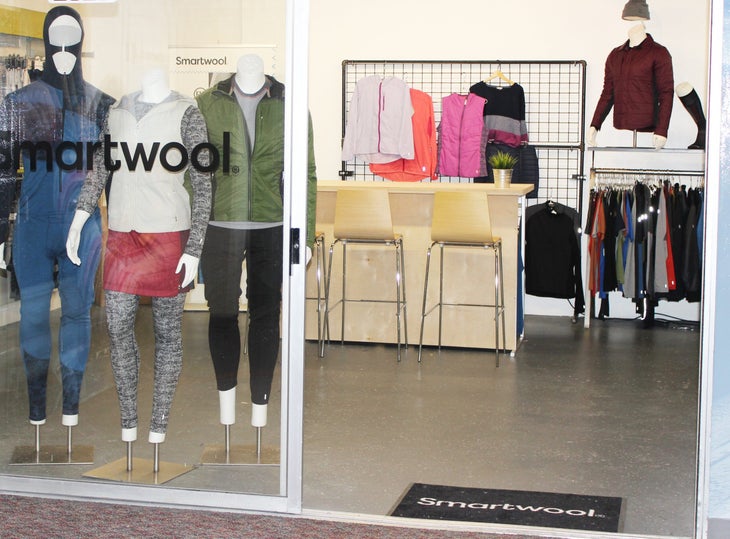 "We used to use a storage unit and a rented truck and show product in a retail space," said partner Bruce Gordon. "Now we have a controlled environment to interact with retailers with no distractions like we might have if we were meeting at a shop, or even worse, the back of a van. It's revolutionized our business."
Mountain Source currently reps Chaco, Fjällräven, GU, Hanwag, Klean Kanteen, Smartwool, and Swany.
"We want to change the agency model. As we grow, our goal is to have a [show] room for each of our brands," said Gordon. "Ultimately, we want to show a buyer that they could stock all of our brands, and in this environment, we can mimic how those brands could be displayed in the store. Smartwool is now flying people from outside of our territory to pre-line here in this showroom."
Their bright Smartwool space features vinyl wall wraps, custom racks and signage, and individual meeting tables to display product on. The Chaco space has artificial turf and a vibe 100 percent in line with the booth I've seen at Outdoor Retailer for years. Their showrooms are inviting, casual, and fun, just like the brands they rep.
"We all got into this business because it's fun, right?" said Gordon. "But then at some point the fun is out of it. Having showrooms at the Mart has been key to us bringing some of the fun back. We can do really creative things in this space. With all of the support from the leasing manager and staff here, we have extreme flexibility to do whatever we want."
Mountain Source's biggest success, business wise, has been with brand extensions. "In an unhurried environment, we can introduce buyers to more brands. We were not able to do that as successfully before," said partner Zach Branson.
"This space allows our staff to tell better stories. We do 80 percent of our annual business in this showroom now," added Gordon.
"It sounds cheesy," said Branson, "but this place has given us a real sense of pride and really gotten us excited to reinvest in our business. There's no other place we've seen where we can do this."
Trending on Outside Online