Outside Business Journal
Sponsor Content: Envoy B2B
Hybrid Wholesale B2B Sales Models Are Here to Stay
How your brand can adapt a hybrid wholesale B2B e-commerce model and stay ahead of the curve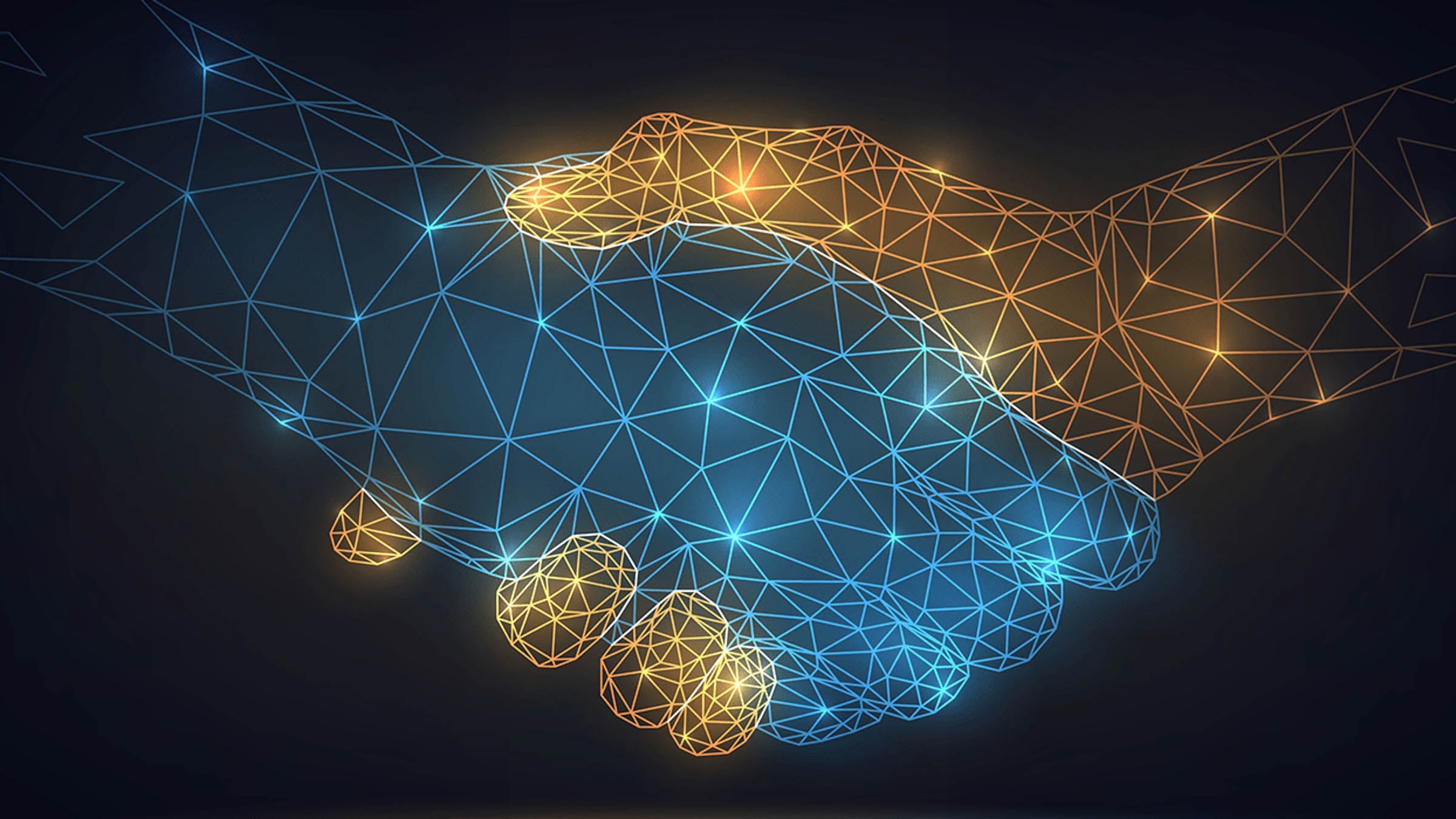 As the world turns and we all continue to adapt how we do business, one thing has become clear: hybrid selling models are the way of the future.
But simply swapping in-person interaction for digital experiences won't cut it.
A hybrid model means using your B2B tools inside your wholesale buying process to support meaningful interactions between your reps and retailers, all season long. This enables everyone in your wholesale channel—retailers, reps, and brands—to focus on making the most effective use of their time and talents to maximize their impact.
"A tool like Envoy B2B allows everyone involved to be as efficient as possible," said Michael Archer, senior manager of operations and systems at Rumpl. "Buyers don't need reps to place orders, but rather rely on them for their expertise in product assortment. Reps don't need to send manual orders to the brands in hopes that they are entered in a timely manner. And brands don't need to continually relay inventory levels and spend hours performing manual entry. Everyone gets time to do what they do best."
When Is the Hybrid Model Most Effective?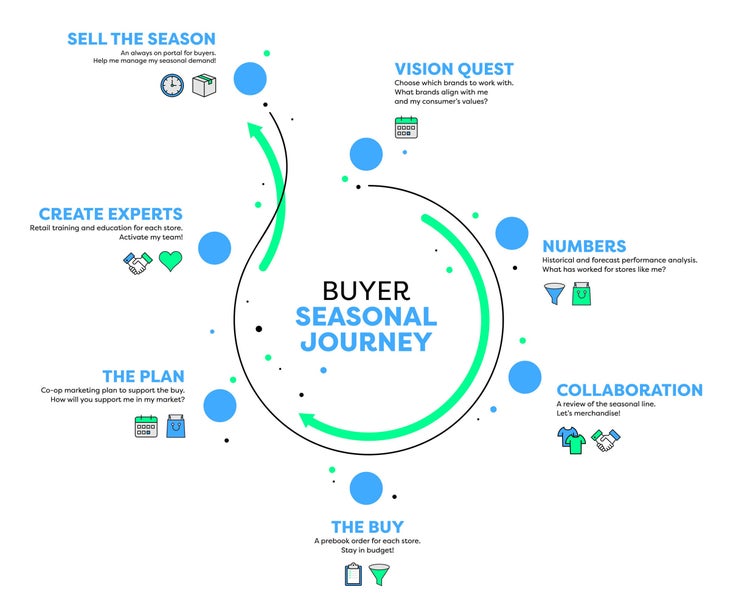 The buyer journey is the path your retailers take as they navigate the season. In a hybrid model, your B2B becomes the meeting place and digital support structure for all stages of the buyer's journey. Said Archer, "If brands don't invest in a B2B, they miss out on both sides of the coin—operational cost savings along with greater revenue generation."
You need a B2B that has the modern functionality to support the buyer's journey in one destination. Typically, this means you have a showroom, the ability to share content, merchandising, ordering, and reporting, all in one platform.
Let's take a quick look at each stage of the season and what it would take for your brand to knock it out of the park. Then, download the entire guide for an expanded breakdown, detailed features, and best practices.
Vision Quest: Which Brand's Values Match Mine?
What Happens: Retailers are trying to figure out which brands and products they want to carry for the season. Show your product, demonstrate that your brand shares the same values as the retailer, and detail how you will support them during the season.
What Hybrid Sales Looks Like: You'll be using Showroom and digital presentations, right in the platform, to highlight key stories and products for the season to deliver compelling content. This allows your retailers to discover your brand, your products, and your story. Showroom is the nexus for bringing the whole season together and building the upcoming buy.
Numbers: What Has Worked in the Past, or for Stores like Mine?
What Happens: Your brand should provide some fundamental sales data that reps can use to forecast performance and demonstrate the demand the retailer might see.
What Hybrid Sales Looks Like: A fully hybrid sales model needs to allow both the retailer and the brand to see the same historical sales figures in the platform, so they can inform smarter buying decisions for the coming season. Additionally, modern brands will leverage D2C data from consumers' purchases geographically around the retailer to find new product opportunities. This data will fuel growth by enabling your brand to capitalize on emerging trends.
Collaboration: Let's Merchandise
What Happens: Retailers want to touch the product and see what they're selling. They want to put the vision quest and numbers stages to work and start building the product assortment that is going to work for their store as a result.
What Hybrid Sales Looks Like: Get your reps out into the field with your products if you can. Retailers would love to see a face from your brand and actually hold the product. The objective here is to leverage the sales data gathered from the previous step, combined with the retailer's goals, to collaborate on an assortment of products for the retailer's upcoming buy.
The Buy: Stay on Budget
What Happens: At this point, retailers understand your brand, they believe it will sell, and they know what to buy for their store. But, how much should they buy and when should the shipments arrive? What is the best buy for success this season?
What Hybrid Sales Looks Like: Being able to drive each stage of the buying process with real data inside an accessible B2B destination is a massive advantage for your retailers. They can quickly begin to understand your brand and how to engage with the tools you've provided. Many of your retailers will go completely self-service in building orders.
The hybrid model still allows your reps to stay connected to their more independent minded accounts. Orders, assortments, and the progress retailers make is all trackable by your reps, giving them opportunities for follow-up and additional insights as they build orders.
The Plan: How Will You Support Me in My Market?
What Happens: In this step, you need to answer an important question: "I've just purchased all this product from you, how are you going to help me sell it in my market?" Retailers want brands to support them in marketing to their consumers.
What Hybrid Sales Looks Like: Leverage your B2B's showroom during this stage of the buyer's journey to engage retailers with the go-to-market plan for the coming season. Retailers need to feel confident, knowing you have a plan to support their success, and reward you with co-op marketing involvement that will be key to starting successfully and finishing strong.
Reps should use your B2B to provide all the supporting campaign assets and product information needed to drive marketing at the local level around each store. And if your reps can get in-person interactions, do it. Retailers are hungry for that human experience.
Create experts: Activate My Team
What Happens: It's time to turn your retailers into experts. Educate them on what makes your brand unique, how to sell it, and support them with marketing at the local level. This is the foundation of what they'll leverage on the floor when working with consumers.
What Hybrid Sales Looks Like: Many brands run clinics at their retailers' stores. If you can make this happen, do it. Bring the product, demonstrate how you would highlight its features and benefits, and teach your retailers to delight their consumers. And it's time to refresh that showroom again. You're moving away from building a seasonal buy, and into supporting the retailer's ability to sell with educational resources.
Sell the Season: Help Me Manage Seasonal Demand
What Happens: Retailers are using your co-op marketing plan to excite their communities, the sales floor staff is trained to sell, and consumers are purchasing your products. It's time to support your retailers' need to keep hot products in stock.
What Hybrid Sales Looks Like: It's no longer OK to gauge seasonal sales performance at the end of the season. Reps should dive into real-time data to understand what's selling and what's not, then work with retailers to course correct before the end of the season as needed.
Modern brands will surface on-hand retailer inventory for their reps right in the brand's B2B platform. Reps can then be proactive with recommending replenishments or additional order recommendations, often before the retailer even realizes the need, and quickly create a recommended order for the retailer to approve.
Taking Your Brand Hybrid
After a year of changes, adaptations, and finding success with new tools, it's clear that a hybrid model is here to stay. That means relying on your B2B in combination with your reps to create meaningful interactions with retailers at each stage of the buying process.
Forward-thinking brands like Rumpl generate success by putting powerful B2B tools in the hands of their reps. Those reps are then empowered to go out and engage retailers with compelling digital spaces and tools, while also delivering that human touch retailers crave.
Download the full "Hybrid Strategy For For Wholesale Teams" guide below and get expanded breakdowns, features guides, and more best practices.
Trending on Outside Online