Outside Business Journal
The Paper-Thin Line Between RV and Core Outdoor Consumers
As vanlife and overlanding surge, serving an overlapping consumer has brought the outdoor and RV industries into increasingly similar territory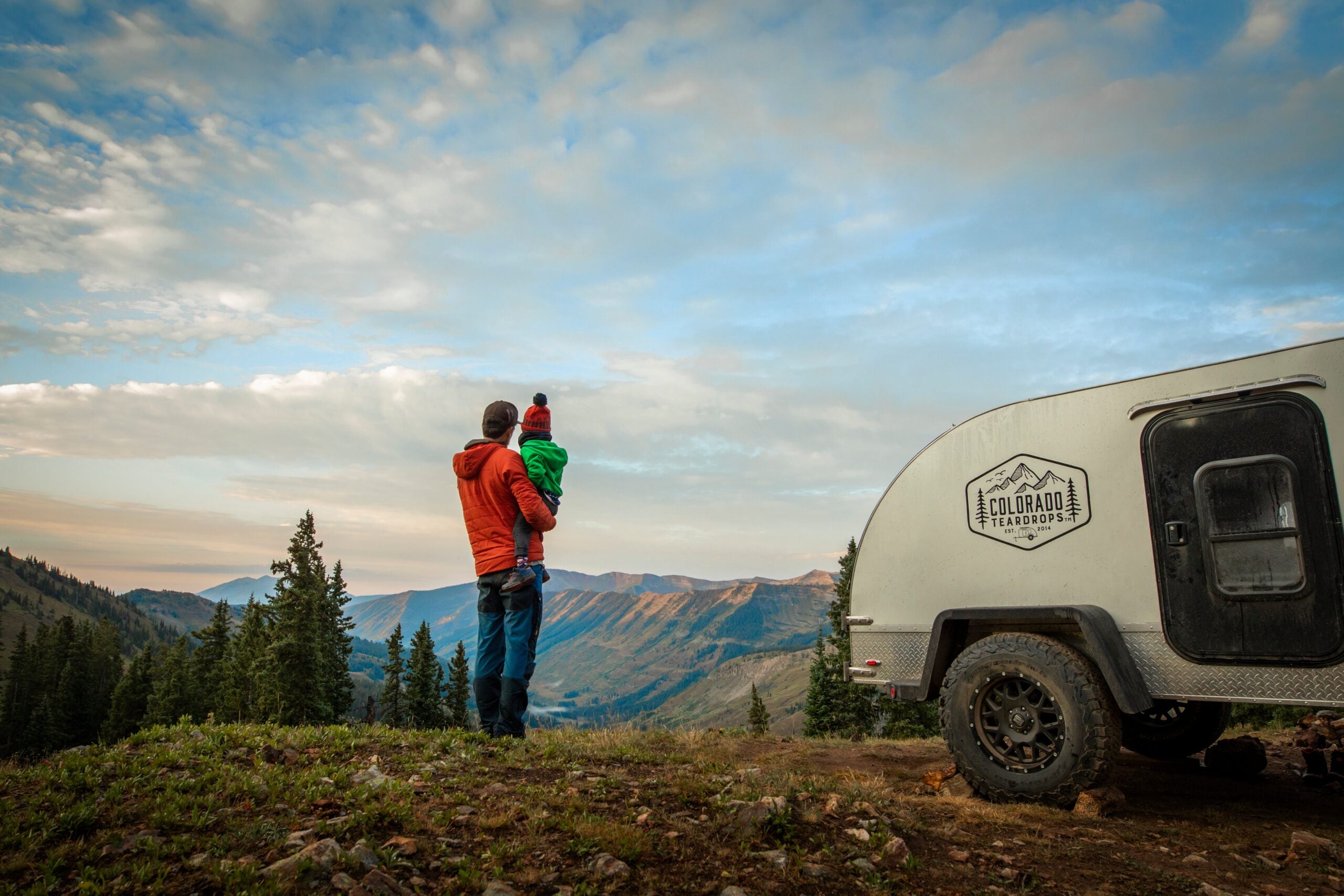 Heading out the door? Read this article on the new Outside+ app available now on iOS devices for members! Download the app.
According to Frank Hugelmeyer, the outdoor industry has an elitism problem. The president of the RV Industry Association—and former CEO of Outdoor Industry Association (OIA)—believes that both groups need to relax how they define themselves, because the outdoor and RV worlds are much closer than brands and retailers are willing to believe.
"Each of the segments of outdoor is very tribal," said Hugelmeyer. As an example, consider the self-righteous notion of "earn your turns," which has come to not only refer to superiority of backcountry skiers over resort skiers, but can be extrapolated. E-bikes are scoffed at by mountain bikers, some trad climbers would refuse to ever clip a bolt, and rifts even form between whitewater and flatwater kayakers.
These fissures are divisive, however, and many of these disciplines have grown closer together in recent years as we all realize that we're fighting for and supporting the same things. But one category of outdoor adventure remains isolated: RVing.
"RVing was always viewed as something that's not hard core enough," said Hugelmeyer. In reality, the outdoor industry is a pretty exclusive club. To join, you'll have to adhere to a certain human-powered ethic, which makes it easy for the backpacker to scoff at the RV camper, or at least to see the differences between the two worlds as more than they might actually be. According to Hugelmeyer, in a world like the outdoors, where what you do is so critical to your self-identity, it's easy to disassociate from the other.
But Frank Hugelmeyer isn't just an RV proponent. He considers himself, first, a climber. Having spent years at the helm of the Outdoor Industry Association, his transition to the motorized world of giant campers confuses some of his own friends and coworkers. "I had a lot of old colleagues [in the outdoor industry] who wouldn't be caught dead in an RV back in the day," he said. "Yet they're all in Sprinter vans right now." He believes it's a telltale sign that the two industries are, in reality, much more aligned than most people realize.
Blurring the Lines Between Traditional Outdoor and RV Industries
"A wide variety of experiences and a life well lived is now the currency," Hugelmeyer said. According to him, consumers are moving toward a diversity of activities. As consumers trend toward the desire to do more across those different silos, the silos break down. Stemming from social media promotion, the resurgence of the "American Road Trip" idea, and improved off-road and power technology, van life has blended the line between RVing and traditional camping. Those vans are now loaded down with climbing and backpacking gear, SUPs and/or kayaks are strapped to the roof, and according to Hugelmeyer, wheels have become an obvious extension of more "hardcore" outdoor activities, both as a mobile basecamp getting adventurers to and from the trailhead, a more comfortable campsite, and an activity all its own.
Dean Wiltshire, the founder of Colorado Teardrops, is also watching the lines blur from a unique position at what he calls the confluence of two great rivers: outdoor and RV. According to him, when he started the company four years ago, teardrops were an oddity, the butt of an RV trade show joke that saw friends pushing others toward his tiny campers encouraging them to try and fit. "Now we get a lot more respect," Wiltshire said.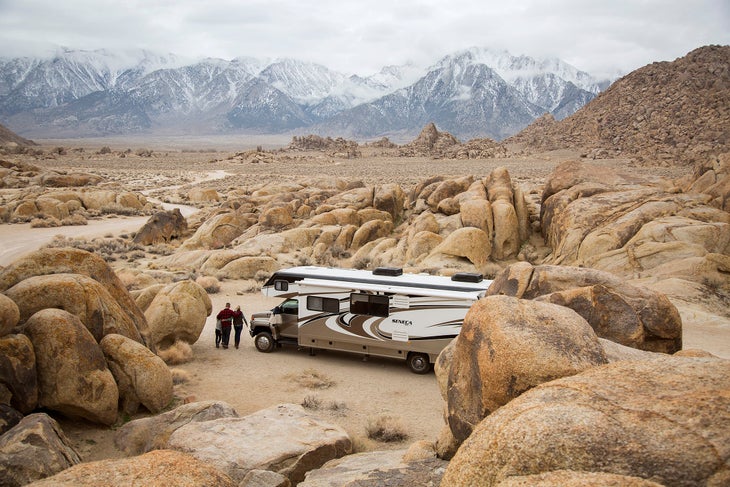 He attributes the change to the overcrowding of both the nation's backpacking and RV campgrounds, while smaller tow-alongs and vans open up new areas to access. "You can start a little further from the crowd," he said, "get a good night's sleep, get up early for an adventure, and crash when you get back in warm comfort."
The company's first model—the Base Camp—acknowledged one of the biggest roles the new blended mobile and human-powered genre serves: as a comfortable, mobile, economic, and environmental launching pad for more rugged human-powered adventures. "You can still have your human powered experience—you can still hike that 14er—but sleep well, off the ground afterward."
We Need a Broader Definition of the Outdoor Consumer
"[Consumers] want hard adventure by day and soft adventure by night and that is absolutely a trend," Hugelmeyer argued, and the Outdoor Industry Association agreed.
"Outdoor has essentially always been known as human powered," said Samantha Searles, the director of research for the Outdoor Industry Association, but she and Hugelmeyer agreed that the human-powered versus motorized distinction doesn't matter to actual outdoor enthusiasts. "Consumers see recreational vehicles as a mode for getting further outdoors," she said. "It's just another product."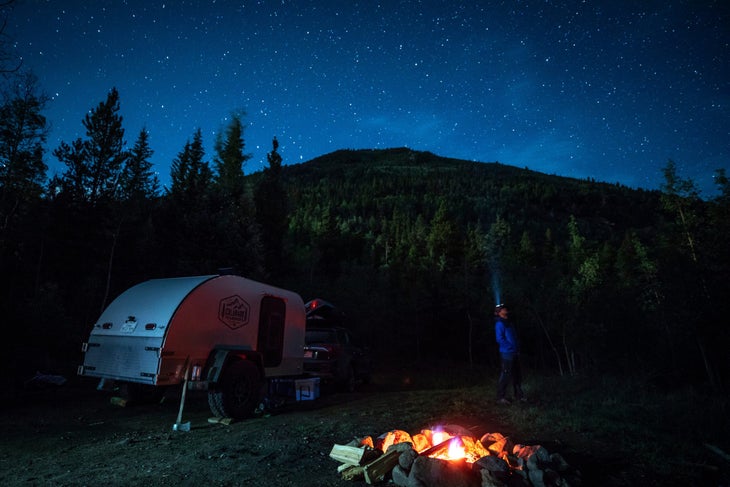 The obvious common thread, according to Searles, is that backpackers, van-lifers, or Class-A RV drivers are all looking to get outside. Both groups lobby and advocate for similar public lands protections and environmental initiatives and have a vested interest in protecting the outdoors. Bottom line: according to Searles's research perspective, the consumer is the same, and brands should be taking advantage of that.
"The industry is starting to adapt to an expanding consumer landscape," she said. Just this summer, Denver's Outdoor Retailer show featured a push for other vehicle-based products (and especially "overland"-specific products, a hybridization of RV and four-wheel drive adventure) like rooftop tents and electric coolers. Hugelmeyer said he would love to see leaders from the outdoor and RV worlds meeting and working together directly. According to him, the disconnect between these genres is so great, many of those leaders are completely unfamiliar with each other, even though they serve the same consumer.
Compatible Outdoor Industries Under the Same Roof
One brand that Hugelmeyer says is doing a good job of enmeshing the categories is Camping World. Since last fall, the publicly-traded RV-specific chain has purchased east-of-the-Mississippi independent outdoor retailers including including Erehwon Mountain Outfitter, Rock/Creek, Uncle Dan's, and Gander Mountain, a move that Hugelmeyer hopes will bring outdoor and RV products under one roof in some locations, in an effort to better serve the originally separate shops overlapping customer demographics. (We reached out repeatedly via phone and email to Marcus Lemonis and several other executives at Camping World for an interview but they never got back to us.)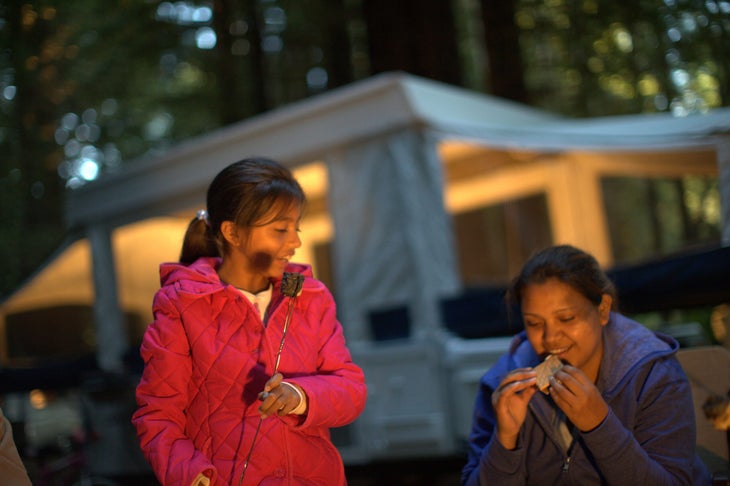 For the OIA's part, even though the organization admittedly caters mainly to human-powered modes of adventure, leaders like Searles are working to incorporate different avenues. Recently, according to Searles, activities like equestrianism have been included in OIA research reports, alongside skiing and snowboarding (which is also represented by a separate trade group, Snowsports Industries America). "The industry is realizing there is more than one type of consumer out there," she commented.
And while that might be accurate—there is definitely more than one type of outdoor consumer—those types, whether as close as whitewater and sea kayaking or as disparate as the ultralight backpacker and the RV camper, have the same heartbeat. For most, getting outside is the singular goal, with activities changing based on age, season, or weekend. And while some people in the traditional outdoor industry might have a hard time trading in their hiking boots for rugged, off-roading tires, for most consumers, it's all part of the same thing.
Trending on Outside Online