Outside Business Journal
Pocket Outdoor Media Acquires Rock and Ice, Trail Runner, and Gym Climber
The deal will bring outdoor climbing's two biggest magazines under one roof for the first time in history. It also adds two promising new categories, indoor climbing and trail running, to Pocket's portfolio of active lifestyle brands.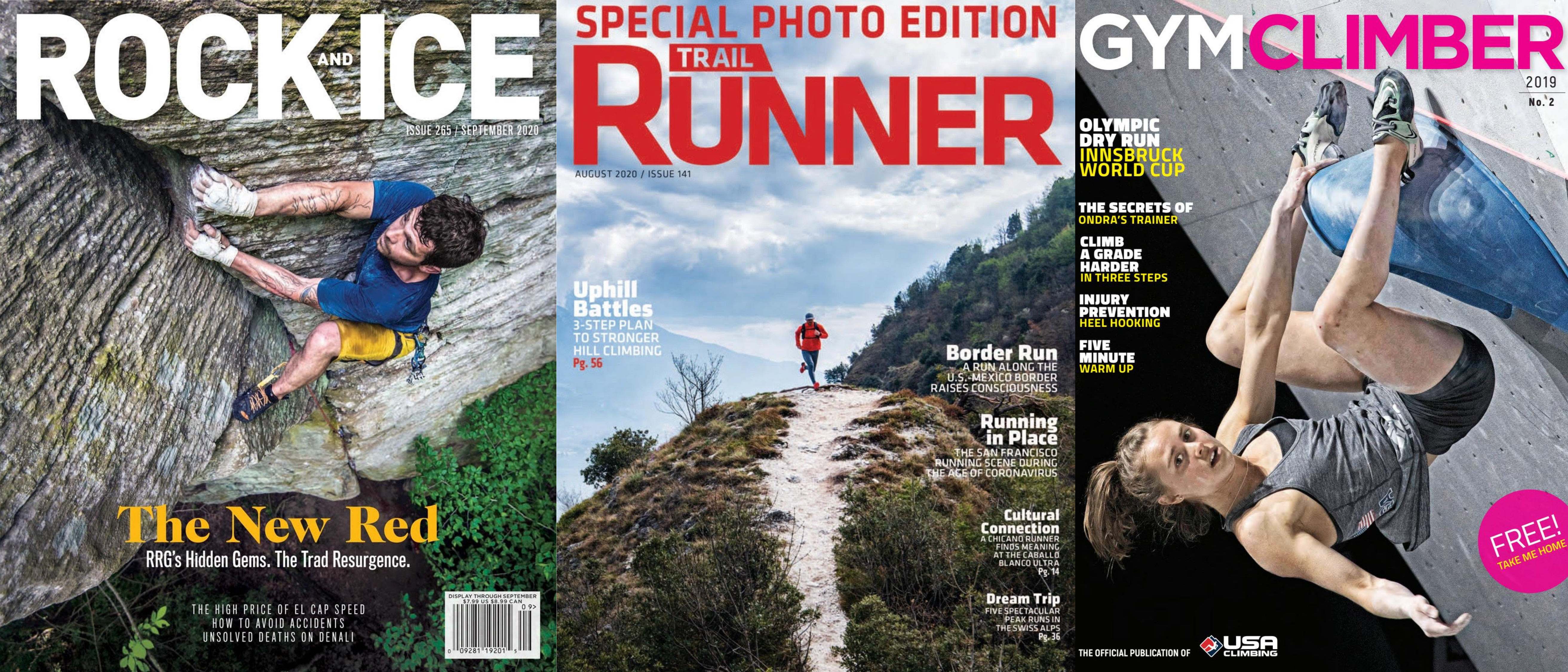 Heading out the door? Read this article on the new Outside+ app available now on iOS devices for members! Download the app.
Pocket Outdoor Media, the Colorado-based market leader in active lifestyle publishing (and OBJ's parent company), announced today the acquisition of three new properties: the decades-old climbing magazine Rock and Ice, Trail Runner, and Gym Climber, all formerly produced by Big Stone Publishing, also headquartered in Colorado.
The deal brings three mainstays of the fitness and outdoor media landscape into the Pocket family, strengthening the categories of climbing and running, which company leaders have identified as verticals primed for significant growth in coming years.
"It's our goal to create the best products in these categories and improve the consumer experience, period," Pocket CEO Robin Thurston told Outside Business Journal this week. "We don't want to be average here. We need to be great. To do that, we need scale. This acquisition will help achieve that."
In stark contrast to the deal, earlier this week some of the oldest print magazines in the outdoor industry—including Bike, Surfer, Snowboarder, and Powder—announced an indefinite pause on publication that many interpreted as a death knell, a softer version of folding outright. Thurston says that's exactly what he's trying to head off for Rock and Ice, Trail Runner, and Gym Climber with this new acquisition.
"Vertical publications are under attack because many of them operate on a model based only on advertising, which has been under extreme pressure for the last ten years," he said. "There's an opportunity to let these brands flourish under a new model that combines advertising, digital subscription, ecommerce, and events."
For Pocket, that new model is Active Pass, the company's subscription membership program that includes benefits like event registrations, training plans, and premium content, among other perks.
"As a consumer, you look at this as a daily destination and say, 'They have so much content across this platform, I need access to it,'" said Thurston. "If there's anything we want to be known for, it's recreating the model for these active lifestyle brands and breathing new life into them—giving them a new opportunity to tell important stories and inspire people to do these activities."
Despite the need for scale to make that new model work, the acquisition of the Big Stone Publishing titles does not amount to blind expansion, Thurston says. The brands will join the Pocket family to hit very specific targets.
Two Longtime Competitors Finally Team Up
For decades, Climbing (first published in 1970) has battled Rock and Ice (launched in 1984) for market share with few other serious competitors. Combining them, says current Climbing editor-in-chief Matt Samet, can only benefit the editorial capacity of both titles.
"It will actually be very healthy for the climbing community and for the industry to bring it all under one roof," said Samet. "We won't have to worry about what the other guy is doing anymore. We can just focus on the best storytelling possible, which has always been our goal."
Samet says that more consistent editorial leadership over the years has allowed Rock and Ice to produce a wider range of content, including more alpine and mountaineering packages. Reader surveys have consistently indicated mountaineering stories aren't a priority for Climbing's audience, Samet says, so they're often overlooked. Now that the magazines are working together, the scope of both brands' reporting can expand. And the timing, he says, couldn't be better.
"The sport hit the pause button pretty hard with the pandemic, just like everything else did, but now gyms have reopened and the cliffs are completely booming again," Samet said. "The good news is that the climbing community is healthier than ever, and I think the timing for this is exciting."
Gym Climber, the leading publication catering to the bouldering community and indoor climbers, will be an especially important property for Pocket in 2021, company leaders says, as gym climbing makes its debut at the Summer Olympics in Tokyo.
Welcoming New Staff to the Pocket Team
The merger is sure to raise some questions about the future of Duane Raleigh, the longtime editor-in-chief of Rock and Ice and owner of Big Stone Publishing, who resigned in July after admitting in an editor's letter that he had coined racist names for climbing routes in the eighties. Thurston confirmed that Raleigh will remain part of the Rock and Ice team with Pocket, though not as editor-in-chief.
"Duane has tremendous experience. I do think he learned from what happened," Thurston said.
"People can be assured that one of my top priorities is being inclusive, representing everybody in the world of climbing. Climbing has been a white sport for a long time. That's changing and it needs to change. I'm really excited to be part of that," Raleigh told Outside Business Journal.
As for Trail Running, Thurston says he's bullish on the category and expects participation and media interest to grow exponentially in the next several years.
"Almost every running brand I know is thinking about trail running as a new growth vertical," Thurston said. "But again, you have to have scale to make it work. "When we bring Podium Runner, Women's Running and Trail Runner together, we can attract larger partners who want to collaborate with us."
Some big questions have yet to be answered, but the broad strokes of the deal are clearly defined. Rock and Ice will merge with Climbing to form a single magazine under the latter's title. Pocket plans to retain the trademark for the name "Rock and Ice" and use it in some capacity going forward.
"The new Climbing will combine the best of both brands to create a better product," said Pocket vice president Sharon Houghton. "This won't be the Climbing people know today. It will be better for readers and advertisers alike."
Thurston confirmed that everyone from Rock and Ice, Trail Runner, and Gym Climber will receive an offer to join Pocket.
"This is a very exciting day, because it allows us to keep building on our core mission, which is the authenticity of our brands and the quality of our content," Thurston said. "At the end of the day, it's the quality of our products that will differentiate us. Everything else is built on that."
Trending on Outside Online