Outside Business Journal
Snow Peak's Annual Branded Retreat Engages Fans Creatively and Authentically
Snow Peak, primarily known as a gear maker in the U.S., is leaning on its Japanese traditions and community-oriented spirit to change the way we experience the outdoors
Heading out the door? Read this article on the new Outside+ app available now on iOS devices for members! Download the app.
Driving into the verdant box canyon in Oregon's Tygh Valley, just a couple hours east of Portland, we found ourselves in a massive clearing, filled with tents, vans, firepits, and people. Lots of people. This year's Snow Peak Way, a weekend retreat from Japanese outdoor brand Snow Peak, brought together almost 150 consumers, Snow Peak staff, and their families (including a delightful abundance of corgis). 
Snow Peak Way retreats started in Japan in the 1990s, when a declining interest in car camping led to stagnating sales for the camping brand. The retreat presented an opportunity to bridge a gap that had formed between consumer and producer. By bringing employees and customers together, the company invented a way to connect deeply with its fan base and get valuable feedback on its products and services. The gathering quickly grew from a yearly event to a semiannual one, and now takes place 30 times a year in more than 13 campsites across Japan, the U.S., Taiwan, and Korea.
This year marked the program's third U.S. iteration (not counting a remote retreat in 2020). Guests were encouraged to bring their own gear and accommodations, but were able to rent any equipment they did not have. The site boasted a camp canteen, hiking and biking trails, and a pair of golden eagles that had taken residence high up on the canyon walls.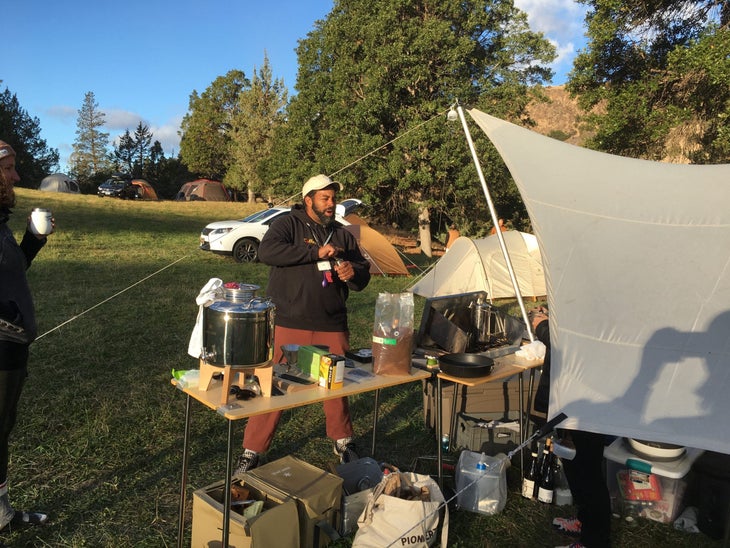 During the day, guests attended workshops on coffee roasting, Japanese shibori indigo dyeing, and other skills. At night, the campers gathered around fires for Takibi Time—a distillation of everything the company hoped to achieve with the retreat. Around the fire circles, people were encouraged to share their stories, either as employees or fans of Snow Peak, while sitting in branded camp chairs and roasting s'mores.
How Snow Peak Came to America
Snow Peak arrived slowly in United States. Though the brand was founded in 1958, U.S. distribution didn't come around until 22 years ago, when a family of enthusiasts in Portland offered to package and ship products from their garage. From there, the company has upsized significantly, moving to a larger warehouse every few years to keep up with inventory demand. 
With its growing presence in the American market, the brand is now setting its sights on optimizing both its products and its services for American outdoor enthusiasts. Some changes have been simple, such as as enlarging its shelters to accommodate taller customers. Others have been more complicated, with significant investments in product redesigns and additions.
Product changes for the U.S. market have been spearheaded by the brand's American team in collaboration with president of Snow Peak USA Tohru Yamai. Though the company's head office in Japan must approve all new ideas, the expansion into the American market is currently underway with a deep understanding of what makes American outdoorists tick.
A consistent Vision for the Brand
With its Snow Peak Way USA and the announcement of plans for a permanent campground in Washington state, Snow Peak is trying to reinvent what it means to be an American outdoor company. COO Matt Liddle told Outside Business Journal that, while many U.S. outdoor companies focus on performance as a keystone ideal, Snow Peak is more of a "gathering company."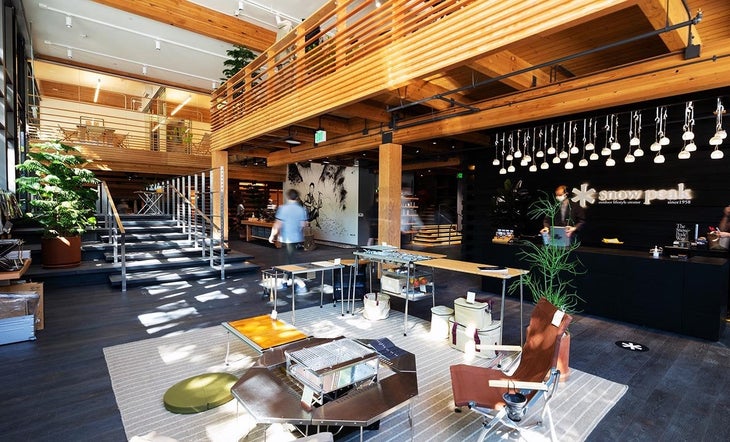 "We believe that time outside with others restores the human spirit. That's what our mission is," Liddle said. "The modern world is a convenient place, but it's also a stressful and polarizing and anxious one for a lot of people. Human beings are in the danger zone of becoming the world's first indoor species. We believe that time outside with other people is an antidote to those pressures of modern life."
For decades, Snow Peak Japan has been expanding beyond its early roots as a mountaineering gear company to become a force for bringing local communities into the outdoors. Its philosophy of closeness to its consumer base is reflected in the concept of Snow Peak Way and the campgrounds it operates across Japan—including one outside the company's headquarters in Niigata, Japan. 
By transplanting these ideals to the U.S., the company hopes to extend this vision to American families. So far, things seem to be going well. The company just had its most successful year to date in 2020, and tickets to this year's Snow Peak Way sold out within an hour of release. Given the pandemic-driven increase in American outdoor participation, it seems that Snow Peak is charting a profitable path into the future of outdoor rec.