Outside Business Journal
Industry Health Check: Supply Chain Challenges During the Pandemic
The coronavirus crisis has strained the outdoor industry's supply chains in a major way. Here's how some brands have managed the challenge.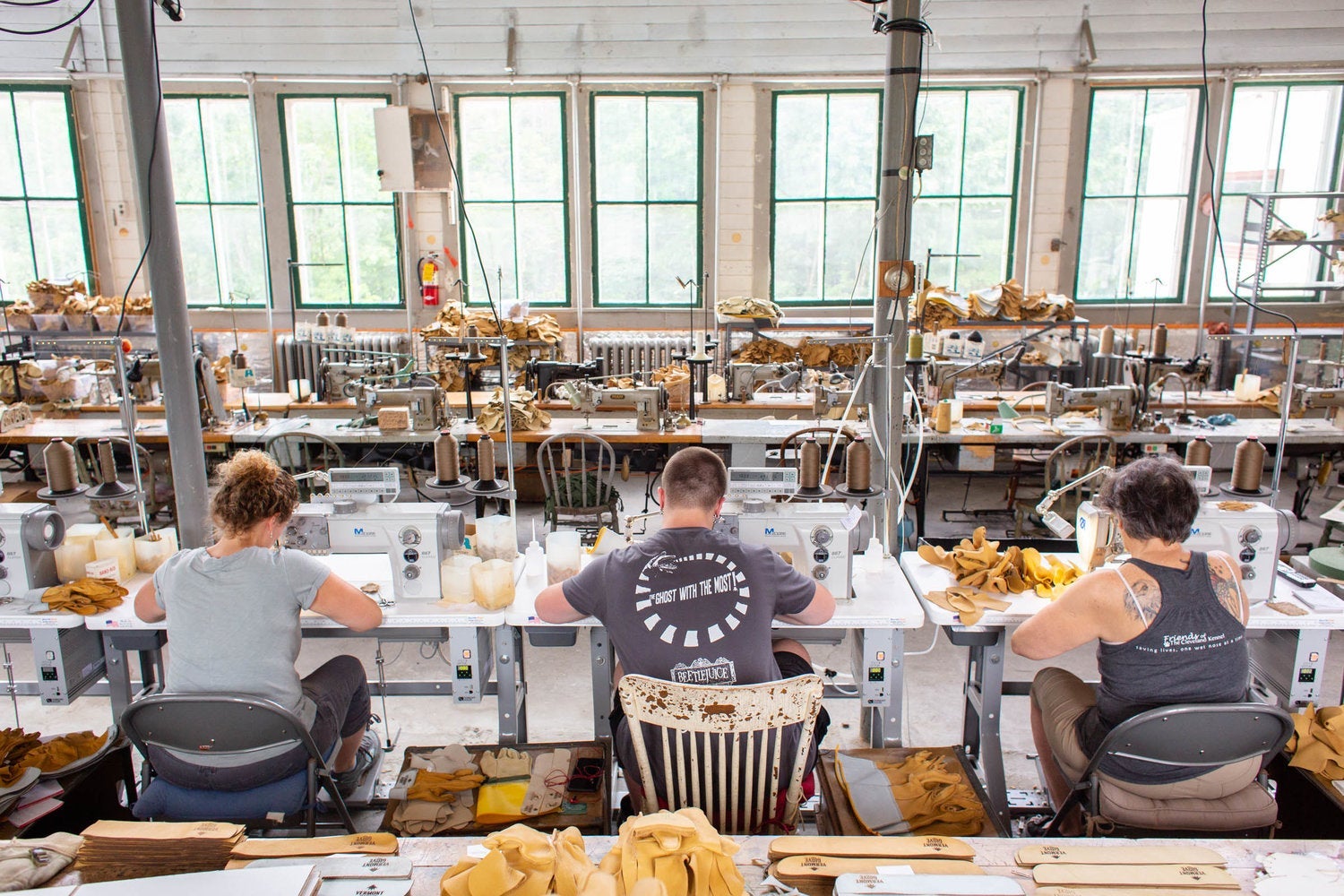 Heading out the door? Read this article on the new Outside+ app available now on iOS devices for members! Download the app.
Speaking with brands about their challenges with supply chains this year, you hear the word "whiplash" thrown around pretty often. "Roller coaster" comes up a lot, too. Both feel highly appropriate.
In March and April, as retailers shut down and consumer demand for outdoor products ground to a halt, brands across the industry were forced to slow production schedules rapidly, upending spring buying cycles. Just a few months later, demand surged to unprecedented levels. Supply chains had to cope with a challenge unlike anything we've seen in years: moving from standstill to overdrive, all in the space of about six weeks.
"The change in demand this year moved faster than anything I've seen in my career," said Mike Welch, VP of global sales at NEMO. "When you're talking about supply chain, moving in one direction and then quickly back in the other creates major difficulties. Change is hard. It's especially hard when you're talking about something this complex, involving hundreds of people spread across the world, dealing with technical products that are difficult to make in the first place."
Challenges Brands Have Faced
The first thing to understand about the situation, OIA director of government affairs Rich Harper told Outside Business Journal this week, is that the situation is bigger than the pandemic.
"What we're facing is really a threefold challenge," Harper said. "At the beginning of 2020, a lot of our members were still dealing with the impact of punitive tariffs on goods coming from China—backpacks, travel goods, apparel, footwear. These tariffs were already piled on top of high taxes on Chinese goods. That was a double problem before the pandemic even began."
In the past few years, Harper says, tariff disruptions have forced many brands to explore the possibility of getting out of China. Not a few companies had already begun moving out when the pandemic hit, leaving them particularly vulnerable to supply chain upsets.
"Traveling during COVID is obviously a huge challenge, and finding partners to work with in other countries is especially difficult right now," Harper said.
All those factors—existing difficulties with China, a large number of brands in the middle of moving operations, and the spread of the virus across the globe—combined this spring to create a deeply challenging trade environment. Add widespread layoffs to the mix, and its a wonder more companies haven't seen their supply chains crumble completely.
Relationships Are Everything
For many, the key to staying afloat has been maintaining strong supplier relationships through increased communication and patience, Harper says. It's these relationships that have allowed companies to carry their supply chains through the crisis largely unscathed.
"This year in particular our relationships with supplier have meant the world," said Greg Smith, the CEO of Icebreaker, in a panel discussion this month on supply chain sustainability. "To pause manufacturing and then speed up manufacturing—the two things we've asked our suppliers to do—requires flexibility and give and take."
Welch at NEMO echoed the sentiment. "This whole thing has brought us closer to our suppliers and our logistics operators. We're putting more stress on the system than ever before. Our relationships with our factories, all the way through to warehousing and delivery, have been strained to meet demand. The only reason the stress hasn't caused anything to break down is because of the strength of the relationships we've cultivated for years."
Even in times of dire crisis, said Serkan Ozturkcan, VP of marketing at the backpack brand Solo New York, "you have to deliver on your promises to consumers and retailers, and part of that is having good, sustainable relationships with your supply chain to make sure you're getting an inflow of accurate information. Cultivating those relationships is the baseline of our business."
How to Keep Relationships Strong
Looking at it broadly, strong supply chain partnerships during the pandemic seem to hinge on two critical inputs from the brand side: communication and patience.
"This has been a situation in which communication was key—for that matter, it's always key, in any relationship," Welch said. "Communicating often and transparently helped us move through this much faster than we would have if we had kept our partners in the dark about anything."
That meant running all news—good and bad—across the chain as quickly as possible.
"It always starts with communication between brands and retailers," Welch said. "From there, it works back to factories, then to logistics teams, then to warehouses. We didn't discriminate in what we thought was newsworthy. Every change we saw, even the little ones, we ran back along the chain to keep everyone as up-to-date as possible."
Larry Baab, group vice president at Johnson Outdoors, qualified the notion with an important point: There's a difference between aggressive transparency and micromanagement.
"When there's such great disruption to the system, the tendency is for communication to become less efficient," Baab said. "You try to keep in touch every day, following up after your follow ups. It's important to strike the right balance between being aggressive and just letting your talented suppliers do what they do best."
The other critical factor, Harper says, has been patience—the understanding that consumer demand will never be fully met in times of supply chain stress. Many of the traditional levers used to speed up production were removed earlier this year. The cost of air shipping goods, for example, became prohibitively expensive for many companies. When pockets of increased demand started cropping up in the late spring, it was difficult for brands to capitalize on them fully, Harper says. Reduced factory workforces slowed things further.
On top of that, the typical production systems for many outdoor products are complex—and therefore slow—in the first place.
"This is not mass market apparel. This is not a backpack my daughter takes to school. To make the products we make and make them well, it takes time," Harper said.
"In some cases, we were trying to move faster than what human beings are capable of for the products we're talking about," said Welch. "We had to prioritize demand. We knew we couldn't meet all demand, so the question became, where does the demand we're seeing have the greatest chance of return, given our current limits?"
Anders Bergstrom, general manager at Teva, had another point to add; he noted the difficulty that arises when brands slip into the habit of treating their supply chains as impersonal assets—essentially the opposite of relationship building.
"It's important that brands don't assume that their supply chain is a fixed asset rather than a dynamic partner in the overall strategy," he said. "The more coherent a supply chain is with the brand's identity and consumer base, the stronger it will be."
Strategic Allocation of Resources
With good supply chain relationships in place, brands are freed up to make strategic decisions about production cycles, Harper says. The ultimate goal is to identify areas of demand that can be met in a sustainable way—that is, with the fewest possible risks, should another wave of the virus force the situation into crisis mode again.
"As manufacturing partners are coming back online, you have to make decisions about how you want to meet some of this renewed demand," said Harper. "You also have to keep in mind that there could be a second wave and there potentially could be additional stay-at-home restrictions imposed."
"We can't just make twice as much of everything, even if the demand is there," said Welch. "We need to decide which products are most important to take the business forward. We need to focus on getting the most out of those limited projects, rather than trying to wave a wand and meet all the demand that's there."
In NEMO's case, that meant opening up another factory line for assembly of a product that has sold tremendously well during the pandemic: the brand's Stargaze Recliner chair.
"We've been able to triple our production capacity in the short term to satisfy demand," Welch said. "There has been an incredible explosion in demand for that product, and as a team we determined to focus our energy on chasing it."
For Teva, it meant doubling down on a perennial best-seller that brand leaders knew would have staying power.
"We modified our product offering to ensure the best use of our heavily compromised supply chain resources while anticipating consumer demand," Bergstrom said. "We knew changes needed to be made to avoid overstock and discount actions. Luckily for us, Teva is known for the iconic Original Universal, which has strong durability and staying power. We were able to create a seamless product offering for our customers, even though behind the scenes we were making huge changes to the products that we chose to make and bring to market."
What Comes Next
All in all, it looks as though our industry supply chains have, for the most part, bent without breaking this year. The strain on the system has proven manageable for most. At the very least, it hasn't been catastrophic.
"For our categories and supply chains, we're largely leveling off as we come into spring '21," Welch said. "By mid-February, I expect us be in a very different position than we were just a few months ago. That's still a few months away, though, and there's work to do to get all the way there. But we've got an opportunity to start 2021 in a great place, given the robust forecasting and orders that exist on the books. We're going to have time to plan out those deliveries and get them into the country."
Bergstrom was equally optimistic about the situation at Teva.
"Since May, we've seen a strong recovery across channels and around the world," Bergstrom said. "We've had to pivot to managing our optimism and triple-checking our plans constantly. Teva is now working towards understanding a clear future beyond 2021 and building the supply chain we will need to support our acceleration out of this challenging year."
Harper, for his part, is focused on what will change after things get back to "normal." The move away from China, he says, will not stop because of the pandemic. There are other factors that pose an equally disruptive threat to supply chains that must be considered in conjunction with everything else.
"Many outdoor brands already source materials through the Generalized System of Preferences program, which is the main trade preference program for developing countries like Vietnam," Harper said. "That program needs to be reauthorized by Congress every year. We don't know when that's going to happen, or how that program will fare moving forward, so that creates more uncertainty."
All in all, he says, we're not out of the woods. But things are looking dramatically better than they did just a few months ago. Come what may—another wave of the virus, another trade war—we've proven that we can keep our systems strong by leaning on each other and keeping our heads.
Trending on Outside Online