Outside Business Journal
The Strategies Behind the Outdoor Industry's Biggest Instagram Accounts
We examined what some of the industry's top brands are doing on Instagram to engage users and reach new audiences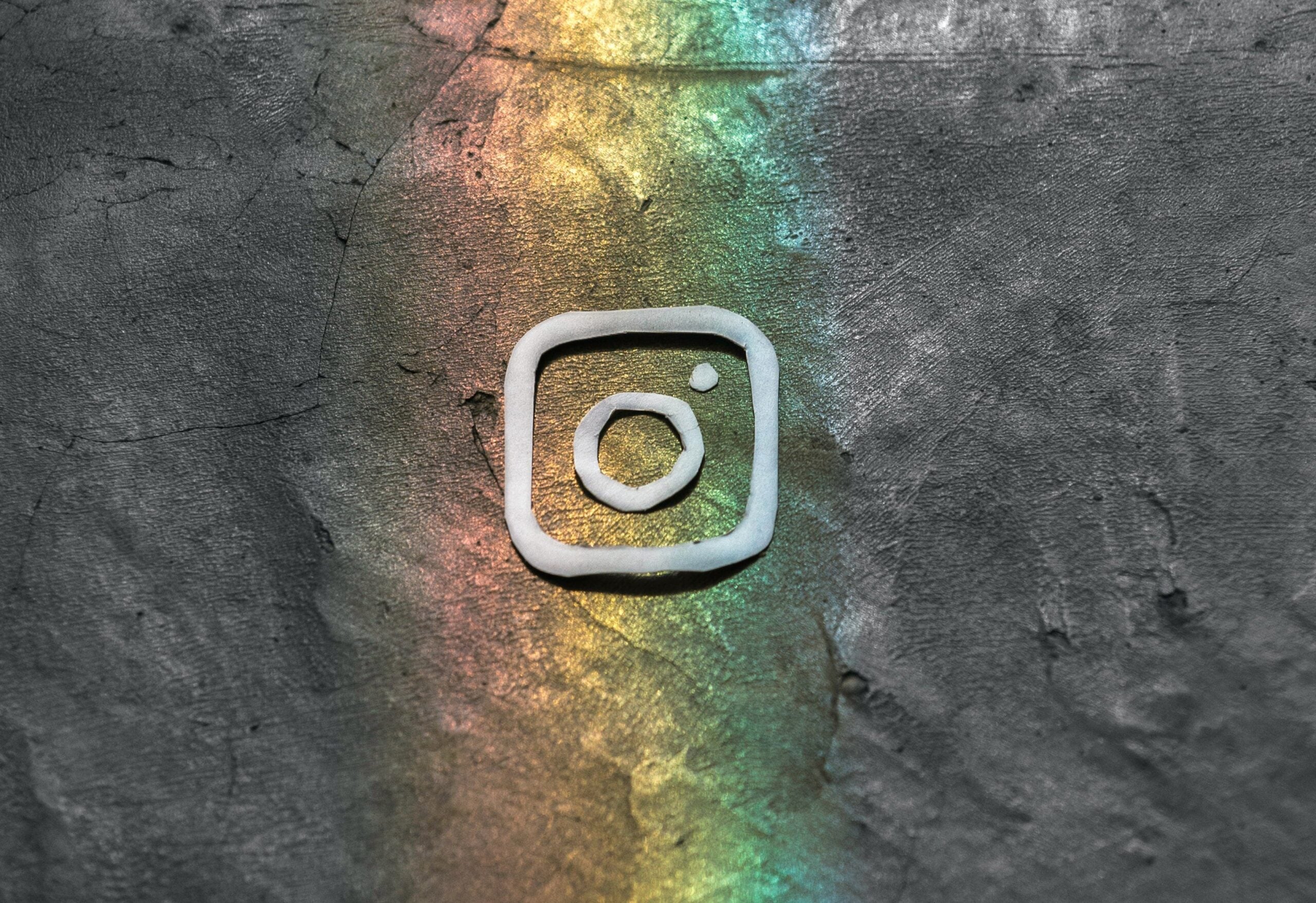 Heading out the door? Read this article on the new Outside+ app available now on iOS devices for members! Download the app.
As of October 2020, Instagram registered over a billion unique monthly users. If a picture truly is worth a thousand words, then a wide-reaching Instagram account is—well, it's valuable. But how can outdoor companies make the most of an audience waiting on the other end of a screen?
We examined and chatted with some of the biggest outdoor brands on the photo-sharing platform to find out what works for them.
GoPro (@gopro)
Follower count: 17.7 million
Date joined: March 22, 2012
Total posts: 6,120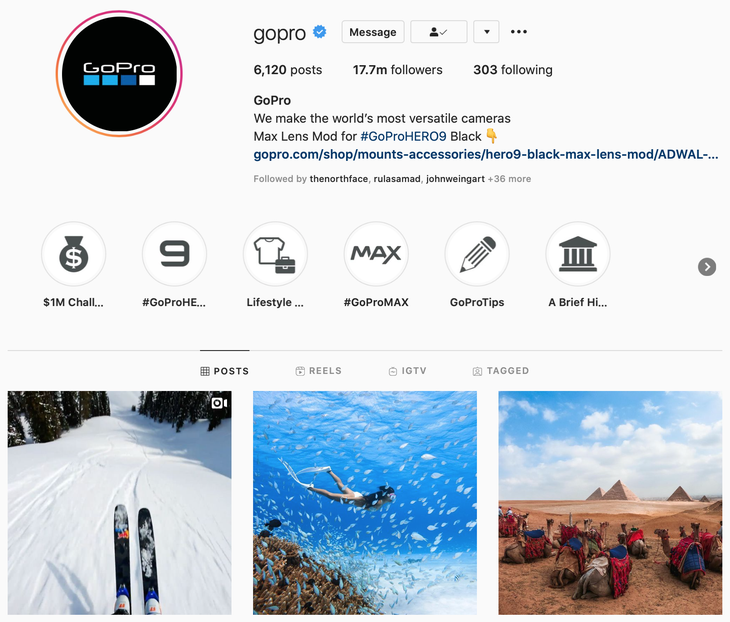 Account Overview
When it comes to outdoor brands on Instagram, GoPro easily leads the pack. Almost four times more users follow GoPro than other brands like The North Face and Patagonia. The company keeps its users engaged, too—videos on GoPro's page regularly notch hundreds of thousands of views, and photos generally amass close to one hundred thousand likes, outperforming brands with similar follower counts like Starbucks and Calvin Klein. GoPro generally posts on the account twice a day, with posts spaced apart by several hours.
Useful Strategies
There's one thing you won't see on GoPro's Instagram: Any of the company's products. Rather than focusing on the cameras themselves, the page highlights what's in front of them, posting everything from skiing backflips to scuba dives to airplane stunts. GoPro saves the flashy product photos for its website, but on Instagram, the brand sells experiences—experiences their cameras can document.
The North Face (@thenorthface)
Follower count: 4.8 million
Date joined: February 14, 2011
Total posts: 427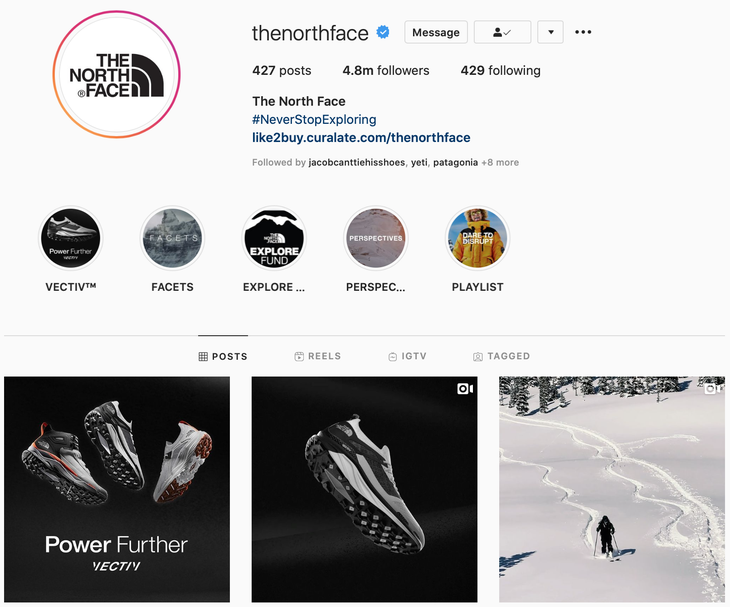 Account Overview
The majority of The North Face's Instagram posts can be broken into two categories: product-focused and athlete-focused. The brand's product-focused posts look like a classic advertisement: The product and TNF logo are front and center. Captions for these posts tell users what the product is, how it works, and where they can get one. Athlete-focused posts feature partnered athletes in action, and don't stress as much about brand recognition—in most of these posts, it's tough to tell whether the athlete is even wearing TNF gear. The account posts three to four times a week, and mixes up video and photo content.
Useful Strategies
Senior director of digital brand management Zeena Koda says the alternation between product advertisement and "brand content"—athletes, outdoor images, and storytelling—is intentional. In fact, while it's not an exact science, Koda has a rough benchmark for the breakdown.
"I think a 60-40 balance is healthy, but it's never that clear-cut," Koda said. Her goal is to feature "brand content" in about 60 percent of TNF's posts, while the other 40 percent highlights specific TNF products.
Patagonia (@patagonia)
Follower count: 4.6 million
Date joined: May 17, 2012
Total posts: 2,757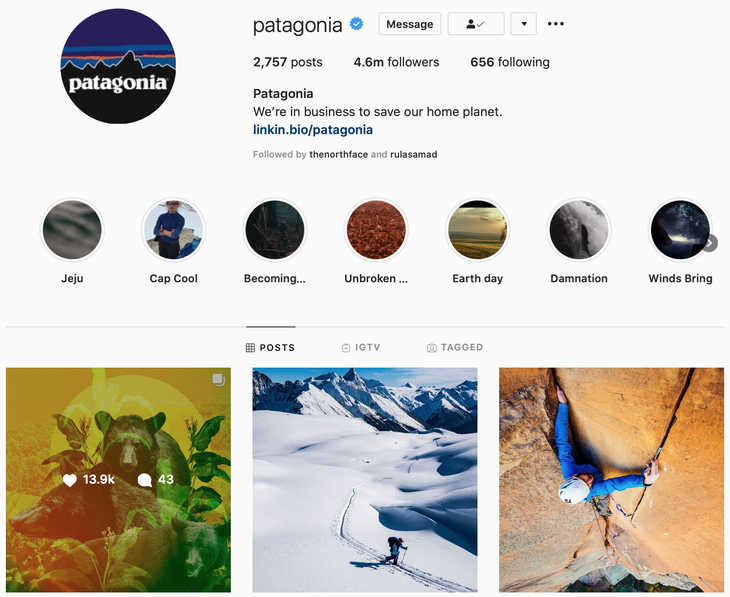 Account Overview
Like TNF, Patagonia posts content three to four times per week. The page is extremely photo-heavy, and video content generally involves some sort of call to action. Patagonia also posts a significant number of call-to-action graphics highlighting the climate crisis and environmental justice.
Useful Strategies
Patagonia's Instagram bio simply reads, "We're in business to save our home planet." The philosophy is evident in the brand's posts, which tend to focus on sweeping natural landscapes. If humans are in Patagonia's posts, they're often small or far away, framing the outdoors as a space commanding awe, wonder, and respect. True product advertisements are rare on Patagonia's Instagram—even Patagonia's well-known logo barely makes an appearance on the page.
Timberland (@timberland)
Follower count: 3 million
Date joined: June 23, 2011
Total posts: 3,671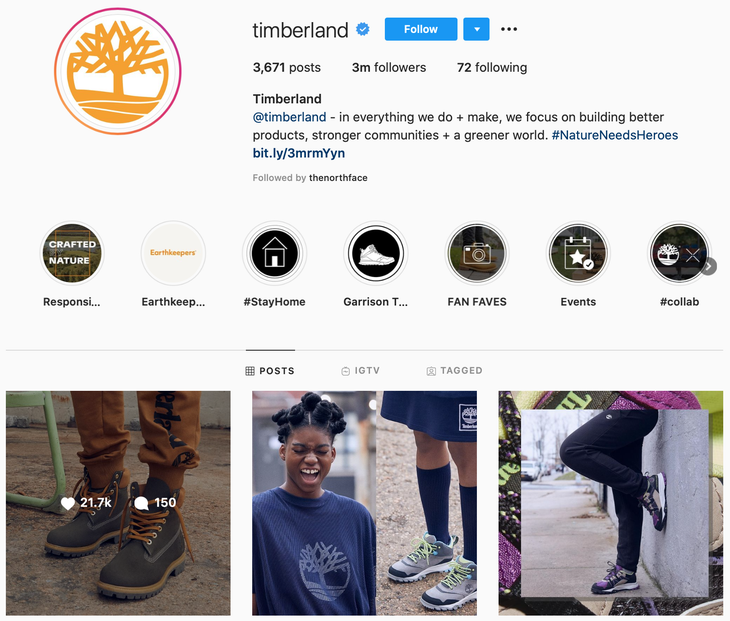 Account Overview
There may not be a more direct opposite to Patagonia's Instagram page than Timberland's. Timberland's Instagram is about one thing: boots. Boots on models, boots floating in mid-air, boots in boxes. Name a way to display a Timberland boot and it's probably on the company's Instagram. Posts come like clockwork—exactly one post a day, usually hitting the profile by mid-morning.
Useful Strategies
"We want people to arrive at our social media pages and see what they love [our products], but also learn about what we stand for," senior director of marketing Mike Isabella said in a statement.
Timberland does feature a number of social-justice-focused graphics on its page, but products drive the majority of the brand's content. It's a strategy that seems to work, in terms of engagement. When the boots take up nearly the entire frame, posts regularly hit tens of thousands of likes, and posts that feature models' full bodies or otherwise draw away from the boots generally struggle to crack ten thousand likes.
Tentree (@tentree)
Follower count: 2.4 million
Date joined: March 30, 2012
Total posts: 568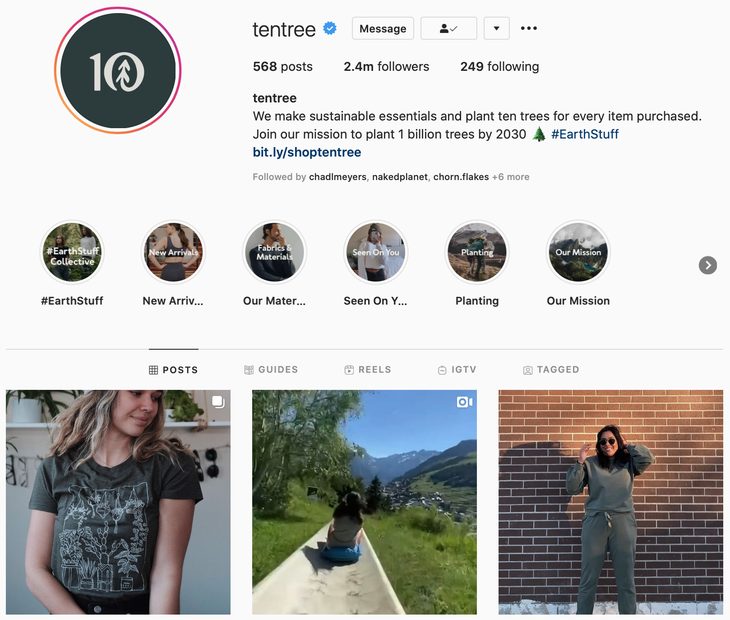 Account Overview
The eco-focused apparel brand has a unique distinction as the only company on this list younger than Instagram. Like The North Face, tentree uses Instagram partially as an advertising venue—the page displays models wearing products from sweatpants to face masks. The rest of the account's posts feature landscape shots and deforestation-awareness graphics similar to TNF's 'brand content.'
Useful Strategies
In terms of engagement, tentree's nature-focused content significantly outperforms product advertisement on the page. Posts like this one depicting a glass-walled forest bedroom amass likes in the tens of thousands, while product-focused posts usually top out at several thousand.
REI (@rei)
Follower count: 2.3 million
Date joined: July 30, 2012
Total posts: 4,791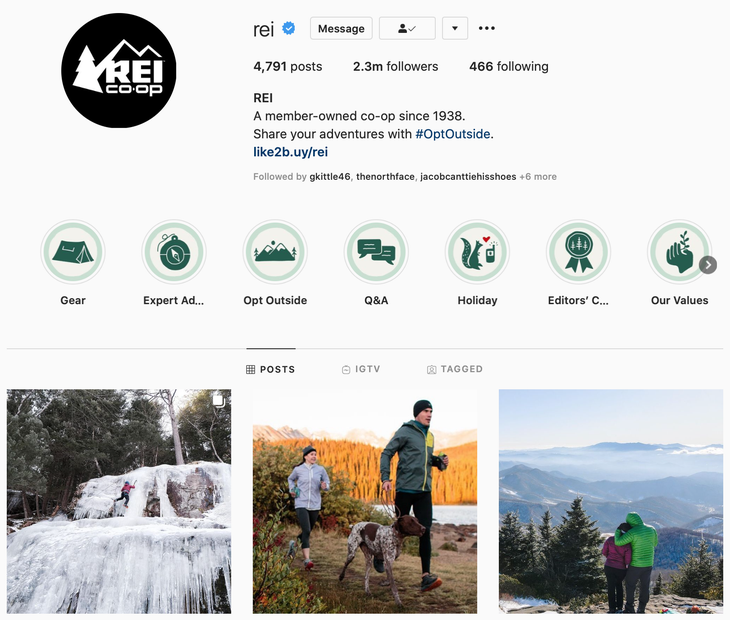 Account Overview
REI's Instagram feed is all about people in the outdoors. This may not seem revolutionary for one of the country's largest outdoor retailers, but as other brands have opted for product-focused posts or landscape photos without people, most of REI's posts bring humans and natural spaces together. These posts generally perform well, usually reaching five-digit like counts. REI's less frequent, landscape-only posts perform similarly, while the account's few product advertisement posts hover around five thousand likes.
Useful Strategies
There's a not-so-secret weapon at play in boosting engagement on certain REI posts. Every so often, REI will caption a photo with a question, like "Why do you hike?" or "What are some of your silver linings from 2020?" Posts with a simple question in the caption drive hundreds of people to the comments section; by comparison, most other posts see between 30 and 50 comments. Questions boost likes, too—posts captioned with questions generally rack up thousands more likes than similar posts without questions.
Oakley (@oakley)
Follower count: 2.2 million
Date joined: January 19, 2012
Total posts: 184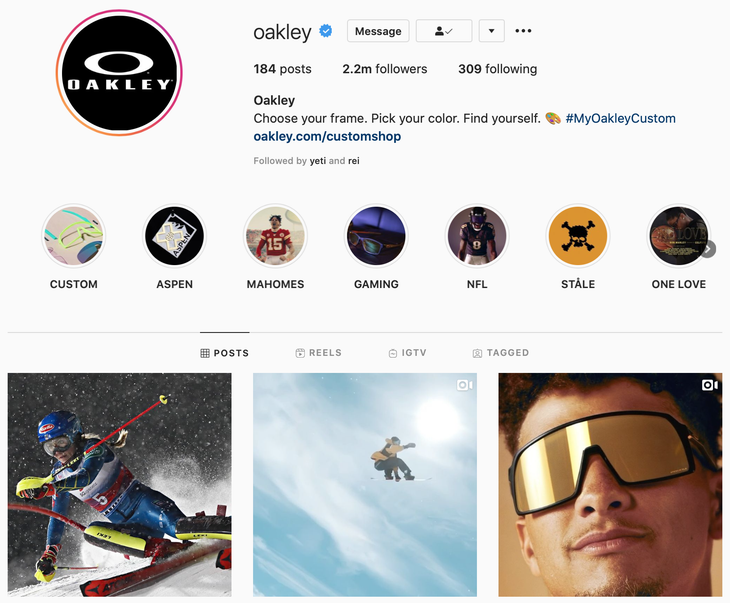 Account Overview
Like Timberland, Oakley's Instagram page is dominated by product-focused posts. Goggles and sunglasses are always the focal point, and while accounts like Patagonia and TNF place their products against a natural backdrop, Oakley's posts are mainly close-up facial profiles. The eyewear brand is one of the least prolific posters on this list, uploading content at most three times a week.
Useful Strategies
Rather than models, Oakley leans heavily on the allure of professional athletes wearing its products to boost engagement—athletes like cricketer Rohit Sharma, the focus of three posts that each cracked one million likes. It certainly helps that Oakley is partnered with the NFL, and superstar players like Patrick Mahomes and Lamar Jackson are featured prominently on the page. NFL-related posts often rack up hundreds of thousands of likes, a massive engagement number for an account with just over two million followers. Non-NFL athletes help engagement numbers, too: Snowboarder Jamie Anderson and other snowsports pros appear in several well-performing posts.
YETI (@yeti)
Follower count: 1.5 million
Date joined: July 20, 2012
Total posts: 2,413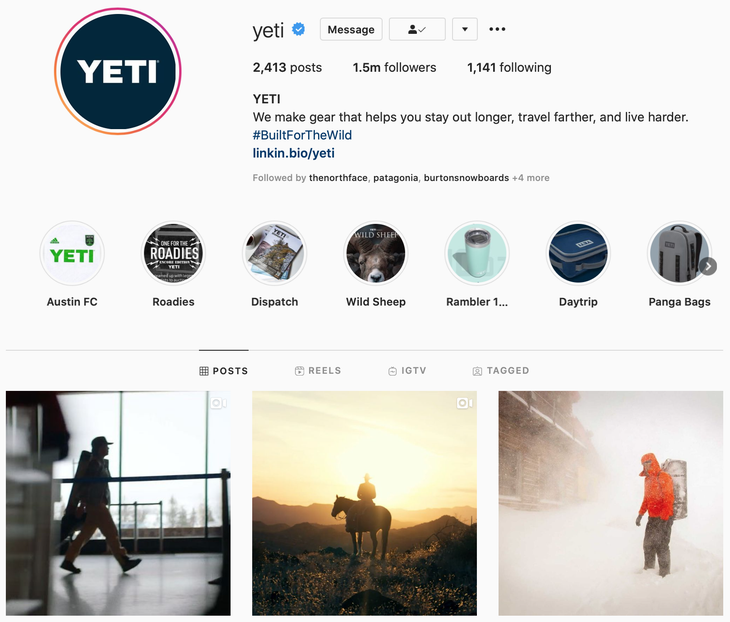 Account Overview
Like many of the outdoor apparel and gear brands on this list, YETI's Instagram posts focus on its products in use. In terms of engagement, most of YETI's posts perform similarly, hovering around six to nine thousand likes. The account doesn't flood the timeline with posts, sending an image or video out roughly once a day.
Useful Strategies
When it comes to product advertisement, YETI's posts are reminiscent of product placement in a movie or TV show. Posts don't advertise a specific product like The North Face's do; instead, most posts focus on a larger scene—an ice fishing trip, a duck hunt, a day at the beach—with a YETI product included and prominently displayed. The YETI logo catches the eye in almost every post, but rather than advertise a specific cooler, say, posts advertise YETI as a brand.
Salomon (@salomon)
Follower count: 933k
Date joined: July 24, 2013
Total posts: 2,270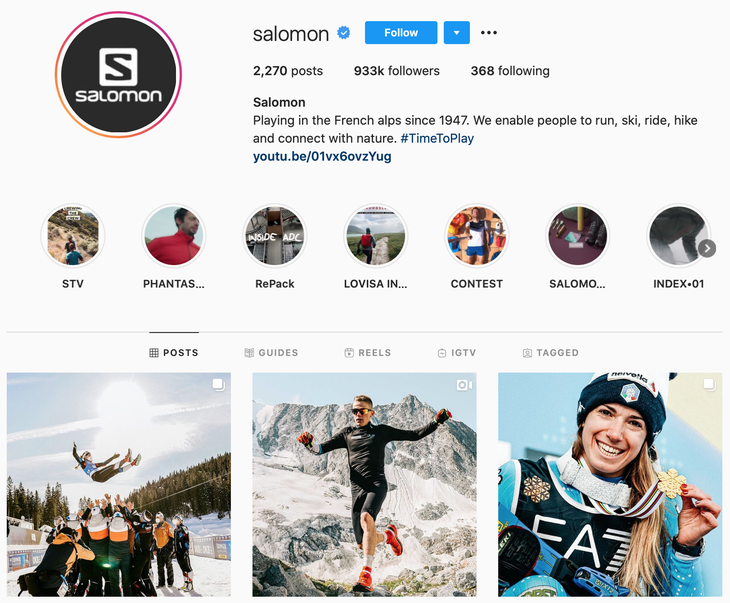 Account Overview
Salomon's Instagram focuses heavily on the company's two best-known product lines: skis and running shoes. The page is image-heavy, generally using video content to profile featured athletes. Likes are generally consistent between five and ten thousand, and the account generally posts once per day.
Useful Strategies
Salomon's page is one of the most product-focused on this list—whether on ski tips, shoe tongues, or bindings, the Salomon logo is visible in nearly every post. Most products are identified in the caption for consumers to find them easily, and almost all are depicted in action.
Arc'teryx (@arcteryx)
Follower count: 932k
Date joined: February 7, 2012
Total posts: 2,801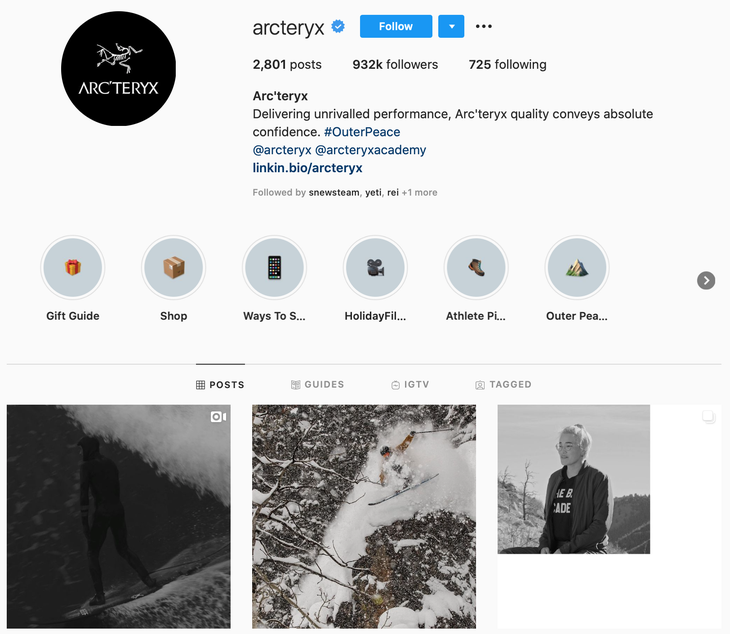 Account Overview
Arc'teryx, similar to brands like TNF and tentree, posts a mix of product advertisement and athlete-driven content. Engagement patterns for Arc'teryx's content are opposite these other brands, though—Arc'teryx's product advertisement posts generally outperform landscape shots and athlete profiles by a few thousand likes or more. The account posts about once a day, and generally alternates posts between its content categories.
Useful Strategies
Like many of the brands on this list, Arc'teryx runs secondary, geographically-localized Instagram accounts alongside its main account, which director of brand experience Jurgen Watts credits with expanding the brand's social media reach.
"Our strategy as a company is to develop… localized Instagram channels for our communities," Watts said. "If you live in the Bay Area, we want to make sure that there's a Bay Area feed that is very localized."
Compared to Arc'teryx's main Instagram channel, these localized accounts have significantly lower follower counts—generally not more than a few thousand followers. Some posts from Arc'teryx's main feed will show up in these smaller channels, but posts also feature athletes wearing Arc'teryx gear in recognizable local spots.
Trending on Outside Online