Outside Business Journal
Sponsor Content: NuOrder
The Secret to Modern-Day Wholesale Success
Industry experts discuss an essential pillar of profitable wholesale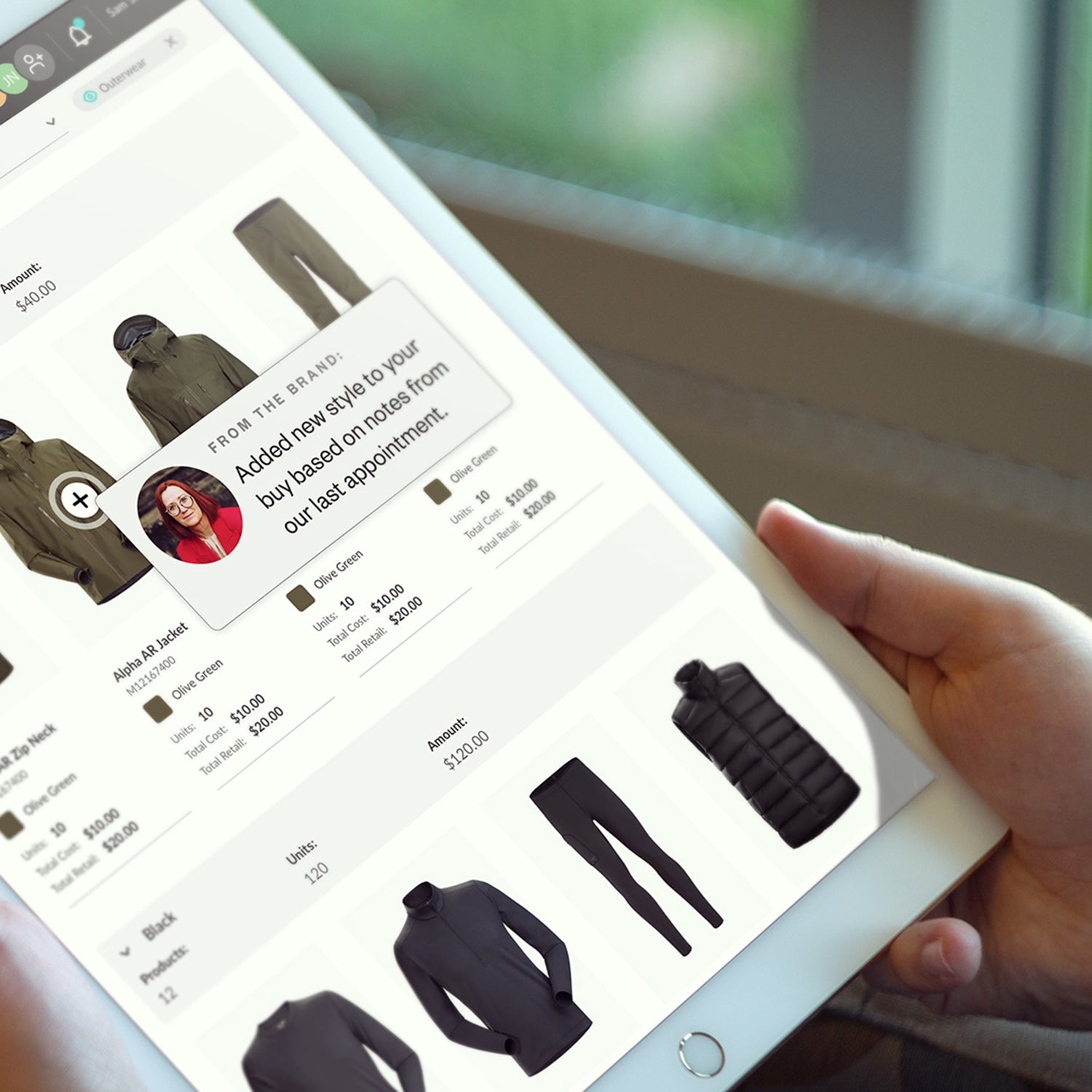 NuORDER
We won't hold out on you, the secret to a successful wholesale business is simple: it's people. More specifically, it's the way suppliers and dealers collaborate to meet consumer demand by implementing a mutually beneficial wholesale pipeline. 
But what is a mutually beneficial wholesale pipeline, and how does a brand create one? According to industry experts in our webinar "5 Pillars of Profitable Wholesale," B2B buying behaviors have changed and suppliers should be leveraging this knowledge to provide a top-notch wholesale experience. B2B buyers aren't just B2B buyers, they're also D2C buyers who encounter a wide variety of highly optimized buying experiences online, and are now coming to expect the same out of their B2B buying. 
Here's how brands can build the best possible B2B buying experience that is personal, relevant, and easy to shop, ultimately freeing up valuable time and bolstering revenue for everyone involved. 
Immersive Visualization Meets Functionality
Today's B2B portals should be just as functional as they are visually appealing. In October 2020, McKinsey reported that a staggering 70 to 80 percent of B2B decision makers prefer digital interactions over face-to-face meetings, leaving a lot of B2B buyers with a new set of expectations for the wholesale buying experience. But these new expectations aren't necessarily a bad thing for brands. They're a signal that buyers are open to newer sales methods that reduce the amount of time your brand would spend completing a sale. Digitally innovative solutions allow brands and suppliers to build immersive, D2C-like B2B portals that open the door for wholesale profitability and success. An immersive and functional experience means buyers get a better understanding of what you're offering, while also having the ability to quickly build assortments and better plan their buy.
Here are a few strategic visualization ideas for your B2B portal:
Sort products by categories (ex. jackets, hardgoods, footwear) so dealers can quickly track down their desired items. Some B2B platforms support dynamic product views that allow you to customize which categories a dealer will see, which further allows you to personalize the buying experience.  

Tell your brand story by creating product walk-through videos to promote what's unique or proprietary about your product line, including materials or construction.

Make everything shoppable: videos, linesheets, 3D imagery, and more.
Clearly show, not just tell, integrated product data (technical composition, pricing, customizations, sizing, colorways, and variations), live inventory availability, accurate delivery timelines, and related SKUs at every step of the shopping process.
"At the end of the day, you're looking to get that order and you want to create the most seamless way for your customers to do that," said Sarah Sandberg, SVP of customer success at NuORDER by Lightspeed. "Our B2B platform allows you to illustrate your product with shoppable hotspots, which really immerses buyers in your collection."
Focus on High Performance, Not High Maintenance
When your B2B portal offers thoughtful and useful features, dealers can engage with your brand without the hassle of a cumbersome transaction process. Not all B2B platforms are built the same. In fact, 77 percent of B2B buyers report having experienced buying processes that fall below their standards. A sub-optimal wholesale experience not only hurts your retail partnerships, but hurts potential sales opportunities as well. Brands must seize every opportunity to streamline and improve their processes.
Here are a few high-performance B2B attributes to look out for:
The tool allows exploration, assortment planning, checkout, and tracking from one portal (single sign-on capabilities), giving you control over the optimal buyer journey.

The tool keeps retailers up to date with the latest product information and status updates (ERP, PLM, CRM, PIM, and POS systems).

The tool offers the ability to quickly modify orders to accommodate changes in shipment or production, tackling unforeseen supply chain issues.
All this to say, look for strong ERP integrations in your tools, as these integrations are often overlooked but critically improve functionality. They are what will really keep your B2B platform rolling with up-to-date production information, inventory, and ship dates.  
Ready to Go, In-Person and Online
Be ready to give an exceptional experience to buyers both online and in person. Gartner reports that 43 percent of B2B customers prefer not to interact with a sales rep at all, and while the majority still wants that meeting time, there may be a case where your B2B platform needs full self-serve enablement. By leveraging the best of both digital and physical worlds, your brand can maximize sales and reduce time spent following up on orders. 
Things aren't purely digital or purely online anymore, meaning your brand needs to be ready for however dealers want to buy from you. Being able to collaborate through online whiteboards and draft order notes can be incredibly valuable in helping dealers better plan their buys before and after meetings, while also making follow-up easier for suppliers.
Whether on the trade show floor or from the comfort of their own home offices, B2B buyers need to be able to:
Understand key product features

View inspiration for the season

View delivery dates

Identify promotions and sales programs
The Path to Wholesale Success
Imagine the day-to-day experience of B2B buyers shopping on D2C-platforms: the compelling visuals, easy add-to-cart functionality, a seamless checkout, and order tracking. An elevated B2B platform includes all this and takes it a step further with everything a B2B buyer needs to be successful. A highly visual and informative B2B buyer experience leads to optimized carts, which in turn means better-optimized assortments, and ultimately optimized sell-through. By focusing on building a stress-free, visual, and functional B2B experience, brands can deepen retail partnerships while also growing their wholesale business.
More Tips for Wholesale Success
---
NuORDER by Lightspeed is a leading B2B e-commerce platform, helping brands deliver a seamless, more collaborative wholesale process that lets buyers browse products, plan assortments, and make smarter buys in real time.
Lead Photo: NuORDER