Outside Business Journal
The Stock Market Rose Slightly in March. Outdoor Industry Stocks? Not So Much.
As the broader market notched modest gains, publicly traded outdoor companies continued to slide last month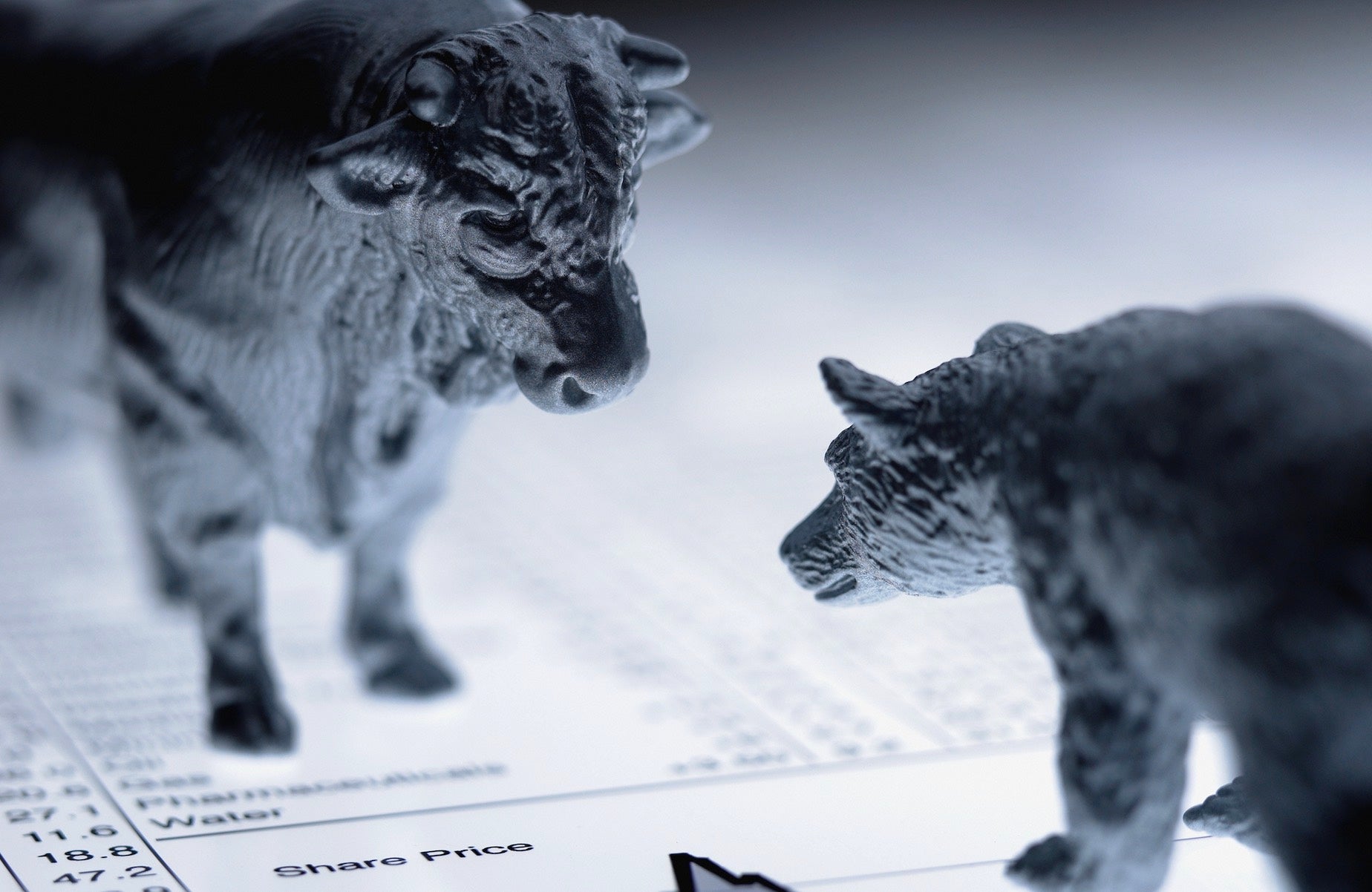 Heading out the door? Read this article on the new Outside+ app available now on iOS devices for members! Download the app.
The performance of outdoor stocks was nothing to write home about last month (again), with the OBJ Outdoor Index falling slightly while the broader market notched single-digit gains.
The biggest culprits in pulling the OBJ index down were Anta Sports Products and Solo Brands, both of which shed almost a quarter of their value month-over-month. Most of the other companies on our list slid much less dramatically, with a few—notably Garmin Ltd., Canadian Tire Corp. (parent company of Helly Hansen), and On Holding—even posting moderate share-price increases by the end of the month.
Here's a snapshot of what happened.
OBJ Outdoor Index Compared to Other Indices: March 2022
| | |
| --- | --- |
| Index | March chg% |
| OBJ Outdoor Index | -4.74% |
| Dow Jones | 2.32% |
| S&P 500 | 3.58% |
| Nasdaq | 3.41% |
Of the 28 public companies that OBJ tracks, only five saw their share prices grow in March, while 23 saw declines. Here are the month's top stock performers:
Garmin Ltd. (Nasdaq: GRMN) : 7.4%
Canadian Tire Corp. (OTC: CDNAF): 4.79% 
On Holding AG (NYSE: ONON): 3.66%
And here are the companies that saw the biggest declines in the month:
Anta Sports Products Ltd. (OTC: ANPDY): -19.4%
Solo Brands, Inc. (NYSE: DTC): -19.22%
Dometic Group AB (STO:DOM.ST) : -10.08%
Tracking the Monthly OBJ Outdoor Index
Below is the OBJ Outdoor Index for March. The Index shows how 28 public corporations—mostly parent companies of outdoor brands, with a couple of retailers, a ski resort giant, and a trade show operator included as well—performed in the calendar month.
The chart includes the companies' share prices on the last business day of the previous month (February 28), their share price on the last business day of the tracked month (March 31), the percent change in that period, and current market cap (equal to share price times the total number of shares outstanding).
The OBJ Outdoor Index, unlike other indices such as the Dow Jones Industrial, doesn't use a market cap weighting system.
Foreign companies' shares are presented here in U.S. dollars and designated as OTC (over-the-counter) securities since they aren't listed on U.S. stock exchanges. Two exceptions are Dometic Group AB and Fenix Outdoor International Group, whose share prices can be found only on Nasdaq Stockholm and are represented as U.S. currency converted from the Swedish krona.
Underneath the stock chart are capsules on each of the 28 companies of the OBJ Outdoor Index, including headquarters location, connections to the outdoor industry (if not immediately obvious), key executives, and recent editorial coverage in OBJ, where applicable.
OBJ Outdoor Index: March 2022
Company
Ticker
Stock value
02/28/22
Stock Value

03/31/22

Chg%
March '22
Market Cap

03/31/22

Adidas AG

(OTC: ADDYY)

$117.84

$116.82

-0.87%

$45.85B

Anta Sports Products Ltd.

(OTC: ANPDY)

$383.69

$309.27

-19.4%

$33.96B

Callaway Golf Co.

(NYSE: ELY)

$24.74

$23.42

-5.34%

$4.34B

Camping World Holdings Inc.

(NYSE: CWH)

$30.71

$27.95

-8.99%

$1.23B

Canada Goose Holdings Inc.

(NYSE: GOOS)

$26.10

$26.33

0.88%

$2.8B

Canadian Tire Corp.

(OTC: CDNAF)

$146.66

$153.69

4.79%

$9.26B

Clarus Corp.

(Nasdaq: CLAR)

$22.77

$22.78

0.04%

$862.28M

Columbia Sportswear Co.

(Nasdaq: COLM)

$92.72

$90.53

-2.36%

$5.82B

Compass Diversified

(NYSE: CODI)

$23.76

$23.77

-0.04%

$1.72B

Deckers Outdoor Corp.

(NYSE: DECK)

$288.64

$273.77

-5.15%

$7.53B

Dick's Sporting Goods Inc.

(NYSE: DKS)

$105.00

$100.02

-4.74%

$8.09B

Dometic Group AB*

(STO:DOM.ST) 

$9.72

$​​8.74

-10.08%

$26.02B

Emerald Holding Inc.

(NYSE: EEX)

$3.58

$3.4

-5.03%

$251.14M

Fenix Outdoor International AG*

 

(STO: FOI-B)

$114.07

$113.74

-0.29%

$14.03B

Garmin Ltd.

(Nasdaq: GRMN)

$110.44

$118.61

7.4%

$22.41B

GoPro Inc.

(Nasdaq: GPRO)

$8.60

$8.53

-0.81%

$1.34B

Helen of Troy Ltd.

(Nasdaq: HELE)

$205.67

$195.84

-4.78%

$4.82B

Johnson Outdoors Inc.

(Nasdaq: JOUT)

$82.47

$77.73

-5.75%

$805.04M

Newell Brands Inc.

(Nasdaq: NWL)

$23.75

$21.41

-2.78%

$8.9B

On Holding AG

(NYSE: ONON)

$24.35

$25.24

3.66%

$8.04B

Samsonite International SA

(OTC: SMSEY)

$11.10

$11.05

-0.45%

$3.42B

Solo Brands, Inc. 

(NYSE: DTC)

$10.56

$8.53

-19.22%

$519.23M

Thule Group AB

(OTC: THUPY)

$20.46

$20.20

-1.27%

$4.36B

Vail Resorts Inc.

(NYSE: MTN)

$260.55

$260.27

-0.11%

$10.52B

VF Corp.

(NYSE: VFC)

$58.02

$56.86

-2.0%

$21.99B

Vista Outdoor Inc.

(NYSE: VSTO)

$36.45

$35.69

-2.1%

$20.06B

Wolverine World Wide Inc.

(NYSE: WWW)

$23.03

$22.56

-2.04%

$1.81B

Yeti Holdings Inc.

(NYSE: YETI)

$61.56

$59.98

-2.57%

$5.34B

OBJ Outdoor Index Total/Avg.
$2327.01
$2216.73
%4.74
*Currency converted from Swedish krona
OBJ Outdoor Index: Company Guide
Adidas AG (OTC: ADDYY)
Headquarters:

Herzogenaurach, Germany (U.S. operation is based in Portland, Oregon)

Outdoor connection:

While

Adidas

might be known for its athletic apparel, the company also possesses some core outdoor DNA through its Portland, Oregon-based

Adidas Terrex

and

Five Ten

brands.  

Key executives

: Kasper Rorsted, CEO; Carla Murphy, GM, Adidas Outdoor
Anta Sports Products Ltd. (OTC: ANPDY)
Headquarters:

Xiamen, China (subsidiary Amer Sports is based in Helsinki, Finland, and its U.S. operation is based in Ogden, Utah)

Outdoor connection:

Anta is the owner of Amer Sports and its portfolio of outdoor and snow sports brands —

Salomon

,

Arc'teryx

,

Armada Skis

, and

Atomic

.

Key executives

: Jie Zheng, CEO, Amer Sports
Callaway Golf Co. (NYSE: ELY)
Headquarters:

Carlsbad, California

Outdoor connection:

Though primarily a golf manufacturer and now the owner of Topgolf, the company made a big play in the outdoor space in late 2018 with the acquisition of European outdoor brand

Jack Wolfskin

.

Key executives

: Oliver Brewer, president and CEO, Callaway; Richard Collier, CEO, Jack Wolfskin; Diana Seung, GM, Jack Wolfskin North America
Camping World Holdings Inc. (NYSE: CWH)
Headquarters:

Lincolnshire, Illinois

Key executives

: Marcus Lemonis, CEO
Canada Goose Holdings Inc. (NYSE: GOOS)
Headquarters:

Toronto, Ontario

Outdoor connection

: In addition to its eponymous apparel brand,

Canada Goose

owns and operates footwear brand Baffin.

Key executives

: Dani Reiss, CEO
Canadian Tire Corp. (OTC: CDNAF)
Headquarters:

Toronto, Ontario

Outdoor connection:

CTC boasts an iconic outdoor brand,

Helly Hansen

, in its portfolio. (It also operates a chain of sporting goods retail stores throughout Canada.)

Key executives

: Paul Stoneham, CEO, Helly Hansen (departing)
Clarus Corp. (Nasdaq: CLAR)
Headquarters:

Salt Lake City, Utah

Outdoor connection:

Clarus is a holding company whose flagship outdoor brand is

Black Diamond Equipment

. Clarus also owns

Rhino-Rack

,

Pieps

,

SKINourishment

plus two bullet manufacturers.

Key executives

: John Walbrecht, president
Columbia Sportswear Co. (Nasdaq: COLM)
Headquarters:

Portland, Oregon

Outdoor connection:

In addition to the

Columbia

brand,

the Portland-based apparel and footwear giant includes

Mountain Hardwear

,

prAna

, and

Sorel

in its portfolio.

Key executives

: Timothy Boyle, CEO
Compass Diversified (NYSE: CODI)
Headquarters:

Westport, Connecticut

Outdoor connection:

Long known for its hook-and-bullet assets, CODI added a big outdoor name in the fall of 2020 with the acquisition of

Boa Technology Inc.
Key executives

: Shawn Neville, CEO, Boa Technology
Deckers Outdoor Corp. (NYSE: DECK)
Headquarters:

Goleta, California

Outdoor connection:

Deckers is a major player in outdoor and active footwear with such brands as

Hoka One One

,

Teva

,

Sanuk

, and

Ugg

.

Key executives

: Wendy Yang, president, performance lifestyle brands
Dick's Sporting Goods Inc. (NYSE: DKS)
Headquarters:

Pittsburgh, Pennsylvania

Outdoor connection:

The sporting goods retail giant recently launched an outdoor store concept called

Public Lands

, led by industry veteran Todd Spaletto.

Key executives

: Lauren Hobart, president and CEO; Todd Spaletto, president, Public Lands
Dometic Group AB (STO: DOM.ST)
Headquarters:

Stockholm, Sweden

Outdoor connection:

The Swedish-based company manufactures

accessories for mobile-living end markets such as campers and RVs, and it recently acquired

Igloo Products Corp.
Key executives

: Juan Vargues, president and CEO
Emerald Holding Inc. (NYSE: EEX)
Headquarters:

San Juan Capistrano, California

Outdoor connection:

Emerald is the owner and operator of the twice-annual

Outdoor Retailer

and

Surf Expo

trade shows

Key executives

: Hervé Sedky, CEO
Fenix Outdoor International AG (OTC: FNXTF) 
Headquarters:

Zug, Switzerland (U.S. headquarters in Louisville, Colorado)

Outdoor connection:

The Swiss company's outdoor brands include

Fjallraven

,

Royal Robbins

, and

Primus

.

Key executives

: Martin Nordin, CEO; Nathan Dopp, CEO Americas
Garmin Ltd. (Nasdaq: GRMN)
Headquarters:

Schaffhausen, Switzerland (U.S. headquarters in Olathe, Kansas)

Key executives

: Clifton Pemble, president and CEO
GoPro (Nasdaq: GPRO)
Headquarters:

San Mateo, California

Key executives

: Nick Woodman, CEO
Helen of Troy Ltd. (Nasdaq: HELE)
Headquarters:

El Paso, Texas

Outdoor connection:

Among its many consumer brands is

Hydro Flask

, the maker of insulated and stainless steel drinkware, and

Osprey

.

Key executives

: Julien Mininberg, CEO
Johnson Outdoors Inc. (Nasdaq: JOUT)
Headquarters:

Racine, Wisconsin

Outdoor connection:

The company owns two outdoor brands (

Eureka

and

Jetboil

) and two watercraft brands (

Old Town

and

Ocean Kayak

).

Key executives

: Helen P. Johnson-Leipold, chairman and CEO
On Holding AG (NYSE: ONON)
Headquarters:

Zurich, Switzerland

Outdoor connection:

The running shoe brand recently went public, pricing its IPO of 31.1 million shares at $24 a share—up from its initial expectations—for an initial raise of $746 million.

Key executives

:

Martin Hoffmann, co-CEO and CFO, Marc Maurer, co-CEO, and Olivier Bernhard, co-founder and executive director
Newell Brands Inc. (Nasdaq: NWL)
Headquarters:

Atlanta, Georgia

Outdoor connection:

The company's core outdoor brands are

Marmot

and

Coleman

(and there is some crossover into outdoor with its other consumer brands

Contigo

,

Ex Officio

, and

Stearns

)

Key executives

: Ravi Saligram, CEO
Samsonite International SA (OTC: SMSEY)
Headquarters:

Hong Kong

Outdoor connection:

The luggage giant owns outdoor pack and bag brands

Gregory Mountain Products

and

High Sierra
Key executives

: John Sears, VP, Gregory
Solo Brands, Inc. (NYSE: DTC)
Headquarters:

Southlake, Texas

Outdoor Connection:

The growing specialty company owns Solo Stove, Oru Kayak, Chubbies and water sports company Isle.

Key Executives:

John Merris, CEO; Samuel Simmons, CFO
Thule Group AB (OTC: THUPY) 
Headquarters:

Malmö, Sweden

Outdoor connection:

The Swedish maker of

Thule

car racks, luggage, and baby strollers recently got into car-top campers with its purchase of

Tepui

.

Key executives

: Magnus Welander, CEO; Hilary Hartley, president Americas
Vail Resorts Inc. (NYSE: MTN)
Headquarters:

Broomfield, Colorado

Outdoor connection:

In addition to being the largest ski resort operator in the world, Vail also operates massive lodging and retail operations.

Key executives

: Kirsten Lynch, CEO
VF Corp. (NYSE: VFC)
Headquarters:

Denver, Colorado

Outdoor connection:

One of the biggest, most influential corporations in the outdoor industry,

VF Corporation

owns and operates an "outdoor" portfolio of

The North Face

,

Altra

,

Icebreaker

,

Smartwool

,

Timberland

, and an "active" portfolio of

Eastpak

,

JanSport

, and

Vans

.

Key executives

: Steve Rendle, CEO
Vista Outdoor Inc. (NYSE: VSTO)
Headquarters:

Anoka, Minnesota

Outdoor connection:

Vista did some rightsizing of its portfolio in recent years by shedding its firearms assets and acquiring new brands in the outdoor and shooting sports spaces. Its outdoor portfolio now consists of

CamelBak

,

Camp Chef

,

Bell

,

Giro

,

QuietKat

,

Stone Glacier

, and

Venor

.

Key executives

: Christopher Metz, CEO
Wolverine World Wide Inc. (NYSE: WWW)
Headquarters:

Rockford, Michigan

Outdoor connection:

Another of the big footwear players, Wolverine owns and operates such outdoor brands as

Merrell

and

Chaco

, while other brands include

Wolverine

,

Saucony

, and

Cat Footwear

.

Key executives

: Blake Krueger, CEO
Yeti Holdings Inc. (NYSE: YETI) 
Headquarters:

Austin, Texas

Key executives

: Matthew Reintjes, president and CEO