Outside Business Journal
Sponsor Content: NuORDER
The Wholesale Roadshow Model Becomes Digital, Sustainable, Connected
Get acquainted with the future of retail buying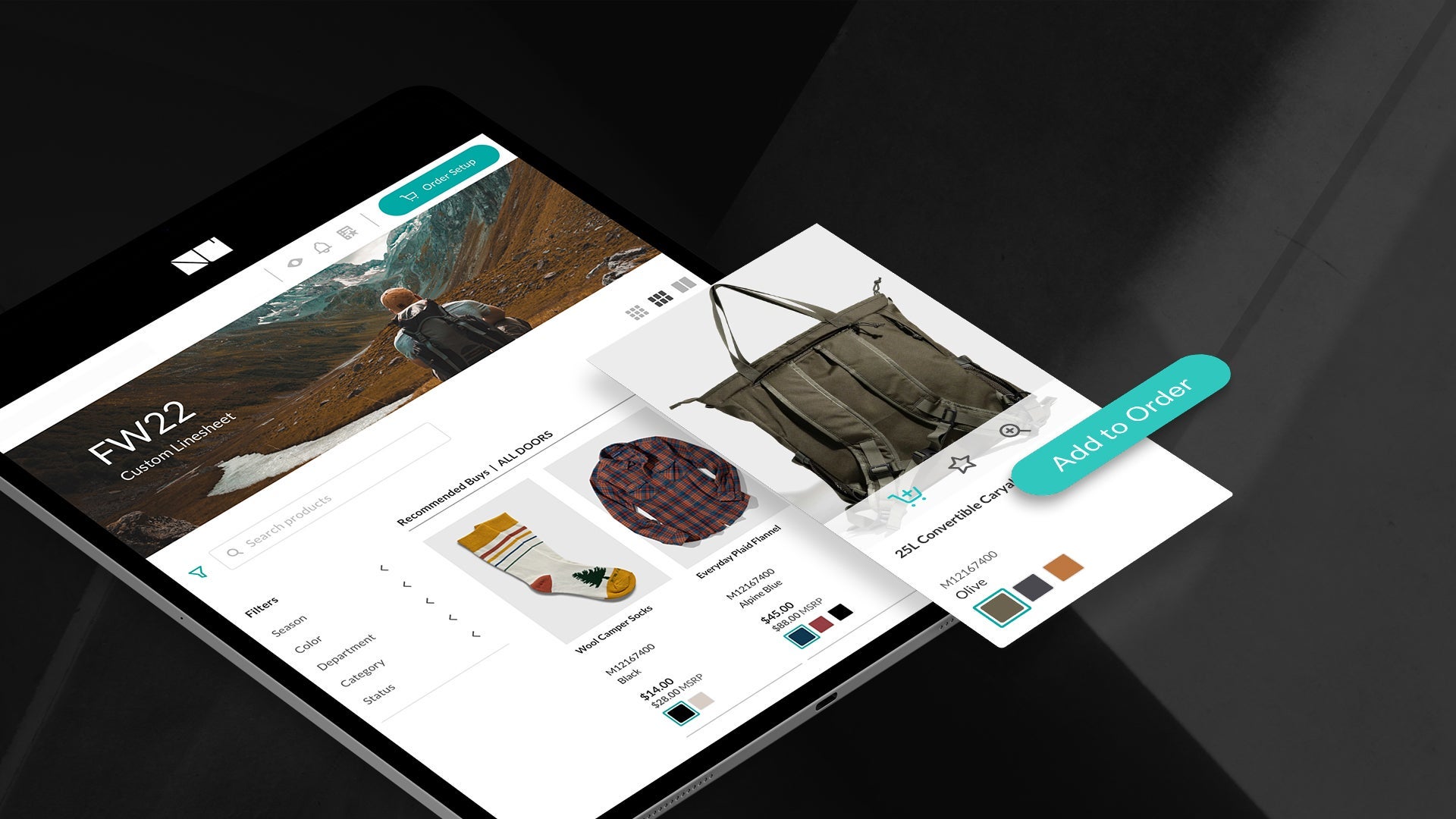 The future of retail buying is here. In today's hybrid-focused world, digital e-commerce solutions like NuORDER by Lightspeed allow retailers and brands to interact on an all-in-one platform for planning, visualizing, managing, and buying merchandise without needing to meet in person.
Below, Tommy Fazio, NuORDER's fashion director, details how NuORDER is helping to build a more digital, sustainable, and connected wholesale buying experience.
Digital Means Speed and Ease
When brands and retailers are limited by a 30-minute in-person buying meeting, there's only so much they can accomplish, said Fazio. But on the NuORDER platform, brands and retailers can take their time making decisions. Brands simply upload their storytelling assets, product details, and lookbooks for buyers to peruse without the obligation and cost of traveling. 
"When retailers leverage this digital platform, they really get immersed into a brand's DNA at their leisure," Fazio said.
Because every aspect is integrated into the platform, it's a one-stop shop. Users can view every step of the buying process in their dashboard, from communicating with partners to ordering products across categories to tracking shipments to handling payments.
As pandemic-related inventory restraints applied more pressure to footwear inventory, Tecnica Footwear started working with NuORDER in summer 2021 to help their retailers keep product on shelves and shoes on customers' feet.
"I see the future of buying continuing in a digital direction with more emphasis for on-demand B2B tools such as NuORDER," said Rob Phillips, North America business unit director at Tecnica Footwear. "As retailers continue to streamline their purchasing processes, these digital tools will help to keep all the information in one place, and available at any time."
Added Phillips, "This single point of information is key for rapidly growing brands like Tecnica Outdoor as we will rely heavily on our digital investments to get information in our retailer's hands efficiently in order for them to make the most informed buying decisions possible."
Embracing this virtual sphere only leads to ease, speed, accuracy, and profit. And outside of regular product timelines, if a brand wants to introduce a special collection, retailers can order off-market items ahead of time to be prepared ahead of the curve.
NuORDER is just getting more technologically sophisticated by the day through updates and customizations, like with the launch of 3D imaging and addition of payments features.
Sustainability at the Forefront
When retailers can easily organize and manage their inventory orders through NuORDER, they're more privy to what's going on their shelves. Thus, they can make selections based on what their customers really want, rather than just checking a box for, say, a down winter puffer.
NuORDER's digital showrooms bring products to life with 3D imaging and 360-degree views. Retailers are able to thoroughly examine a product, which leads to more informed decisions. It also eliminates a brand's need for one-off samples, which are costly to produce, photograph, and ship. 
In fact, according to a study by the Carbon Trust, travel associated with the wholesale fashion buying process equates to 241,000 tons of carbon emissions per year—enough to light up New York's Times Square for 58 years or power 51,000 cars for a year.
Having an intentional supply chain means having a sustainable supply chain. "Through our partnership with Grassroots Outdoor Alliance, we've been able to provide retailers with the ability to visually see all their buying decisions," Fazio said. "How many bindings did I buy? Are they the right ones? Do I have duplicates?"
By not ordering excess inventory or traveling for product meetings, retailers and brands are both cutting their own costs and massively reducing carbon footprints. The same goes for doing away with hundred-page paper catalogs and excessive sample production.
Organic Connections
At its heart, NuORDER is where retailers and brands align to plan smarter assortments and promote mutually beneficial goals, like sell-through, delivery and fulfillment, and cash flow. Through the Marketplace, retailers can discover brands they might not know about yet. Last year alone, there were over 30,000 retail connections made on NuORDER.
"With a digital platform, we all thought that we were going to lose the personal touch," Fazio said. "But I think the personal touch just became more engaged."
While the digital platform is NuORDER's main realm, the team also launched a new Buying Experience at the most recent Grassroots Connect show. "We were there to drive connections and deepen community ties through digital collaboration," Fazio said. "We didn't want people falling off."
Traditionally, wholesale buying has been an inefficient, time-consuming process that required specialty retailers to keep track of numerous logins to place seasonal orders, Fazio said. However, through NuORDER's platform, Grassroots retailers can now buy a store's worth of apparel and gear on a single streamlined platform.
New features include the ability to set custom ship dates, a new grid view allows buyers to more easily review and adjust orders across multiple ship dates, and create draft orders by uploading an excel spreadsheet with UPC codes.
Ultimately, these continued B2B interactions lead to the same outcome: connecting businesses with consumers for long-term relationships. "The end goal is to get the consumer the product they want when they want it, efficiently," Fazio said. 
About NuORDER
NuORDER by Lightspeed is the leading B2B platform powering commerce and discovery for the world's leading brands and retailers. The enterprise-grade platform delivers Virtual Showroom technology, visual assortment and merchandising tools, payments and data integration, connecting more than 3,000 brands and more than 700,000 retailers globally and processing over $40 billion in GMV. In 2021, NuORDER was acquired by Lightspeed, a provider of cloud-based, omnichannel commerce platforms, to create an industry-leading bridge between the merchant and supplier experience by simplifying product ordering for retailers and offering brands crucial insight into how their products move.
Trending on Outside Online