Outside Business Journal
Toad&Co Helps Retailers Weather the Economic Storm of the Coronavirus
Ever an ally of independent retailers, the Santa Barbara-based company has agreed to provide financial assistance to specialty shops whose bottom lines have taken a hit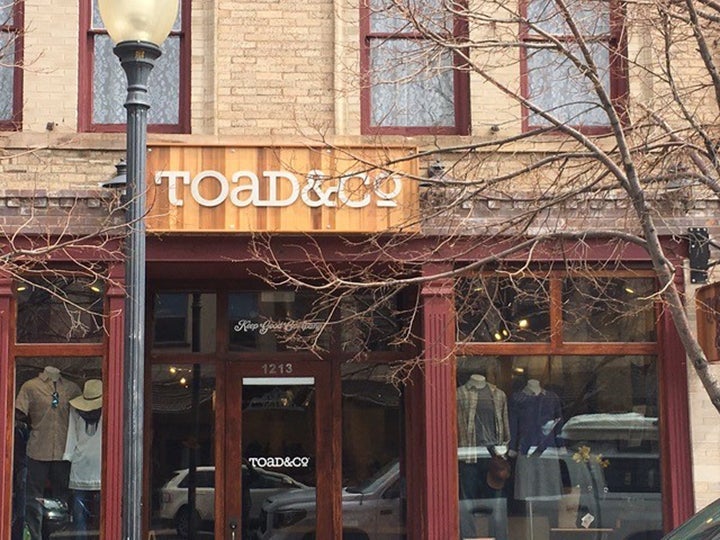 Heading out the door? Read this article on the new Outside+ app available now on iOS devices for members! Download the app.
In an unprecedented move, the California brand Toad&Co has announced that it will help its brick-and-mortar retailers survive the economic uncertainty of the coronavirus outbreak by sharing 10 percent of its new-customer ecommerce revenue for at least the next two months.
"I hope that much of the predicted public health risk associated with COVID-19 is overstated and life returns to normal in short order," wrote Gordon Seabury, Toad&Co's CEO, in a statement Monday. "That said, we cannot ignore the reality we could be facing a considerable retail disruption. Many of our retail partners have been major brand supporters, loyal partners and friends over the last 20 years. We stand with our retailers shoulder to shoulder."
The program arrives at a critical juncture in the economic shake-up that has resulted from the coronavirus. While plenty of brands have expressed sympathy for their brick-and-mortar retailers and offered advice to keep revenue flowing in trying economic times, none has taken action as financially meaningful as Toad&Co's new initiative. Effective March 15, the program will follow seven key tenets:
All of Toad&Co's independent specialty brick-and-mortar retailers nationwide will be automatically included in the program.
10 percent of net ecommerce revenue from first-time customers will be calculated by sales territory.
Revenue will be allocated to eligible sales territory retailers and shared with sales reps.
Retailer allocation will be on a prorated basis by net preseason spring 2020 orders.
A voucher will be issued to each retailer to be used against future preseason orders.
If any store is forced to close due to employee health risks or regional quarantine, Toad&Co's additional programs will provide support on a case-by-case basis.
Toad&Co will provide regular updates and evolve the program to appropriately address needs.
Toad&Co tested a similar program two years ago with Rock/Creek Outfitters, a retailer based in Chattanooga, Tennessee. In that program, Toad&Co. shared a portion of its ecommerce revenue with Rock/Creek for every online purchase made by a shopper who identified him or herself as a Rock/Creek customer.
"Instead of competing with our retailers, our goal is to have an ecosystem that works for everyone. Our retailers are the ones connecting to our customers on a day-to-day basis," Seabury told Outside Business Journal. "I've been talking with our board members about how to take that program with Rock/Creek and apply it on a wider scale. We decided that the coronavirus crisis was a perfect opportunity to do that."
Seabury says that Toad&Co wants to expand the program further—a move that may happen as soon as this week.
"If a retailer is shut down due to coronavirus, we'll provide them a special code," Seabury said. "When customers come to our website, they'll put in the code to identify as customer of retailer X. After a sale, that store will get part of the revenue and that customer will be tagged as a customer of that retailer for all sales going forward. Any subsequent online sale will be flagged, and part of the revenue will go back to that retailer, even after the coronavirus outbreak calms down. It's our way of trying to work together with our retailers in real time to provide a mutual benefit for everyone."
Trending on Outside Online