Outside Business Journal
5 Marketing Hacks for Outdoor Startups
A limited budget doesn't have to get in the way of successfully marketing your outdoor business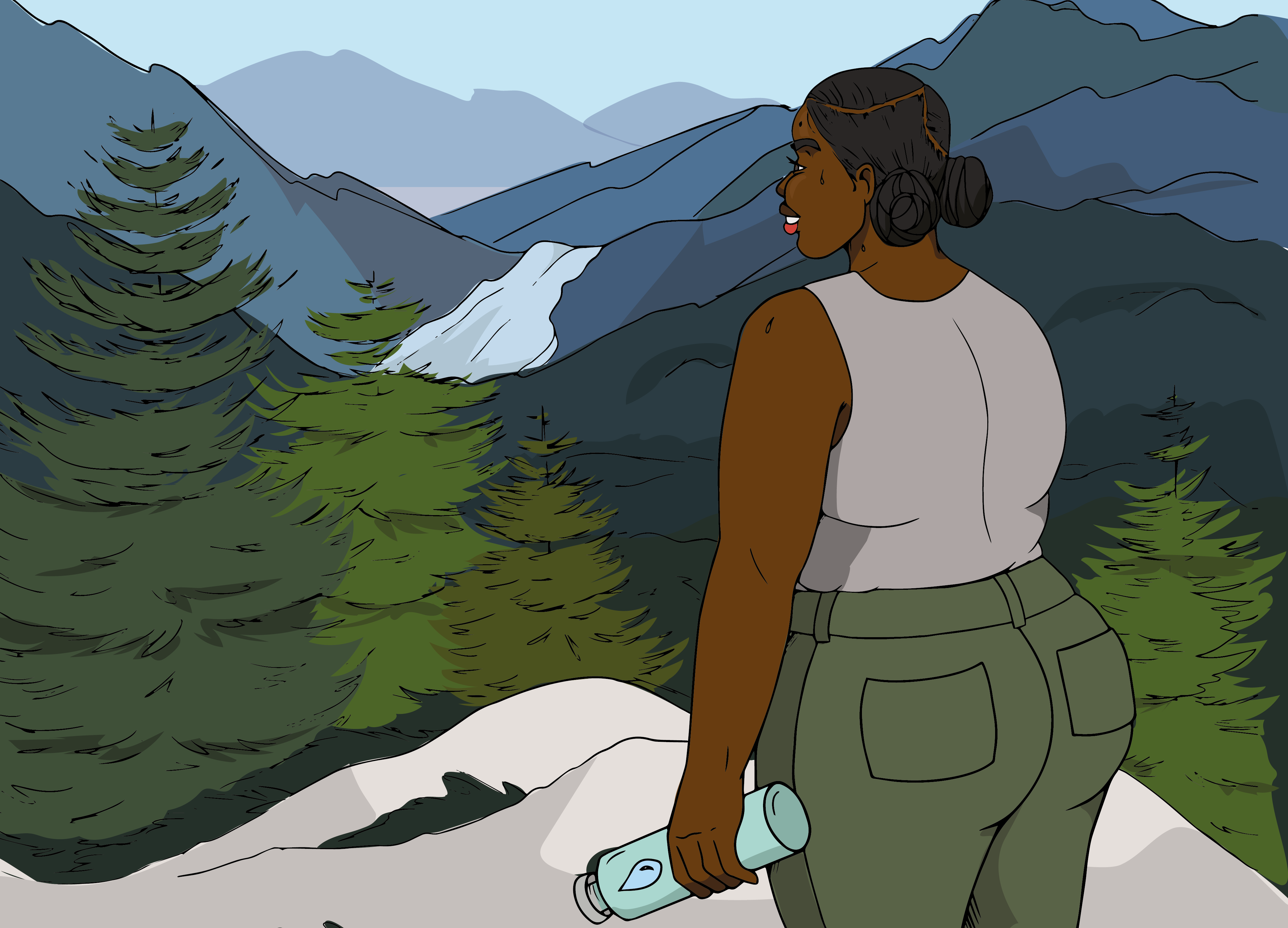 Heading out the door? Read this article on the new Outside+ app available now on iOS devices for members! Download the app.
Small businesses and startups need more than just PPP loans and #ShopLocal sentiment. Never underestimate the power of good, intentional marketing. And you don't need to a six-figure marketing budget to get the word out about your company. Here are five low-cost ideas to market your small outdoor business for success. 
Get Earned Media
Earned media is editorial content that you didn't pay for or create yourself, and it is gold for small businesses and startups. To score earned media, you'll need to connect with staff writers, or editors who work at your target media outlets. Don't overlook the opportunity to connect with freelance writers as they work with different outlets so there's a possibility of additional coverage. While large outdoor businesses hire public relations and marketing firms to do the heavy lifting, small outdoor businesses must be ready to bootstrap it. 
Before reaching out to the media, make sure you're prepared to work with them. For instance, writers and editors need professional photos to accompany their articles and will ask you to provide them. High-quality, professional photographs can make or break an article so make sure you have these on hand. . 
Once you've found the proper contact information for the writer or editor, write a short email introducing yourself and the company. (It's not a bad idea to convey that you've read their work!) Pro tip: Mention that you're available to speak on subjects relating to your outdoor expertise or share some ideas about how your company fits into a timely news story or outdoor trend.
If you don't hear back in a week or so, it's okay to send a short follow-up email. Your goal is to create a dialogue. Keep a close eye on Basecamp as journalists often post in search of a specific business or person to feature in an article. When outdoor conferences and events resume in-person, get a ticket! Media attend these events, making them a good opportunity to exchange business cards and connect personally. 
Case study on connecting with media: Sweat and Sunshine
At the end of January, I put a call for Black-owned outdoor businesses to reach out to me on Helpareporter.com. This site, which is referred to as HARO, connects journalists with sources—publicists, business owners, etc. Janelle Sheppard, owner of Sweat and Sunshine, saw my post, reached out to me, and it resulted in a feature in Outside Business Journal's Black-owned outdoor business series for Black History Month. 
2. Collaborate with bigger brands, organizations, or experts
As a small outdoor business, it can be difficult to expand your reach to new customers. By collaborating with larger brands, working with organizations, or utilizing experts, you have a chance to connect with your partner's audiences. 
Collaboration can present itself in a number of ways. You could work with another outdoor company on a social media campaign to highlight awareness about an issue or commit to donating a percentage of profits to a nonprofit outdoor organization. 
No matter how you choose to collaborate, make sure that the partnership entails an equal marketing campaign that includes cross-posting on social media, features in newsletters, and announcements about the partnership on each other's websites. 
Case study on collaboration: Crux Academy
Crux Academy launched at the end of 2020 and are offering online educational courses taught by outdoor experts with star power like Maddie Brenneman and Dr. Len Necefer. In working with these experts, Crux Academy is targeting that expert's audiences, who tend to share the course on their social media sites, newsletter, and website. 
3. Use social media wisely
If you want to garner new customers through social media, you must discover which platforms will work best for your company. If you're a brick-and-mortar outdoor shop, you'll need a Facebook page because it lists your address, store hours, etc. If you sell an outdoor product online, a Facebook and an Instagram account might be the way to go. A LinkedIn account is never a bad idea, as it allows you to professionally network with outdoor industry professionals.
Make sure that every social media account has the same name so that consumers can easily find you. This name should be your company name, rather than a generalized outdoor reference or an abbreviation. Every platform should have your website, a thorough explanation of your company, product, or service, and high-quality photographs and videos posted consistently. Hashtags that accompany posts are a great way for consumers to find you.
Last but not least, social media platforms run on algorithms so the more you're involved on those sites, then the more consumers will be sent your way. Commenting and interacting with your followers and other outdoor brands and companies will improve your ranking in the algorithm, as might Instagram or Facebook live sessions, product giveaways, paid social media ads, polls on Twitter, etc.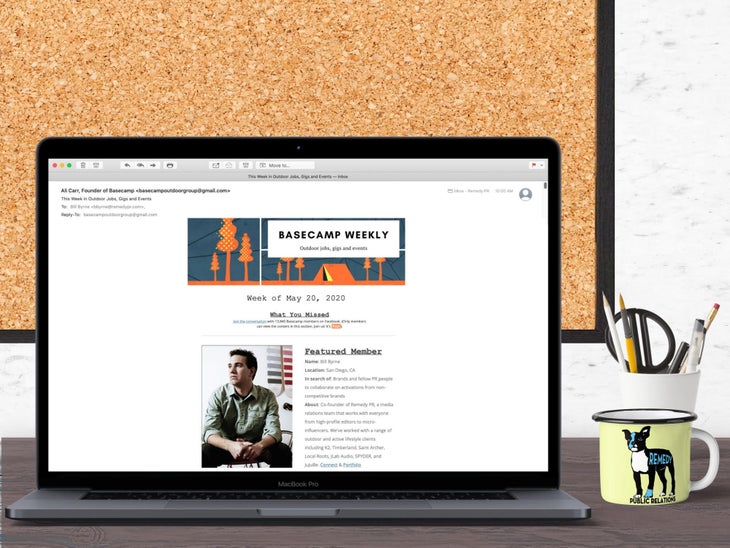 Case study on social media giveaways: Basecamp
Basecamp recently launched a new giveaway series and marketed it in its newsletter and Facebook group, which has a combined audience of 30,000 people. For February 2021, the prize was a shower towel and a keychain mask by Matador. 2,466 people entered the giveaway and far more were exposed to Matador's travel products. 
4. Compete in outdoor business competitions
The four outdoor companies who won the Moosejaw Outdoor Accelerator program—which aims to diversify entrepreneurship in the outdoors—received an extensive amount of marketing assistance as part of the prize. Not only did their products launch on Moosejaw.com and in Moosejaw stores, but the winners received a complete marketing and social media package, a featured article on GearJunkie.com, and an 8-week mentoring program that included marketing education courses. 
Case study on leveraging small business competitions: Teffley
Teffley, an outdoor superfoods snack brand owned by Kokeb Kassa, won the 2019 Title Nine Pitchfest. As part of Kassa's award, her company received marketing promotions through Title Nine's website and social media accounts. And Teffley snacks will soon be available in Title Nine retail stores. 
5. Target your marketing
Who is your audience? The simplest response may be anybody who loves the outdoors. However, that answer might not be in your best interest. Targeted marketing identifies niche audiences that are more likely to buy your product or utilize your service. When you recognize who your target audience may be, you can make more informed decisions about marketing initiatives, says the SEO team at BizCope.

To determine your target audience, think about your product or service and who really needs it. If you sell outdoor clothing made from recycled materials, perhaps your target audience is eco-conscious consumers. An outdoor snack that offers long-lasting energy is better suited to cyclists, runners, and adventure sports participants than those who take leisure hikes on occasion.
Once you know your key audience, you can target those audiences through specific hashtags on social media, online promotional ads, SEO, photographs or video, and when pitching yourself to media outlets.
Case study on targeted marketing: Alpine Parrot
Alpine Parrot founder, Raquel Vélez, recognized that the outdoor industry has not adequately served the plus-size community and BIPOC women. She's reaching these audiences through a marketing campaign, "This is My Happy Place," which features  plus-size women of color in the outdoors through original illustrations (see feature illustration at top of page) by Elayna Speight of Inked Designs. The campaign showcases that these women and their experiences in the outdoors are championed by her company.
Trending on Outside Online