Outside Business Journal
Real Outdoor Pants for Real Outdoor Women
Raquel Vélez turned a series of demeaning experiences in outdoor retail shops into Alpine Parrot, a brand committed to creating outdoor apparel for plus-size women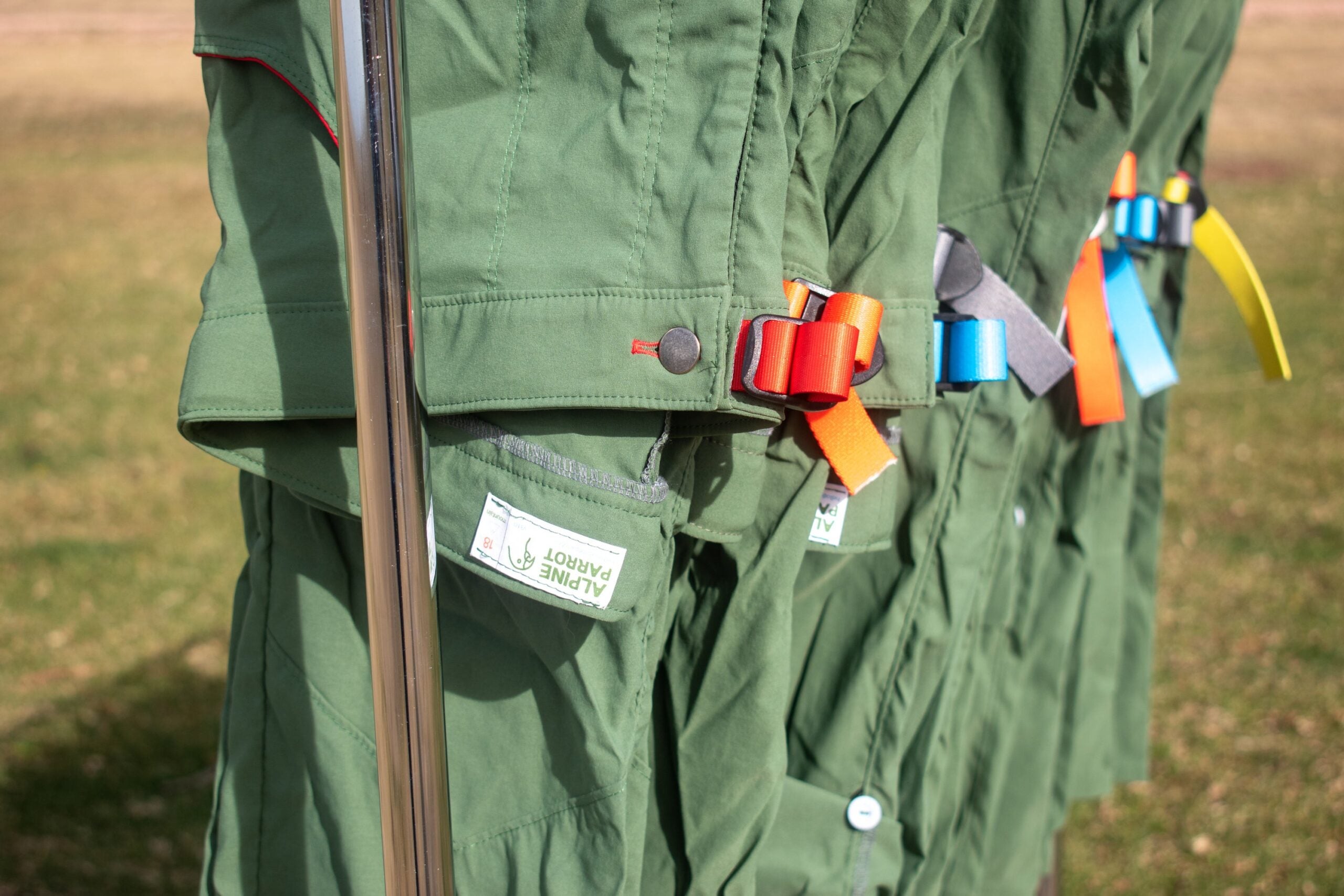 Heading out the door? Read this article on the new Outside+ app available now on iOS devices for members! Download the app.
After falling in love with skiing eight years ago, Raquel Vélez decided to invest in proper outdoor apparel. When she went shopping at her local REI, she could only find one pair of pants that fit her size-16 body.
"Salespeople look at you and they're like, 'No, you can totally fit in our largest size,'" she said. "Then you don't, and it's the most demeaning thing ever."
As her love for the outdoors expanded to camping, Vélez continued to have difficulty finding pants that didn't dig into her belly or hang low on her hips. 
Tired of feeling this way, she signed up for a sewing program to learn how to make her own pants. A year ago, Vélez left the tech world to start her own plus-size outdoor apparel company for women, Alpine Parrot. Vélez has spent the first year designing the pants and testing them on 33 different women sizes 14-24. Her first product, the Ponderosa hiking pants, will hit the market in August. She will be selling direct-to-consumer via her website but has been talking with various independent outdoor retailers about getting her pants in their stores. 
In the past few years, Vélez has gained a better understanding of the outdoor industry's perspective on plus-size women. I sat down and spoke with her about this and how Alpine Parrot's plus-sized apparel for women can make the outdoors more inclusive for people of size.
Do you think the outdoor industry is inclusive of plus-size women?
The simple answer is no. There are some companies that are starting to, but it's still nascent. I've looked at the data and 68 percent of American women are size 14 and up. The average size is 16-18. By not serving plus-size women, you're leaving two-thirds of your potential revenue on the table.
I've had conversations with people in the industry, who've told me, "When you're thinking about sizing, remember that when you get to the bigger sizes, people are going to be happy with anything." That's insulting.
You work up the courage to walk into a retail store, because you don't know enough to [search for outdoor clothes] online. You decide to go to an expert and then that expert tells you, "We don't have anything that fits you."
Those are physical barriers to entry, not to mention the emotional and psychological barriers. I can't control the psychological stuff. I can't change history, but if I can change access and then create spaces where I tell you that you are loved, then it becomes, "Oh, this is my place, I can be here, too."
I started the This is My Happy Place campaign to say, "We belong out here. Let's showcase ourselves." I've never seen another brand do anything like this before. With every other brand, there would be the one person of color in the shot or the one slightly chubby person who might have a little belly roll, but it's Photoshopped out. Don't Photoshop it. Let's celebrate it.
Is there an intersection between racism and fatphobia?
There's a very strong correlation between people of size and people of color. Fatphobia is rooted in the hatred of Black bodies. There's an excellent book, called Fearing the Black Body: The Racial Origins of Fat Phobia that goes into explicit detail about the sociological connections between racism and fatphobia. The high-level premise is that, in an effort to further separate white women from Black women, fatness was considered "bad." From a physiological perspective, there is a lot of evidence that shows that adults of various ethnic and racial backgrounds have a higher prevalence of "obesity" as compared to white folks. I put "obesity" in quotes because it still hasn't been made clear to me that it's actually a medical condition versus a way for medical professionals to engage in fatphobia.
The industry is trying to grapple with two things at once. You can't ignore one or the other; you have to grapple with them at the same time. However, the industry is still really white, skinny, and male.
Can you explain how outdoor apparel brands fail plus-size women in the design process?
These companies start with a size six. They make a pattern to fit their 'fit model,' the ideal person who's going to wear their stuff. They make the pattern, then they cut it up and spread it out to make the bigger sizes or overlap it to make the smaller sizes. It's called grading.
What some outdoor brands have done is taken their original sample size person, and then they're like, "Everybody keeps talking about plus sizes. So fine, we will scale this from a size six all the way to a size 18." When you're only focusing on sizes zero through 12, bodies tend to change similarly across the sizes. Once you get to size 14 and up, people start – this is generalizing – to grow in different ways. Now you have more variables which makes it much harder to figure all the shapes and sizes.
After discussing with our group of fit testers, we found that a lot of them didn't find it empowering to compare their bodies to different kinds of fruit. We wanted to come up with fit style names that felt both powerful and beautiful, while embracing the spirit of the outdoors we love so much.
What ends up happening is that the person who puts on the size 18, the sleeves are too long or the neckline is too wide. As humans, when our bellies get bigger, our shoulders don't. Our necks don't. When my thigh gets bigger, my ankle doesn't change.
So it's no wonder a lot of brands were like, "This is too hard. Nobody wants it. The market is not there." But they messed it up. If you're starting with bad assumptions, your result is going to be bad, too.
They claim it's a harder problem. I don't think that's true. I think they're not willing to put in the effort to start from a good set of first principles.
How does your design process differ? 
I started out by making the perfect hiking pants for me. Then I applied the "assumed" grading rules for all other sizes. I made one pant of each size, and then I went and found real humans in the Bay Area who span my size range of 14 to 24. I took a lot of pictures and figured out the fit. I worked with another pattern maker, who…helped me figure out how to make them better.
I found that we could generalize people's shapes into two main shapes. You might know them as apple and pear, but I don't like being referred to as fruit. I've renamed them, so we have "mountain," which is for people with a smaller waists and bigger hips, and "river" for people who have similar waists and hips.
I did another round with all those changes from the first round, and now I have six sizes of mountain and six sizes of river. Then I did another [fitting trip]. I had a fresh set of models and a group of models I'd worked with in the past who were a control variable. In the end, I [had] 33 fit models.  I'm putting these pants on real bodies. 
What has the initial feedback been like?
Do they fit every single person? No, and that's okay. My goal is to hit 80 percent of the market. I'm not going to hit 100 percent. I'm starting with sizes 14 to 24, but then I want to continue on and do 26 to 36.
The day that me and all my friends can walk into [an outdoor retail store] and find clothes that fit – not based on size, but based on color, style, and use – that's the day we all win. Until then, we're going to see more companies like mine popping up to say, "If you're not serving us, then we'll serve us."