Outside Business Journal
For Polar Explorer Eric Larsen, a Cancer Diagnosis Was the Toughest Challenge of His Career
After receiving a difficult diagnosis last year, Larsen drew on his decades of experience as an adventurer to fight the disease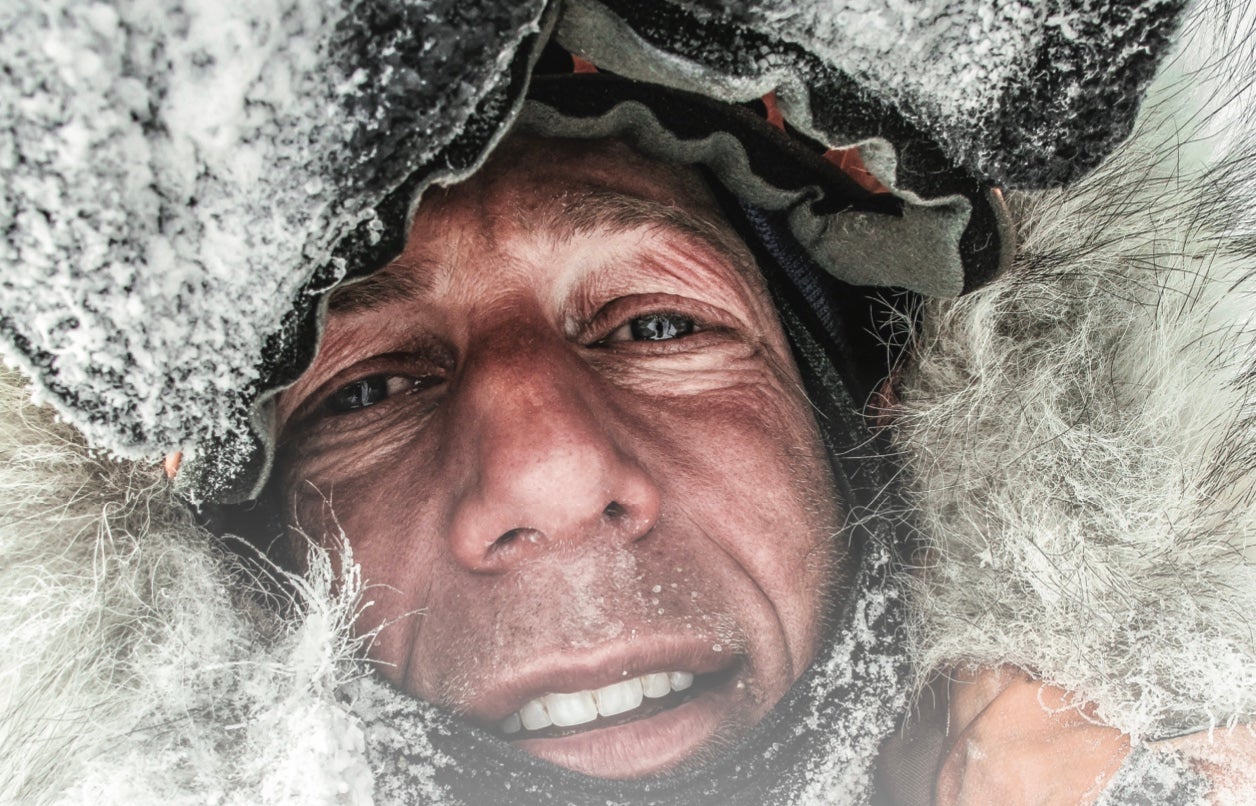 Heading out the door? Read this article on the new Outside+ app available now on iOS devices for members! Download the app.
Eric Larsen remembers March 22, 2014, as one of the hardest days of his life. Seven days earlier, he and his adventure partner, Ryan Waters, had set out from Northern Ellesmere Island bound for the North Pole. The temperature hovered at -35 degrees Fahrenheit, and they'd been making a demoralizing mile and a half of progress per day, stymied by having to drag 325-pound sleds over sandpaper ice. Then, on day eight, the duo woke up to a polar whiteout, their tent shuddering like a Yeti had seized its poles and wouldn't stop shaking. "We had 480 miles to go," Larsen said. With hundreds of thousands of dollars sunk into the project and years spent on planning, his fading shot at the Pole weighed heavily. He texted his wife, Maria Hennessey, "We're not going to make it."
He'd go back to that tent in a heartbeat rather than repeat another day of the chemotherapy he endured last spring: "anything is easier than chemo."
Larsen and suffering have been well acquainted for years. As one of the world's most accomplished polar explorers, he's journeyed to the North Pole six times—three times on full expeditions from land (including on that 2014 expedition, which he and Waters pulled off after all by cutting back sleep to four hours a night), and three as a guide. He's stood at the South Pole six times. Beginning in 2009, he tagged both poles and added a Mt. Everest summit within a 365-day period. Larsen is also a sought-after teacher and guide, leading others in the coldest reaches of the planet or training them to mount their own trips. He's been dunked in the Arctic Ocean, stuck in an Everest blizzard, and stalked by a polar bear. In other words, Larsen is one tough guy.
But of course, there's something about the words "You have cancer" that shakes even the strongest among us. Dogged by gastrointestinal issues and fatigue for months after breaking his collarbone mountain biking last summer, Larsen underwent a series of tests that led to a diagnosis of colorectal cancer in early January. "Everything came to a halt the day we got that diagnosis," said Hennessey, who founded the PR firm Smak Strategies. "I remember Eric saying, 'Next week I have a polar training course in Minnesota,' and the doctor was like, 'You have to drop everything.'"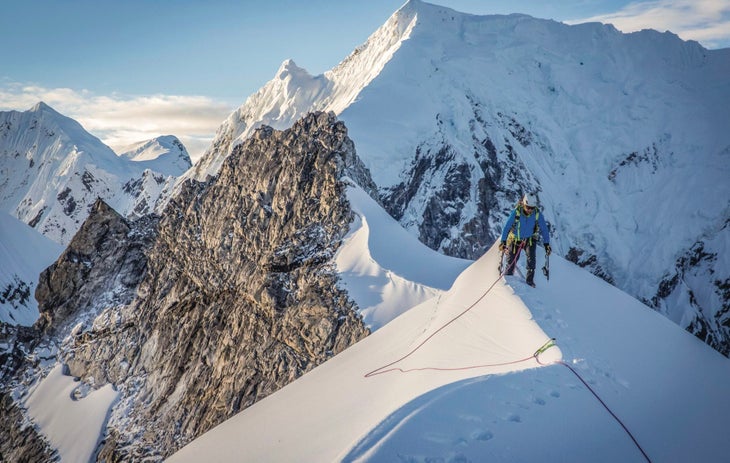 Larsen's initial diagnosis was presumed metastatic rectal cancer, stage IV, because scans also showed suspicious spots in his lungs. One oncologist told him he might have "several good years left." Shocked and terrified, he returned to his home in Crested Butte, Colorado, to figure out how to tell his two kids, eight-year-old Merritt and six-year-old Ellie.
In early February, Larsen went to Denver for an advanced lung biopsy that would definitively tell the family just how far his cancer had spread. "As they wheeled me into the operating room, I was nearly hyperventilating from fear," he wrote on CaringBridge later. "Tears were pouring down my face and into my oxygen mask." When he regained consciousness, a doctor stopped by to tell him there was a 95 percent chance the lung nodules were not cancerous. "I cried again—deep, long sobs, but this time with relief." The final analysis confirmed the cancer hadn't spread, dropping Larsen's diagnosis to stage III and putting him on a path for a cure.
Instantly, the scope of Larsen's globetrotting life narrowed to just one goal: beating the cancer. Besides canceling his winter training course, Larsen also had to pull the plug on his 2021 North Pole guiding season; a scouting trip across Svalbard, Norway, for a fat-biking guided trip he's developing; and journeys to Greenland and the Arctic National Wildlife Refuge. Nor could he confidently plan beyond this year; for a man who's constantly thinking two to four years ahead, the forced pause felt stifling.
And that was nowhere near the worst of it. Larsen started chemotherapy in nearby Gunnison a few weeks after the biopsy. This is what it felt like: "on a Tuesday, I go in and spend six or seven hours getting radioactive, toxic chemicals pumped into my body," he said. A pump stays attached to him for another 48 hours at home, dispensing more drugs. And he's completely knocked out with nausea and fatigue for Wednesday. And Thursday. And Friday. And Saturday. Larsen thought he knew what it felt like to be exhausted, but "You just don't understand this fatigue that's chemically induced," he said. "For me, not doing anything, not helping with the kids, just lying in bed—it's a low place. On all levels, it's the bottom: physically, mentally, emotionally, philosophically."
By Sunday, though, Larsen would start to feel better, and he'd have a "good" week at home with about 40 percent of his normal energy. He repeated the cycle six times, then headed to Boston for six weeks of radiation therapy at Massachusetts General Hospital. He tolerated it well, and returned home in early July. Next comes surgery to remove the tumor in his rectum, planned for early fall. After that? Impossible to say. Cancer is a debilitating slog toward an uncertain outcome. Kind of like a polar expedition.
Maybe there's no way to truly prepare yourself to fight cancer, but plodding across Antarctica has to come close. On his trips to the South Pole, Larsen made peace with moving through nothingness, inching forward in a frigid, monochrome world toward a dizzyingly faraway goal. "It's boring as hell," he said. "Sometimes it feels like a prison, like you're stuck in the situation. An expedition is managing big amounts of time and boredom. I call it the art of killing time."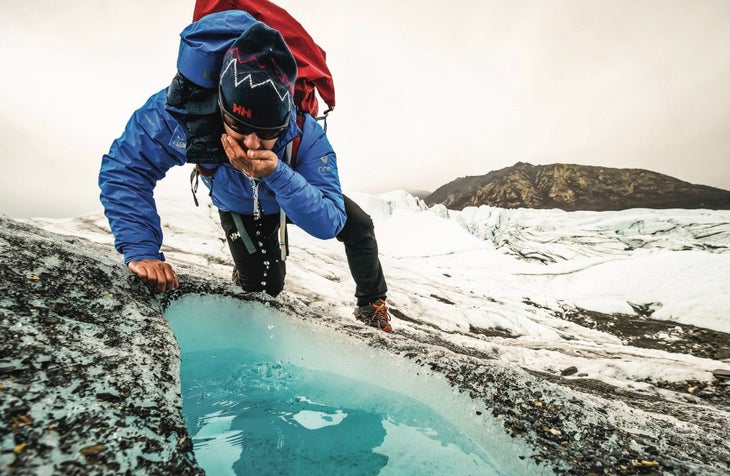 Larsen turned to a time-honored strategy on the ice: focusing on small interim goals rather than the overwhelming final objective, living mile by mile if not step by step. It's a skill that's served him well so far throughout cancer treatment. During the worst of his chemotherapy, Larsen shrunk his world down to its most basic elements: Just get through the night. Just make it to the bathroom. Just keep this bite down. Just wait out this hour. "Right now, I don't even know what's going to happen with surgery," Larsen said. "It's just so far away. On the Arctic Ocean, you don't know what conditions are going to be like, what you're going to feel like. You just hone in on these smaller objectives, and get comfortable with a lot of unknowns."
But just as the depths of despair are familiar territory for him, so too is the high that comes from pushing through them. "I don't necessarily like doing hard things," Larsen said. "I like getting through hard things. I spend so much time on expeditions hating life, really scared or tired. When you're at the lowest point, all you want to do is give up. But the feeling of empowerment you get from getting through that is just amazing—it's like a drug." At the lowest points of chemo, with days of crippling nausea and exhaustion ahead, he clung to the certainty that the high would come again. And it has, every time.
On the days he could get out of bed, though, Larsen had questions both practical and existential waiting for him. Like, what happens to a go-go-go adventurer who's forced to slow down and stay in one place? Was he even an adventurer if he wasn't planning the next expedition? And if not, then who was he? "If you stop moving, stuff stops happening," Larsen said.
Making a living as a polar explorer, at least for him, comes from about 50 percent guiding income, 30 percent sponsorships, 10 percent speaking fees, and 10 percent miscellaneous income, such as licensing video footage. Most of that vanished with the cancer diagnosis, including all but one of his sponsorships. Larsen doesn't hold it against the companies—many of his contacts have called to express their concern, and he knows brands have been hit hard by the pandemic. "They're businesses, I get it," he said, "and I'm not doing anything." The notable exception: base layer and accessory brand Seirus. "The only deliverable for us this year is that he gets healthy," noted director of marketing operations Danica Carey. Still, the change has been jarring. "Last year, I had this amazing year—presentations in Europe, selling video footage for documentaries, getting interviewed, commercials, guiding gigs, media trips," Larsen said. "Now I open my inbox, and it's nothing."
And in a salt-in-the-wound twist, one of chemo's side effects is temporary cold dysesthesia: a painful hypersensitivity to anything cold on the skin. "This cancer has taken away so many things," Larsen wrote on CaringBridge in early May. "My job, some of my sponsors, sense of hope (at times), physical abilities, and more, but it had to take my cold tolerance as well…that's like Superman not being able to fly."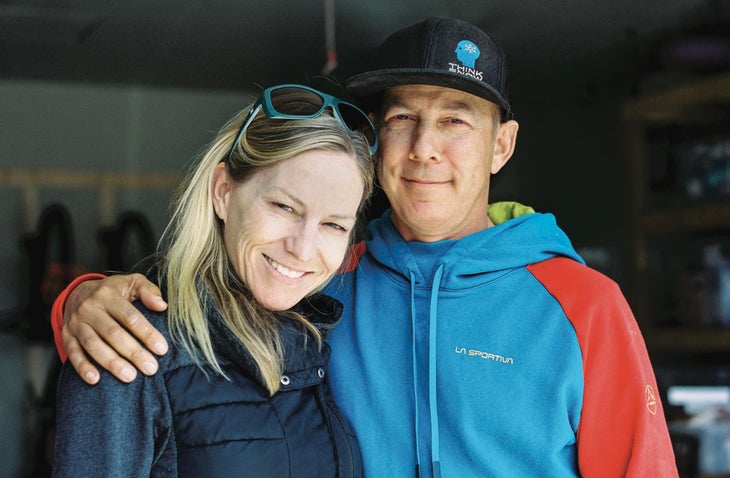 On the Arctic Ocean, Larsen lived by the mantra, "Where there's bad ice, good ice will follow. And where there's good ice, bad ice will follow." So he moves forward with treatment, day by day, mile by mile. And he looks forward, as much as he can, from under the cloud of uncertainty. "I still have this drive to do big expeditions," he said. "But the things I think about now are not necessarily my big achievements, but more when I've helped other people out." Now, he says, he's more focused on ways he might share his skills to make a difference for others.
Even before his diagnosis, Larsen had been thinking about creating a program to train Black athletes in polar travel—an idea inspired by one of his heroes, Matthew Henson, a pioneering Black adventurer who explored the Arctic around the turn of the 20th century. As his energy returned post-chemo, Larsen started developing a camp to teach aspiring Black, Indigenous, and people of color (BIPOC) adventurers polar exploration and guiding skills.
And Larsen's public speaking engagements already focused on dealing with crises and overcoming adversity. "Without jumping the gun too much, I feel like the diagnosis and this experience has the opportunity to open doors with his business," Hennessey said. "When he's on the other side of this, the perspective he's gained and the hindsights he can impart will be an opportunity to connect with and inspire more people."
It's hard to see the future clearly from here, down in the depths of the journey. But the high beckons. Good ice will follow. It's a path Eric Larsen has walked before.