Outside Business Journal
How 5 Outdoor Brands Conquered Their Supply Chain Issues
The pandemic created—and exposed—broken links in the global supply chain. Here's how five outdoor brands navigated those hurdles.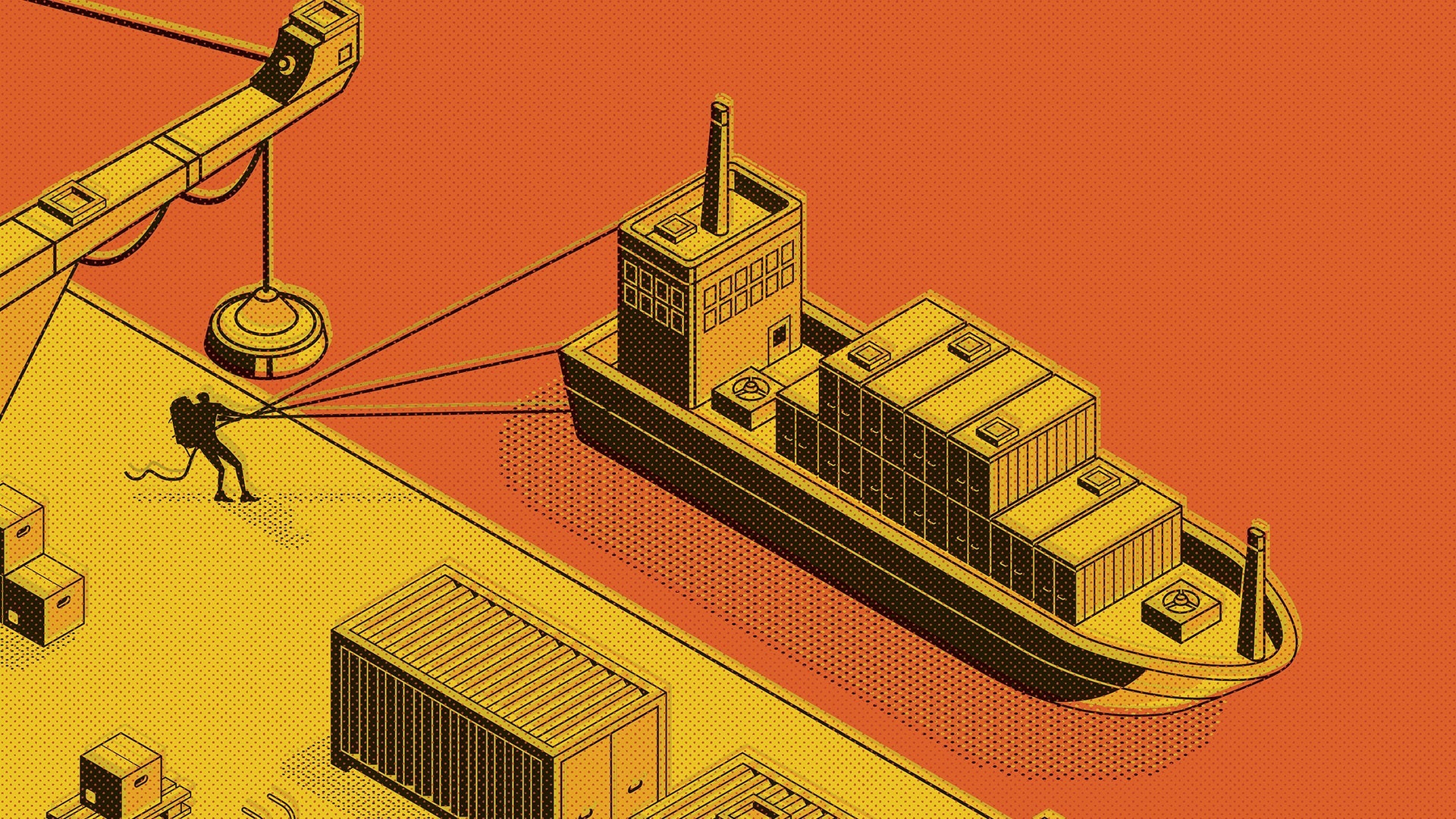 Heading out the door? Read this article on the new Outside+ app available now on iOS devices for members! Download the app.
Labor shortages, inventory delays, transportation bottlenecks: much to the frustration of disgruntled consumers everywhere, these are the day-to-day struggles that outdoor brands of all sizes have faced since the pandemic began. Painful supply chain disruptions have piled up across the globe, with companies being forced to scale back or shut down entirely. And the turmoil can't be traced to a single source because each hurdle is intimately intertwined with the next.
Analysts predict that these troubles could last into 2023. To survive, businesses must continue being patient, creative, and flexible. Here are five case studies in resourcefulness.
1. Youer: Got the Community Invested in Its Business Plans
In 2020, Mallory Ottariano, founder of the Montana women's activewear brand Youer, experienced five traumatic business events: first, personnel complications cut her team of four in half. Then she closed down her brand's office in Montana, was dropped by her only factory in Oregon, forfeited seven months of inventory, and filed a lawsuit to fight a vendor's six-figure misuse of material. She had no choice but to return to her home's basement office for some serious reflection, which included considering bankruptcy. "I just hunkered down and figured out, how do I make it through this?" she said. "Do I make it through this? Do I want to make it through this?"
The answer was yes—with reimagined operations. To streamline control over her business, Ottariano plans to open Montana's first athletic apparel factory in 2022. To raise the capital, she launched a crowdfunding campaign in September and dubbed it Community Supported Apparel in a nod to the agricultural term Community Supported Agriculture, or CSA. In October, she surpassed her goal: bring in $100,000 for a down payment on a building or property somewhere in the greater Missoula region. While she searches for the right spot, one that's airy and bathed in natural light, she's getting other details sorted, like employee roles and schedules. A Youer-owned factory, especially one that's in close proximity to the actual business operations, is the first step toward vertical integration, which will give the brand greater authority over materials, timetables, and hiring. Eventually, Ottariano plans to migrate production away from her current factory partners in California and Oregon to bring everything entirely in house. In the meantime, she'll transition the lower-volume garments first.
Finding partners solely in the U.S. has been a massive pain point for Youer and many other small, USA-made brands. Production has largely moved overseas over the past 50 years as brands capitalize on cheaper labor and materials. The domestic factories that have found a way to make it work are highly sought after, and therefore limited in capacity. Once Ottariano gets her location up and running, her vision includes becoming a resource for other local and women-led outdoor brands.
Having her own factory will also allow her to pull back the curtain on the manufacturing process to educate customers—a process she started by sharing about Youer's situation with her friends and followers on social media. After all, they helped fund the project. Which, Ottariano says, helped her see that her fans are invested in what goes on under the factory's roof, especially now that they realize how the supply chain trickles all the way down to the consumer. "When I didn't have anything to sell, I didn't have any product to talk about; I just started telling stories about what I was going through and what the world was going through," Ottariano said. "I realized that very few people understood how things ended up on their doorstep."
Ultimately, Ottariano shifted her perspective on the business. "I abandoned this idea of being a mega growth- and revenue-focused gazillionaire," she said. "Instead, I want to be a small, profitable, locally made, well-made, vertically integrated company that has complete control."
2. OrthoLite: Created a Risk-Management Plan Early to Avoid Surprises
When the pandemic hit, OrthoLite was ready. "They say hope for the best, plan for the worst," said Chief Sales Officer CB Tuite. "We had always been planning for the worst." Having been fully vertically integrated since 2008, the performance insole company began strategizing risk management long before COVID was a threat. For example, the company began expanding its footprint to control its means of production when global influences—geopolitical tensions or natural disasters—would impact the location and needs of its partners. By opening in the same countries as shoe brand producers that purchased from OrthoLite, the company was able to maintain a "local-for-local" chain and avoid delays that plagued other supplier relationships.
As of fall 2021, the company owns and operates 10 factories, giving it the latitude and cushion to flex as COVID-related disruptions surface. When one location pauses, another location picks up the slack. The forethought to create a nimble, adaptable structure has led to unprecedented success for the ingredient brand, which supplied insoles to more than 550 million pairs of shoes in 2021. "We're going to have a record-setting year on top of a record-setting prior year," Tuite said, "which most companies can't say."
OrthoLite's locations in Europe, China, India, Vietnam, Indonesia, Brazil, and elsewhere cover the entire supply chain, from the proprietary chemistry and foaming to the finished insole packages they provide to 400 partner brands. Outdoor companies like Arc'teryx, Eddie Bauer, Keen, L.L.Bean, and Merrell choose from hundreds of insole formulations to create customized footwear. They can either purchase sheets of foam to die-cut themselves or opt for entirely molded insoles.
While production on OrthoLite's end has been going smoothly, Tuite said the brand isn't immune to supply chain curveballs when it comes to demand planning. For instance, gauging the right amount of chemical raw materials to fulfill insole orders and predicting timing becomes tricky when partner brands facing their own disruptions shift their order schedules and volumes. "The last thing we want is to have [a partner's] production held up because an insole is late," Tuite said. "It's supercritical to not only deliver quality, but deliver on time."
Vertical integration and savvy absorption strategies help control those fluctuations. To wit: at any given time, each of OrthoLite's factories intentionally operates at 50 t0 60 percent capacity, Tuite said, meaning they can double production depending on what their partners need and what's going on in the world. Even though establishing manufacturing redundancies is capital intensive, OrthoLite's astute risk planning ensures the financial stability and partner trust necessary to weather the pandemic. "When you own the means of production, you own your destiny," Tuite said. "That way, we can protect the brands we work with."
3. SylvanSport: Made New Friends While Keeping Old Ones
When SylvanSport began making trailers almost 20 years ago, founder Tom Dempsey started from scratch. To turn a sketch into reality, he and his team vetted component suppliers domestically and across the globe to source tires, wheels, glass, aluminum, steel, fabrics, molded plastics, electronics, and more ingredients for towables like the ultra-light Go camping trailer and the Go Easy kayak trailer.
In many ways, Dempsey said, the current supply chain challenges remind him of the business's early years: his team is again sourcing ingredients from the ground up. On a weekly basis, engineers and developers are finding new substitutions and solutions to circumnavigate delays with their usual components. "We look at the last two years and say this is not nearly as hard as what we went through to get the company going," he said. "But it's different."
One of the brand's guiding principles is to source as locally as possible within and around North Carolina. But some components, like tires, are simply not made in the U.S. So when its tire partner overseas couldn't deliver supplies on time, SylvanSport started from scratch again. It found a replacement of equal quality from a seller online and asked a local tire shop to help mount the differently configured tires to trailers. It was one of many temporary solutions SylvanSport implemented to get campers delivered to customers on time. Notably, it never canceled its requests with the original partner. "We haven't had some of those wheels and tires for most of a calendar year now, but we still have those open orders with our suppliers," said Patrick Kennedy, SylvanSport's vice president of operations. "We still talk to them every few weeks to see what the status is. It really isn't our intention to drop those relationships."
Those relationships took decades to foster and maintain, he says, and switching cold turkey to a new permanent supplier wouldn't fix the broken link anyway because any replacement supplier would likely be dealing with the same issues. SylvanSport also can't buy products just anywhere. "[Our components] are highly customized, so it's not the sort of thing that a new supplier can pick up easily," Dempsey said. "Our volume is such that even if we tried to do that, the new supplier would probably say they're too busy, too."
Meanwhile, Dempsey applied a few ideas to keep customers engaged despite the delays while SylvanSport sourced alternatives. The first is a loaning program, in which customers waiting for campers can use SylvanSport's demo fleet on their vacations. Then, a buyback program: owners can sell their trailers back to SylvanSport, which will return them to the factory for refurbishing and then sell them to customers in line at a discounted price.
Ingenuity is at the core of the company, Dempsey said. That's what has allowed the team to broaden its horizons and challenge current processes without burning bridges. Someday, its original supplier relationships will (in theory) rebound. The upshot: with a network of old and new suppliers, SylvanSport's supply chain could be more robust and multilayered than ever.
4. Nomad Grills: Bet Big on Early Inventory to Clear Waitlists
Startups like Nomad Grills navigate a unique path during supply chain turmoil. Having an overflowing waitlist is typically a good sign for a startup because it proves there's demand. But while customers are usually forgiving and patient when it comes to new businesses, they're also only willing to wait for so long. So when Cam Leggett and John Veatch debuted Nomad Grills in mid-2020 and almost immediately found themselves buried in backorders, they worried that fans were already waiting months for their high-end portable grills.
As grillers themselves, the duo had been working on the concept since 2016, when they became frustrated with cheap grills that rusted out, cracked, and fell apart halfway between Memorial Day and Labor Day. The two spent the next several years creating a prototype, but encountered a lack of availability and interest from potential partners in North America and Europe. After a multiyear search, they eventually partnered with one contract manufacturer and 11 suppliers, all based within close proximity right outside Hong Kong.
The resulting 28-pound, anodized, portable grill and smoker retails for $600. With 425 square inches of cooking space and a specialized grate, one might call it a holy grail for grill geeks. "There's nobody making grill parts with the same geometry," Leggett said. With nothing like it on the market, avid grillers were understandably eager for their own—especially as attitudes around outdoor entertaining shifted during the pandemic, catapulting demand to unprecedented levels. "Everywhere we looked there were supply chain issues," Leggett said. "We strategized, did some soul searching, looked at where our goals were for the business, and decided that we would satisfy demand as quickly as it was rising. We made a big bet."
Five months after launching, the entrepreneurs placed their second and largest order with their factory in China. While they won't share exact numbers, they say the order was ten times the inventory they had at launch, a portion of which they expedited to their base in Dallas to clear backorders.
Betting big is part of any startup, but their wager, with the help of investors, was above and beyond. Most startups work with lower volumes at first to mitigate loss and gradually expand over years. However, the current supply chain hang-ups mean that regularly paced orders are more vulnerable to delays. Veatch and Leggett preferred to head off that possibility from the get-go.
In their case, taking the short-term margin hit guaranteed long-term prosperity for the brand—even though it surprised their investors, banker, manufacturer, and sourcing partners. "We're now sitting here as one of the fortunate few flush with inventory," Veatch said, noting the relief right before the holidays. It also cleared hundreds from the waitlist.
Like any smart business, as Nomad Grills grows its presence in the market, it's diversifying its supply chain and ramping up production to meet sales forecasts for 2022. Gambling, after all, is rarely advisable long term. But for this fledgling strategy? Jackpot.
5. Erem: Tracked Weak Links with Specialized Technology
Noah Swartz wouldn't settle for nylon thread. The founder of new desert boot brand Erem knew that with patience—and what ended up being a three-month delay in launching—he could teach a factory to use more sustainable linen thread on its outsoles. It was just one part of his pledge to make the startup as biocircular as possible by vetting every ingredient in its supply chain.
In a time of extreme logistical challenges, it isn't easy to find partners who are as committed to sustainability as Swartz is. So, he turned to Toxnot, a software company that identifies chemicals and materials of concern, to make Erem's supply chain as transparent as possible. The technology works like a fact-checking intermediary: a company uploads a list of parts to Toxnot, and the system generates a questionnaire for suppliers to answer about parts' chemicals. Next, Toxnot compares the chemicals to regulatory entities like the California Proposition 65 list to help both sides better understand what's going into a shoe or jacket. Then, Toxnot culls that data into a report to automate the process for the next time a part is in question. An extension of the platform called Toxnot Exchange serves as a database of sorts that will allow suppliers to safely grant "materials passports" to partners requesting their data.
"We've ruffled a few feathers by insisting we receive a complete ingredient list," Swartz said. "But it's a very important practice because there have been a few times where the top ingredients make the product seem supergreen and wonderful, but in reality, there is actually a pretty nasty ingredient that is buried and hiding in there." That knowledge, in theory, can help spark the search for a supply chain substitution—like linen thread.
Working with Toxnot also helped him approach manufacturers who were equally willing to invest time and energy into sustainable innovation and materials. Those partners were therefore more likely to prioritize Erem as a long-term relationship—not one that the factory would want to cut loose when times get challenging. Solidifying these partnerships for the long haul helps builds a line of defense against supply chain hiccups.
The upshot is that Erem's hiking boots are made with natural, fully biodegradable components, and Swartz knows exactly what goes into them. As much as he's transparent with customers about those materials, he's also open with other startups. If a brand asks, he'll provide names of suppliers with sustainable options because the industry doesn't make that knowledge easy to come by. "We're all trying to pursue the same [sustainability] goals," Swartz said. "How do we build a coalition of suppliers and brands all chasing this better supply chain reality?"
Both Swartz and Toxnot cofounder Pete Girard imagine a cleaner, stronger manufacturing world that eliminates people's exposure to hazardous materials at all stages, from the creation of the product in factories to its existence in homes to the end of its life in landfills. "The waste and use trajectory of products is set when we design them," Girard said. "We must reorient our supply chains around more sustainable, more circular models." And transparency, he said, is a crucial means of strengthening those chains: "If you don't know what's going into your product, it's really hard to think about potential disruptions and get in front of them."