Outside Business Journal
Kaya, the 'Climber's App,' Has a New CEO
Kim Ang, the new chief executive KAYA, has big plans for the future of the company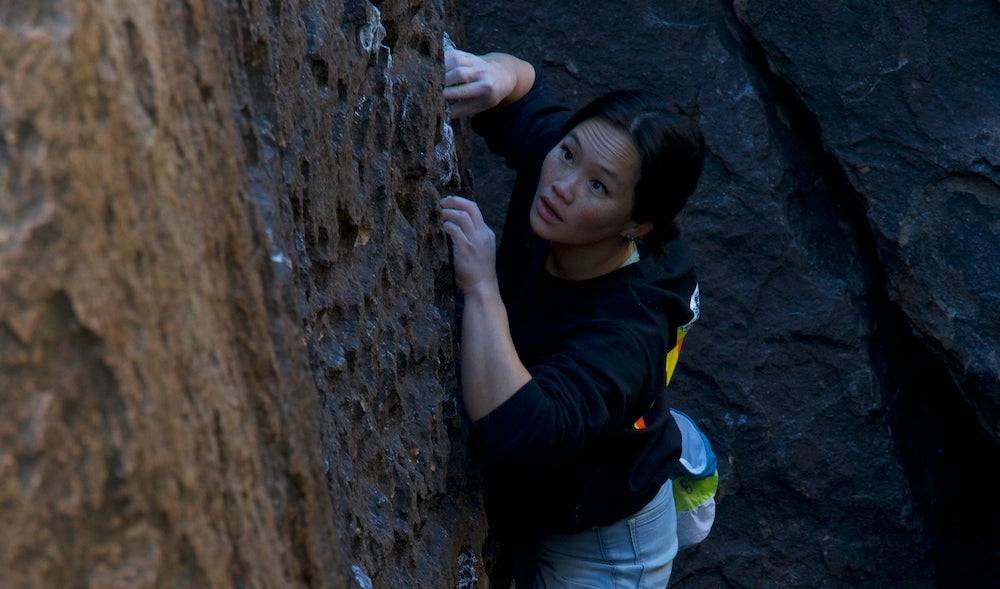 Heading out the door? Read this article on the new Outside+ app available now on iOS devices for members! Download the app.
Founded in 2019, Kaya bills itself, with a healthy measure of new-kid-on-the-block confidence, as "the climber's app"—the definitive platform for climbing devotees of all stripes to log routes, developing training plans, and connect with fellow practitioners of the sport. It's a new business, still focused on growing its user base, but has nearly $4 million in seed funding in the bank and imminent plans to launch a premium version of its (currently 100 percent free) model.
It also has a brand-new CEO.
Kim Ang, part of the original founding team at Kaya, took over as the startup's chief executive this month. Outside Business Journal got on the phone with Ang this week to chat about the company, her transition to CEO, and why the climbing community needs a tool like this now more than ever. An edited transcript of our conversation is below.
How did you come to climbing originally?
I like to call myself the most regular climber on our entire team. At Kaya, we're 12 extremely dedicated climbers and we have a wide variety of folks represented: level-five route setters, climbing coaches, and even a former USA Climbing National Team member. There are some pretty elite climbers here. For me, I came into it much more like your average, casual enthusiast. I experimented with it a little bit in college, but only really fell in love with it when I started climbing at the Mission Cliffs gym in San Francisco. Around 2016, it just started to blow my mind, the whole lifestyle and community around climbing. I fell more and more in love with it over time.
What did your career look like before Kaya?
The last big chapter in my career was at a company called IDEO, a global design and innovation firm. I started there in a business development role, but over four years came closer and closer to the design side of things—in particular, what IDEO calls "venture design," which basically involves bringing products, brands, and services to market. After doing that many times over, as lots of folks do in consulting, I started to to ask myself, when am I going to do this [venture design] for something I'm really passionate about? That really began my hunt for a next chapter. When I started exploring jobs, I took a climbing trip with a close friend of mine who was the original CEO and founder of Kaya, Austin Lee. We were out in Red Rock in Nevada. I remember driving around, getting to the crag, talking about our climbing projects, and I started to think, maybe this is the next thing. After that, I started working at Kaya part time, on a consulting basis.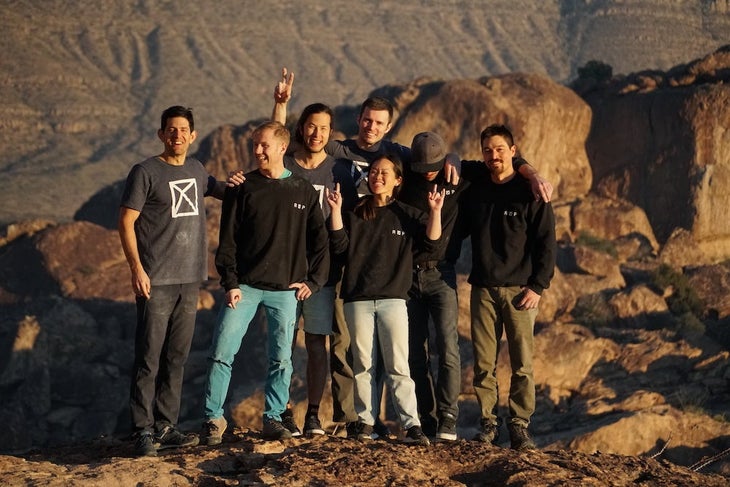 How did your path eventually lead to CEO?
After we raised our original seed round of $1.2 million, we dove right into building the product and launching the beta, which included about 35 climbing gyms at the time. After that, through 2020 and all its COVID challenges, we experienced a lot of growth. We went from 35 to 230 partner gyms. We've become the exclusive digital competition partner for USA Climbing, we've run hundreds of events through USA Climbing and our gym partners, and we've raised our second seed round of $2.5 million. Along with that transition—as kind of a new chapter for the company—we're making this executive leadership transition as well.
How do Kaya's gym partnerships work?
Out mission at Kaya is always in service of the climber's experience and progression in connection to the sport. Gyms are an invaluable partner to us in that regard. We give our entire platform to gyms for free. Through the app, they can make use of our route-setting management software, run challenges to engage their climbers, and use the platform to push beta circuits and instruction. We offer that to them for free in exchange for simply engaging climbers in the sport. It's a very symbiotic relationship, and for that reason, we're unlike all the other climbing apps out there.
To that end, we welcome anyone who wants to partner with us, whether they're gyms, local climbing organizations, or other types of climbing groups. We just had a very successful pilot competition with the Southeastern Climbers Coalition and we're about to launch several more partnerships with local climbing organizations, as well as some national initiatives with USA Climbing and the Access Fund.
If both gyms and users can access the platform for free, how do you plan to generate revenue once the community is large enough?
Our next big project is going to be the launch of Kaya Premium, which will come out in late July. It's going to be a whole suite of analytics-driven features to help you enhance your performance and your understanding of yourself as a climber. It will also offer you tools to discover the right type of climbs for you, personally, indoors or outdoors.
At the same time, there will always be a community resource available for free. Right now, if you go onto the app and search for any climb, you can basically find all the beta in the world pulled into one place. If there's beta on Instagram, on YouTube, on Vimeo, it's all pulled into Kaya. All of that will remain free, and then the premium model will focus on helping climbers improve individually.
So there's a lot coming in terms of the product. But that's just one piece of it. In terms of my personal mission for the company, we're also very focused on building inclusivity in the sport of climbing. Something that has been really important to me and the whole executive team is to carry a torch for what the future of climbing looks like, feels like, and who it involves.
What kind of strategies and initiatives are you using to build diversity in the sport?
When the Black Lives Matter movement had its resurgence last year, we got together as a team and wrote The Climbers Pledge, which is a series of commitments and actions that individual climbers can take to make themselves real allies in the push to diversify the climbing industry. That pledge was launched alongside a fundraiser for The Brown Ascenders. We raised almost $40,000 for them, and we had most of the big names in climbing sign the pledge. Since then, we've continued to speak out as things have arisen. We've been vocal.
On top of that, diversity has been a core part of how we built the Kaya Collective, a group of athletes, ambassadors, and coaches who represent us. We're featuring climbers who might look different from the folks traditionally featured when it comes to climbing media. That's a big part of why I'm excited to step up and lead. I don't know of many other Asian female leaders in our industry. They might be out there, but I haven't gotten the chance yet to connect with them. I really hope that if we can tell more stories about people of color—and about women of color leading in the industry—we can begin to change the narrative.
What I know is that when I joined this team and started working in the climbing industry, I was shocked at how few other people of color I got to work with on a daily basis. I come from a relatively innovative and diverse industry background. When I started working with Kaya—even though I had the most well-intentioned, allied co-workers—it didn't change the fact that on a day-to-day basis, pitching hundreds of gyms and brand partners, I felt, in some ways, pretty alone. So this diversity and inclusion work, finding people in the industry who are committed to changing the future of the sport, it's been a personal lifeline for me, too. Getting to roll up my sleeves and do this work has been instrumental for my own journey.
This year, the Olympics will include climbing competitions for the first time. Do you have anything planned to coincide with that development?
We have some stuff cooking up. I can't disclose it quite yet, but we're certainly aware of the opportunities around this year's Olympics. One thing I'll tease on that front is that we'll be launching the first-ever adult recreational competition in partnership with USA Climbing and the Access Fund. It will involve indoor and outdoor competitions, launching right around the time of the Olympics. So be on the lookout for that.