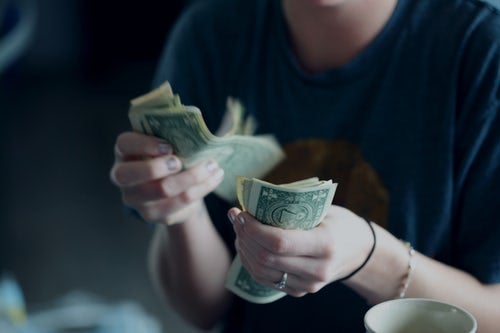 Heading out the door? Read this article on the new Outside+ app available now on iOS devices for members! Download the app.
Four years ago, Marie*, a lifelong outdoor enthusiast, turned her passion into a full-time position at a Vermont outdoor retailer. But now, even after being promoted, she still finds herself taking dog-sitting gigs just to make ends meet.
Marie started her retail job on salary, earning the equivalent of less than $12 per hour. But you'd need to make at least $17.69 per hour to afford to rent even a studio apartment in her hometown, according to the National Low Income Housing Coalition.
"I definitely think we should be paying people what it takes to live in their area," Marie said. Despite being a manager, she added, it's still not enough. "And I don't even have a kid."
But boosting wages can be easier said than done. Dana Davis, who owns Tucson's Summit Hut, said Arizona's recent increase in minimum wage, to $12 (by 2020) from $8.05, has proved a financial challenge for her shop. That's partly because they already started employees out above minimum wage.
Davis notes that if new employees are coming in at $11, which had previously been the pay rate for more senior employees, more senior staff will understandably expect a raise: "It ends up being an across-the-board increase, which is difficult to sustain."
*Marie asked that we not use her real name, as she is still an employee.
Davis emphasized that she wants to pay employees well, but balancing that with profitability can make weathering wage bumps like the one in Arizona tough to manage.
On the other hand, argue some retailers, higher wages can pay off in the long run. Jim Frank, whose family has owned Ozark Outdoor Supply in Little Rock, Arkansas since 1986, said he's found that competitive wages translate to loyal staff with low turnover. When Arkansas voters approved a state minimum wage hike to $11 per hour last year, Frank wasn't too concerned. "We rarely start anybody out below $9.50 or $10 per hour," he said, which means he has a stable of experienced employees and doesn't lose time and money training new workers.
Townsend Bertram & Company, a retailer and outfitter in Carrboro, North Carolina, is an early adopter of a local effort to certify businesses for paying a wage high enough to allow employees to afford to live in the cities where they work. The program is administered by Orange County (NC) Living Wage, which partners with businesses to help find ways to increase payroll while still staying solvent.
To get the certification, TB&C needed to get all of its employees to $13.70 per hour. General manager Taylor Dansby, who has worked there for nearly 12 years, led the charge. He said longtime employees were already above the required pay, and the shop freed up cash for the rest by limiting his and other leaders' hours and consolidating back-office roles (no one was fired to do so.)
One more perk of the living wage certification: when employees make higher wages, they also have more cash to spend at restaurants, coffee shops, and other local establishments, said brand manager Betsy Bertram. "You're investing not only in your own team, but also in all the local businesses around you."