Outside Business Journal
The Business Case for Upcycled Gear
More brands are reducing waste by selling used and upcycled gear. It's good for the environment, but it's also good for the bottom line.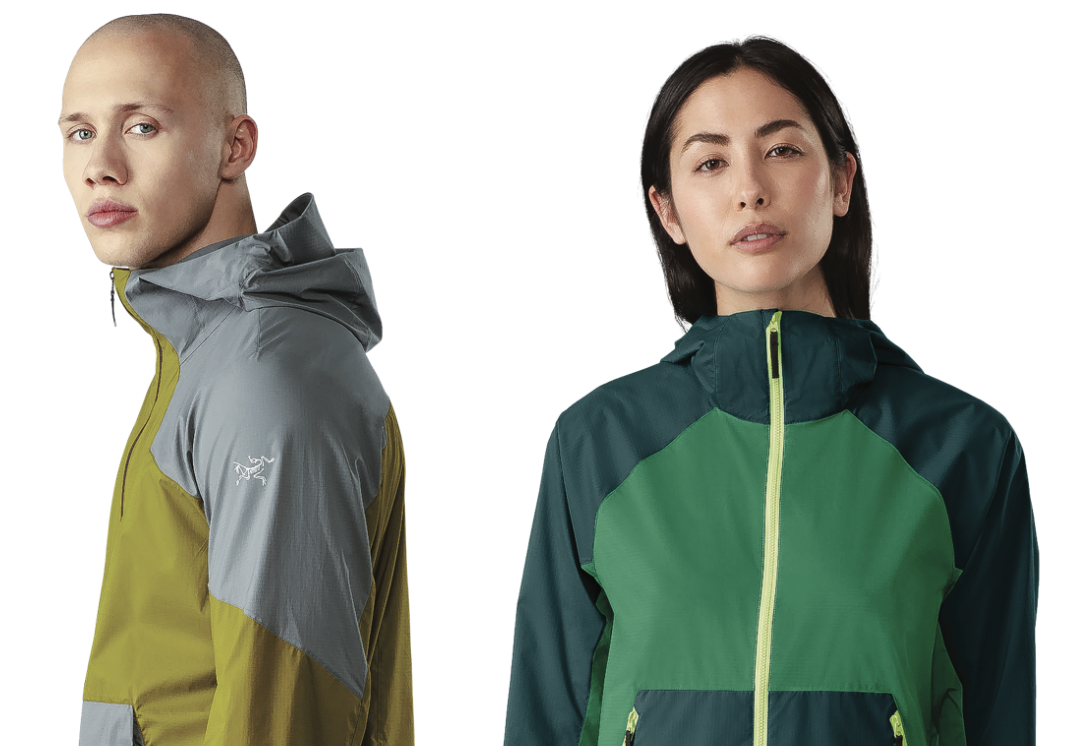 Heading out the door? Read this article on the new Outside+ app available now on iOS devices for members! Download the app.
One day last summer, Anne Wiper, Smartwool's vice president of product innovation, found herself in her kitchen, jamming old socks into her Cuisinart. On average, a garbage truck's worth of textiles is thrown away every second, and Wiper knew that socks are one of the most discarded items. She wanted to see what would happen if she blended some up. What would the consistency be? Could they be repurposed into something new?
Dozens of outdoor brands have been exploring creative ways to keep their gear out of landfills, either by upcycling scrap material into new items or by collecting, repairing, and reselling used products.
"There's business value and environmental value," said Amy Horton, senior director for sustainable business innovation at Outdoor Industry Association. "The outdoor industry is in a unique position for reuse. We make gear that's meant to last a long time and stand up to quite a bit of wear and tear."
The concept of upcycled outdoor gear goes back at least to 2009, when JanSport launched a collection of backpacks made from the scraps of old packs returned under warranty. Since its founding in 2014, Cotopaxi has made scrap materials part of its aesthetic. In 2019, Patagonia launched its ReCrafted program, making new products from remnants of its old clothes. This spring, NEMO introduced the Chipper, a foldable seat cushion made of foam scraps reclaimed from its sleeping pad production, and Fjällräven announced a collection called Samlaren (Swedish for "gatherer"), which uses surplus fabric to make funky, multi-toned jackets, backpacks, and totes. The trend is gaining traction in tech, too. In March, a British sustainable design company called Gomi launched a portable speaker made from the repurposed battery cells of Lime e-bikes.
"It's great to see all of these brands piloting ways to reclaim materials and remanufacture them into something else," Horton said. "But to really scale it throughout the industry you have to think about whole new business models that allow you to grow without being dependent on making new stuff from new materials."
And that's precisely what many outdoor companies are trying to do. No brand has turned upcycling into a cash cow as of yet, and the collections are typically small, niche, and short-lived. But the potential is there: the Ellen MacArthur Foundation estimates that $100 billion worth of textile fibers are thrown away each year. Upcycled products can also appeal to a broader customer base—Fjällräven's Samlaren collection, for example, is sold at retailers like Nordstrom and Urban Outfitters.
This pursuit of circularity—where a product is kept in use for as long as possible and then recycled—is accelerating in the outdoor industry. In 2019, the resale market grew 25 times faster than traditional retail, according to GlobalData Retail. Younger consumers are especially drawn to secondhand stuff. Traditional retailers like REI have vast inventories of used gear, and third-party vendors like Trove and The Renewal Workshop help brands refurbish and resell their used apparel and gear.
"Each one of our products has a footprint," said Corey Simpson, communications manager for Patagonia, which launched its Worn Wear program in 2017. "We want you to buy it for the right reasons, care for it, repair it when needed, and give it back to us at the end of its life for recycling." In May, Arc'teryx announced its ReBird platform to sell used, repaired, and upcycled gear. "It's a growth opportunity," said Katie Wilson, Arc'teryx's senior manager for social and environmental sustainability. "And it's legitimately good for the environment as well. I hope we can transform ourselves into a business that does more good the more we grow."
As for Wiper's blended-up socks, turns out they make great stuffing. Smartwool collected tens of thousands of old socks and will use them to make dog beds it will sell come fall. It's the pilot program of the brand's sustainability road map that envisions 100 percent circularity by 2030.
"This is just the beginning," said Alicia Chin, Smartwool's senior manager of sustainability and social impact. "We want to spin old socks into new yarn to make beanies, gloves, and even new socks."
Sometimes moving forward looks like going around in a circle.