Outside Business Journal
Trend Report: The ROI on Plus-Size Gear Is Hard to Ignore
Outdoor brands are finally starting to see that building clothing and gear in plus sizes is a boon for the bottom line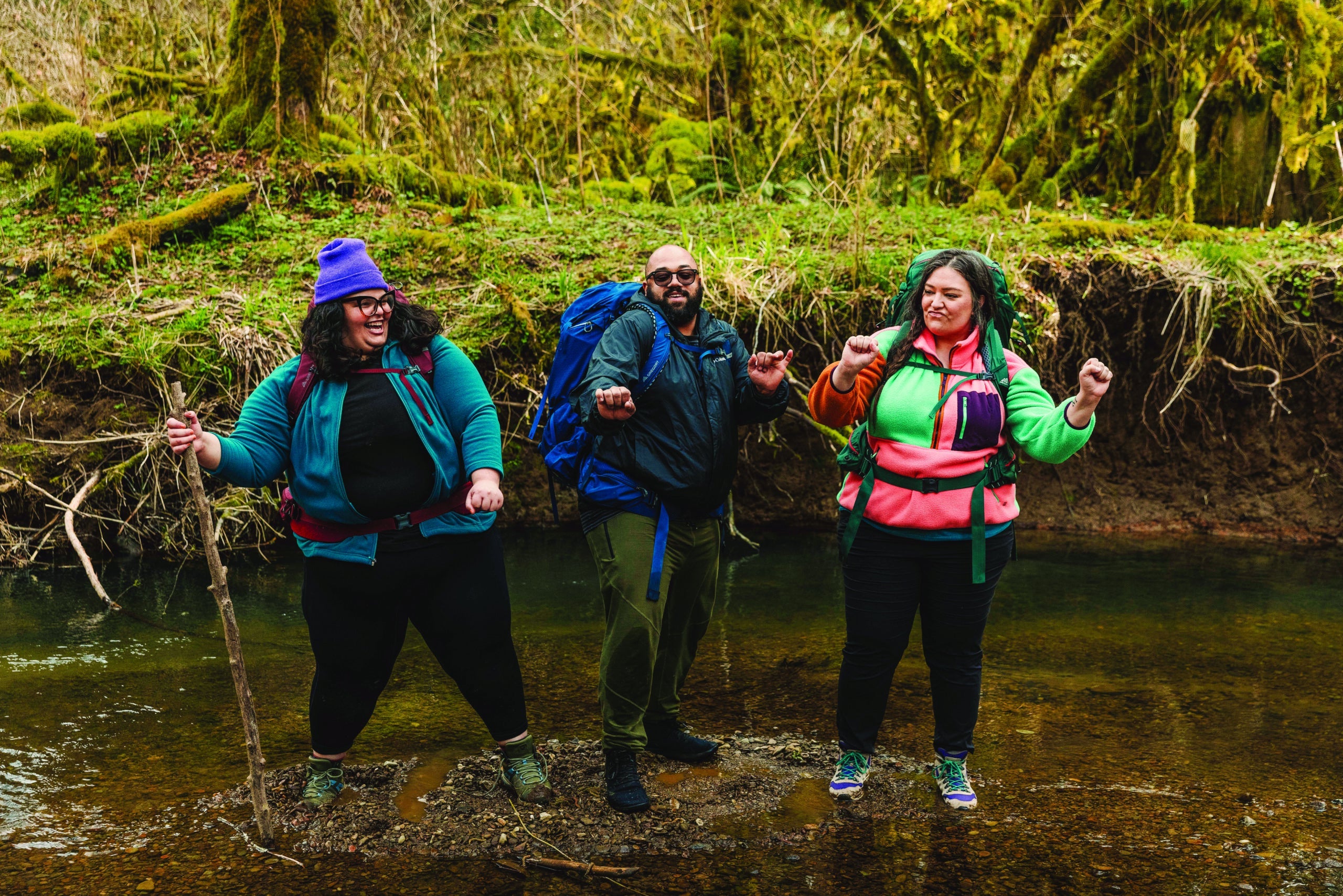 Heading out the door? Read this article on the new Outside+ app available now on iOS devices for members! Download the app.
When I was planning my first Kilimanjaro climb nearly two decades ago, plus-size women's apparel wasn't a thing. As a size-26 woman, I wore an XXL men's jacket that pulled tightly across my hips. The cuffs hung several inches below my fingertips. The shoulders and collar were boxy, letting the wind inside. All in all, I was cold and uncomfortable in ill-fitting clothes as I inched toward the 19,343-foot summit.
Back then, everything in my gear closet either fit poorly or was retrofitted. My pants were custom-created by a tailor who took two pairs of TravelSmith trousers and sewed them together so they would fit me. Perhaps even more painful: when I went into an outdoor shop—even for something unrelated to my size, like a pair of boots or a water bottle—I'd have to share my long résumé of hiking escapades to feel like the sales staff took me seriously.
That was back in the early aughts, before many in the outdoor community accepted this fact: being plus size is average. Today, I'm an influencer, board member, and brand advisor for many outdoor companies and organizations that share the philosophy that every body is an outdoor body.
There is more than a moral case for the industry to embrace body diversity and inclusion in its product offerings and marketing. There is a business case as well.
According to the Centers for Disease Control and Prevention, 73.6 percent of all U.S. adults over age 20 are overweight or obese, and the average woman wears a size 16. The plus-size women's apparel market was valued at $29.8 billion in 2019 and is expected to grow to $46.6 billion (13 percent of the total U.S. apparel market) by the end of 2021, according to Statista, which specializes in consumer data and marketing. And yet, only one-eighth of clothing options are offered in plus sizes (anything above size 36 for men and 12 for women).
Scaling to Fit
It makes me wonder: Why has it taken so long for brands to embrace larger sizes? I believe that many companies don't consider plus-size people outdoor recreationists. When seeking partnerships for my adventures and documentary projects, brands have outright told me I didn't fit their image.
One logistical reason for this sizing gap may be that creating an extended size line is fraught with judgment. When Nike unveiled plus-size mannequins in 2019, critics lambasted the company for promoting obesity.
And, of course, the mechanics of extended sizing are complex. A company cannot just take its biggest size and make it bigger. People carry weight in different ways, so the process of extending a line is almost double the work. Brand-new patterns must be created. There are friction points (such as between the thighs) to consider in terms of durability and skin sensitivity. And designers must determine if the item's cut will hold larger swaths of fabric in place while a plus-size adventurer like myself is in action.
Then, retailers have to carry additional inventory. And those products cannot just be tucked into a dark corner of a shop or website with zero marketing. They won't sell that way, and when they don't sell, companies abandon the lines.
Things are changing. At Outdoor Retailer Summer 2021, GCI Outdoor's display caught my eye. Finally, someone was making chairs that would actually fit my behind! On Kilimanjaro, I was forced to sit on buckets instead of the too-small camp chairs provided by our guides.
"We absolutely are trying to market to a bigger America, and there are a lot of reasons for it," said Jeffrey Polke, one of the founders and co-president of GCI Outdoor. Of course, Polke wants more people to enjoy the outdoors, but gear for larger bodies also sells. In 2019, GCI introduced its Freestyle Rocker XL, a chair that is four inches wider than the regular size and able to accommodate up to 400 pounds. The XL version now accounts for 50 percent of rocker sales at Academy Sports + Outdoor stores (a sporting goods chain with more than 250 doors).
"It made us realize that we should do XL versions of other things," Polke said. So far, the brand has five other XL chairs. "You don't have to squeeze into something to feel like you fit in."
A Seller's Market
Extended sizes aren't exactly new. A very small number of outdoor companies—like L.L.Bean, Columbia, and Eddie Bauer—have been serving the plus-size market for decades.
Andrea Kelly, senior merchandiser of extended sizes at Columbia Sportswear, has been a champion for plus-size outdoor clothing at the company for 11 years. About 15 years ago, 17 percent of the brand's women's clothing—typically the best-selling items—was offered in extended sizes. By spring 2023, that number will grow to 50 percent.
"The [plus-size] product we have is definitely in high demand," said Kelly, who attributes Columbia's success to its combination of good pricing and performance technologies, something that is often lacking in other plus-size lines of outdoor clothing. "We continue to see astronomical growth. The more we offer, the more it sells."
Indeed, more and more companies are seizing this opportunity to grow their audience and revenue.
In 2020, Gregory Mountain Products launched its new Plus Size line, designed to fit people with up to 60-inch waists. Since then, other established brands, such as Smartwool and Outdoor Research, have introduced extended sizes in some products. REI has also expanded plus-size collections.
Entire companies have even launched around the premise of serving the plus-size market. Raquel Vélez is a size-16 skier who was forced to wear rain pants over sweatpants because she couldn't find good technical ski pants. "As a size 16, I am literally average," Vélez said. "The fact that I was unable to find anything that fit me was a true mind-boggler." So Vélez, who has a background in engineering, took up sewing and pattern-making and created her own apparel company, Alpine Parrot, in 2019.
Like other clothing companies, Vélez uses algorithmic grading to adjust the patterns from size 14 up. She also diversified her fit model approach. Instead of relying on a single model, she used 30 people to test her patterns.
Arwen Turner and Kara Hardman, who founded the startup Wndr Outdoor, had also struggled to find clothes that worked. Turner remembers learning that a brand she loved would be launching plus-size gear. But the size range came up too short for her. "It's almost worse when a company says they are size inclusive and their stuff still doesn't fit you," Turner said. "It's like being rejected twice." That's why Wndr plans to launch its pants this fall in sizes up to 30.
We've all seen the data that outdoor participation exploded during the pandemic. If, in line with the CDC's figures, three-quarters of those new participants are overweight, outdoor companies should be actively seeking to serve this market. "This is an epic opportunity that can no longer be overlooked," Turner said.
"I don't think most people realize what it's like to have ill-fitting clothing for most of your life and then have the epiphany of wearing something that fits," Vélez said. "It's completely transformational."