Outside Business Journal
The State of Diversity, Equity, and Inclusion
The industry has made strides in recent years, but there's much work still to be done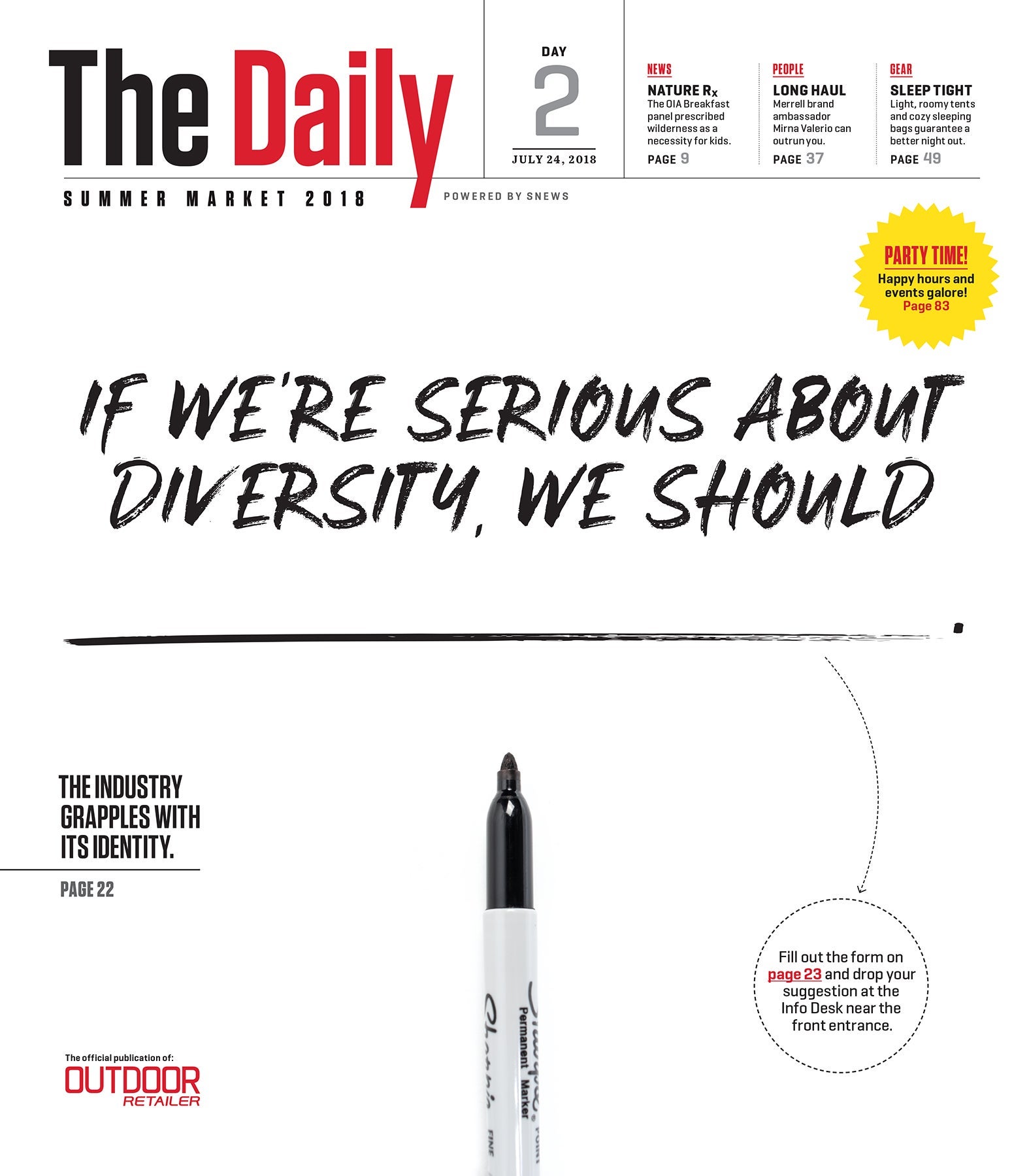 Heading out the door? Read this article on the new Outside+ app available now on iOS devices for members! Download the app.
If Outdoor Retailer Summer Market's event lineup was any indication, the outdoor industry is putting diversity issues front and center.
From a lack of ethnic diversity in leadership positions and brand marketing to cultural appropriation of native designs and symbols, our industry has historically been so-so around issues of inclusion. The fact that there are so many panels, presentations, and discussions on the Outdoor Retailer schedule shows that the topic is finally coming to the forefront, but we're not there yet.
"We are in the awareness stage of equity and inclusion as far as it relates to the outdoor space," said Mirna Valerio, Merrell ambassador and ultrarunner. "We are becoming more aware of the various types of communities that need to be acknowledged and then served. There's a lot more work to be done."
Jaylyn Gough, founder of Native Women's Wilderness, agreed. "I think the outdoor industry is trying, some people are trying, but walking through the hallways, it's still a white man's world."
Cultural appropriation is becoming a hot-button issue—Gough points to an example of marketing imagery featuring a white, bikini-clad model wearing a squash blossom, a piece of ceremonial Navajo jewelry, without context explaining its significance. "We need to reflect the ancestral history of the land where we're playing," she said.
When it comes to diversifying leadership, we need to meet people where they are by looking beyond tried-and-true channels for recruitment. Black people need to be on boards of directors for brands and organizations, said Yanira Castro, Outdoor Afro's communications director. "That's where change is going to happen."
We also need to understand that adventure looks different in urban communities, where green spaces might be parks or paved walkways alongside rivers rather than hundred-mile trails through mountains.
"If 80 percent of people live in cities, how do we make sure the outdoors is inclusive to them?" Castro asked. "Public land can be the park around the corner, the baseball field, and the basketball court." And we need to pay special attention to parents—that's the best way to make sure the next generation of outdoorists is the biggest and most inclusive yet.
Token Problem
Asking someone to speak for their race, orientation, or group takes an emotional toll.
If you're an advocate or an activist, you know how it goes—you become the face of a group or an idea, and all of a sudden, everyone comes to you to ask "Is this OK?" or "What do [insert group of people] think about this?"
If you've ever gone to a friend of color to ask questions like that, you could be part of the problem.
"This work is really exhausting and isolating," said Elyse Rylander, founder of Out There Adventures, which provides outdoor programming for LGBTQ youth. Rylander organized the Spark 2020 Leadership Retreat on Sunday, which brought together activists and influencers to discuss how groups can support each other and form coalitions.
People should take it upon themselves to do their own research, instead of asking a friend or co-worker "Is this OK?" said Yanira Castro of Outdoor Afro. "We need to make sure outdoor companies are safe spaces for black people to work," she said. If Black History Month rolls around, for example, and everyone at your company looks to you to lead the conversation, that's not fair.

Talk Is Cheap
Brands put marketing and social media where their mouths are.
It's not enough to talk about inclusion. You have to actually be inclusive, too. Today, more and more brands are starting to get smart about being more representative in marketing campaigns.
"For too long, the industry has held a mirror up to itself, which showed an image of one type of consumer," said Tom Herbst, global marketing VP for The North Face.
The brand's Move Mountains campaign included a promise to represent men and women equally in advertising, support the Girls Scouts of America in creating new adventure badges, opening new women-specific stores, and funding a $250,000 grant program for women explorers, in honor of Ann Krcik, an industry veteran who died earlier this year.
Hiking is a great uniter of people, said Strick Walker, CMO of Merrell, which has had ongoing conversations about how to be more inclusive in its marketing campaigns. "As a brand, we want to make sure we can inspire everyone," Walker said, which is why the brand wants to make sure a diverse group of people see themselves in Merrell's advertising.
And even more than that? Opting for inclusiveness is a habit we need to create."The industry needs to learn a new muscle memory," Herbst said.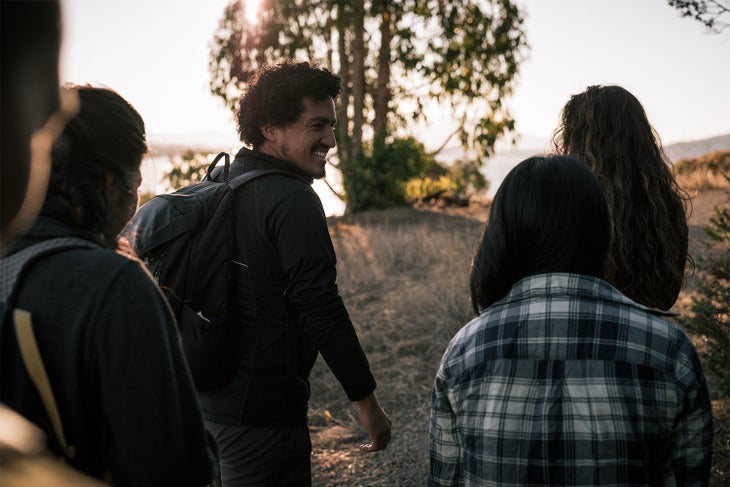 The Write Way
Media need to stop glossing over diversity issues.
In the past few years, the outdoor industry—and endemic media—have told countless diversity-focused stories. There's something to be said for greater attention to inclusion efforts. However, we should do better, said José González, founder and director emeritus of Latino Outdoors and a partner of the Avarna Group, which facilitates DEI—diversity, equity, and inclusion—training.
There's a point at which we keep getting stuck: journalists often seem reluctant to name systemic racism and other systems of oppression as the reasons why there aren't more people of color in positions of power in the outdoor industry, González said.
"It's not enough to not be racist," he said. "You have to be anti-racist, too."
Editors should work harder to be more inclusive when hiring writers, said Aparna Rajagopal-Durbin, founding partner of the Avarna Group.
"People of color are often put under the 'diversity' umbrella," she said. "We're 'pigeonholed' into writing those types of stories, rather than also being hired to write about gear, adventure, or politics. Journalists should also realize that stories about people of color are not transactions, she added.
"Those stories aren't just stories, but partnerships with people," Rajagopal-Durbin said.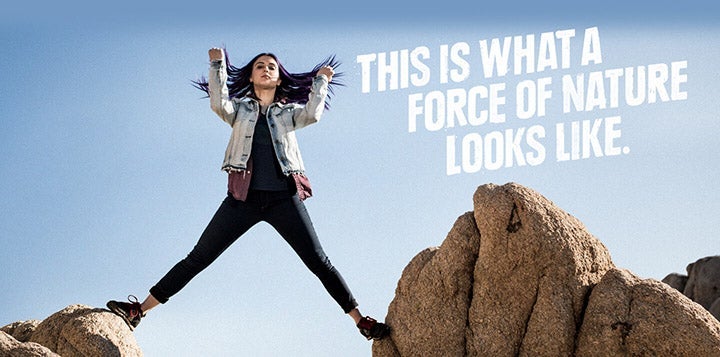 Size-mic Waves
Brands break the norm by making clothing for all body types.
Not all outdoor lovers are thin and/or cut, but you wouldn't know it from most marketing images and store shelves. REI Director of Experiences Marketing and "For All" Strategy Laura Swapp noted that the loudest feedback for the brand's recent Force of Nature campaign centered on extended sizing.
In response, the company is expanding women's REI size runs to 3X in many styles. To better inform the apparel's fit and feel, REI hosted a series of six "trunk shows," where they invited women across the country to meet with designers, try on clothes, and discuss what is and is not working. "You can't just take a pattern and make it bigger," Swapp said. "You really must design differently for different body sizes and shapes." REI is also committed to pricing all sizes the same.
Fellow retailer Wylder also aims to move the needle on size discrepancy. Cofounder Jainee Dial calls herself an "agitator" in this respect. She noted that all too often, brand imagery features thin, white, heteronormative models—people who represent a limited segment of consumers.
"We try to be invitational and nonconfrontational," she said. "We can raise our hands and say, 'This is beautiful' and 'Thank you. We support your brand.' And then we give them an invitation to do things a little bit better, be a little bit more progressive. If every [model] is a size two, we say 'It would be great to include someone who's a woman of color and someone who's not a size two.'"
Both women are optimistic about the future, but recognize that there's a long way to go. "It is changing," Swapp said. "There is a place for everyone, and there is a voice for it all to exist under this umbrella."