Outside Business Journal
Joe Vernachio, the New President of Mountain Hardwear, on What He'll Bring to the Brand
In his first interview as Mountain Hardwear's new president, Joe Vernachio talks about the brand's relationship with retailers, diversity in the industry, and a renewed focus on climbing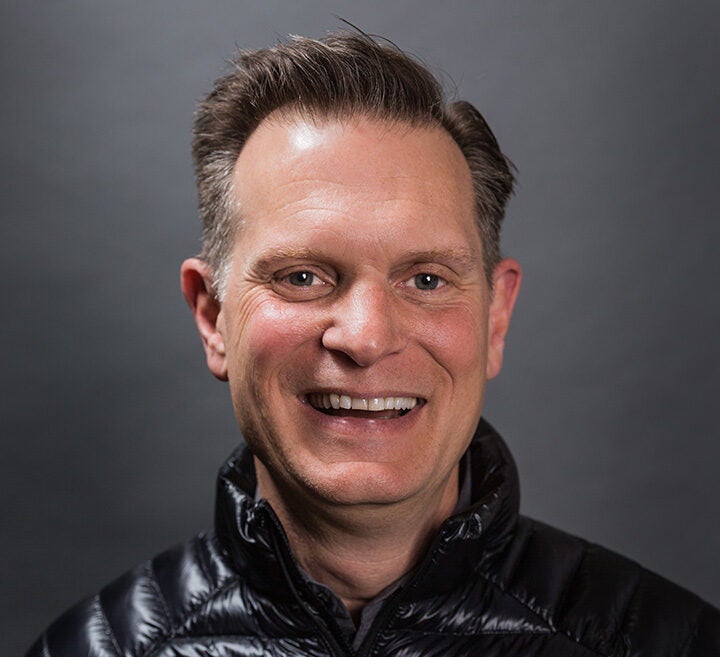 Heading out the door? Read this article on the new Outside+ app available now on iOS devices for members! Download the app.
Industry veteran Joe Vernachio takes them helm at Mountain Hardwear this month. Vernachio formerly served as global VP of product and operations at The North Face, and has also worked at Spyder, Nike, and Patagonia. Vernachio said he has long admired the brand he now leads, and believes it has "significant untapped growth potential."
He will be based at company headquarters in Richmond, California, where he will lead all aspects of Mountain Hardwear's global brand positioning, go-to-market strategies, and execution across all distribution channels.
A renewed commitment to technical product is at the top of his agenda, as is telling meaningful stories about the people that use Mountain Hardwear gear—and not just athletes. Vernachio also plans to "sit across the table from our key retailers" and have honest communications. As the third person to occupy the corner office at Mountain Hardwear in 12 months, this might be his biggest challenge, and opportunity.
After just three days on the job, he sat down with OBJ to talk about "table stakes," winning the trust of retail partners, a renewed focus on climbing, and his five-year vision for the company.
What's your overall vision for Mountain Hardwear for the next 5 years?
It's simple: to be a premium and legit brand that connects with the next generation of mountaineers and climbers. I believe climbing is on the edge of having a renaissance, especially with young people. That doesn't mean that we won't do other things and make products for other activities, but climbing is at our core. I try desperately not to use the word "authentic" because I no longer know what that means. I measure things based on whether the consumer thinks we are doing things that are contrived or forced. Young people in their teens and early 20s don't differentiate between lifestyle and technical products. They connect with a brand that represents their lifestyle and reflects their values back to them. We will not get wrapped up with how consumers choose to use our products. They can do whatever they want with our gear. But we will get wrapped up in the design intent of our products. If the design intent is pure then we can't make a mistake. A lot of people climb in denim or cotton canvas or tights. You don't have to look far to find something that has broader appeal, yet still legit.
At winter Outdoor Retailer, Mountain Hardwear announced the Impact Initiative, a campaign that highlights how individuals are protecting the playground and inspiring others to do the same. Tell us why this is important to Mountain Hardwear.
I was a consumer of this info at the last OR, and I admired the way the brand was addressing this. It's "table stakes" today to have a pillar of y­our brand be around impact, sustainability, and reducing your footprint. It's not a choice anymore. The Impact Initiative is an exciting platform to build on this idea.
The initiative is meant to shine a light on people who are creating positive change. These people are inspiring to us so we want to share their stories with the community. Over time our tactics will evolve, but what will never change our vision to reduce the impact we make in the world while still enabling us to get out and do the things we love.
Are there any other exciting initiatives or projects that you're excited to bring to life at Mountain Hardwear?
Besides the obvious thing of really refining our product and reaffirming our commitment to equipment, we will tell inspiring stories that are different from those you get from lots of other outdoor brands. To connect with our consumer, we have to be useful to the community, so we'll work hard on becoming a resource for young climbers, mountaineers and skiers—allowing them access to things, insights, information that they might not be able to get elsewhere.
What is your leadership style?
I spend a lot of time trying to inspire and motivate my team, and making sure that the vision and strategy are clear. Then I leave the tactics up to the team so they feel motivated to make decisions and figure out the path. It's not a democracy on our vision and what the end game will look like, but the team is completely empowered to figure how we get there.
The company has had a lot of leadership turnover recently, which can breed uncertainty with retailers. How do you approach the brand's relationship with specialty retail and work to support them in these challenging times? 
When a brand has leadership turnover like we have over the last few years, retailers start to question whether they want to put their money behind us. It's expected. But it doesn't take long to get their trust back. It takes consistency and honesty and doing what you say you will do. Then it becomes about whether consumers are coming in to buy your products. It turns into a business arrangement at that point. What's your rate of sale and margin in my store? We have an obligation to make our retail partners successful. I think retailers are rooting for Mountain Hardwear to succeed, and if we do a few things right, they'll be right there with us. The business metrics (sell-through and margin) will take care of the rest.
Several of your competitors have chosen to boycott Outdoor Retailer this summer to send a message to Utah. What is the Mountain Hardwear view on this? And where would you like to see the show end up?
Outdoor Retailer is a community first and an industry second. When I worked for Nike, we used to go to Super Show, which was the opposite, an industry first and a community second. That's why it collapsed. The outdoor community needs a place to come together. It's unfortunate that Utah politics have gotten themselves wrapped around our outdoor community. The community is bigger than this one situation, and I have the trust that the organization will make the right decisions and we'll be there with it.
If you had to give a grade to the outdoor industry on its diversity, what would it be? The North Face has committed to Camber Outdoors' CEO Pledge (which promises, among other things, to provide leadership opportunities for women). Mountain Hardwear has not yet signed. As the new president, will you? How important is diversity (gender and otherwise) within your leadership agenda?
Mountain Hardwear is a member of Camber, but we have not yet signed the pledge. Diversity in all aspects—race, gender, age, ability or disability—is important to us. Our employee population needs to reflect the industry, our consumers and the community we reside in. Over 50 percent of our employees are women. Of our leadership team of nine, four are women, so Mountain Hardwear does a good job reflecting the population at large.
I believe that a brand is what the consumer thinks you are. It's not what you think you are. And I believe that we need to speak to both halves of the population. To speak to one gender and assume the other will come along just doesn't work today, and it's lazy. It doesn't work to just say we will have a sustainability and women's initiative. These things have to be fundamentally in your core values. You have to think of it as your first consideration when you make products, create environments, or create a communication.
Over the next six months I plan to review all our commitments and reaffirm those that fit with our future vision. In the meantime, we will continue to value and promote women in our company.
Trending on Outside Online