Outside Business Journal
The OREC Movement: What You Need to Know
Official Outdoor Recreation Industry Offices are blooming across the U.S. How can you—and your state—become part of the movement?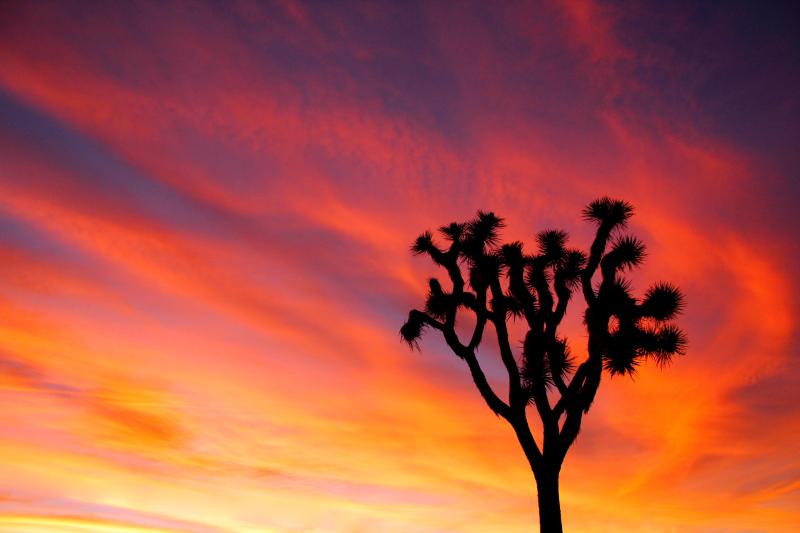 Heading out the door? Read this article on the new Outside+ app available now on iOS devices for members! Download the app.
I'm just gonna say it: I want my home state of California to be the next state to announce the establishment of an Outdoor Recreation (OREC) Industry Office.
As an industry, we've been on a roll. Since Utah started the movement in 2013 by appointing Brad Petersen as the first ever OREC director in the country, five other states (Colorado, Montana, North Carolina, Oregon, and Washington) now have similar offices and three have official task forces (Maryland, Wyoming, and Vermont) that serve the same purpose.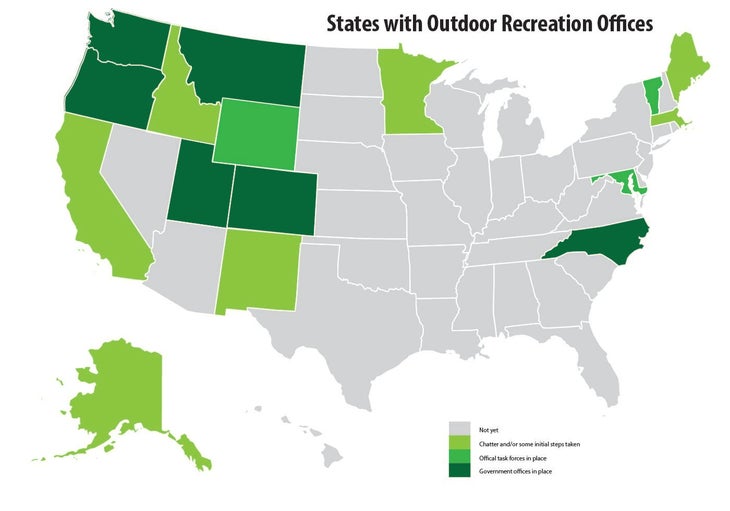 When Petersen took office, the idea of having a high-level government official devoted to the health and growth of the outdoor industry was a novel idea. Petersen was a Utah-based mountain guide, business owner, and stalwart insider in the Utah/Rockies climbing scene. His entry into politics was sudden, and he quickly learned that a title without a budget to work with made for hard trail-breaking.
"Without a job description, business plan or strategy I quickly realized that my role as the first State Director was to sell everyone on the need for the Office; to be the head cheerleader; to be the face for the concept. Selling counties and communities on the benefits was easy, but figuring out how to help them was not. Without funding to help communities develop new recreational assets my ability to make Utah a better place to live was very limited. Four years later we have secured $4m+ in annual funding." –Brad Petersen, the first ever OREC director in the U.S., served Utah from 2013 to 2016
We've learned a lot since then, and it's making a difference. Momentum is building. States all around the country are recognizing that the outdoor industry is an economic powerhouse.
And we're making progress in California, where outdoor recreation accounts for $92 billion in consumer spending. Back in January of 2017, several other members of the outdoor industry (including Matt Lyon from Hydrapak, Katie Hawkins from Marmot, Jeff Turner from Kokotat, Dave Polivy from Tahoe Mountain Sports, and John Mead from Adventure 16) and I started meeting as an ad-hoc group, sharing discoveries and giving ourselves homework. Then we found a champion lawmaker in assembly member Eduardo Garcia, of the 56 District. Once Garcia came on board, things got real pretty quickly. Having a legislative champion is one of the key elements of launching a state initiative where you live (see Roadmap to Outdoor Rec, below).
In fact, as I write this, I am in route to Sacramento, where one California champion, assemblyman Eduardo Garcia, will be attending a reception near the state capitol tonight (November 20) to celebrate the passage of CA SB5 (a substantial $4BB Park Funding bill for CA). Garcia has introduced a bill himself, AB-907, to the House of Representatives that would create an office of OREC here. The bill will go to vote in spring of 2018, and all of us involved are optimistic. We're so close we can almost taste it.
We Need More Orec Offices. Here's Why They Matter.
They bring benefits to communities. Encouraging adventure through wild places brings economic prosperity to gateway communities, has minimum impact on ecosystem health and provides regular, predictable and 'sticky' locally spent dollars. This is in contrast with the boom/bust cycle seen in the 'old west' extractive economies (coal, oil, gas, mining) that have left many rural towns in economic retreat. Outdoor retailers and outfitters prosper and thrive near well-managed recreation resources. This story is unfolding in Appalachia, as well as other supporting gateway communities from Joshua Tree to the Gunks.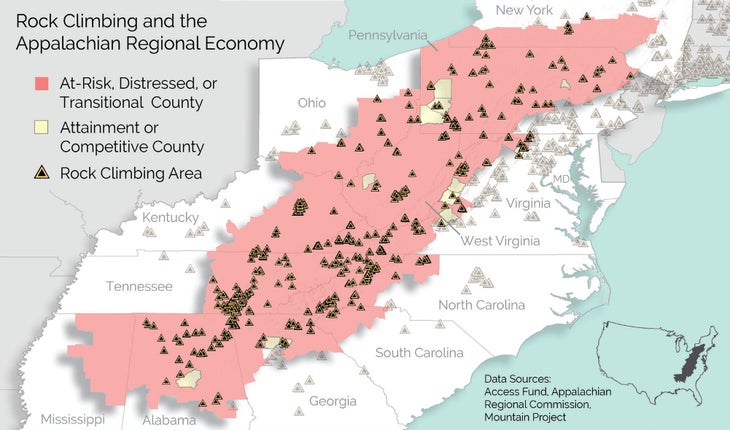 They create an investment funnel to support recreation and conservation collaborations to bolster or replace shrinking businesses (like logging in the Pacific Northwest or mining in Utah). A state office can work to draw in businesses and establish jobs and investment in the state. Ogden, Utah, is the poster child of successful redevelopment. Through the work of Mayor Godfrey (2010 era) and other key politicians, they turned a mining ghost town into a modern outdoor mecca, with over a dozen outdoor brands now with significant business hubs there (the entire Amer Group, Scott USA, QBP, and Osprey Packs to name a few).
They unify different geographic and activity sectors. A state OREC office can make sure that efforts happening around different corners of the state are aligned (Colorado and Utah OREC directors both travel extensively within their state, reinforcing relationships). Shared resources like GIS (Geographic Information System) mapping software, marketing platforms and talent, and trail building equipment and expertise save time and money, and create more durable solutions. Blending local input with broader ecosystem level resource management is manageable at the state level, and a central office can also interface with nearby state's OREC leaders for cross-pollenating ideas and solutions.
They measure and promote health effects of recreating outdoors. As the 'Nature Rx' message spreads, a central state office can power coordinated education and engagement campaigns in diverse communities. School districts, neighborhood associations, and families can get support in adopting healthy outdoor lifestyles proven to reduce stress, combat disease, and extend life.
They build up the outdoor recreation economy that provides sustainable jobs, a stewardship mindset, and predictable tax revenues. Brands, retailers, and outfitters will benefit by taking advantage of programs and close-to-home access support for employees and those in close-by communities.
Roadmap to Outdoor Rec
Do you want your state to establish an OREC office? I spoke with the majority of the current OREC officials at the recent SH/FT conference in Jackson Hole, Wyoming, to pull together these four steps on how you can get the ball rolling.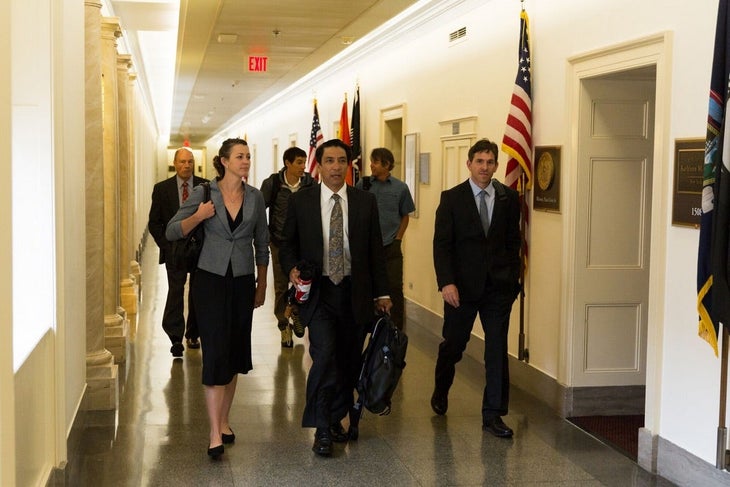 Step 1: Investigate. Is there already a movement you can join up with? A coalition of outdoor recreation businesses or a conservation non-profit that has assembled leadership? Don't reinvent the wheel. Tap your network or reach out to your industry association (Outdoor Industry Association) to get nosy. If you're interested in taking this first step, OIA is a great resource. Contact Cailin O'Brien-Feeney, who has been helpful in the California initiative and most of the other state-level actions across the country.
Step 2: Launch an informal or ad-hoc group. Begin meetings and learn who the outdoor recreation advocates in the state legislature are. Visit them in their home districts or at the state capitol. Use the OIA and the upcoming BEA economic data, and any map data you can show (Outdoor Alliance has a growing body of excellent maps and economic research, as does the Access Fund).
Step 3: Propose a formal working group to your governor, economic development director, or parks and recreation director. As in Wyoming's budding program, once your working group/task force is sufficiently deep and inclusive, put a request in to the governor's office to establish a formal study of the OREC situation in your state, and come up with recommendations for a deliberate growth path forward. If the governor won't budge, go after a friendly senator or house member. Also, at this point you'll need a real organization name and real people signed on to your real mission.
Step 4: Get a legislative champion to put something on the ballot for voters to consider funding sustainably, like the Rescue Card in UT or the designated office in MT (only funded for two years in the current iteration). A legislative champion can navigate and translate the wave of proposals and bills moving through the state body politic and put forward a bill out for consideration. Experienced lobbyists or staffers familiar with the running of state politics is helpful too.
Ride the Wave
The waves of the OREC movement are building: the Bureau of Economic Analysis (BEA) research is due out sometime in 2018, expected to closely match the industry's own research on OREC financial impacts nationwide. State level data will not be part of this first push to match OREC to GDP, so for those of you so motivated, that will be another (federal funding) initiative to anticipate supporting in the near future.
As a surfer friend of mine can't stop saying, "Gotta surf when the waves are up, dude." It's time for us all to go surfing.