Outside Business Journal
Opinion: What We've Learned During the Pandemic
Lowa's general manager reflects on the business lessons he's learned during the coronavirus crisis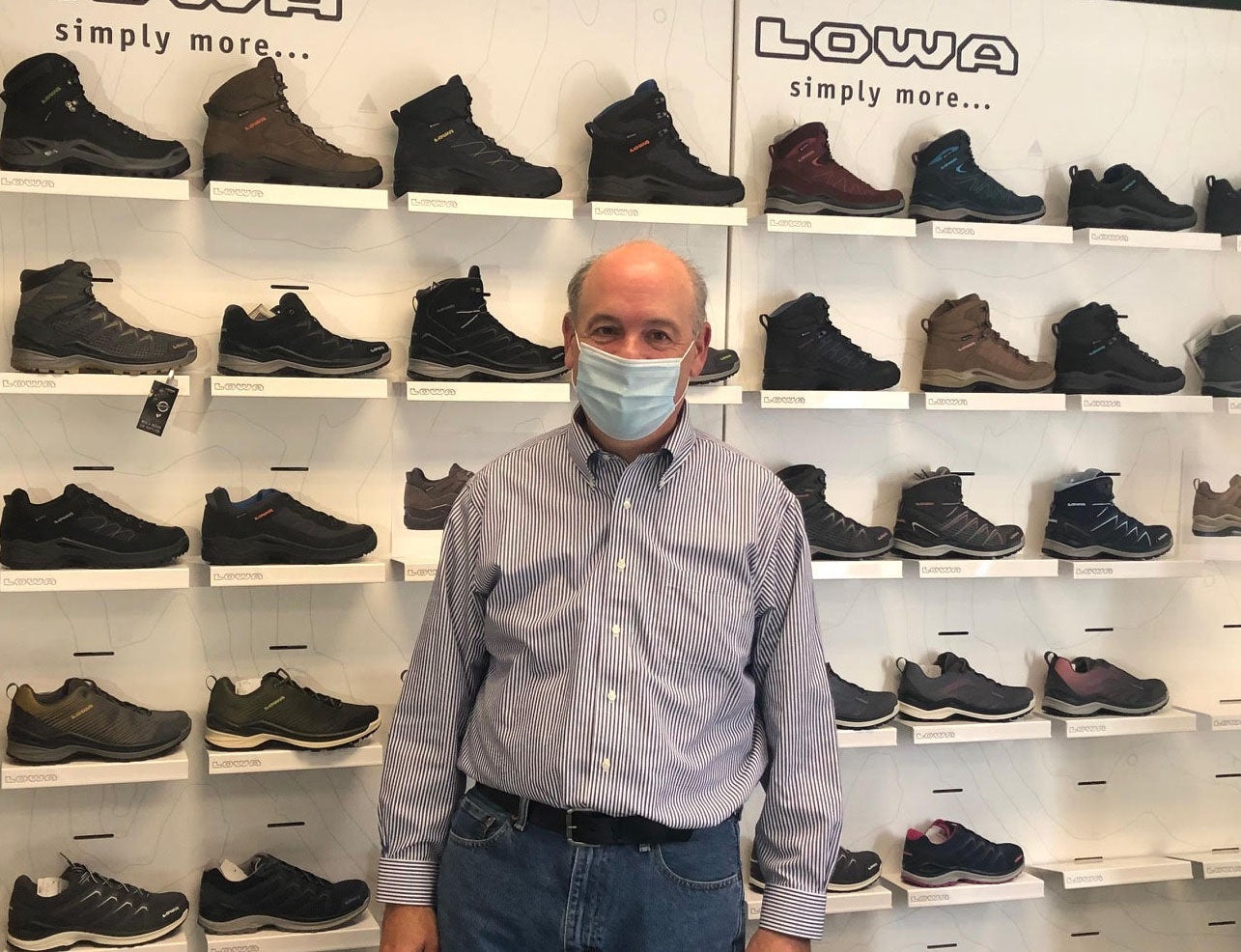 Heading out the door? Read this article on the new Outside+ app available now on iOS devices for members! Download the app.
Remember a million years ago when we last convened for Outdoor Retailer Winter Market + Snow Show last January in Denver? We were coming off a pretty good winter with a strong economy, healthy employment, and a generally positive future view. What a difference 30 to 45 days made! 2020 will go down as the year of the pivot. The year of Zoom. The year of social distancing, masks, hand sanitizer. The year that we didn't think we'd ever adapt, but we did.
By mid-March, many businesses were closing, people were being laid off or furloughed, and Chicken Little was right: The sky was falling. Or, maybe we won't remember because 2020 has also been a blur. We fell out of our long-standing routines of travel, meetings, trade shows, and appointments, and just stayed home. One day became the next, then the next, and pretty soon, a blur of days. March 15 seems like decades ago and old, but now after seven months, everything old is new again. Here's my take on what we can learn from this tumultuous time.
We Can Push Ourselves Beyond Our Imaginations
We've learned a few things at Lowa about our business, our staff, our retail customers, and our consumers. As a business, we adapted pretty smoothly. If asked whether we could successfully and effectively work from home back in February, the answer would have been "no." But by March 15, our office staff all had new laptops, a new set of programs and apps enabling us to communicate with our retailers and consumers. There were hiccups, to be sure, but we were able to speak to and email with our dealers as we accepted all of their order changes and cancellations, requests for payment relief, and whatever else was the discussion of the day. We asked everyone to over-communicate, under promise, and over deliver. Don't say no. Make it happen. One day the coronavirus crisis will be over and we want and need our dealers to be in business.
Being flexible with dealers was paramount
Dealers quickly called asking for payment term relief. Their stores were closed. They had no cash coming in. The challenge of getting paid was clear. It was also clear that many dealers had little to no cash reserves.
For dealers that owed us money prior to March 1, we asked to be paid or for a postdated check another 30 or so days out. For dealers we had recently shipped to, we asked them for a payment plan and accepted almost all of those as presented. Dealers were super-cooperative and, with only one exception, we are now completely paid for past due invoices from last winter, spring, and even summer. Keeping cash on hand is a big COVID-19 lesson. The other lesson is that brands are brands—not banks—and we all need a good banking relationship.
Make Friends with Your Bank
Filling out the PPP and other relief applications wasn't and isn't easy for anyone. Even the bankers, themselves, had their challenges. However, for us, maintaining a good relationship with the bank over time really did help. Same goes for the accountants and lawyers, all of whom proved essential for navigating these turbulent waters.
Give the Customer What They Want
As spring melded into summer and retailers opened back up, business did come back. For our brand, some of the categories that have been historically successful are still soft.
It was tough to sell mountain boots and backpack boots when the Forest Service kept the forests closed and pulled the permits from guides. It was tough to sell adventure when customers stayed home and didn't travel to the Rockies to climb 14ers or couldn't hike the long trails. It's been tough to sell "everyday" shoes when getting on a plane to travel or even going to work isn't possible. Yet, we did sell a lot of lighter hikers and sport shoes. In fact, we sold more than ever before.
We learned that having a diversified product line was really important. When dealers didn't stock certain products, our own website sold them at full price. Watching and reacting to our consumers was, and still is, really important. When our account managers and customer support team tell dealers that consumers do buy some of our smaller and lesser known categories, retailers, please listen! It's the truth! We want you to have product customers will buy.
Don't Forget the DIY-ers
Consumers had a lot of time on their hands because they were home, so they took care of their boots and shoes. Sales of care products, replacement parts, and socks are through the roof. It's clear that consumers view their Lowas as an investment worth caring for. Same goes for most high-end outdoor products. Customers want a longer, more sustainable life from their investment. We realized that this provided us a key way to engage with our customer, even though the dollar amounts were smaller. The lesson: Keep your consumer coming back to you and engaging with your brand. It will pay off down the road in brand loyalty.
Don't Watch the Clock
Like many brands, we spent a lot of time working on our website. Yes, our consumer site, but just as importantly, our dealer site. We wanted to make it easier for dealers to interact with and buy from us.
One thing we quickly saw: A large percentage of the business comes in each day after our east coast workday is over. It's clear that retail staff is thin and owners/managers/buyers are working late getting the paperwork done. Having an updated dealer site meant that our Midwest and western dealers could place reorders and fill-ins at all hours and know they would get shipped the next day.
If you don't have product to sell, consumers will shop elsewhere. Having product in stock, being able to process orders and ship them out quickly paid, essentially having "an easy button" has really paid off for us here at LOWA.
Lean into the Compressed Buying Cycle
At wholesale, we skipped trade shows. We learned to sell by virtual meetings. We leveraged our history and the trust we've built with retailers. They could understand our products and materials and constructions and have faith that they were ordering quality product, even if they hadn't laid hands on it.
We learned that we can show product when it's ready to be shown, not on another brand's schedule and we can deliver it when consumers are ready to buy. Being closer to the retail selling season is more important than ever to keeping the consumer engaged and the product fresh.
Another part of the cycle that has changed is the release dates for closeouts. We usually release closeouts in conjunction with trade shows. But without a summer Grassroots or Outdoor Retailer Show, we didn't. We told our retailers we would hold the merchandise to help limit pricing pressure as they reopened. We would not go on closeout until November. When November rolls around, we will have sold more than 1/3 of our closeout inventory at full price either to retailers or consumers. This has allowed retailers to sell and maintain margin and allowed ourselves to maintain stronger margins too.
People Are Sure to Embrace Winter
Summer is now over. The virus is still with us. The question is, what's next? Consumers have reportedly already started buying cross country skis and snowshoes to replace the bikes and kayaks they bought this summer for local adventures. Active people will continue to walk in their neighborhoods and local parks. The dogs will get plenty of exercise as fall segues into winter. These things have an element of certainty.
We should not be focusing on just catering to the aspirational customer, but also, to remember the local customer and activities that can take place near or at home. Outdoor shops where I live should still carry products for the exciting trip because that's what makes them unique. But they should also focus on walking shoes and dayhikers. As long as there is COVID, there will be local activities. Once COVID diminishes, it would be a shame to lose the customers gained.
The New Normal
We should also work hard to cater to our changed behavior. Curbside pick-up, extra clean shops, BOPIS (buy online pick up in store), and other practices should become normal. Local shops need websites: to tell customers what kinds of products and services they offer, to communicate about local events, and serve as a community bulletin board.
We will all venture down this path in history together. 2020 has been full of surprises and mega events: the coronavirus, the election, a recession, hurricanes, wildfires, no snow, and so much more. When it's all over, the businesses that respond and adapt will be the ones standing.
Peter Sachs is the general manager of Lowa.
Trending on Outside Online