Outside Business Journal
Retailer Spotlight: Confluence Kayak and Ski in Denver, Colorado
Events, customer confidence, and beer foster a tight-knit community around this local retailer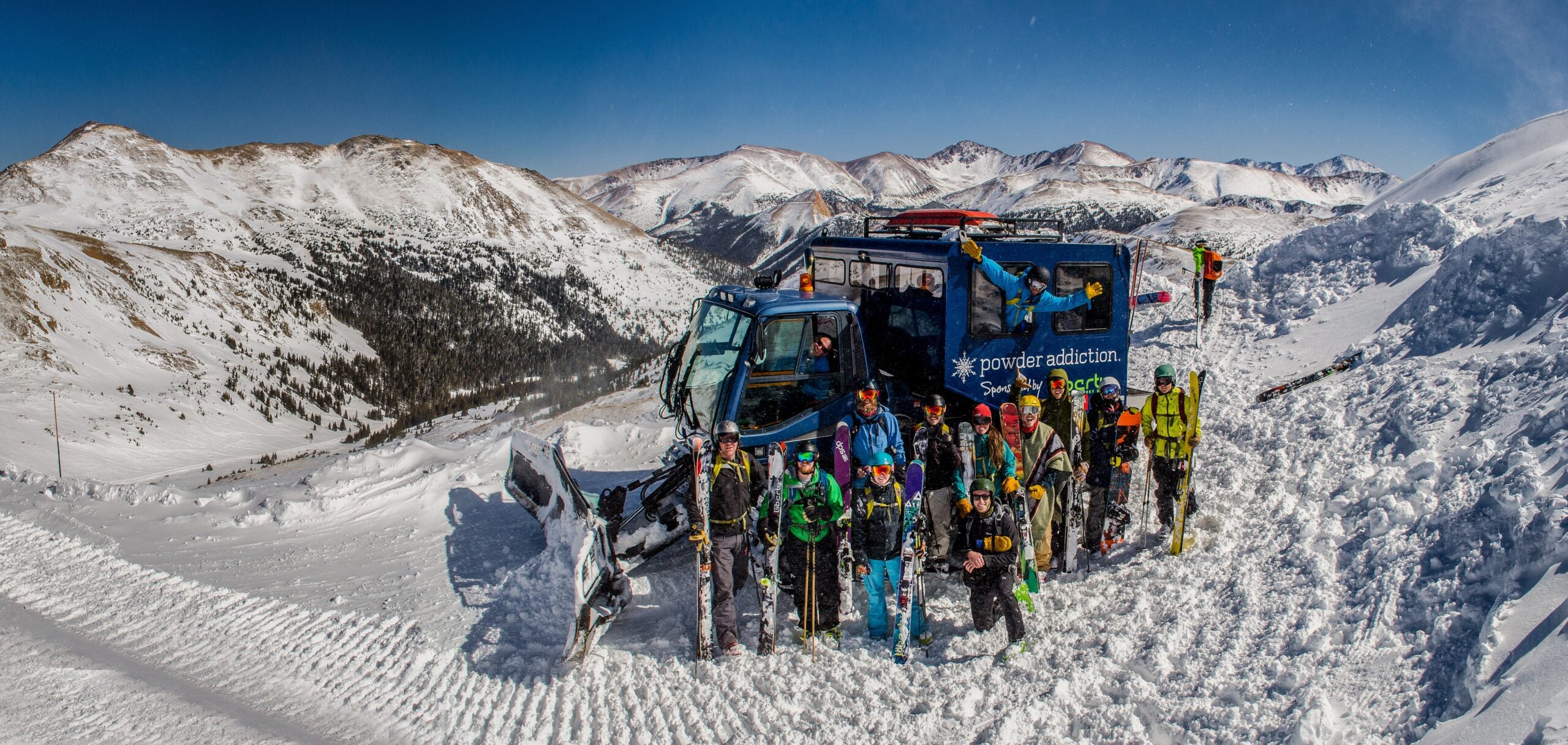 Heading out the door? Read this article on the new Outside+ app available now on iOS devices for members! Download the app.
At 24 years old and fresh out of college,  Jon Kahn was a part-time ski and paddling bum. But by 1994,  he knew he needed to get to work. "It was time to find a real job," he said now.
The answer Kahn came up with? Turn his passion into his career. "It seemed like there was an opportunity for a paddling store and school in Denver," Kahn said. "They were just rebuilding the Confluence Park whitewater chutes so it seemed like a great place to put a shop."
Looking back, Kahn recognizes the role that his lack of experience played in getting his store off the ground. "Ignorance is bliss," he said. "It's hard to see myself starting a business like this at my current age." It just wouldn't seem realistic, now.
In 1995, with no retail background, he and a friend borrowed money from their parents, convinced vendors to stock their 1,500-square-foot floor with boats and other kayaking hard goods, and opened the doors. For the first 18 months of what is now Confluence Ski and Kayak, Kahn and his partner lived in the basement of the store to save on rent. It worked.
"I would never have predicted that at my age (46), I'd still be doing it," Kahn said of running his shop. "We kind of just said 'let's do this for a couple years and see how it goes.'" But Kahn was quickly sucked in, and 22 years later, in their fourth storefront and having expanded to sell paddleboards, skis, bikes, and recently more soft goods, Confluence is a staple of Denver paddlesports and specialty retail at-large.
"The ski community brings us beer for quick turnarounds or whatever. The kayak community just drinks our beer. So we figured we'd balance things out a little bit."
After three years in business, Kahn bought out his partner and, shortly after, moved to a new, larger location, committing fully to the business. Just this month, Confluence has moved to its fourth location—a spot that Kahn calls the best yet.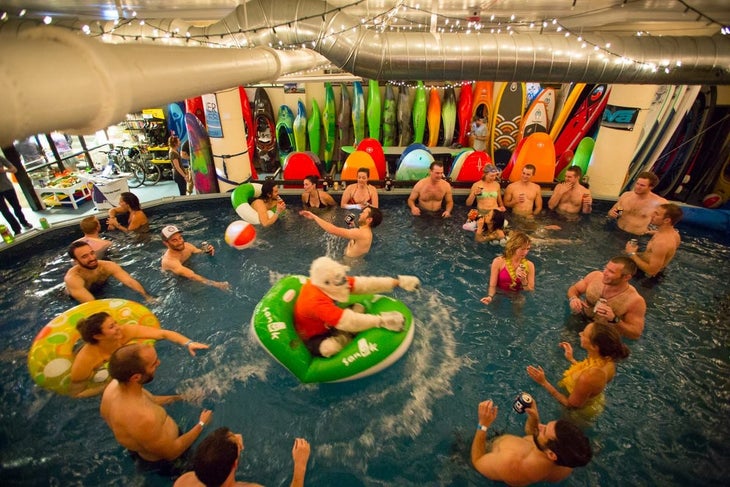 Though slightly smaller than its last storefront (and lacking in the indoor pool they enjoyed in the previous location), Confluence now lives in what Kahn calls a high-traffic corridor. "Most of the people that drive to REI now have to drive by our shop, so we feel like we've gotten in front of that traffic a little bit," he said.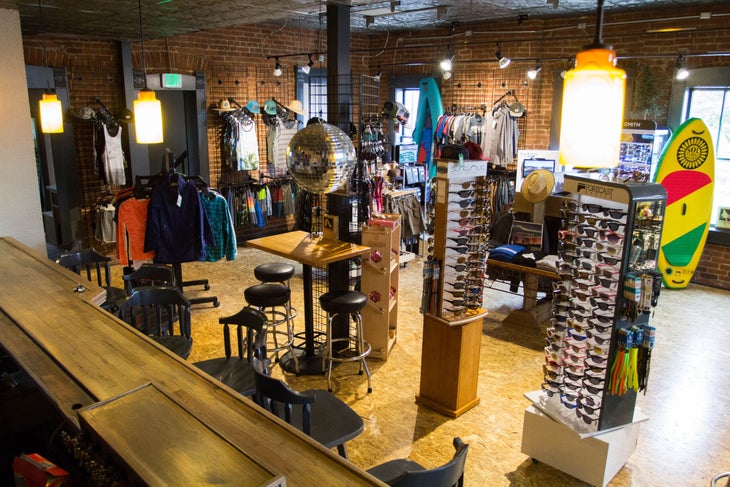 What's more, the new shop was previously a bar and restaurant, and Kahn has elected to keep the bar alive (a growing trend in outdoor shops). "The shop has been a social center for the community for a long time and we drink a lot of beer down here, so we thought 'why not sell it, instead of give it away,'" Kahn said.
Even though Confluence is still working on its liquor license, Kahn said a handful of groups have talked to him about holding community nights and meetings in the shop. "It is such a natural community gathering place so we wanted to take advantage of that," he said.
Kahn also plans to project kayak and ski films onto the shop's back wall, so they're viewable from the shop's patio and the street.
"The goal is to make people feel like they made the right choice, especially when the product is as expensive as a boat."
It can be hard for a smaller retailer to compete with the extended return policies of giants like REI. At Confluence, the focus is, instead, on making sure customers get what they want in the first place. That way, the return policy never becomes a factor at all.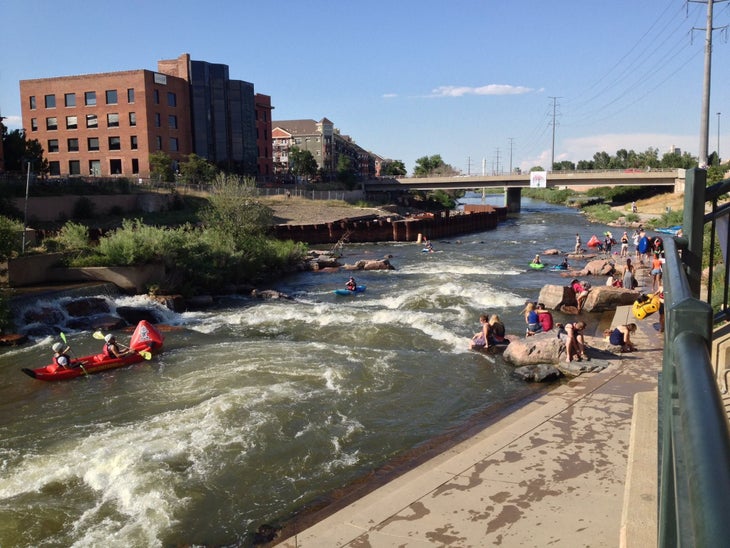 According to Kahn, especially with it comes to kayaks, demoing and dialing in the fit is crucial, which is why Confluence carries a rental fleet of upwards of 30 different kayak models. While he admits that it's expensive to stock so many boats, there's a market for higher-quality demos. "I think a lot of rental shops use more bottom of the barrel stuff. We like to promote the quality of our rental equipment," Kahn said.
Customers in the market to buy a boat can test-drive almost anything, then when it comes time to pull the trigger, they can credit up to $100 of what they spent on rentals toward the purchase. "You can try a boat for basically two days and have 100 percent of that come back when you make the purchase," Kahn said.
Confluence runs a similar program for skis.
And according to Kahn, the workaround has paid off. Confluence only rarely sees a boat returned. "I feel like when people walk away from us after making that purchase, they're confident in it," he said.
"Not everybody's going to be a retailer for life."
After an event the shop hosted on the water last month, Confluence employees got to work cleaning up, but after all was said and done, they hit the water themselves for some staff bonding. And during the winter, the shop organizes an annual staff cat ski trip for employees in Jones Pass.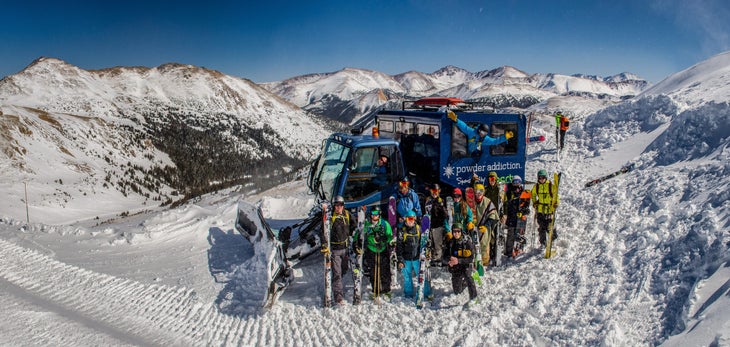 According to Kahn, there's value in these events in terms of personal morale and education, but the biggest benefit is building camaraderie of his 15- to 20-person staff.
This team spirit extends to Confluence alumni, as well. "I've prided myself with maintaining great relationships with former employees," Kahn said, who stays in touch with them after they move on. "Not everybody's going to be a retailer for life." The result? Employees of old show up regularly to help man Confluence's events or even scrape skis during the winter.
Employees-turned-volunteers don't get all that much for their extra work. Occasionally Kahn can pass along deals or discounts, "But most of the time it's just unpaid charitable work by these people to help us do what we're doing. I think it speaks to the community that we've built here and how much people identify with the shop as being a place they want to support."
Whether you're a customer, employee or former employee, at Confluence, you're never quite off the team.
Trending on Outside Online