Outside Business Journal
Retailer Spotlight: Sunlight Sports in Cody, Wyoming
At the gates of Yellowstone, this retailer has learned to embrace the non-local traveler, alongside the hometown expert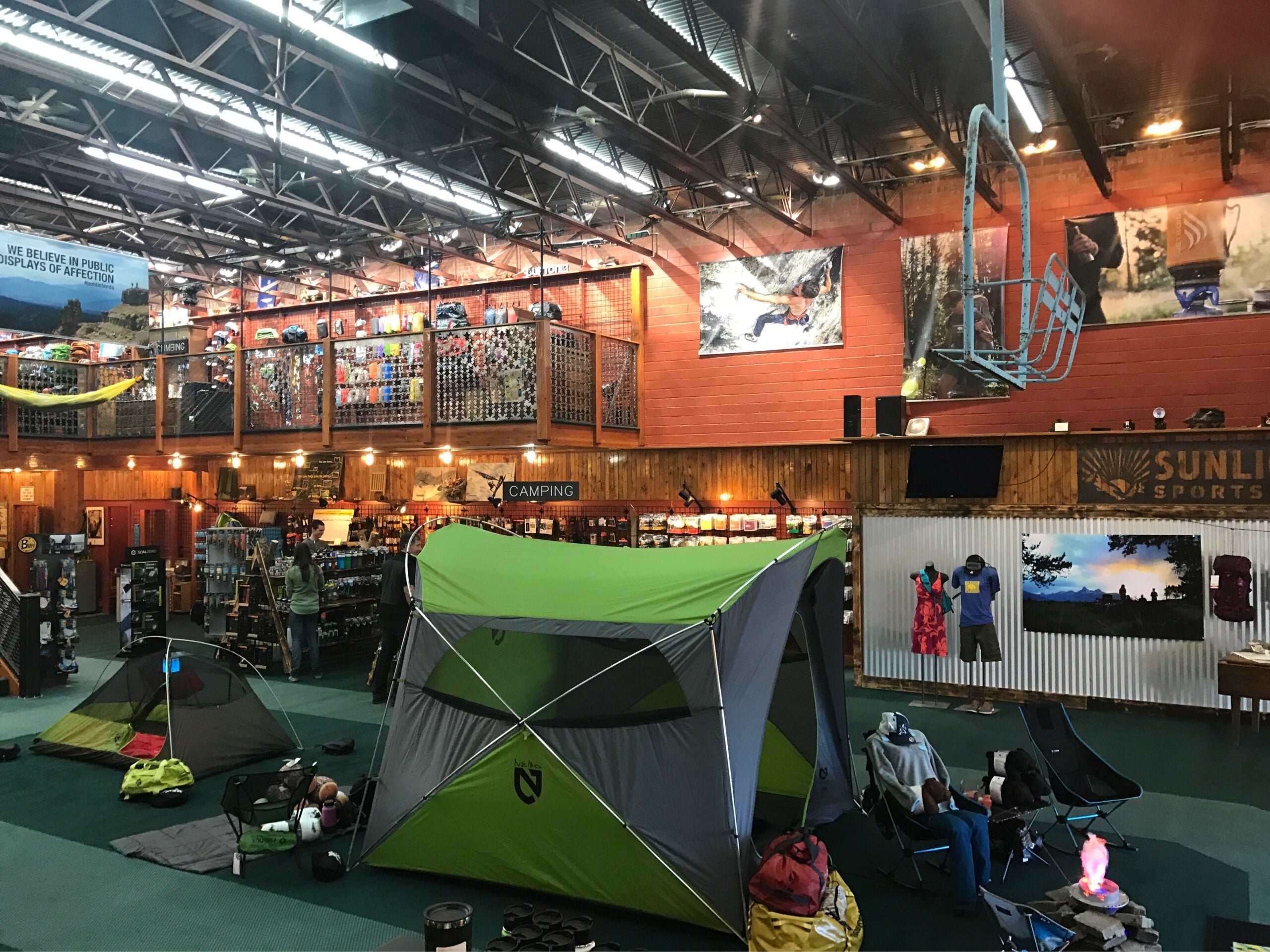 Heading out the door? Read this article on the new Outside+ app available now on iOS devices for members! Download the app.
When Wes Allen finished college and started working part time at Sunlight Sports in Cody, Wyoming, it was supposed to be just a temporary summer gig. Except summer slid into fall, fall slid into winter, and all of a sudden Allen found himself running the show as manager. But it wasn't until the holiday season that Allen hit the point of no return.
"Some girl called and told me that she was coming to work—I didn't even know her," Allen explained. "But she said, 'Well, I'm the owner's sister and it's the holidays, so you need help and I need money. I'll be there Tuesday.'" Wes and Melissa were married a few years later.
The couple's matchmaker, Sunlight Sports, had been founded in 1971 by Bob and Sandy Newsome on the third floor of Bob's father's western wear business, selling Chouinard hardware and Olin skis. When that went out of business years later, Sunlight expanded downward to fill the building with technical climbing and ski gear.
As Bob and Sandy started looking toward retirement, Wes and Melissa knew they wanted to own the store, but also recognized it wasn't that simple. "We knew that if we were going to be successful, we had to get out and learn stuff outside of Cody," Allen said. "We wanted to get out and see the rest of the world and see how different people ran their businesses."
The pair left Cody and found jobs with REI for nearly ten years, until Wes took a position with Chaco (and eventually Wolverine, at large), with one thing on their mind. "It was our goal from the moment we left Cody to buy Sunlight," Allen said. And eventually, in 2010, they came home and made it happen.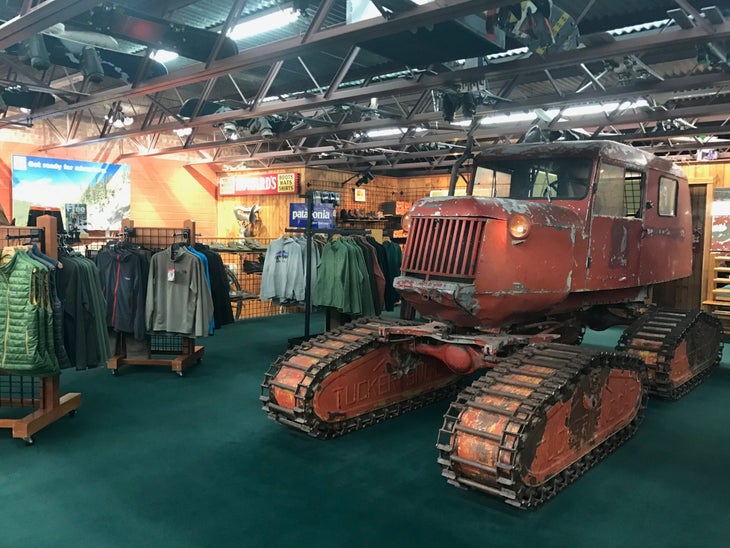 Today, Sunlight sits a block away from its original location and has embraced its placement at the gateway to touristy Yellowstone National Park, selling not-quite-as technical hiking, backpacking, and even family or car camping gear, alongside the more serious stock. According to Allen, "There's a much bigger piece of the population that comes through Cody that's interested in the outdoors, and a much smaller slice of the population that's into the hardcore technical expeditions." So while keeping gear on the shelves for all levels, it's the Yellowstone traveler that Sunlight has carved out a niche in catering to.
"Everyone on staff can walk a customer through the process to get a Yellowstone backpacking permit, and give them some first hand advice on a great place to go."
Yellowstone is a big place and for a lot of visitors, is an intimidating backpacking or hiking destination, which means one of the best products Sunlight can provide is a little guidance. And the best way to do that? According to Allen, it's to go backpacking yourself.
During one week in July, the entire Sunlight Sports staff splits in two groups—one of which runs the store while the other hits the park for a few days, before trading places. According to Allen, the annual trips come loaded with different benefits. The teams test out new gear they'll be selling in the store, but the main focus of the trips is on gathering information to help customers plan their own trips.
"Lots of customers plan to go camping in the park but aren't sure where. So that's what we do," Allen said. "We don't make reservations. We just show up at the Backcountry Office and see what's open then go through the same process our customers will be going through. It gives us a lot of insight that we can share with people when they come into the store."
Back in the shop, a dedicated hike-planning area filled with maps, books, and other resources becomes a hub of activity during the summer—according to Allen, his staff will assist between 20 and 30 customers a day. Employees, fresh off their own experiences have the knowledge not only of the process, but hikes and trips to suggest from all over the region.
"We'll take them back there and tell them our favorite places to go and all of a sudden they have direction, they know where they're headed, they mark a map up of options and hopefully they have a much better experience," Allen said.
"Two percent of our sales is a relatively meaningful chunk for my family."
Backpacking trip advice isn't the only way Sunlight likes to help the community. The shop donates 2 percent of their sales to locally-based nonprofits that, typically, help get youth outdoors.
"It's not just something that we do, it's very much the core of our brand identity," said Allen of what has piled up to more than $200,000 given thus far. And according to him, customers notice. "We have a Sierra Trading Post four blocks from us so you can always get stuff on sale in town. But our customers tell us that they come in and will spend more on something because they know the work that we do in the community."
Shop staff solicits applications from organizations, but do a lot of the searching and discovery themselves. For one annual event, employees hand write invitations to their top 600 customers for a community night in which a handful of nonprofits come to deliver pitches to the whole gathering. "We give each of our attendees a poker chip worth $10 and they can go and give that poker chip to the organization that they want to donate it to," said Allen. Last year, they donated roughly $4,000 during that single event.
"We're not just a collection of brands. We have our own brand and that's about the people that live here."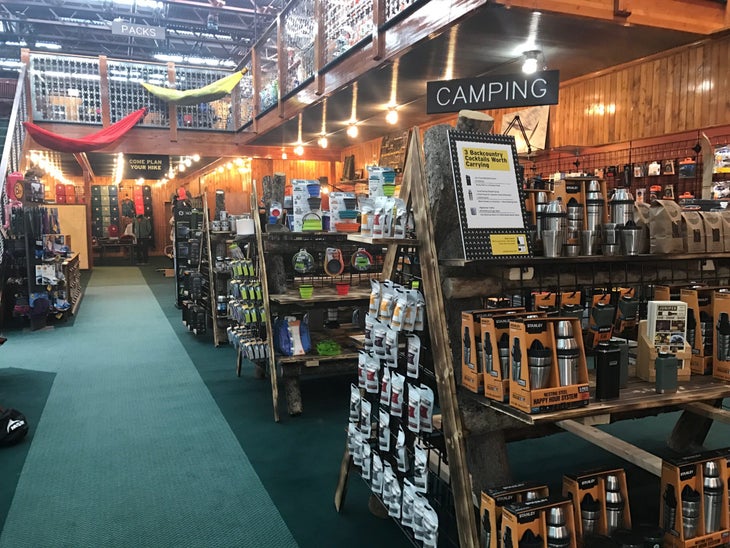 Another sure-fire way to make your customers feel welcome? Put their faces on your in-store signage. For the last six years, Sunlight has been doing all the photography for its window displays, banners and more in-house, or using photos supplied by customers. According to Allen, customers notice and regularly stop in to see which of their friends is on display this time.
Another piece of Sunlight's marketing plan is what Allen refers to as a multi-touchpoint promotional strategy, with a few key partner brands. A current promotion sees Sunlight partnering with Nemo Equipment. Together, the brands produced a piece of content that features some of the best places to camp in the park, with a healthy inclusion of Nemo's tents, and even a flowchart that helps readers decide where to go.
From there, the brands advertise the content through geo-targeted social media ads, on signage in-store, and even on a billboard in town. "Thus far, we've had tens of thousands of people look at the content, hundreds of thousands of people drive by the billboard, and in the last week we've had 7,200 people walk by the sign in the store," Allen claimed.
The result? Nemo sales are way up at Sunlight, but Allen says that's not entirely the point. "Even if a viewer doesn't buy a single piece of Nemo gear, they have this take away from the information we're providing and if they have a great experience, there's a positive association between that, us, and our partner brand," he said. "If we can positively associate a brand with that experience, we feel like we're delivering some exceptional value to that brand."
With the number of people passing through Cody and Yellowstone each summer, Sunlight Sports has found a way to reach just about everyone.
Trending on Outside Online