Outside Business Journal
Retailer Spotlight: International Mountain Equipment in North Conway, New Hampshire
Half-priced, used gear helps this old school retailer fight internet discounts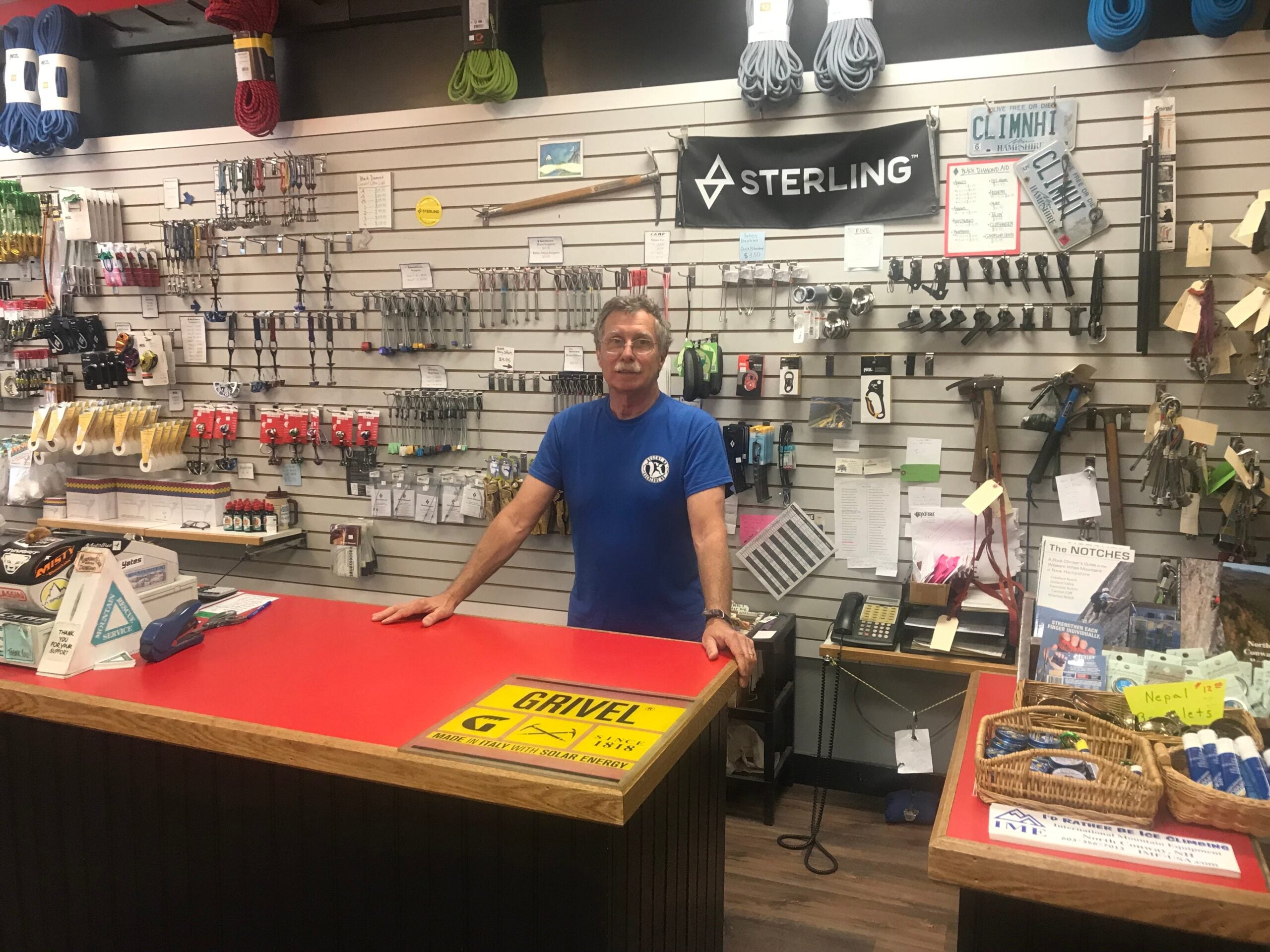 Heading out the door? Read this article on the new Outside+ app available now on iOS devices for members! Download the app.
After leaving a management position at a mountain sports store in 1979, Rick Wilcox was looking for a new mission—and he didn't have to look far.
Right down the street in North Conway, New Hampshire, was the small International Mountain Equipment (IME), started five years earlier by two British climbers and an American. Without any impetus, Wilcox asked to buy the shop. "They leapt over the counter at me and said, 'OK, we're out of here,'" said Wilcox.
In retrospect, their eagerness to leave might've been a warning to the prospective owner. But when Wilcox purchased IME with his wife, Celia, he didn't realize the struggles the local specialty outdoor retailer was facing. He said, "I thought they were doing well, down the street, but I became the proud owner of a business that had lost money every year for its first five years."
Wilcox was quick to sort out the issues that had plagued the prior owners. According to him, the pair didn't get along, nor did they spend much time in the shop, sending payroll costs soaring.
Today, Wilcox and general manager Alec Behr run a tight ship, each working in the store between four and five days per week and keeping a small crew on the payroll. Plus, in 1986, Wilcox moved the shop into his former employer's location. The building was a fixer-upper after being converted to a mini-mall by the prior owner, so Wilcox got it for a bargain.
"It was probably the smartest thing I ever did in business because we're living here for a lot cheaper than we would be paying rent," he said.
IME's cost-cutting techniques have helped the small shop survive in a town that has seen numerous retailers struggle with the rise of the internet. The other mountain shop, Eastern Mountain Sports, has seen bankruptcy twice in the last two years, while according to Wilcox, IME's last ten years have been its best.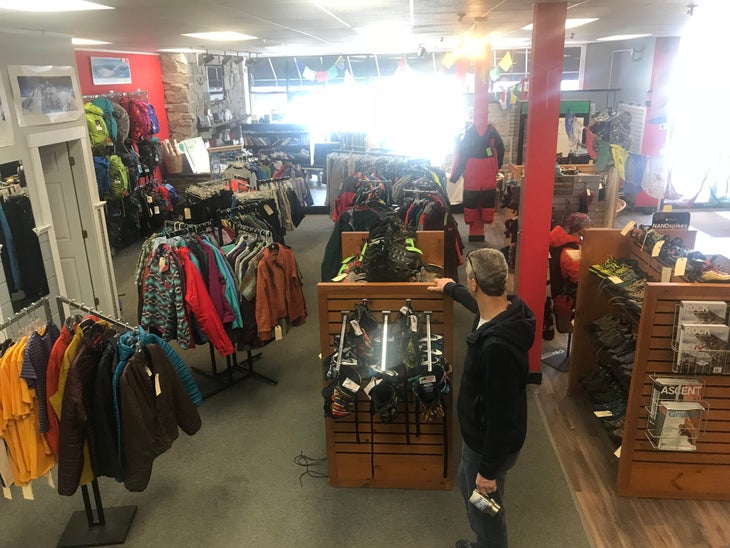 Lowering Prices 101: Sell It Used
Two years ago, clothing became a willing casualty of IME's focus on gear, specifically climbing, mountaineering, and backpacking. "Where the clothing is the money for a lot of technical gear shops, we found that—maybe because of our location in a resort town—no matter what brands we were trying and what selection we had, we were selling a small percentage of clothing at full margin," Behr said.
But according to Behr, as the shop's clothing sales dwindled, its small consignment corner began to grow. Originally set up less as a real business point and more of a service to customers—helping them make a few bucks for gear that would have otherwise been tossed—IME quickly embraced consignment, which led to a worthwhile selection of used gear. Today, consignment makes up roughly 40 percent of IME's overall business. Both Behr and Wilcox say it's the shop's number one way to compete with internet prices.
Wilcox also attributes the slip to IME as a "try-on location," with customers using the shop to test out the clothing they're shopping for before purchasing online for a cheaper price. "People walk around the store all day long with their phones in their hands and they're constantly checking prices," Wilcox said. So, IME stopped stocking apparel entirely.
All used gear is sold for at least 50 percent off, regardless of condition—a steep markdown that has made consignment another major piece of IME's reputation. More heavily used items are marked down even more.
"People grab this stuff like crazy," Wilcox said.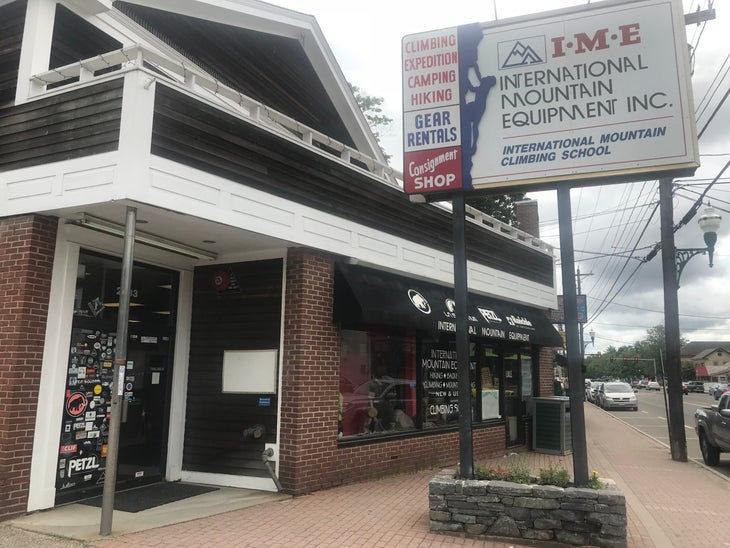 When IME was founded, one of the original owners also started a guide service called the International Mountain Climbing School (IMCS)—a partner of IME's since its inception. It took Wilcox a few years after buying IME to also take control of IMCS (he's now partnered with the school's director in ownership), but the combination has been worth the wait. "The reason it works so well is because we're a hardcore climbing gear shop—They bring people in and we can bring people to them," said Wilcox.
All on Paper
At IME, customers bring in consignment gear and retain ownership of it until it sells. Once someone purchases it, sellers get to keep 70 percent of the sale as store credit or 60 percent as a check. And at IME, the whole system is done on paper, which Behr attributed to an "if it ain't broke, don't fix it" attitude. Similarly, store credit is still done on paper, and even the shop's inventory isn't computerized.
"We could invest a bunch of money in computers and computer programs and maybe not make it that much easier or accurate. We're used to this, it works," said Behr. "We have a $175 cash register and we've been using the same thing for the last 15 years."
Behr admitted that there might also be an "old guy inherent distrust of computers" at play, but that doesn't mean their slow tech adoption is just a stubborn hassle. Aside from the obvious financial benefit of not needing to purchase software and systems, Behr is happy to avoid bugs and glitches, data loss, issues from power outages, and so on. But at the end of the day, he said, "The tangible benefit is that we've got a system and it works. When you change a system, you run the risk of having issues with it."
The shop isn't totally tech-devoid, though. Behr and Wilcox have help running the shop's Facebook and other social media pages from younger staffers. Compared to bigger or other stores, IME's minimal tech solution is a dying breed.
But at IME, bookkeeping on paper keeps overhead low, just like selling consignment.