Outside Business Journal
Retailer Spotlight: Mountain Chalet in Colorado Springs, Colorado
To celebrate 50 years, this retailer sent hundreds of its customers outside as part of a six-sport contest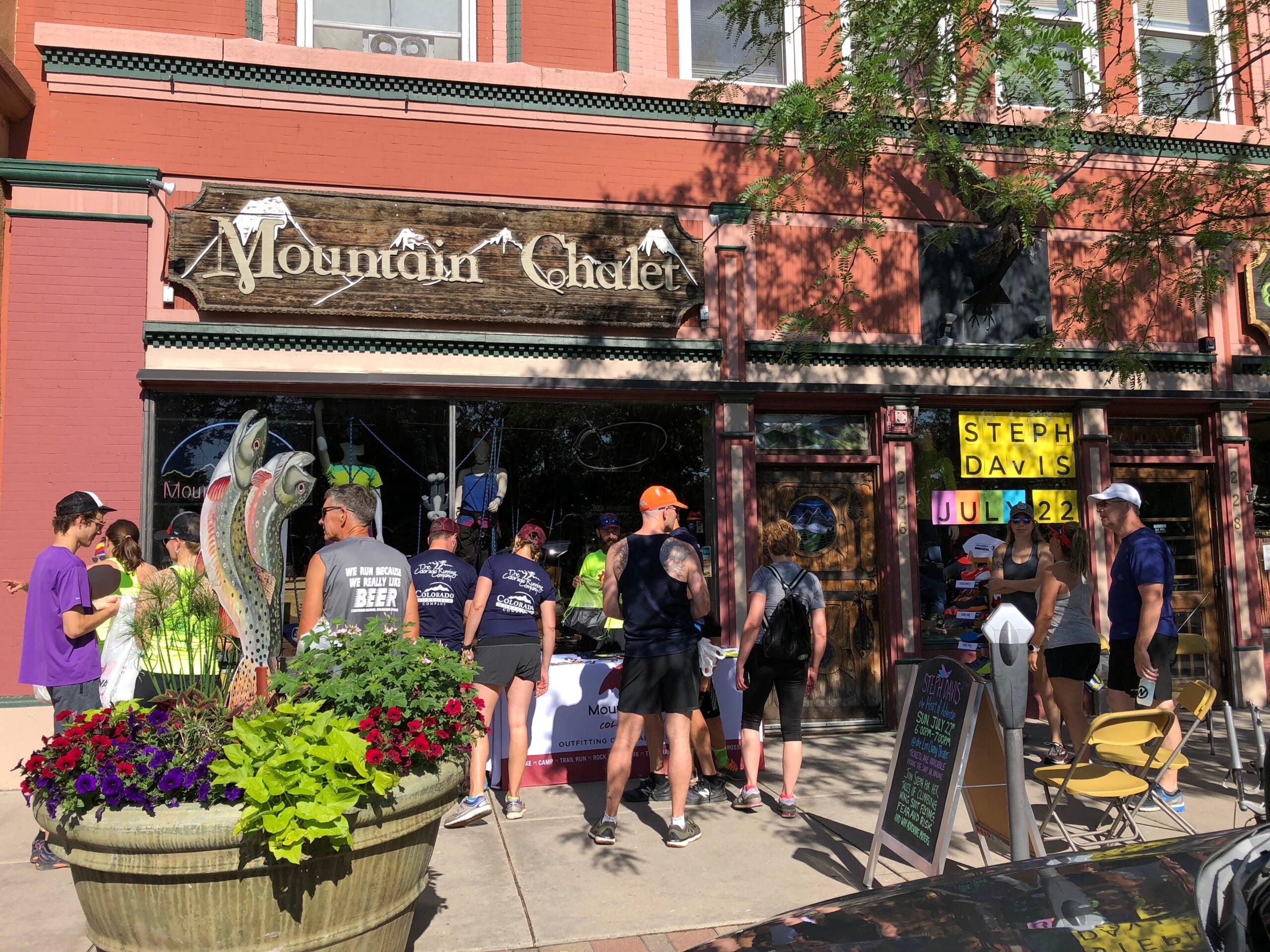 Heading out the door? Read this article on the new Outside+ app available now on iOS devices for members! Download the app.
Jim Smith, a lifelong climber and all-around outdoorsman, spent nearly two decades searching for just the right independent outdoor shop to purchase in order to turn his passion into a trade. "I'd been looking at shops, for, like, ever," he said.
"Since I've known you," confirmed his wife, Elaine Smith.
In looking at 20 shops all over the West, various stores piqued their interest, but the deals fell through for one reason or another. One day in 2015, the Smiths walked into a northern Colorado shop that wasn't even for sale. But they knew they'd found the spot.
"We started scoping some shops in Colorado, and honestly, Mountain Chalet spoke to us quite loudly," Jim Smith said. "So we reached out to the owner and asked him if he'd be interested in selling, and he says, 'Maybe, I think I might.'"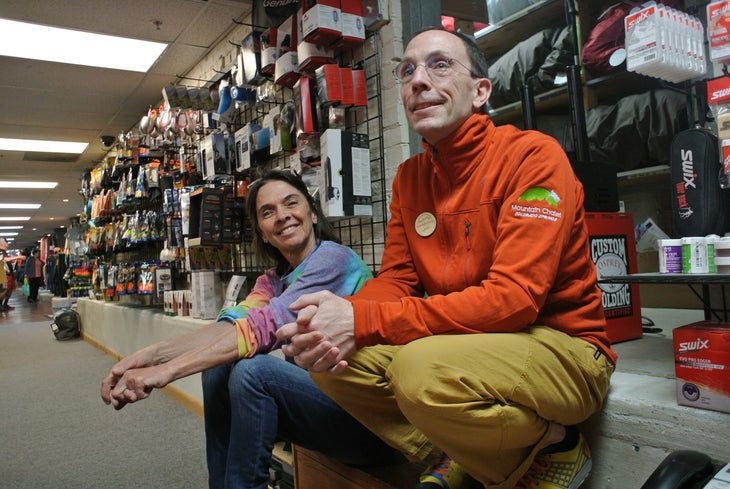 In Good Hands
By March 2015, Jim and Elaine Smith became the new owners of the oldest independent specialty outdoor store in Colorado: Mountain Chalet, founded in May 1968.
The couple has done their research to confirm Mountain Chalet as Colorado's longest-running independent specialty outdoor retailer, behind The Alpineer in Gunnison, Ski Haus in Steamboat, and Kristi Mountain Sports in Alamosa, which all opened in 1969 and remain open today.
"Collectively [between online research and conversations with reps], we all felt really good about labeling ourselves as the 'oldest,'" Jim Smith said. "There were some shops that opened before us, but they are no longer open."
The couple bought the store from longtime owner Dan Foster, who bought the Chalet from its founder Kent Kane in the early '80s after working at the shop as an employee. And half a century after its inception, the founding family still has ties to the shop.
"Kent's wife still comes into the shop on a regular basis to check in with us," Jim Smith said. "She brings us super cool old articles and artifacts from the shop. She's an amazing woman, and it's fun to have her come in and tell us stories."
Kane, and later, Foster, represented a vital and trusted resource in the Colorado Springs outdoor community during their tenures as Mountain Chalet owners. Foster wanted to ensure whoever succeeded him also would take on that mantle of leadership, expertise, and passion without selling out.
"Dan [Foster] recognized that the center of the outdoor universe in Colorado Springs is Mountain Chalet," said Jim Smith. "So it was important to him to make sure we were going to keep it small and independent specialty retail, and that we didn't have some ulterior motive to do something else … He was looking for a good steward of the shop who would continue to represent the community in a way that fit Mountain Chalet as he built it up."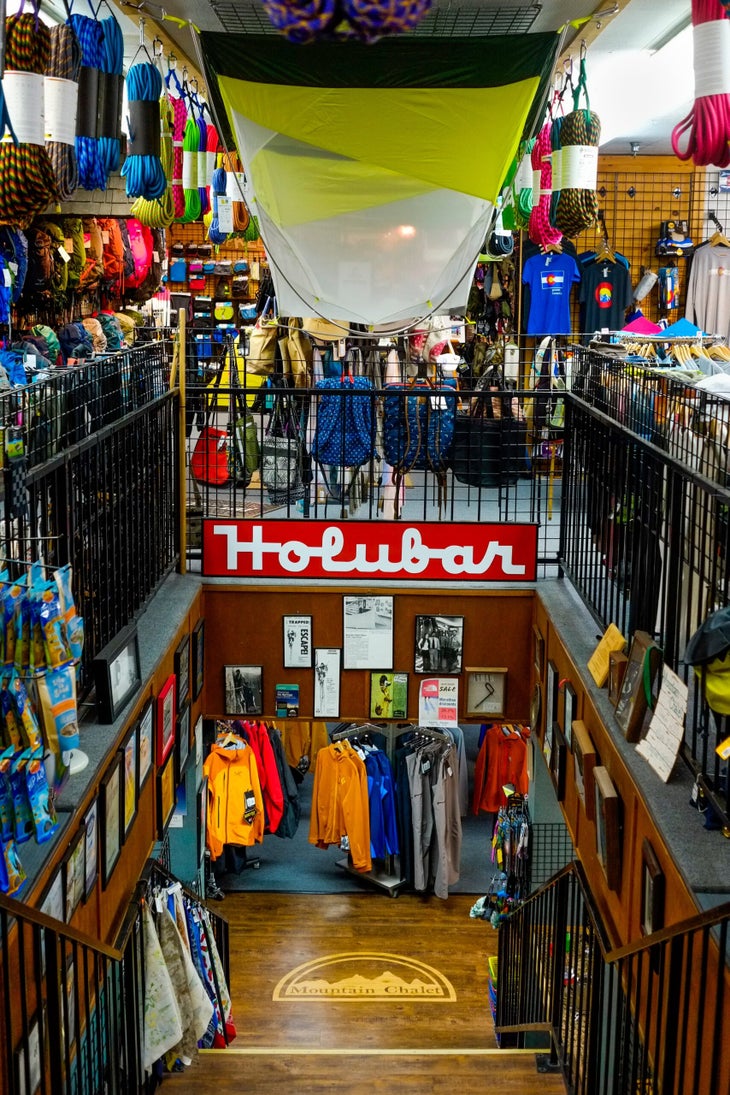 Ringing in the Big 5-0 with an Invitation to "Get Out There"
No doubt Foster appreciates the community-centered outdoor celebration Jim and Elaine Smith cooked up to celebrate the shop's milestone: the Mountain Chalet 50th Anniversary Contest.
"We've celebrated all year long in lots of different ways," Elaine Smith said. "One of the most fun things we're doing is a year-long contest with six sports categories: trad climbing, sport climbing, ice climbing, backpacking, trail running, and backcountry skiing."
To participate, more than 300 community members completed specific routes for each sport category. The number of specific routes participants had to complete—in order to earn an entry to the grand prize drawing—varied by category.
"People worked on these all year long," Elaine Smith said. "They could do more routes and get additional entries, too."
In October, Mountain Chalet combined all the Mountain Chalet 50 Anniversary Contest entries to draw a name in each sport category. Later this year, the six winners will receive a full outdoor kit tailored to each sport category so "they'll be fully decked out"—from tri-cams, tents, and tech t-shirts to skis, skins, and sunglasses.
"We really wanted to just encourage people to get out there," Elaine Smith said. "We heard a lot from folks who said, 'I'd be sitting on the couch, but now I know I need to go out and get some routes done!' And they're experiencing a lot of new routes since they can't do the same route twice. So they're experiencing more of Colorado, and that's great too."
The contest created a sense of community—out on the trails and routes, in the store, and online.
"We gave every participant at Mountain Chalet 50th anniversary flag…and we created a Facebook group. [Each participant] had to take a photograph at the trailhead or the summit with their Mountain Chalet 50th anniversary flag when they completed the route," Jim Smith said. "It did get everybody kind of excited and made for a mild form of competition. Everyone could have a good time with it."
Events like the Anniversary Contest continue to ensure Mountain Chalet remains at the center of the outdoor universe in Colorado Springs. "It's what I call community outreach," Elaine Smith said. "Bringing folks into the shop to talk with folks at all different kinds of events."