Outside Business Journal
Retailer Spotlight: Half Running Store, Half Brewery, Shoes & Brews Is Business up Front, Party in the Back
Nothing is better than swigging a cold one after pounding the pavement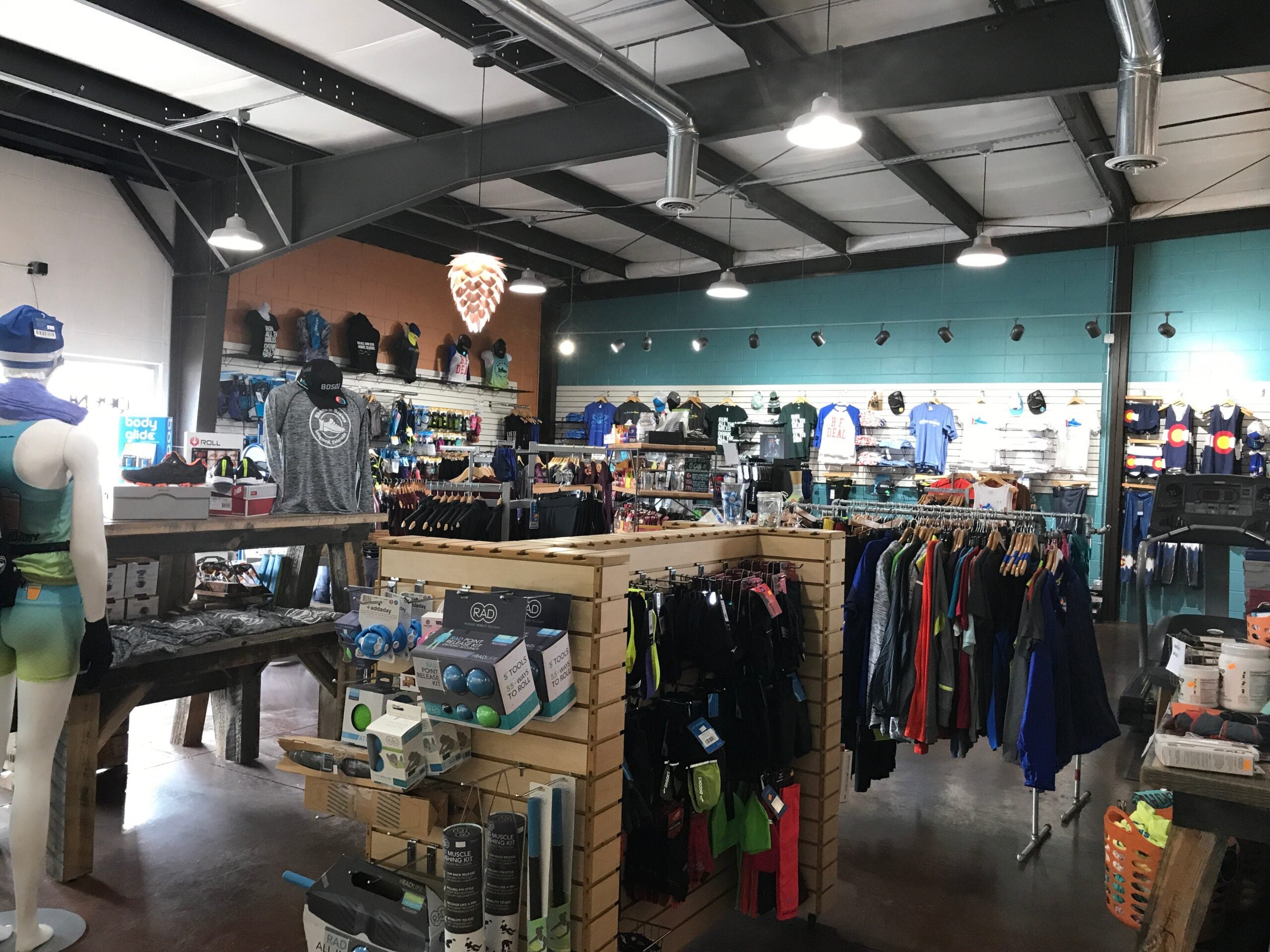 Heading out the door? Read this article on the new Outside+ app available now on iOS devices for members! Download the app.
The inspiration behind Shoes & Brews began in an all too common scene, especially in Colorado. A trio of friends at Colorado State University in Fort Collins, during one of their regular Saturday runs to local breweries, discussed starting a running shop with a taproom attached. One year later, in 2014, Ashlee Anderson, her husband Colin Anderson, and their good friend Dave Zakavec, along with two other family members, opened Shoes & Brews near downtown Longmont, Colorado.
If you don't gaze past the large glass windows toward the back of the shop, Shoes & Brews looks like your typical running store. One wall is lined with colorful footwear, one wall is designated for Gait analysis, and in between, there's a sea of apparel, hydration packs, energy gels, socks, sunglasses, and hats.
But make your way inside, and you'll find a bustling taproom with more than 20 refreshing beers waiting for you. Some of those are even brewed in-house by Anderson's dad and longtime home-brewer, Roger Anderson.
Pairing running with beer isn't a new concept. In fact, the two social activities often fit seamlessly together as a culture, especially in Colorado. But a running store actually brewing their own beer is a first.
"You've got to be a pretty unique person to be able to serve beer and have conversations, but also be able to properly fit someone for a shoe and give advice on gear," Ashlee Anderson said.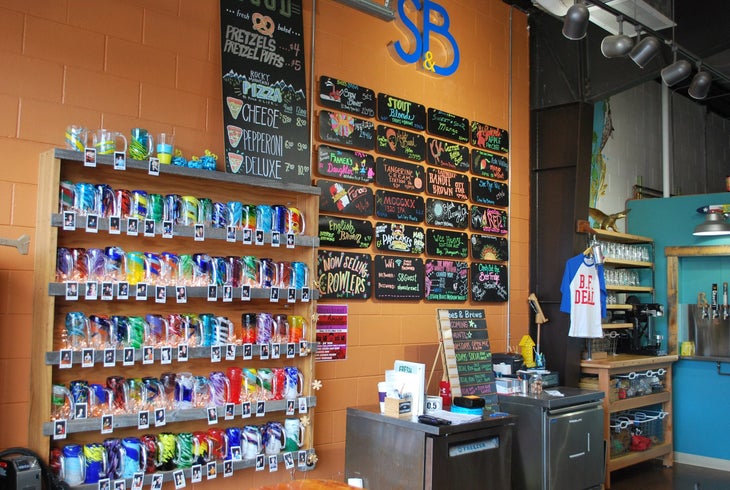 Beer Isn't an Afterthought
When the doors first opened in July 2014, the team thought that the store would be the anchor of the business, and that customers would come for the gear and stay for a beer. But Ashlee Anderson said it's the reverse: "Brews very much has its own customer." She added that people who come for the beer are often inspired to start running.
As far as breweries go, it's a small, one-barrel system. Yet the team still manages to average three house beers on tap at a time. Most recently, they were serving Sweet Heart Wheat Tart, a German-style wheat beer; Negative Split IPA, brewed with Galaxy hops; and My Morning Jacketed Fermenter, a bit of a winter warmer.
"We want to have many different beer styles," said Ashlee Anderson. "Even if we don't have the exact type someone is looking for, we want to be able to suggest something similar."
Brews are generally kept lower in alcohol—under ten percent—so people can safely enjoy a few beers after a run with the rest of the community. Customers can order a brew and stroll around the store. All shoe purchases even come with a free pint. The beer bleeds into the front of the store with plenty of beer-themed apparel options, such as t-shirts and running shorts with the state flag.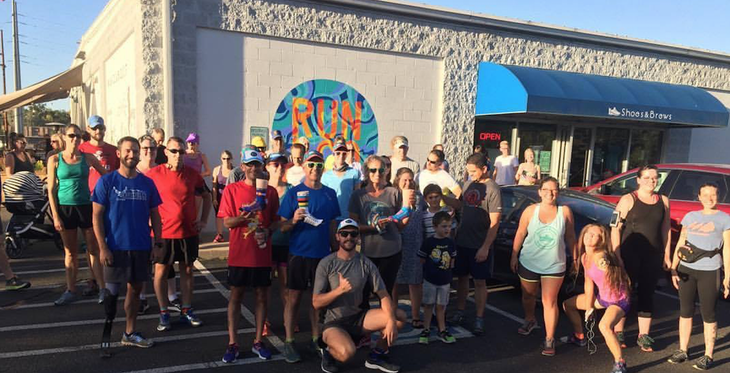 Building a Running Community
While Fridays and Saturdays are usually the buzz-worthy nights at breweries, Thursdays bring out the biggest crowd at Shoes & Brews because it's community run night. Runners of all levels meet at the brewery for a dog- and kid-friendly run and return for a half-priced beer.
"There's something motivating to people to know there is this big group here running every week," Ashlee Anderson said. "And hey, there's beer afterwards." If that isn't enough encouragement, attendance to every run is noted, and people win free swag, including free pints, t-shirts, or race entries.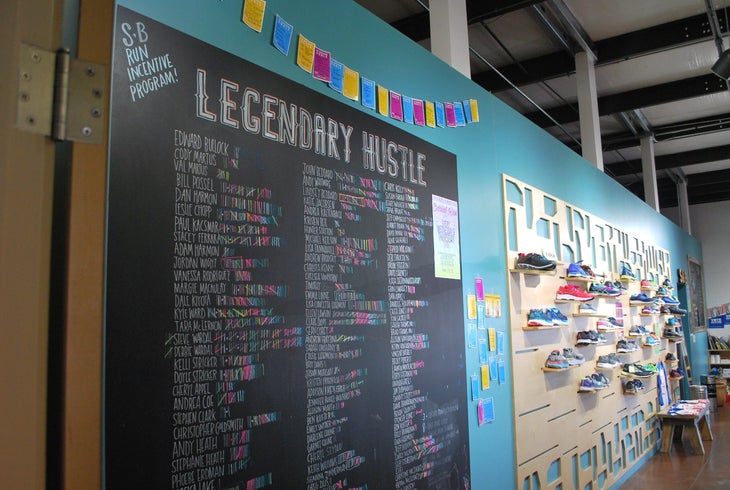 The store also hosts an 800m Challenge, where runners clock their time and end up on a giant chalkboard in the brewery. Whatever their time is what they pay for beer the entire day of the challenge, and it's also what they pay for their first beer for the rest of the year. The current reigning time and beer price is $2.08.
For larger races, Shoes & Brews partners with Left Hand Brewing, also in Longmont. Races end at the store with plenty of beer, food, vendors, and live music.
Keeping It Local
Whether it's on the "shoes" side or the "brews" side, it's all about the love for Colorado and supporting local businesses. For gear, Adventurist Backpack Co., Native Eyewear, Newton Running Shoes, Honey Stinger, Skratch Labs, and Boulder Salt are just a handful of the local brands Velez chooses to have in the store.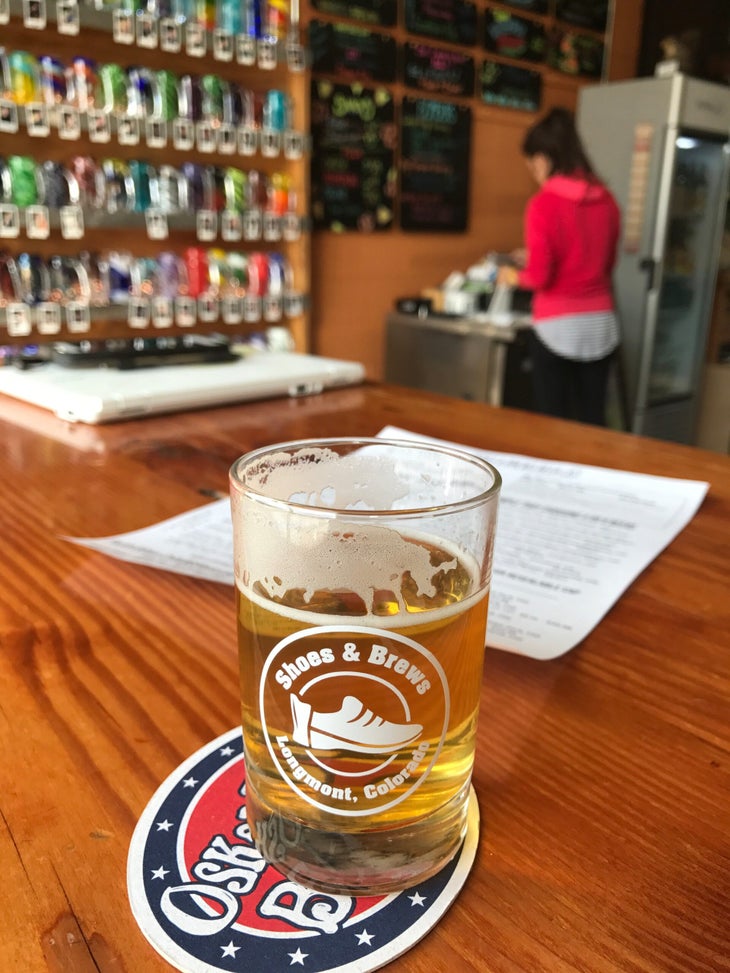 All but one of the 20 plus taps on the "brews" side are local from Colorado. They attempt to focus on small breweries, such as City Star Brewing out of Berthoud or Lumpy Ridge out of Estes Park.
The outlier beer? Each month, a member of the brewery's mug club gets to pick a brew to have on tap, and as long as it can be attained, it'll be available at the brewery. This month it's a beer from Lagunitas out of California.
Besides looking for the best local brands, Ashlee Anderson said she likes to keep a good balance between a runner's needs and things that are unexpected, like caffeinated gum to use on runs for an energy boost, or apparel with pockets hidden in the sleeve or with a spot to hold a water bottle.
The best part about this unique locale is that whether or not someone is a runner or beer drinker, the welcoming, friendly vibe won't intimidate newcomers to either sport.
"There's something about beer that connects people," said Ashlee Anderson.
Trending on Outside Online