Outside Business Journal
Retailer Spotlight: Sunflower Outdoor and Bike in Lawrence, Kansas
Often called the "Boulder of the plains," this Kansas college town boasts a community equally psyched about the outdoors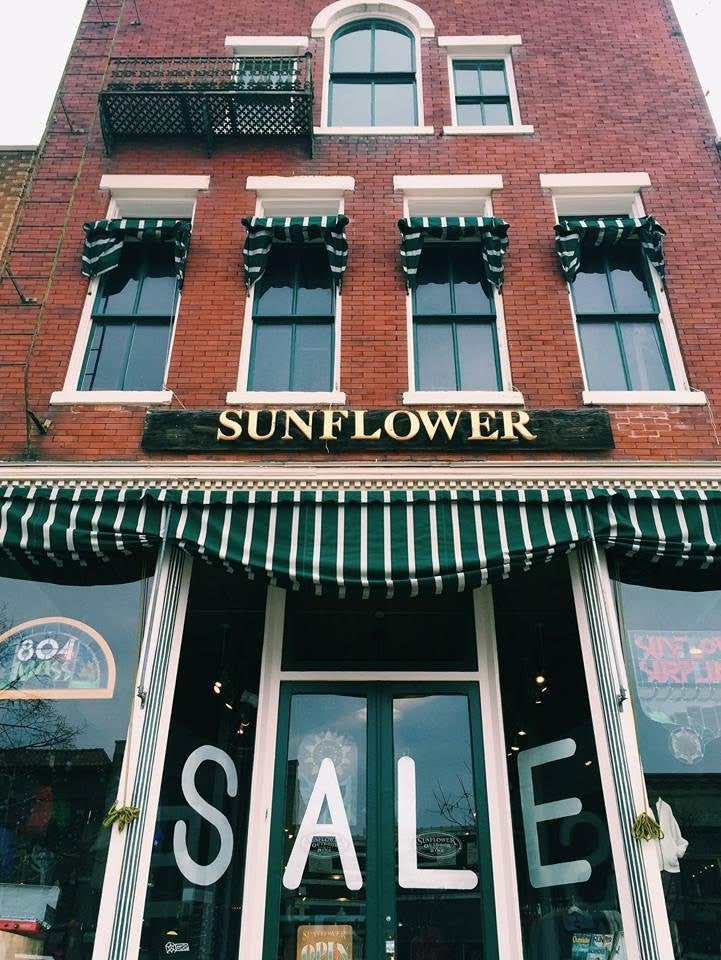 Heading out the door? Read this article on the new Outside+ app available now on iOS devices for members! Download the app.
On a corner of downtown Lawrence, Kansas, there's a 45-year-old shop with enough camping, paddling, and biking gear that you forget you're in a pancake-flat state.
Sunflower Outdoor and Bike Shop cultivates an outdoorsy culture least expected in the Midwest college town, hundreds of miles from the Front Range or any national park. But Dan Hughes, the store's owner, won't let customers gloss over the fact that outdoor adventure exists closer to home if they know where to look.
"I think people get to Kansas and they're like, 'Well there's nothing to do in Kansas,'" Hughes said. "And yet there are these little hidden gems that they just need to be exposed to, so we try to get them out there and show them what's going on."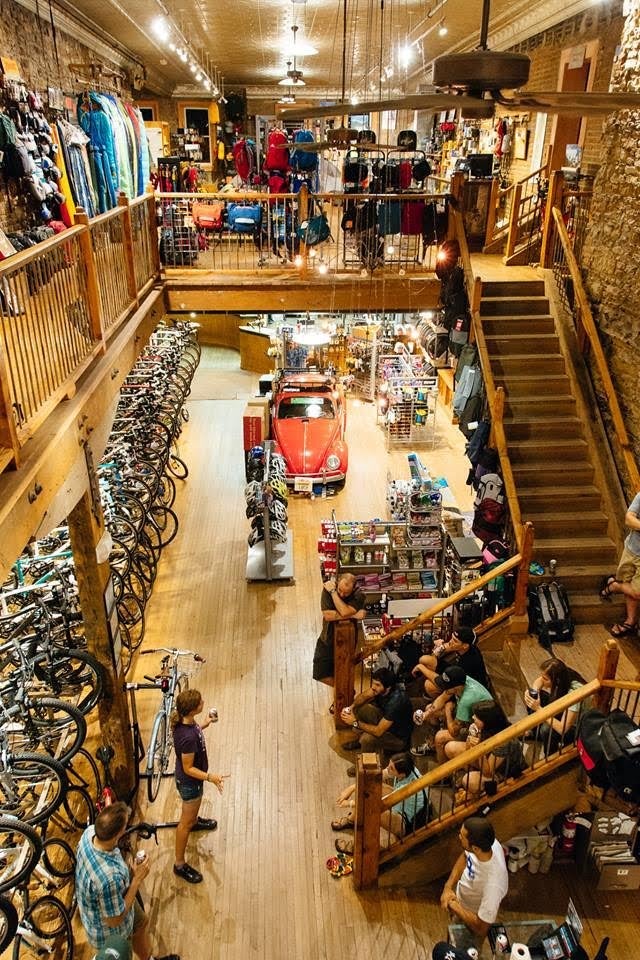 Stocked for Every Adventure
The 12,000-square-foot space with hardwood floors and historic brick walls offers what any outdoorist might pack for a trip. On one side is the bike shop with gravel, road, and mountain models suspended from the ceiling. On the other side are displays of the latest apparel from brands like Patagonia and The North Face, as well as signature Sunflower screen-printed tees. The camping department is upstairs and the bannisters are draped with backpacks. "I love the fact that people come in and buy an adventure bike from us and then we walk upstairs and show them everything else they need for their adventure, from a tent to a sleeping bag to a base layer and socks,'" said Hughes. "It's a turnkey operation fueling their next adventure. That's what we're all about."
Hughes' first time through the doors of what was then Sunflower Surplus—an Army Navy surplus store founded in 1972 by David and Susan Millstein—was as a 13-year-old kid visiting from Colorado and wanting nothing more than a gas mask. The item is now an heirloom reminding Hughes of his journey from anthropology student at the University of Kansas and part-time employee to the store's owner of 16 years.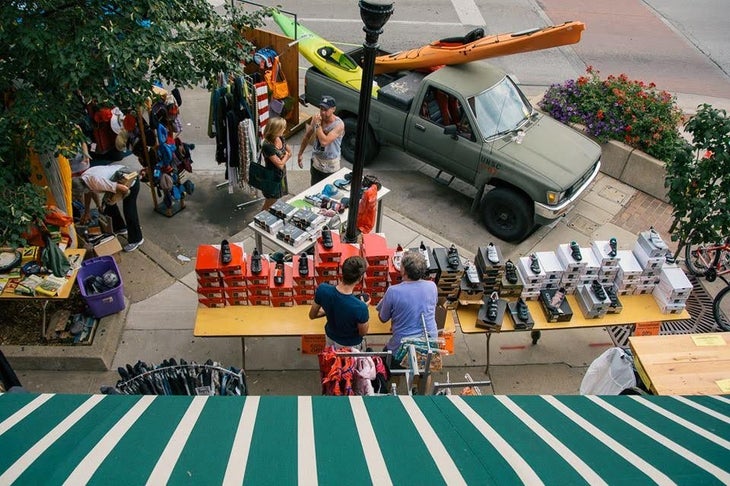 But the shop has never been just a shop. Customers and staff make up a tight-knit community proving that the outdoorsy lifestyle can exist in a state without mountains. "I think people are just as passionate about the outdoors here as they are in Boulder… I think there are just fewer of them," said Hughes, who calls Lawrence the "Boulder of the plains."
A big part of the store's shift from Army Navy surplus to outdoor gear was due to Mike Sullivan, who started his 40-year career as an outdoor rep for brands like Royal Robbins and Wilderness Experience. He says he was brought onboard by the Millsteins as the store manager in 1976, when brands like Danner boots began to share shelf space with Vietnam boots and ponchos.
Students and Vietnam veterans alike came looking for Svea 123 stoves and Trailwise Fitzroy tents, and whether or not they were outdoorsy, people bought the down jackets stocked during a record cold October. Then, those people sought places to use their gear and live like nomads.
Cultivating Community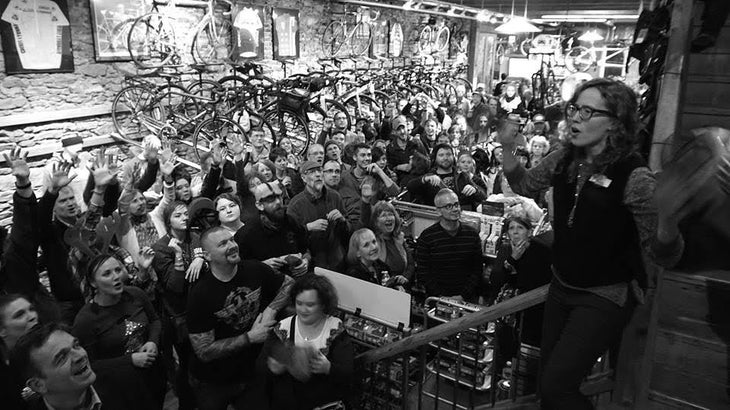 One year, Sullivan says, he and David Millstein bought a boxcar full of old Army Navy hickory skis with leather bindings. Sullivan says they would post a sign on the store's door the week before a big snow, and the morning of, he would carve out a trail with snowshoes and skis, and the store would host a Nordic ski  race down by the river. It became an annual tradition.
And in the summer, they'd explore the nearby waterways. "It was not at all uncommon for the Sunflower people and a bunch of the customers to all show up at the store on Friday at five o'clock, throw some canoes on top of various vehicles and head down to southern Missouri or northern Arkansas and go paddling for two or three days," Sullivan said.
That was before the construction of Clinton Lake—a state park and reservoir about four miles west of the shop—which has become the premier recreational area in Lawrence's backyard. Hughes says the single location features mountain biking through the woods, backpacking a web of hiking trails or paddling across the lake.
Many of today's Sunflower events foster that same community, whether it's giving out discounts, local beer, and free gear at the annual December customer appreciation party or bringing to town Banff Mountain Film Fest.
"The store doesn't exist without the community, but the customers are saying the community doesn't exist without the store," said Hughes. "That relationship is, I think, incredibly special and something to be valued very highly. We're just grateful for the connection. We all got into this game for the connection."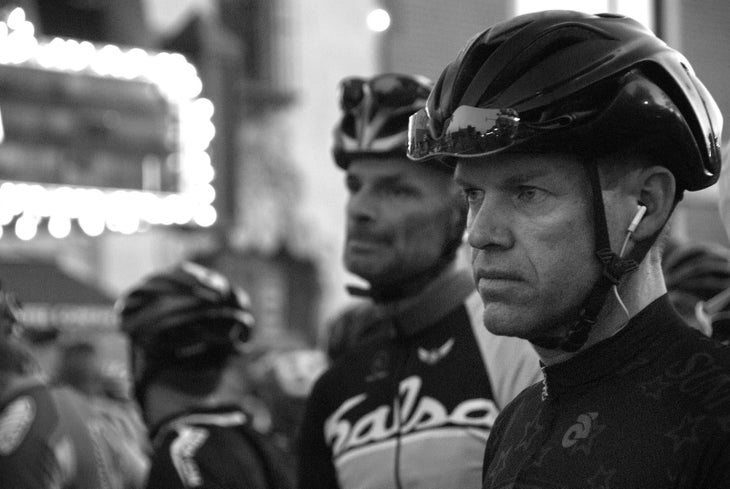 Hughes, an avid gravel grinder and four-time champ of the Dirty Kanza 200 race across Kansas' Flint Hills, supports not only the Lawrence Bicycle Club and Lawrence Mountain Bike Club, but also the University of Kansas' rock climbing club. He gets his staff of about 25 involved, having them cook scrambled eggs and French toast for hundreds of cyclists at annual rides and participate in backpacking overnighters or bicycle repair clinics.
"I can think of some people we have on employee campouts where they wander into the woods with all their stuff in some garbage bags and then by the time they leave us they're like fully outfitted and that's their new way of life," Hughes said. "And I think that's a great allegory for what we're trying to do with our customers, too—turn them into outdoors people for life."