Outside Business Journal
Bye-Bye Single-Use Plastic
10 ways to prepare for a single-use plastic-free Outdoor Retailer show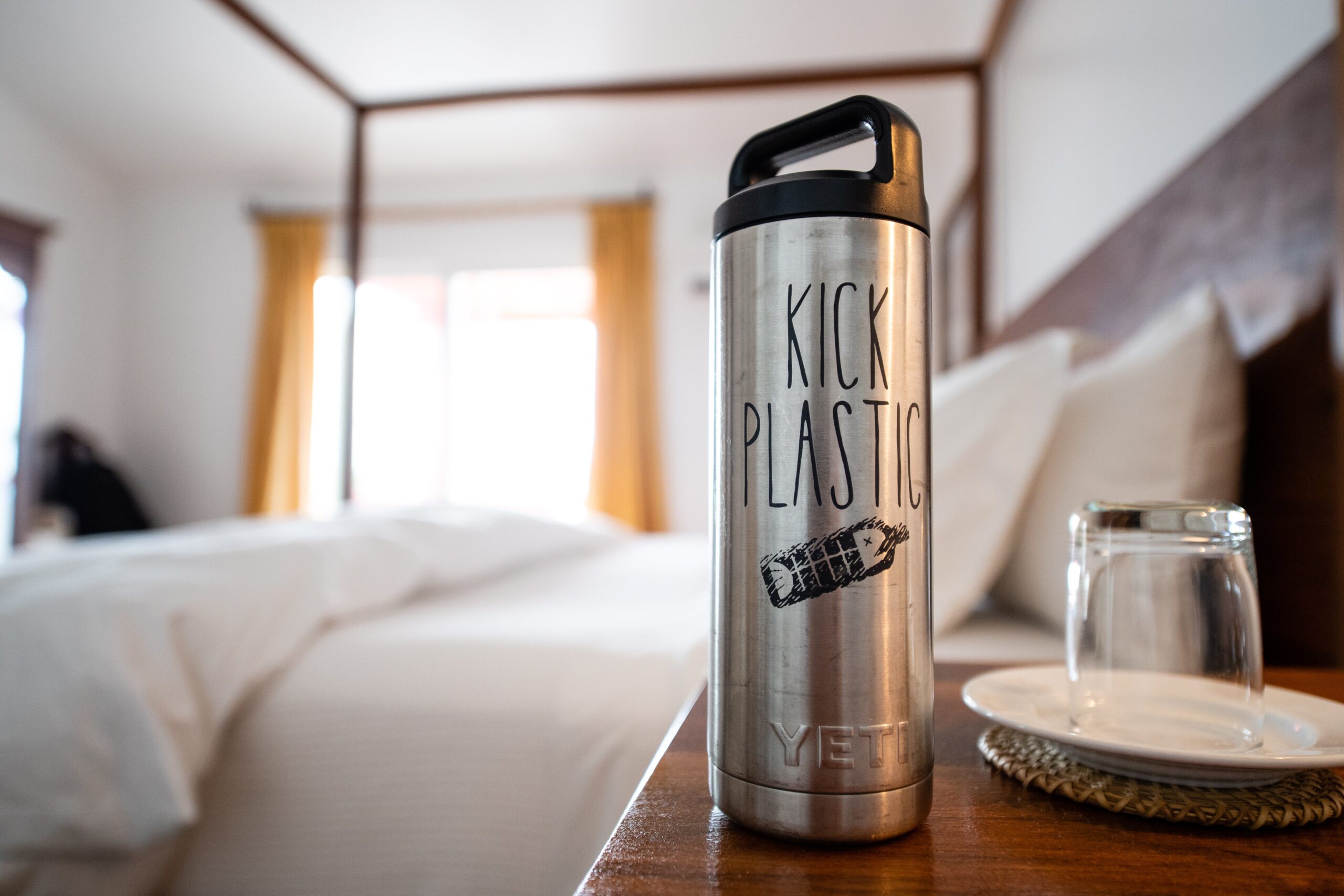 Heading out the door? Read this article on the new Outside+ app available now on iOS devices for members! Download the app.
It's countdown time to Outdoor Retailer + Snow Show, which stages in Denver January 29-31, 2020.
Thanks to collaborative efforts of Plastic Impact Alliance members, including the show management, there was a major increase in awareness around single-use plastic at Outdoor Retailer Summer Market 2019.
Let's build on that as we approach the upcoming January gathering. Start planning your plastic-free show experience now with these tips.
BYO drinkware. Let's stop amassing more bottles and cups from the generous companies who give them out at the show. We all have enough to last a lifetime, right? If you plan on drinking anything during the show, bring a vessel for it. That includes a water bottle, a coffee cup, and a pint glass for happy hours. Bonus points: bring your own reusable utensils, too.
Appoint a sustainability captain. Exhibiting brands should have one person in charge of communicating, facilitating, and driving sustainability efforts within your teams, which includes all of the below points.
Host a water station. If you're an exhibitor, give your staff and booth visitors a place to tank up. The Plastic Impact Alliance has put together resources for booths of all sizes and budgets here.
Plan happy hours and events with sustainability in mind. Plastic Impact Alliance members have pledged to reject single-use plastic drinkware at their events, which means brands have to come up with alternatives to the compostable (but still single-use) plastic cups that the Convention Center supplies. Here are some ideas:
a) Tell people to BYO cup on your invitations. Start hammering this message home early and keep hammering, like PIA member Osprey did at the summer show.
b) Order stainless steel pint glasses from Stanley, Eco Vessel, Klean Kanteen, Yeti,or GSI. The PIA has made it easy, right here.
c) The PIA is partnering with Vessel on an awesome pilot program that will allow attendees to check out reusable stainless steel cups (for free) at various booth locations throughout the show, then return them at designated spots. This is the future of sustainable events!
Ditch the carpet. If you're an exhibitor, embrace the industrial concrete floor, like Outdoor Retailer has done in the aisles and Patagonia has done it its booth. Booth carpet and the plastic underlayer eventually ends up in the landfill.
Use only clear, recyclable pallet wrap when packing your booth. Tinted and black plastic film cannot be recycled. Speak to your contractors and make sure to demand clear, un-tinted film, which can be recycled. Outdoor Retailer is working on establishing soft film recycling centers on the show floor, so we can divert all that material from the landfill.
Recycle your polybags. Many exhibitors bring poly-wrapped items to the show, but starting in January, we'll have the option to recycle them right at the Convention Center. Stay tuned for more info as the process develops.
Adopt a pack it in/pack it out mentality. Make sure everyone on your team understands that items left on the floor during take down might not make it to the proper recycling bin. Take responsibility for all your materials and trash and ensure it ends up in the right place.
Skip the hotel toiletries and the housekeeping service. If all 25,000 or so show attendees packed their own shampoo, conditioner, lotion for all three days of the show, we could spare roughly 75,000 mini plastic bottles form the landfill! Alliance member Matador makes awesome refillable toiletry kits and are offering them at a 50 percent discount for all PIA members and show attendees. Get the scoop here.
Say no to junk swag. Do you really need that keychain, coozie, or yet another lip balm? Don't accept something if it will just get stowed in a drawer (then eventually pitched). Send a message about needless logo'd junk. Just say no unless it's really something you'll use.
Access our newly updated tool kit here.