Outside Business Journal
150 Outdoor Journalists, Marketers, and Brand Reps Gather at Outdoor Media Summit
The 5th annual event in Estes Park, Colo., gave outdoor journalists a place to learn, collaborate, and network and a select number of brands to really connect with their message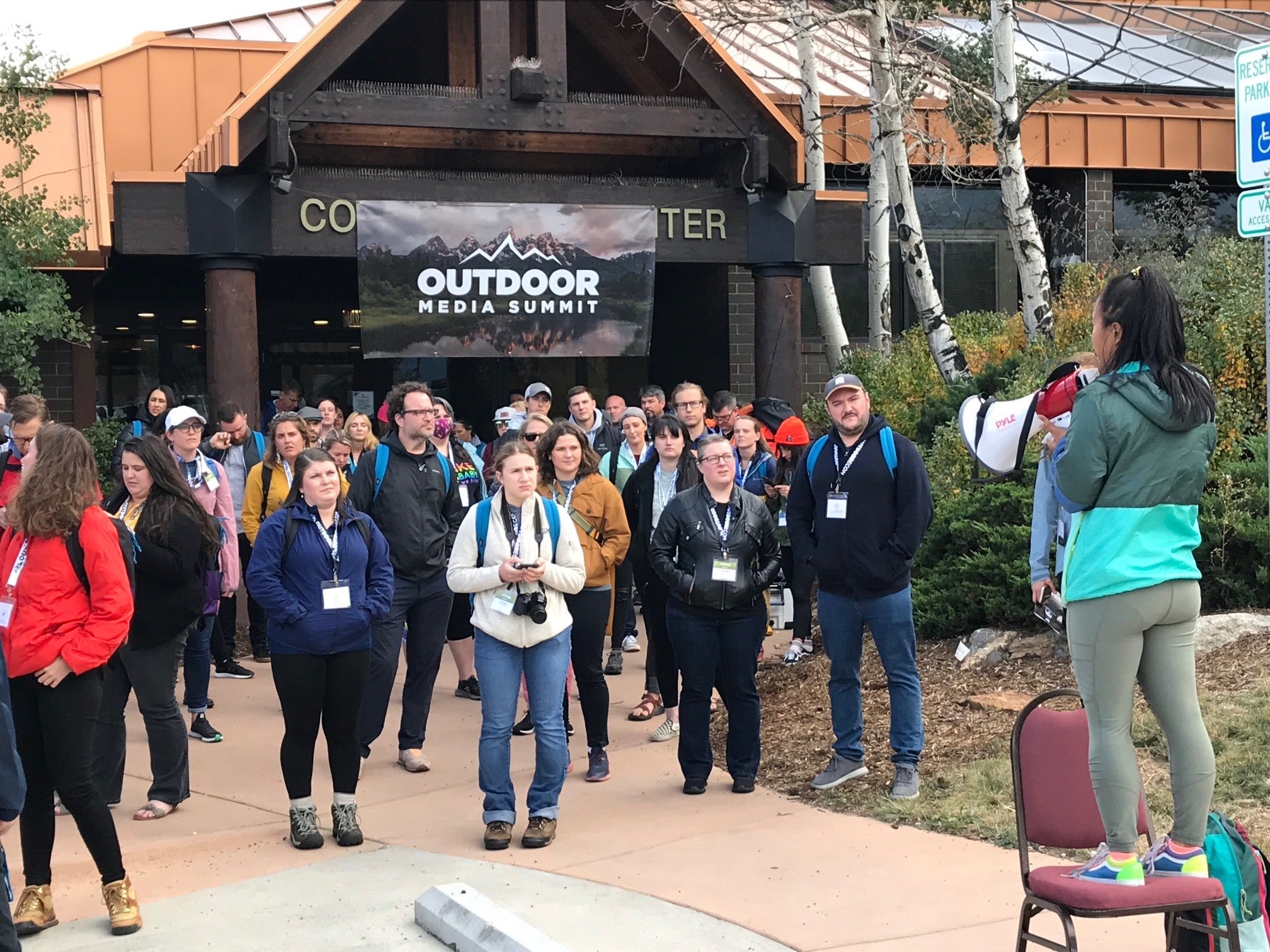 Heading out the door? Read this article on the new Outside+ app available now on iOS devices for members! Download the app.
At a time when industry events have been canceled or seen their attendance decline due to COVID, Outdoor Media Summit, a niche conference that unites outdoor media with each other and other industry stakeholders, found a way to grow.
The fifth annual Outdoor Media Summit, held this week in Estes Park, Colorado, drew a record crowd of 150, which the show's founder says was a testament to its unique platform that combines networking, education, and fun—all in a rad outdoor setting.
"The event grew by about 20 percent in the middle of COVID," said Yoon Kim, who also runs the outdoor e-commerce agency Outdoor ECOM in his hometown of Bentonville, Arkansas. "I'm not sure how many events can say that, and I believe it's because of the demand for the type of unique content we offer."
After being canceled last year and delayed in 2021 as Kim and his team of event organizers tried to find the right timing amid surges in the virus but also improving vaccination rates, OMS was deemed a success by the attendees that Outside Business Journal's editorial staff spoke with during the two-day conference.
Most said that while OMS may be small as far as outdoor industry events go—it's a fraction of the size of, say, Outdoor Retailer—it offers big value in the uniqueness of the platform, the accessibility of speakers, and breadth and depth of education.
The event had some of the hallmarks of a traditional conference, including a keynote address from a prominent industry player. Robin Thurston, CEO of Outside Inc. (parent company of OBJ and many other outdoor publications) kicked off the event with his Tuesday morning discussion of the "Future of Outdoor Media."
Other heavy hitters who presented included publishers, bloggers, and marketers from the vast world of outdoor media and the broader outdoor industry. They spoke about relevant topics such as how to increase website visitation, affiliate marketing, and even using TikTok to connect with an audience.
OMS did reflect the sign of the times. Proof of vaccine was required. Plenty of people wore masks throughout the show. And a color-coded lanyard system reminiscent of The Big Gear Show allowed attendees to show others how much contact (such as handshakes and hugs), if any, they were comfortable with.
The show kicked off with a welcome reception at Boa Technology's headquarters in Denver on Monday night, followed by two full days of presentations, panels, and networking opportunities.
It concluded with the awards ceremony—OBJ's own Kristin Hostetter was honored as the "Sustainability Champion" for co-founding the Plastic Impact Alliance and Kenji Haroutunian was honored with the "Lifetime Achievement Award"—and a panel discussion on the "new outdoor consumer." The final panel featured plenty of scintillating debate on how media and brands alike can better engage new entrants to the outdoors such as people of color and families.
One highlight of OMS was the scavenger hunt in which teams of journalists walked around downtown Estes and met with brands like Scarpa, Korkers, Camp Chef, Tenkara USA, and others to compete in games and challenges involving product.
And on the final morning, the Confluence of States—which held its annual conference in conjunction with OMS—conducted a session that asked attendees to brainstorm better ways to expand the outdoor economy for all. 
Feedback from Outdoor Media Summit Organizers and Attendees
Throughout the event, OBJ gathered feedback from the event's organizers, presenters, and attendees about OMS. Here's what we heard.
Yoon Kim, the show's founder, on how it went: "Honest answer: I don't know yet. At the event every year, everyone always tells me how great it was, but I never know for sure until we get the survey data back. One thing I can say for sure is that Robin Thurston's keynote set the tone for the event. We were able to kick things off with a world-class speaker who knew how to rock the room and get everyone thinking, and from there it felt like smooth sailing."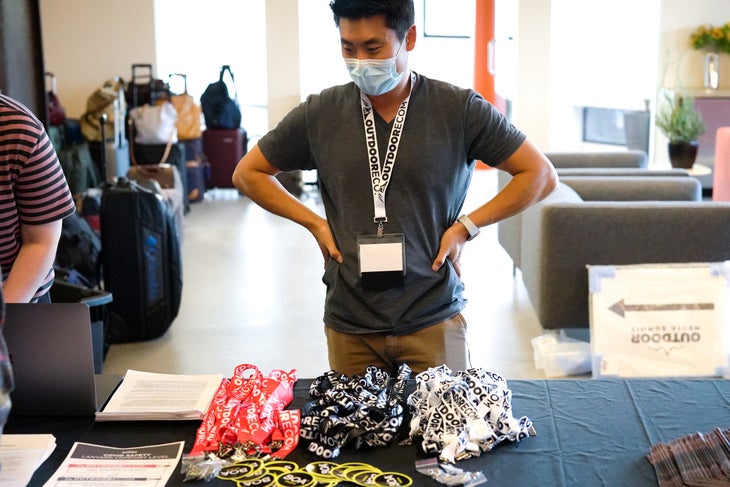 Scott Kaier, first-time attendee and owner of Formidable Media, whose clients include Mustang Survival, Allied Feather + Down, and Green Theme Technologies: "This conference has been a fantastic opportunity to get together in person with the media side of our industry again and listen to our peers talk about a variety of different topics that are important to everything we do. The best thing about this event is the smaller size that facilitates so many personal interactions each day."
Nicole Feliciano, CEO of Momtrends Media and one of the event's presenters: "I found the conference full of valuable information. As a content creator who writes about many different topics, it's helped me really drill down on the areas of outdoor content that I want to create because I've identified gaps in my coverage that I think my readers can really benefit from."
Mike Lanza, founder of The Big Outside and a two-time attendee who called OMS a first-rate event: "As a full-time blogger about backpacking and hiking, I found numerous breakout sessions directly relevant to what I do. Even after almost 30 years in outdoor media, I learned some things. Keynote sessions like how to make media more profitable were interesting and informative. And it was just plain fun to see old friends and meet new people in our community."
Serena Juchnowski, a first-time attendee and competitive shooter who writes about hunting and fishing for FMG Publications: "I didn't really know what to expect coming into OMS 2021. Coming from the hook-and-bullet side, my eyes opened to an entirely new side of the industry. Sessions as a whole were informative, but I didn't walk away with dozens of new friends and a stack full of business cards like I have at other conferences. I did make some meaningful connections, but not as many as I would have liked. I actually felt out of place and that there wasn't much for me besides a few sessions." 
Heidi Allen, VP of marketing at Nikwax North America: "The deepest value we found in the event was being able to activate meaningfully (and playfully!) to educate the media about our products through the scavenger hunt."
Bill Kueper, vice president of Wenonah Canoe, who made the trip to OMS for the third time and said it's an event he always looks forward to: "OMS presents an annual opportunity to network with outdoor industry insiders without the usual trade show duties and brings in people who are atypical to other outdoor trade shows. The educational content for someone like myself allows me to better interface with my creative teams."
Outdoor Media Summit 2022
Next year's Outdoor Media Summit is scheduled for October 30 to November 1, 2022 and will take place at the Hyatt regency Lake Tahoe Resort in North Lake Tahoe, Nevada.
Trending on Outside Online