Outside Business Journal
Instagram Sensation Pattie Gonia Makes Her Outdoor Retailer Debut
The nature-loving drag queen strutted the show floor on Day Two, drawing a crowd and making a statement for LGBTQ inclusivity in the outdoors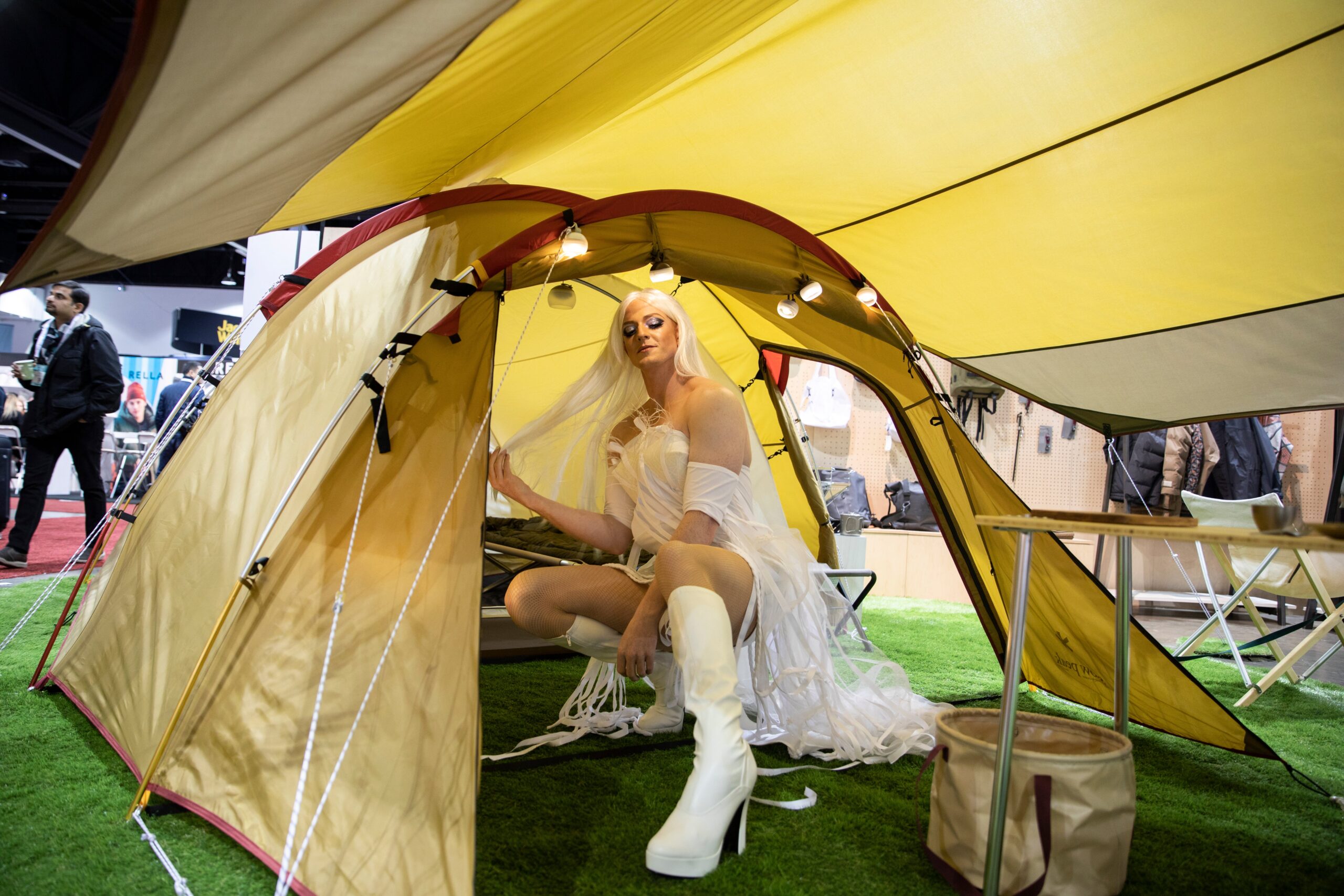 Heading out the door? Read this article on the new Outside+ app available now on iOS devices for members! Download the app.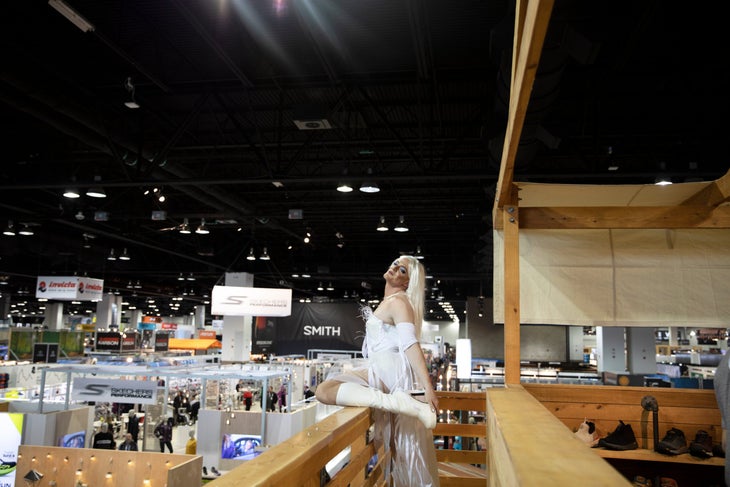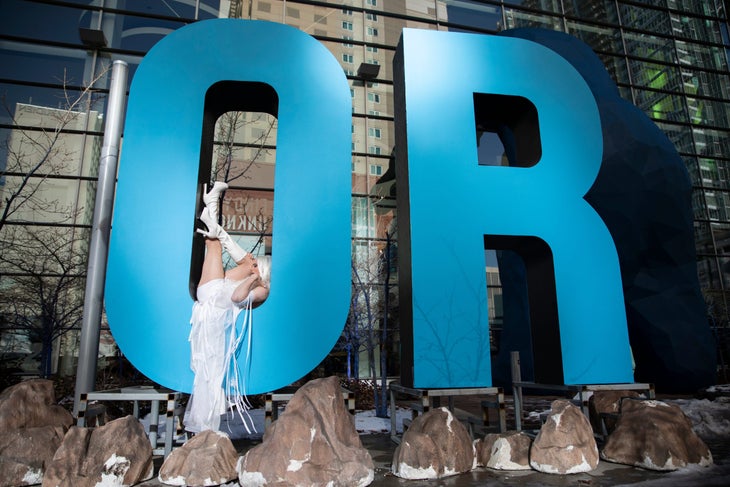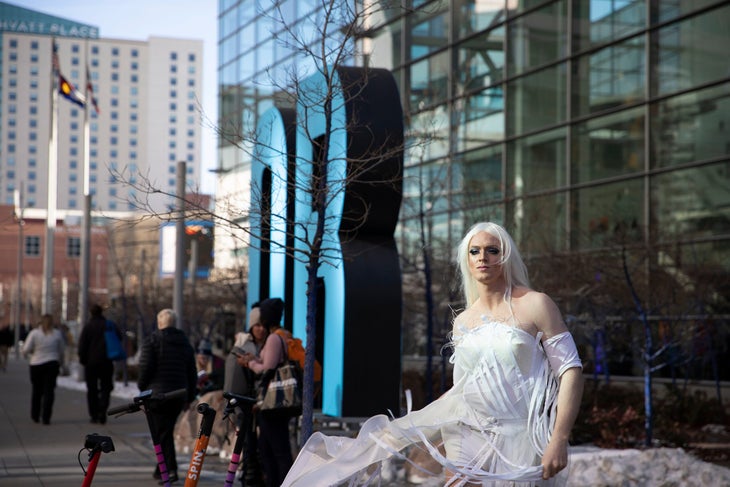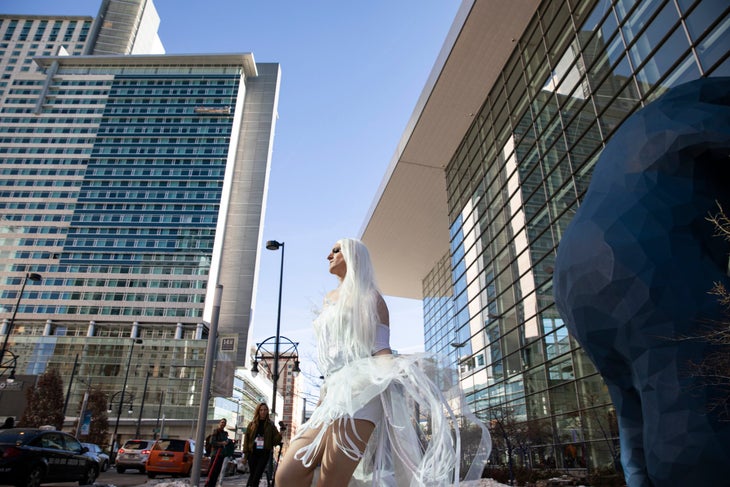 Pro photographer Wyn Wiley brought a lot more than a camera to his first appearance at Outdoor Retailer. The six-foot-plus, Lincoln, Nebraska-based creative also arrived with a signature pair of white, knee-length patent leather platform boots with six-inch heels, Lycra tights, and, as always, a flair for the fantastic. Wiley made his debut at today's Snow Show as the self-styled eco-friendly drag queen known to Instagram as Pattie Gonia.
Statuesque, with a flowing platinum wig and a white wedding-inspired gown, she walked onto the show floor, strutting down the aisles on Day Two with the pride of a runway diva. Heads turned. Though everyone seemed to notice, few batted an eye at the stunning man in feminine apparel sewn from recycled outdoor industry materials.
"Everyone made me feel so welcome," she said, beaming through elegant eyelashes. "I got a lot of looks and a lot of smiles." Wiley identifies as male, but his female persona, Pattie Gonia, is an homage to his love of the outdoors and a wonderful sense of fashion.
"She's just trying to be as cool as Mother Nature," he said of his alter ego. Despite having grown up in the relatively conservative Midwest, Wiley was raised with a very positive outlook on his sexual identity. He enjoyed spending time in the outdoors, which included becoming an Eagle Scout. Wiley came out as a gay man at 18, but didn't dream up Pattie Gonia until a few months ago. He says dressing as Pattie gives him the opportunity to share a side of himself few get to see. "We're all dragging. It's one of my favorite quotes by Rupaul: 'We're all born naked, and the rest is drag'," he said. "I identified as a gay male and still do. But this whole different queenside of my world has really been me just getting to be a kid again."
It all started on a hiking trip along the Continental Divide Trail in October 2018. As a bit of artistic expression Wiley packed in a pair of those six-inch heeled boots and posed for a few photographs, then a video, then another. When he posted the images to Instagram, Pattie Gonia was born.
Four months later, she has an Instagram following of more than 117,000. Wiley says the name of his alter ego has nothing to do with the popular outdoor brand. "I was sitting around a table with a few of my friends, thinking up funny drag queen names," he said. "One of my friends was about to hike in Patagonia for a few months, and the name just kind of happened."
But that familiar name helped her tap into the cultural energy of the outdoor industry, with thousands of people with a love for the natural world gravitating to the familiar name online. And when she arrived at the show, Pattie Gonia found dozens of attendees eager to meet her. Groups of showgoers lined up for a selfie with the Instagram sensation over her several hours-long visit.
"I'd don't usually fan-girl like this," said Nikki Hodgson, sustainable business innovation manager at Outdoor Industry Association. "I just love her!"
In a culture that has more than its fair share of toxic masculinity, Pattie Gonia presents a compelling alternative. As a growing number of gay and transgender men and women enter the business of outdoor recreation, the presence of a man in drag demonstrates that they can find a safe place to be exactly who they are. That's exactly what Pattie Gonia hopes to accomplish, encouraging the people she meets to discover the joy and beauty of the world outside, never doubting that they belong.
"As cheesy as it sounds, Mother Nature doesn't care who we are," Wiley said. "I just want everyone to be where they feel they can be their true self."
Without really intending to, in his role as Patti Gonia Wiley now finds himself as a role model to LGBTQ individuals in the outdoor industry. And though he does not consider himself an expert in gender identity or sexual orientation, he understands that he can pave the way to ease the path of others who might follow.
"I thought it would just be a fun little thing, and then this community showed up," Wiley said. "When a community happens like that, no matter if you are prepared or not, or no matter if you want to do it or not, you owe it to give it a shot, to be a leader and to do what you can for that community."