Outside Business Journal
A Guide to Summer '21 Trade Shows in the Outdoor Industry
Will the industry's warm-season shows run as scheduled this year? We spoke to leaders of several important events to find out.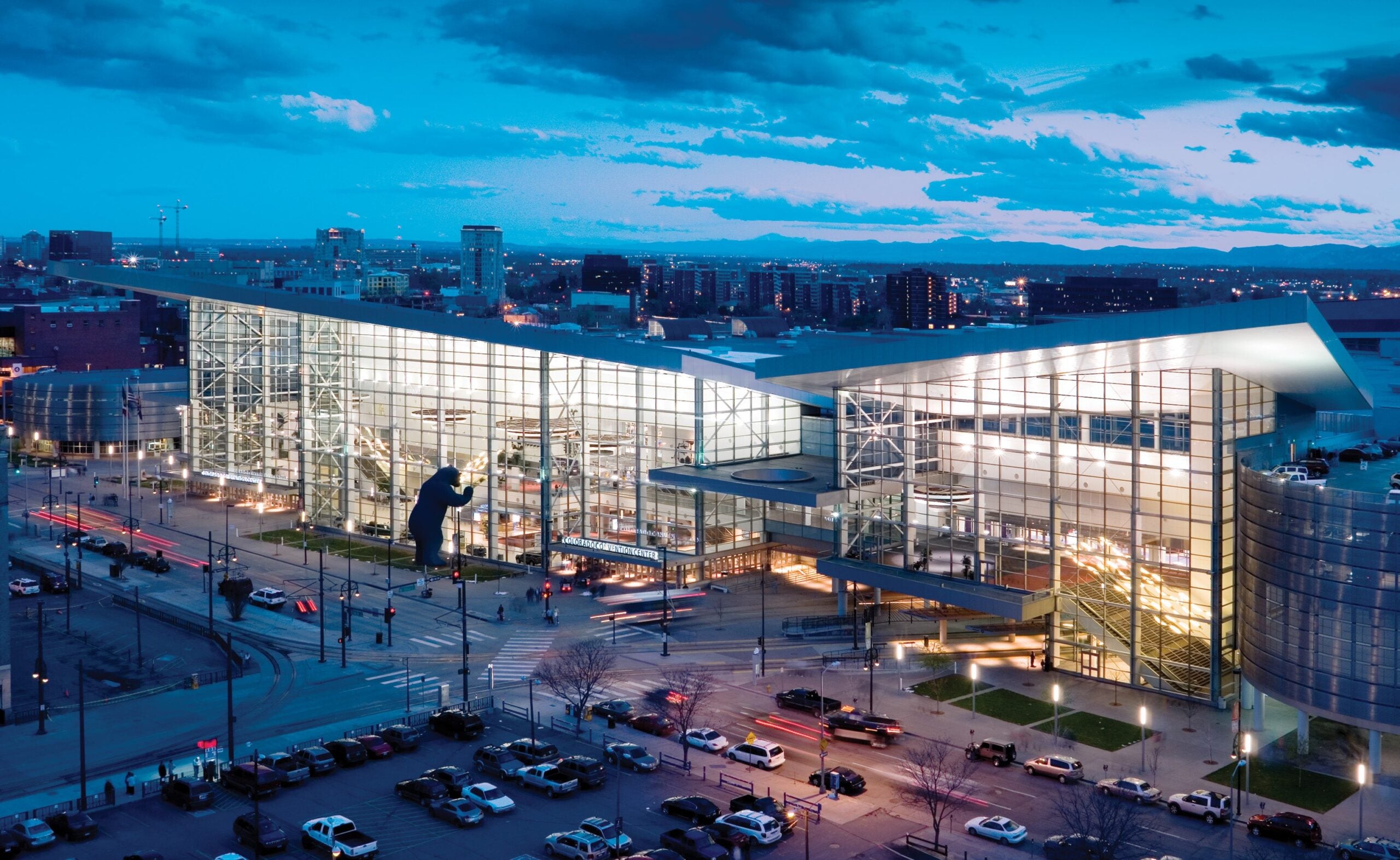 Heading out the door? Read this article on the new Outside+ app available now on iOS devices for members! Download the app.
It's no secret that the pandemic complications of 2020 were ruthlessly unkind—and in some cases, nearly disastrous—to trade shows in the outdoor industry. All through last year, industry pros repeated the phrase "back to normal" like a mantra, looking ahead to summer 2021 when, according to most predictions, we would all be able to gather again without fear of putting ourselves and others at risk.
Well, here were are. Trade show planning for summer 2021 has begun, and things are perhaps not quite as settled as we would like. Questions still abound. Which of the big shows will run, and how? What safety measures will be in place? Even this far into the pandemic—with a major vaccine rollout and hopefully some form of life-as-normal on the way later this year—a lot still feels up in the air.
To provide some clarity for those in the industry trying to plan their summer calendars, we spoke with leaders of the season's key shows to find out if they're running as scheduled, and if so, what they'll look like when we people get there. Below are the current plans—subject to change, of course—for Outdoor Retailer Summer Market, The Big Gear Show, Grassroots Connect, Outdoor Media Summit, six of 360 Adventure Collective's rep shows, and OutDoor by ISPO.
Outdoor Retailer Summer Market
Is It Happening?
Yes. "With regard to getting back in person, the team is very anxious to do it," show director Marisa Nicholson said. "This is our expertise. But we want it to be safe for our customers and also ourselves. Emerald [OR's parent company] has been supportive in making sure we have all the materials we need to stage a show in the middle of the pandemic."
Show organizers' excitement has been matched, Nicholson says, by that of professionals across the industry. Nicholson tells Outside Business Journal that "contracts are coming in daily" for the summer show.
When and Where

June 15-17 in Denver, Colorado
How the Show Will Be Different This Year
Perhaps more than any other show, Outdoor Retailer has leaned hard into the advent of digital events. The group has already hosted two full-scale shows online (one is going on right now), and show organizers say they won't leave the technology behind when things get back to normal.
"We've learned a lot," said Nicholson. "We are talking about a hybrid show for the summer, including elements of digital and in-person."
Nicholson says OR wants to accommodate participants who can't attend the event due to company travel bans. She also sees applications for OR's digital tools to augment the experience of the in-person event. "There will probably be brands that will want to use the digital tools even if they come to the show, so we're looking at how we can make that happen," she said. "A challenge in the past has been making the show's educational events accessible online, but we're pretty good at that now. We will probably use our new digital capabilities for that purpose."
Nicholson says that, for attendees, the process of registering and preparing for the show will not be radically different than it has been in the past. "The experience once you're there will be different," she said. "But the work for people beforehand will not change."
How the Show Will Keep People Safe
"Staging a show in Denver requires us to work with state and city officials on the ground," Nicholson said. "We'll create what we think is the safest and best plan to execute a good show, and then make sure it's in compliance with state, city, and national guidelines."
Exactly what protocols will be in place show organizers haven't settled on yet, insisting that the planning will be an "ongoing, evolving" process.
"We're going to take into consideration the regulations and then do what we feel is best," said Nicholson. "If the CDC doesn't mandate masks, but we feel it's safer for people to have them, then we'll have them. We'll make that call."
If the Worst Happens, Is There a Contingency Plan?
In the worst-case scenario, Nicholson says, show organizers would host another Outdoor Retailer Online. The current winter show has seen markedly more engagement than the first digital show last summer. That trend, Nicholson says, would be enough to justify another online event, if the situation came to that.
The Big Gear Show
Is It Happening?
Yes. "The Big Gear Show is full steam ahead for next August in Park City," show director Kenji Haroutunian told OBJ this week. "The retailers and the brands are excited to do business in our new open-air show format, as well as to learn from and work with adjacent outdoor recreation categories. They're also sharing with us that they're excited to test new products, discover new brands, and just see each other as an industry again, face to face."
When and Where
August 3-5 in Park City, Utah
Important Details About the Show
The Big Gear Show is billing itself as "America's first open-air trade show." This will be its inaugural year. An invite-only affair, the event has a guest list of 500 retailer and 250 brands, and will focus exclusively on hardgoods. The official themes of the show, according to Haroutunian, are curation, connection, and education.
Originally scheduled for summer 2020, the event was always supposed to be small—smaller than Outdoor Retailer, at least—but the pandemic has given that format new logic.
"Retailers need a place to test new products. You need a place to roll out 2022's new product line. But your company probably still has a travel moratorium and not a lot of plans for trade shows next year," the show website reads. "We get that, in this new normal, no one wants to go to mass gatherings in big city centers, cooped up indoors with 30,000 people you don't know."
Haroutunian said, "Our retailers are telling us that they are ready to get out of their shops the moment it is safe to do so, and that they believe we might be one of the first events they'll attend."
Haroutunian also says that show leadership is "planning for hybrid virtual production to help tie in the consumer interest without a live consumer attendance."
How the Show Will Keep People Safe
"We are extremely mindful of the continued public health crisis but we are cautiously optimistic by the acceleration of vaccinations and our open-air format," Haroutunian said. "We believe that by mid-summer, we'll all be settled into our new normal and we'll be able to stage safely with a finite, manageable crowd, active outdoor dispersion and established pandemic controls and protocols."
If the Worst Happens, Is There a Contingency Plan?
"With a limited, invitational attendance and an all-outdoors venue, we are extremely confident we can stage safely and successfully in August 2021," said Haroutunian. "These days, with all events it is prudent to plan parallel situations; but in this case, staging with a smaller size or fully virtual is not a viable option, so we would cancel the event if it could not be done safely or if the regional regulatory permission could not be obtained."
Grassroots Connect
Is It Happening?
No. Grassroots leadership confirmed today that the show—originally scheduled for June 7-10 in Knoxville, Tennessee—is cancelled.
What Led to the Decision
"We don't have one isolated reason for cancellation," Grassroots Outdoor Alliance president Rich Hill told OBJ. "Because our show is a buying event, if we have only 50 percent participation, the show doesn't work. Without enough of a crowd, the formula falls apart. We need 100 percent. And we just can't depend on that."
Hill says that the unsteady rollout of the COVID-19 vaccines was "another indicator" that the show wouldn't be able to stage as planned. "We feel that's we're not through this," he says.
Hill noted that, in private conversations with brand leaders, he has heard "a lot of concern" that also factored into Grassroots' decision to cancel the show.
"I called Patagonia and they told me there's no way they're going [to Connect]," Hill said. "They're very concerned about the safety of their employees. VF Corporation is the same way. I heard that both VF and Patagonia have travel bans through the end of June."
Will There Be a Substitute for the In-Person Show?
Hill says Grassroots is going to "do the smart thing" and focus on the group's next Connect show in the fall. That event is scheduled to run November 8-11 in Kansas City, Missouri.
Outdoor Media Summit
Is It Happening?
Yes. "We're pretty certain about August," show founder Yoon Kim said, noting that the event, set to run August 23-25, is one of the latest on the industry's summer calendar. "We had originally planned to run the show in April, and to be honest we probably could have done it in May, but we didn't want to quality of the show to suffer. We're hoping that by August social distancing protocols and other restrictions will have eased somewhat."
Kim says that general admission tickets are sold out, and that show leadership has no plans to release more, but that sponsorship tickets are still available, as well as tickets for the Future Leader Investment Program—an initiative aimed at accelerating the careers of BIPOC professionals in the outdoor industry.
When and Where
August 23-25 in Estes Park, Colorado
What Safety Measures Will Be in Place
"Health and safety is our number-one concern, which means we will be following the most up-to-date guidelines for the state of Colorado," Kim said. "Our hotel partner, The Ridgeline, will also be practicing a full list of protocols that will ensure that everyone will be able to stay safe and healthy."
If the Worst Happens, Is There a Contingency Plan?
Kim says that if the most restrictive national and state safety guidelines aren't gone by the time the show opens, show organizers will "have to let the quality drop," but that the show will still go on. The format of certain events would be changed, Kim said: "For things like happy hours or dinners, we would have to find ten restaurants that can hold 20 people instead of one that can hold 200." As of now, though, the show has no plans to cancel, even if the state of the pandemic has not improved by August.
360 Adventure Collective (Multiple Shows)
Are They Happening?
Yes, all six of 360 Adventure Collective's sales rep shows planned for June, July, and August are scheduled to run.
"We feel confident were going to be able to execute all the shows that are on the calendar for the summer," said 360 Adventure Collective regional director Terry Wilson. "June is an important month for sales reps because the first-buy deadline for many companies in the industry falls in the beginning or middle of July. Those first-buy deadlines make up the majority of contracts for 2022 product."
When and Where
Adventure 360 Collective will host six shows—all geared toward sales reps—over the course of the summer in New Hampshire, New Jersey, South Carolina, Alabama, Maryland, and Massachusetts.
How the Shows Will Be Different This Year
Wilson said the show formats may be "something of a hybrid, based on how vaccines roll out and what the CDC recommends coming into the month of May," but didn't provide further details.
What Safety Measures Will Be in Place
The safety measures used at the shows will depend entirely on state and CDC guidelines, Wilson said. "We may or may not be wearing masks, practicing social distancing, and doing temp checks. We're simply going to follow all Covid protocols that are in place when the shows open."
If the Worst Happens, Is There a Contingency Plan?
360 Adventure Collective hosted numerous digital shows in 2020. "The worst-case scenario would be to fall back on all-virtual events again," Wilson said. He noted that that outcome is not outside the realm of possibility for the summer shows, but that for the group's first fall show in November, it's highly unlikely. "We feel that we'll be completely back to normal by the November show," he said. "We think it will look, taste, and feel like a show in 2019. By that we mean, hopefully masks won't be required, social gathering will be allowed, the beer will flow, and there will be no fear of infection."
OutDoor by ISPO
Is It Happening?
Yes. Leaders of this European show moved the dates back two weeks, but otherwise expect the show to stage as planned.
"We're committed to having a physical show," said ISPO senior associate Dieter Tremp. "If all hell breaks loose, if pessimism comes through, we have answers. We will still have a physical show, but it might be smaller. We will not cancel."
When and Where
July 5-8 in Munich, Germany
What Safety Measures Will Be in Place
"Everybody will be social distancing and wearing masks, no doubt about it," Tremp said, noting that the show plans to formulate its safety guidelines as recommendations are released by European health authorities.
If the Worst Happens, Is There a Contingency Plan?
"If the physical dimension has to be lessened, we might decide to do a September follow-up in person," said Tremp. "We have that option. We're not planning on it, but that's the advantage when you own the convention center where the show is happening. You can determine that."